Which Kitchen Countertop Material is Best?
From quartz and Kompacplus to granite and solid surface, there are tons of material options for your kitchen countertop. So which should you choose? We explore each material to help you decide.
Quartz
Quartz is a hardy manmade material that is easy to maintain.
Design:
Icon Interior Design
Quartz for kitchen countertops is manmade, crafted from a mix of crushed stones, bits of recycled materials like ceramic, glass and silica as well as polymers that bind them together to give the appearance of natural stone. This engineered composite is a lot hardier though, and is resistant to chips and knocks as the polymer between the crushed materials helps to absorb the shock from any impact. It's also stain resistant, as the polymer fills out any gaps between the stones so there is no room for penetration. In general, quartz is pretty resistant to heat compared to other materials, and would not warp under high heat. However, it is still advisable to use a trivet if you're placing a hot object on your countertop as the heat can cause discolouration. Likewise, while quartz is scratch-resistant, don't drag heavy or sharp items across. Make sure your countertop doesn't get direct exposure from the sun as it can cause your quartz to fade. Quartz is on the pricey side, with a price point that is on par with natural stones like marble and granite, although the actual cost will depend on the brand you go with.
KompacPlus
KompacPlus comes in a wide array of designs, the most popular being the ones that mimic the look of wood.
Design:
Kuro +
This is a material that is made up of layers of Kraft paper impregnated with thermosetting resins (that harden and remain in a solid state after being cured). The Kraft layers are sandwiched between surface layers of decorative paper that have been injected with amino-plastic resins. These are then pressed at a high pressure point and high heat, resulting in a layer that is just 6-mm thick. During a countertop installation, KompacPlus is usually first placed on a base such as plywood. Hardy despite its slim profile, KompacPlus is scratch-resistant and non-porous. It comes in a wide variety of designs, although it's most well-known for the ones that mimic the look of wood. Other designs take on the look of slate or cement. If you're trying for the butcher block look, you might dismiss KompacPlus for being too thin. But it's actually possible to get the look of a wooden countertop with this material. Designer John Chan from
Neu Konceptz
suggests joining two pieces of plywood of equal depth—one front-facing and one at the countertop—together using the Mitered Butt joint technique before covering both sides with KompacPlus.
You can use KompacPlus to get a butcher block look, minus the pain of maintaining an actual wooden countertop.
Design:
Ju Design Studio
Direct contact with hot objects can result in cracking and blistering though, and prolonged exposure to the sun can lead to discolouration. In terms of price point, KompacPlus falls in the mid-range and is more affordable than stainless steel, natural stone and certain brands of quartz.
Granite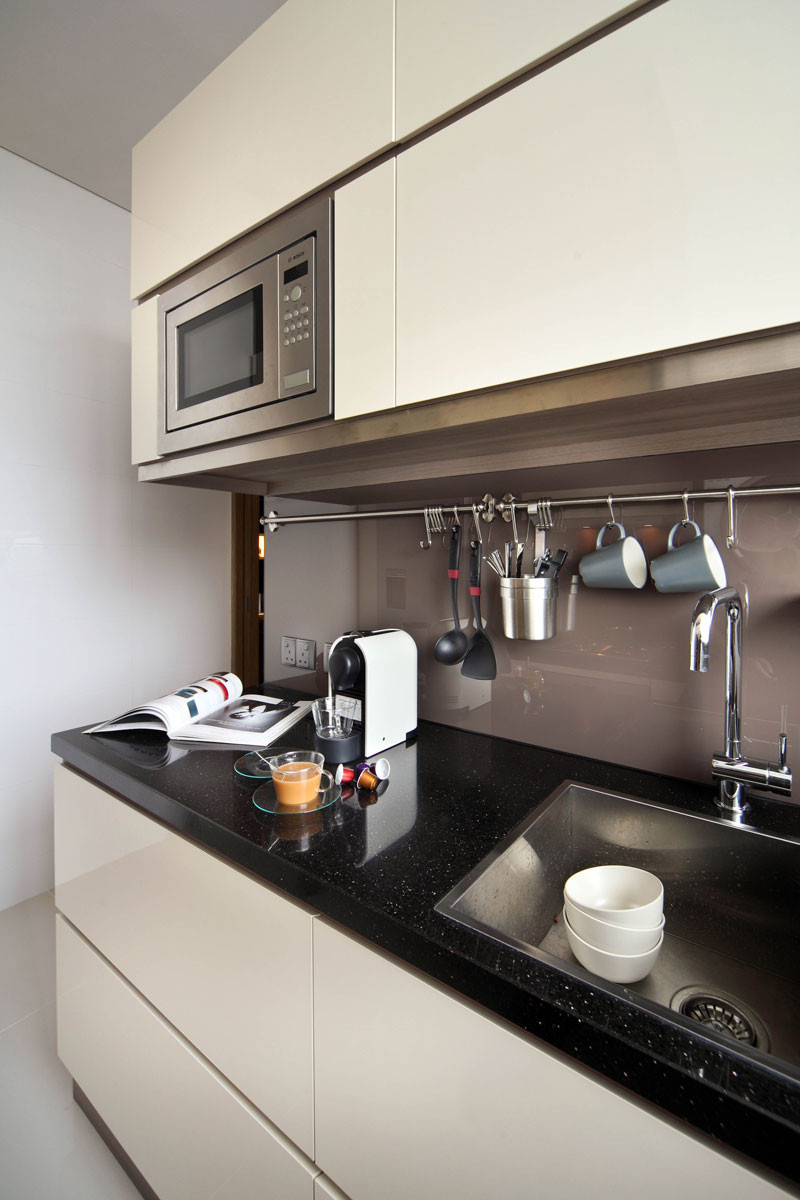 The black galaxy granite is a popular choice among homeowners.
Design:
Neu Konceptz
Granite is popular because it not only looks good, it's also really durable with the proper care. This natural stone is very hardy, and exposure to sunlight will not cause it to discolour. It is also highly resistant to scratches to the extent that it will blunt your knives if you're working directly on it. Granite is very heat resistant, and is able to take heat up to approximately 1200 deg C, which is vastly hotter than a hot pan taken off right from the stove. However, always use a trivet when possible to maintain the sealant applied over your granite. Like marble, it needs to be regularly sealed—at least on an annual basis—in order to resist stains and moisture. Avoid using harsh chemicals on your granite as that will wear down the sealant.
Solid Surface
With solid surface, you can avoid visible joints or seams.
Design:
Urban Habitat
One of the biggest advantages to solid surface countertops is that it is extremely malleable, meaning you can avoid visible joints and seams which isn't possible with other materials like granite, marble or quartz. Solid surface can also be bent and curved into odd shapes, so if you're looking for a curved island top, this material is your go-to. Most homeowners opt for this also because they want to avoid joint lines between their countertop and backsplash, which can trap all sorts of grime or moisture. You can also create an integrated sink with solid surface. Priced affordably, solid surface is made up of acrylic or polyester blends. The former is slightly costlier as it's hardier. Unfortunately, solid surface countertops are susceptible to scratches and stains. They also have a poor heat resistance. To keep them in tiptop condition, John recommends wiping down with a clean damp cloth followed by a dry cloth after use.
Stainless Steel
Stainless steel countertops can still have their place in residential kitchens.
Design:
The Monocot Studio
Stainless steel counters are commonly seen in commercial grade kitchens, where aesthetics take a backseat over functionality. But pair with the proper cabinets and flooring, a stainless steel countertop can look extremely modern and beautiful in a contemporary style home. Stainless steel counters are expensive, although not as much as quartz and natural stone. But the price is justified as this material is extremely durable and resistant to stain, rust and heat. There are certain drawbacks however. Stainless steel is susceptible to scratches, and thinner sheets can be easily dented if you set a pot down too hard. Also, as the metal doesn't absorb noise too well, having a stainless steel countertop might mean you will be subjected to a noisier kitchen due to the clashing and clanging from the contact of your cookware on your countertop.
Tiles
With their wide array of design choices, tiles are a good way to add a little personality to your kitchen.
Design:
Linear Space Concepts
Tiled countertops are affordable, with a price point comparable to solid surface depending on what tiles you go for. They are heat-resistant and can take the heat from hot pots and pans well. Even though prone to chipping and cracking, they are easily (and cheaply) replaceable. If you're going for tiles, make sure you choose homogeneous ones for your countertop as they are stronger than ceramic ones. Grout lines make it difficult for prepping on the tiled countertop directly, while also making clean-up more tedious as bits of food and grime can get stuck on the joints. Avoid your grout lines staining by resealing them regularly.
Concrete (Cement Screed)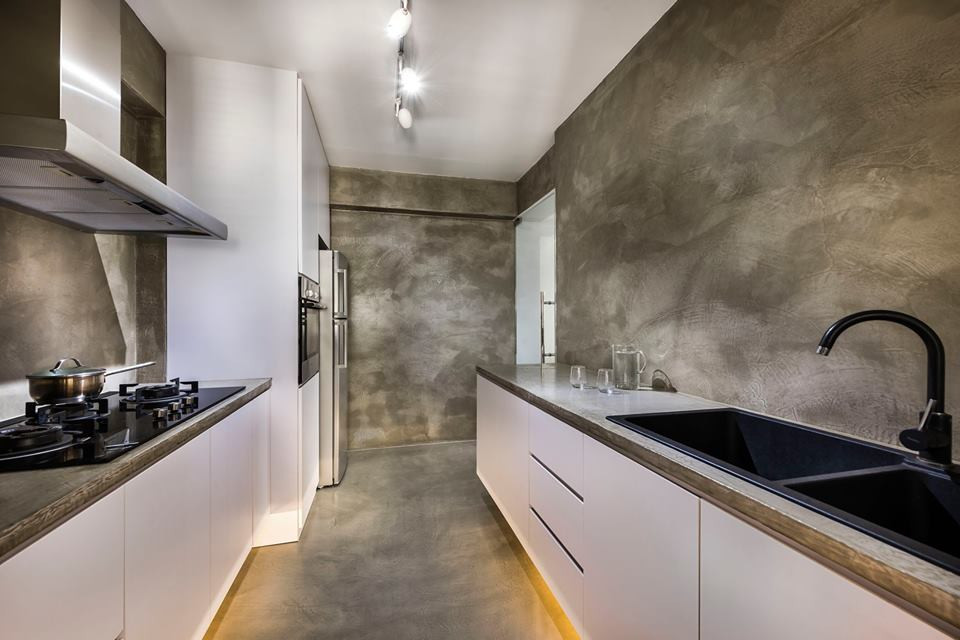 Concrete counters offer a hip, industrial look, but they can be prone to hairline cracks.
Design:
Uno Interior
For a rough-edged, industrial feel, concrete countertops are your best bet. But take caution as it's not an easy material to work with. Regular sealing can make it less prone to stains, but we wouldn't recommend leaving a wine spill for too long on a concrete counter. Sealing it will also make it more heat- and scratch-resistant, but it's less hardy compared to most countertop materials so it's important to take extra care if you're going for a concrete countertop. Hairline cracks are also inevitable in the long run, due to the external movements or pressure applied to the surface. They are difficult to repair and fill, unless the cracks get bigger so you will most likely have to contend with them. John advises going for a thicker concrete that will be stronger to resist any external impact or force, preventing shrinkage or cracks. For a more durable concrete countertop, make sure your contractor lets the concrete dry completely (process will take about three to seven days) before applying any sealant or finishes, which will allow any moisture to completely evaporate.
Marble
Marble countertops are the epitome of luxury, but are they difficult to maintain?
Design:
Museum Homes
Like granite, marble is a natural stone. But unlike hardy granite, marble is soft and porous, which is why it's more suited in a less used kitchen or the dry kitchen area. Aesthetically, marble is incredibly beautiful and is unmatched in luxury, but they don't take well to stains and are prone to scratches, kinks and chips. Long exposure to acidic foods like lemons can also make it look dull. This expensive material can take heat well though, although we wouldn't risk putting a hot pan directly on it for too long. It's also a wonderful material to work with if you bake often and require a cool surface since marble is naturally cool.
Here's a summary of their qualities:
| | Quartz | KompacPlus | Granite | Solid Surface | Stainless Steel | Tiles | Concrete (Cement Screed) | Marble |
| --- | --- | --- | --- | --- | --- | --- | --- | --- |
| | | | | | | | | |
| Is it strong? | Strong | Strong | Strong | Strong | Subjected to dents and kinks | Prone to chipping | Easily subjected to kinks and dents | Soft |
| Does it stain? | Not easily | Not easily | Not easily | Yes | No, although can be subjected to water stains if not wiped away quickly | Not easily if you opt for full-body glazed porcelain tiles | Yes | Yes |
| Does it scratch easily? | No | No | No. But can blunt your knives if you work on it directly | Yes | Yes | Not easily if you opt for full-body glazed porcelain tiles | No | Yes |
| Can it take heat well? | Yes | Yes | Yes | No | Yes | Yes | No | Yes |
| Design options | Plenty. Some can look like natural stone | Go for this if you want the look of natural wood | Each granite slab is different and unique | Plenty. Can also be made into curved or odd shapes with no visible joints | Different sheens, can be moulded to fit your design | Plenty | Grey tone variations; glossy or matte. Appearance also depends on contractor who's doing it | Each marble slab is different and unique |
| Maintenance | Easy, a simple wipe down after use will do | Easy, a simple wipe down after use will do | Requires annual sealing | Requires extra care when using as it tends to stain and scratch easily. Otherwise, no joints ensures easy cleaning | Easy to wipe down after use, although you will have to contend with fingerprint marks | Grout lines can make it difficult to clean. Regular sealing of grout is necessary | Requires regular sealing. Will gradually wear off with extensive use. Prone to hairline cracks which are inevitable | Requires annual sealing |
| Price ranking (1 being most expensive) | 1 | 3 | 1 | 5 | 2 | 4 | 6 | 1 |
Thumbnail images courtesy of Lian Hin, KompacPlus, Stone
Amperor
, Spacious Planner, Hafary and The Association
Let us know which material you'll be going for in your kitchen countertop! And read our other kitchen material guides for your backsplash and flooring.
---

Do you love what you've seen? Contact us for a non-obligated consultation now.
Meet Interior Designers. Get Quotes.
Get in touch with our listed renovation companies. They will provide you with a free non-obligatory estimate for any of the Renovation Packages included in their services.