From Vinyl to Tiles: Where to Buy Reno Materials in SG
Whether you want to have more choices when it comes to the surfaces of your home or you are planning to go the DIY route for your renovation, you will want to bookmark this page. From places to shop for standard kitchen countertop materials to suppliers for unconventional design materials like travertine or cork, we have you covered in this listing*.
Jump to section:

Engineered Stone
Image: Space Atelier
Cosentino: Quartz, Sintered stone
IQuartz: Quartz
Caesarstone: Quartz
Aurastone: Quartz, Sintered stone, Terrazzo
Lian Hin: Quartz, Sintered stone
Bellus Group: Quartz, Sintered stone, Solid surface
Stone Amperor: Quartz, sintered stone
Futar: Quartz, Terrazzo
KStone: Quartz, Terrazzo
» Read more: Sintered Stone vs Quartz: Which Kitchen Countertop is Best?
Natural Stone
Image: Akihaus
Polystone: Marble, Travertine, Onyx
Bellus Group: Marble, Granite
Lian Hin: Marble, Granite
Aurastone: Granite
Cosentino: Granite
Futar: Marble, Travertine, Granite, Quartzite, Schist, Onyx, Limestone, Semi precious stones
KStone: Marble, Granite, Travertine, Limestone, Onyx, Calcite
Mondobuild: Marble, Granite, Onyx, Natural Quartz, Limestone, Sandstone
Bathroom and Kitchen Tiles
Image: 13th Design Studio
An Huat Trading (Address: 53 Zion Rd)
» Read more: 7 Things You Should Know When Shopping for Tiles
Stone Veneer
Image: De Style Interior
Paint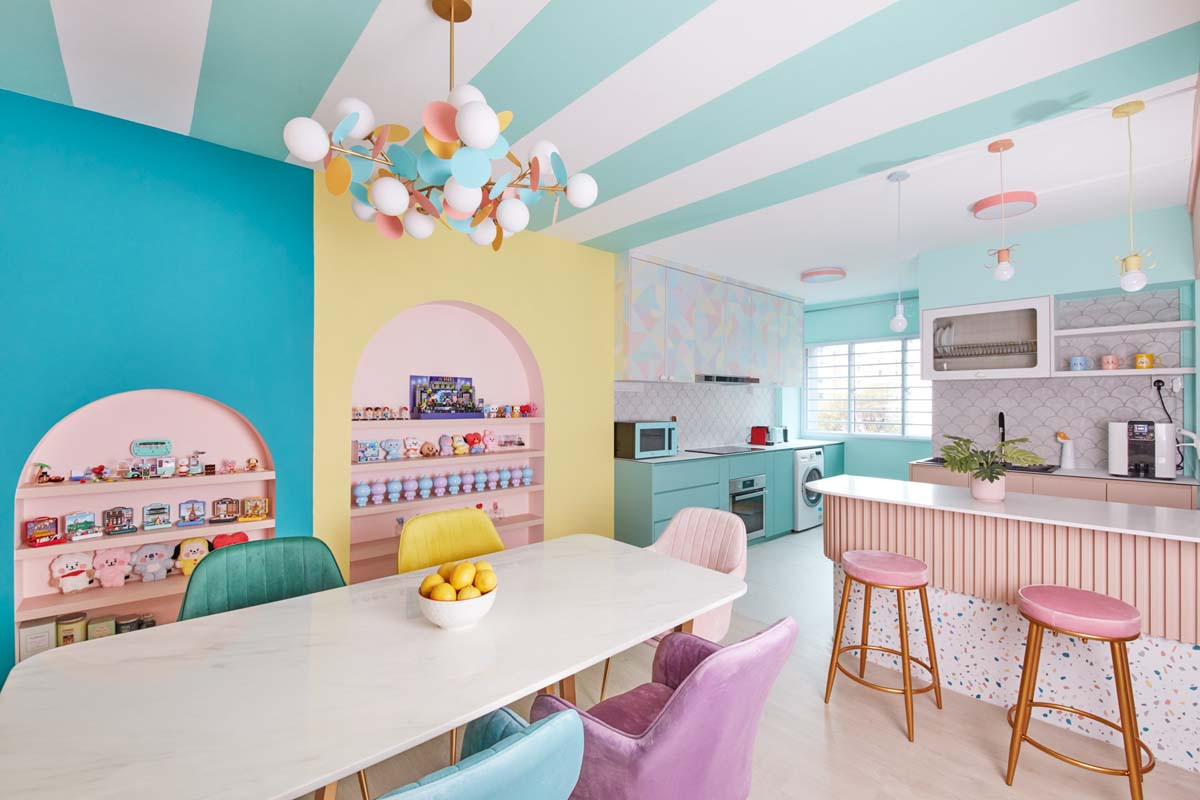 Image: Free Space Intent
Dulux: Textured, Metallic effects
Nippon Paint: Odourless range, Guard against mosquitoes
The Colour Cure: In addition to conventional paints, limewash paint
Gush: Air-purifying paints
Benjamin Moore: Matte, eggshell, satin, pearl and semi-gloss finishes
Blue Blue Trunk: Anne Sloane chalk paint
Rubik Material Laboratory: Lime paint, Concrete look, Lacquer, Chalk-based
Monju Global: Textured or patterned paint
Wallpaper
Image: House of Chais
Craft Axis: European, Korean, Japanese
Goodrich Global: European, Korean, Japanese
Hello Circus: European, Locally designed
Romanez: European
Honpo: European, Korean, Japanese
WallUp: Korean
Layer Play: Murals, Decals, Furniture wrap
Softhome: Japanese, British
V.Gos Home: Imported

Laminates
Image: Charlotte's Carpentry
EDL: Solid colours, wood finishes, anti-fingerprint options, laminates with real metals
Lamitak: Wood finishes, Solid colours, Patterned laminates
Formica: Solid colours, Wood finishes, Laminates with real metals, Magnetic laminates, True-to-scale granite patterns
Jennings: Wood finishes, Patterned laminates, Marble patterned, Fabric lookalikes
Panaplast: Anti-bacterial, Anti-fingerprint options, Solid colours, Textured laminates, Wood lookalikes
Evershine: Wood lookalikes, Solid colours
Jestac: 3M Architectural Finishes suitable for kitchen cabinets, carpentry and doors
Interior panels
Image: The Scientist
Kompacplus: Panels made from a blend kraft paper and resin
KD Panels: Wood veneers
Jotterwood: 3D panels, Wood-like panels
Paneltec: Waterproof PVC panels suited for bathrooms
Vinyl Flooring
Image: Chalk Architects
Inovar: Resilient vinyl tiles, SPC
Evorich: Herf
FloorXpert: Lurf
Mori Homz: Resilient vinyl tiles with click technology
Jotterwood: Click type vinyl flooring made in Germany
Moods: LVT, EVF, vinyl sheets, woven vinyl
The Floor Gallery: EVF, woven vinyl
Floorrich: SPC, LVT
Some confusing terminology explained:
SPC (Stone Polymer Composite) uses limestone as the main filler instead of PVC. This flooring type is very dense and rigid. It also features an acoustic underlayment to reduce noise while walking on them.
Lurf /Herf: Vinyl flooring that comes in patterns that resemble wood or stone. Also known as luxury vinyl tiles (LVT).
LVT versus EVF: LVT (Luxury vinyl tiles) look like wood or stone, typically individual pieces and installed with adhesive. EVF (Engineered vinyl flooring) is a subset of LVT but are thicker, constructed in layers and clickable.
Engineered Wood or Solid Wood Flooring
Image: Schemacraft Interiors
Arc Floor: Engineered (rosewood, oak, teak and walnut), Solid Wood (American Beech, American Maple, American Oak, American Walnut, Balau, Burmese Teak, Chengal, Indian Rosewood, Indonesian Teak, Nyatoh)
Perswood: Solid Wood (Ipe Walnut, Golden Teak, Wenge, Burmese Teak, Garapa, Brazilian Cherry, American Walnut, Amazonian Birch)
Moods: Solid Wood (Oak, Acacia, American Maple, Ash, American Walnut, Afrormosia, Teak, Iroko, Jatoba, Doussie, Merbau, Padouk, Purpleheart, Ipe, Wenge)
Wood&Wood: Engineered (Burmese Teak, European and American White Oak, Walnut), Solid Wood (Burmese Teak, European and American White Oak, Walnut, Maple, Ash, Cherry, Merbau, Red Oak, Pradu)
Floorrich: Engineered (American Oak Natural, American Oak White Wash, American Oak – Ebony, American Oak – Midnight Black, American Walnut), Solid Wood (Patagonian Walnut, Ipe-Walnut, Golden Teak, Indonesian Teak, Burma Walnut, Indian Rosewood, American White Oak, Carbonised-Bamboo (Vertical), Burmese Teak, American Maple, Brazilian Teak, Brazilian, Cherry, Bamboo (Horizontal), American Walnut)
Glass
Image: Linear Space Concepts
House of Glass: Frosted glass, Tempered, Stained, Laminated, Fritted, Smart glass
Soon Heng Glass: Wired, Clear, Tinted glass, Embossed
Lian Wang Trading: Glass blocks
Fabrics + Upholstery
Image: Mr Shopper Studio
Unconventional Materials
Image: Three-D Conceptwerke
Panelogue: Corkboard, Plywood, Micro paper, Fibreboard
The Table Guy: Solid wood slabs
Grey and Sanders: Solid wood slabs
Monju Global: Microcement
CimentArt: Microcement
AfterTouch Works: Lime Plaster and Microcement
Rubik Material Laboratory: Terracotta tiles
Ardex: Cementitious concrete overlay
Metallic Epoxy: Metallic epoxy surfaces like flooring or countertop
*Disclaimer: We are not affiliated with any of these companies. Always do due diligence when sourcing for a reliable material supplier
Meet Interior Designers. Get Quotes.
Get in touch with our listed renovation companies. They will provide you with a free non-obligatory estimate for any of the Renovation Packages included in their services.