Where to Put the Piano in an HDB or Condo
Looking to fit in a baby grand into your petite HDB or condo space? Maybe you are searching for ways to incorporate your piano as part of your interior. From dedicated carpentry nooks to platforms for your instrument to take centre stage, these ideas from small homes in Singapore will get you inspired for your own home reno.
Make it the focal point
A baby grand demands to be the focal point. In this BTO, it proudly takes centre stage against a backdrop of lush greenery. While it does take up almost the entire living room, you can't deny the sophistication it lends to this home. Instead of a conventional TV wall, the homeowner went with a projector TV to save some space.
Design: Blend by ImC
Give it a platform
With the white digital piano placed on its own curved platform in this home, it creates an immersive experience, almost as if you're performing on a real stage. This setup helps to define separate areas in the apartment, giving the piano a sense of permanence instead of appearing to be 'floating' in the interior design.
Design: Free Space Intent
Blend with cabinetry
A specially made storage hutch was designed for this piano, with the cabinetry matching the same colour as the instrument so that it blends in with the rest of the interior, avoiding any unnecessary attention in this modern farmhouse style home.
Design: Country Concept
Wood on wood
If you prefer having your piano to be a standout feature in your home, go for contrasting tones. We love how the warm, medium-toned wood of the piano stands out against the lighter tones of the cabinetry. The complementary woodgrains on both pieces help to tie things together visually.
Design: Ace Interior Design
Conceal it
Integrated with the TV wall, this dedicated nook for the piano comes with bi-fold doors so that it can be concealed whenever the homeowner wants to keep it out of sight. It's a great way to create a sleeker, less cluttered look.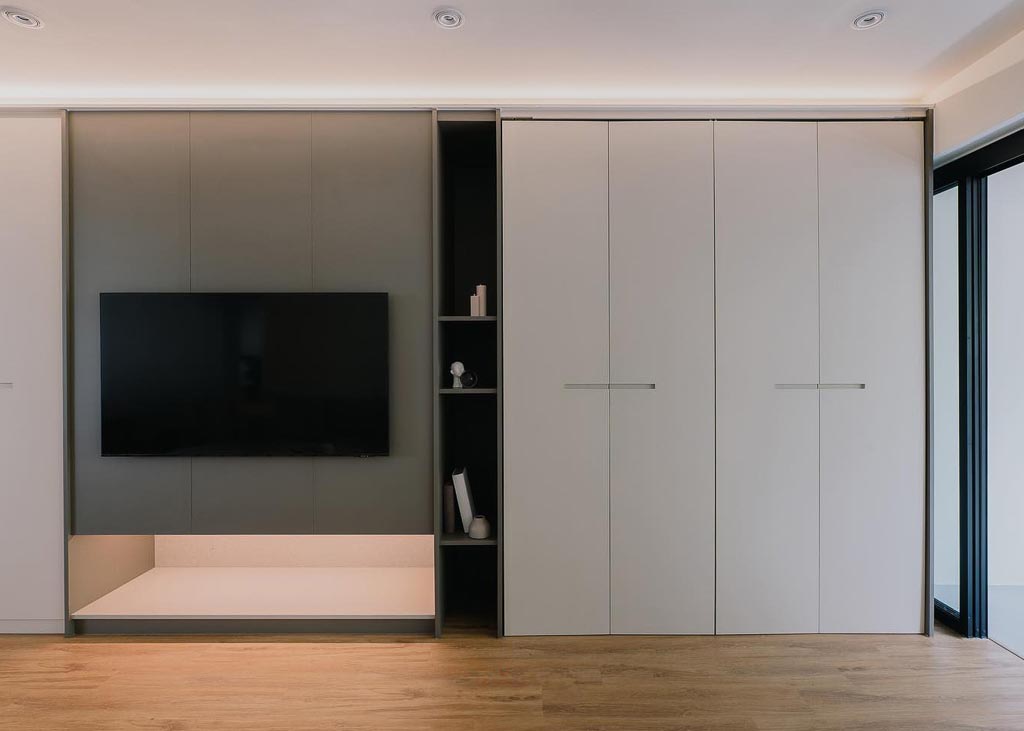 Design: Arkhilite
In a transition space
If your walkway in your HDB or condo is wide enough, think about using this space for a cosy piano nook, just like what this home did. This usually overlooked area accommodates the entire instrument, ensuring it fits snugly without causing any inconvenience to the traffic flow. Its curved edges also provide more a more seamless transition as you walk from area to area.
Design: Arkhilite
Put it on a same-colour background
Built-ins storage options are typically more permanent and can take up quite a bit of space, which may not suit everyone. If you don't want a custom-made storage for your piano, consider the alternative of painting your walls in the same colour as your instrument. This way, it blends in with the overall aesthetic of your interior design.
Design: The Scientist
Make it a part of the TV feature wall
This design makes the piano a part of the TV feature wall. The decision to go all-black in the TV area complements the jet-black piano, effectively ensuring some visual cohesion and minimising distractions in the living room.
Design: Ovon Design
Break it up with an arch
Instead of cabinetry, the piano is housed in a recessed wall. Recessed shelves that feature gentle arches beautifully break up the straight lines and edges of the piano, lending a cosier, warmer ambience to the living room.
Design: Diva's Interior Design
Distract with wallpaper
A busy wallpaper serves as a great backdrop to a piano, sprucing the plain neutral of a piano and creating the perfect accent wall for a home.
Design: ChengYi Interior Design
Align with the curves
This baby grand was positioned right by the entrance of the home, welcoming you with its elegant form as soon as you come inside. A bespoke oval rug was specifically designed to fits it curves, while the walls gracefully undulate to complement the shape of the instrument.
Design: Ehka Studio
Meet Interior Designers. Get Quotes.
Get in touch with our listed renovation companies. They will provide you with a free non-obligatory estimate for any of the Renovation Packages included in their services.