We Review the EverDesk Max Standing Desk and ErgoTune Supreme Ergonomic Chair for WFH
If you are still getting to work from your home (#WFH) in 2023, then it's probably time you get yourself a proper home office. New Year, new beginnings and all that right? Obviously, everybody defines "proper" differently because we all have different home sizes and different working habits. But one thing's for sure—a proper home office means one that will keep you focused and productive. With the remote working situation more or less stable, I believed it was time to do up the spare room in our flat into a proper home office. And as luck would have it, I was offered the chance to review the EverDesk Max adjustable standing desk and the accompanying ergonomic chair, the ErgoTune Supreme V3. Watch our short video review here if you don't like reading long chunks of text:
I wasn't actually looking at a standing desk or an ergonomic chair for my home office, to begin with. I mean, I've heard of their benefits, but I wasn't entirely convinced they were truly beneficial. So how did both of them fare in my workstation? Read to find out:
EverDesk Max.
For the desk, I went with the largest size (160x70cm) available because I had to place a desktop and a laptop. For smaller spaces, there are also two other smaller sizes available: 120x60cm and 140x60cm. Side note: While mine is the EverDesk Max, there's also the
EverDesk Lite
, which is friendlier for your wallet but has fewer features correspondingly. For instance, it doesn't have the dual motors of the EverDesk Max so if you are planning to move it up and down often, the Lite version will be a bit slower (and noisier) to do so.
ErgoTune Supreme V3.
For the chair, I opted for the medium size, which is suitable for folks who are 160cm to 180cm tall. The small is suitable for those below 160cm tall, while the large works for really tall people (>180cm). I chose black for both the desk and chair since it will be easier to match my wall colours. But if you are a bit more adventurous and less boring, the desk also comes in white, a light ashen wood tone and a darker walnut tone. The chair is also available in warm red or cool blue. Note that the black EverDesk Max doesn't come with UniGroove, which is their signature cable management system and is meant to be a more chic alternative to the conventional grommet holes you often see in conventional office desks. Since I wanted to be able to eventually use both sides of the table (in case I'm sharing desks), I opted out of having the UniGroove.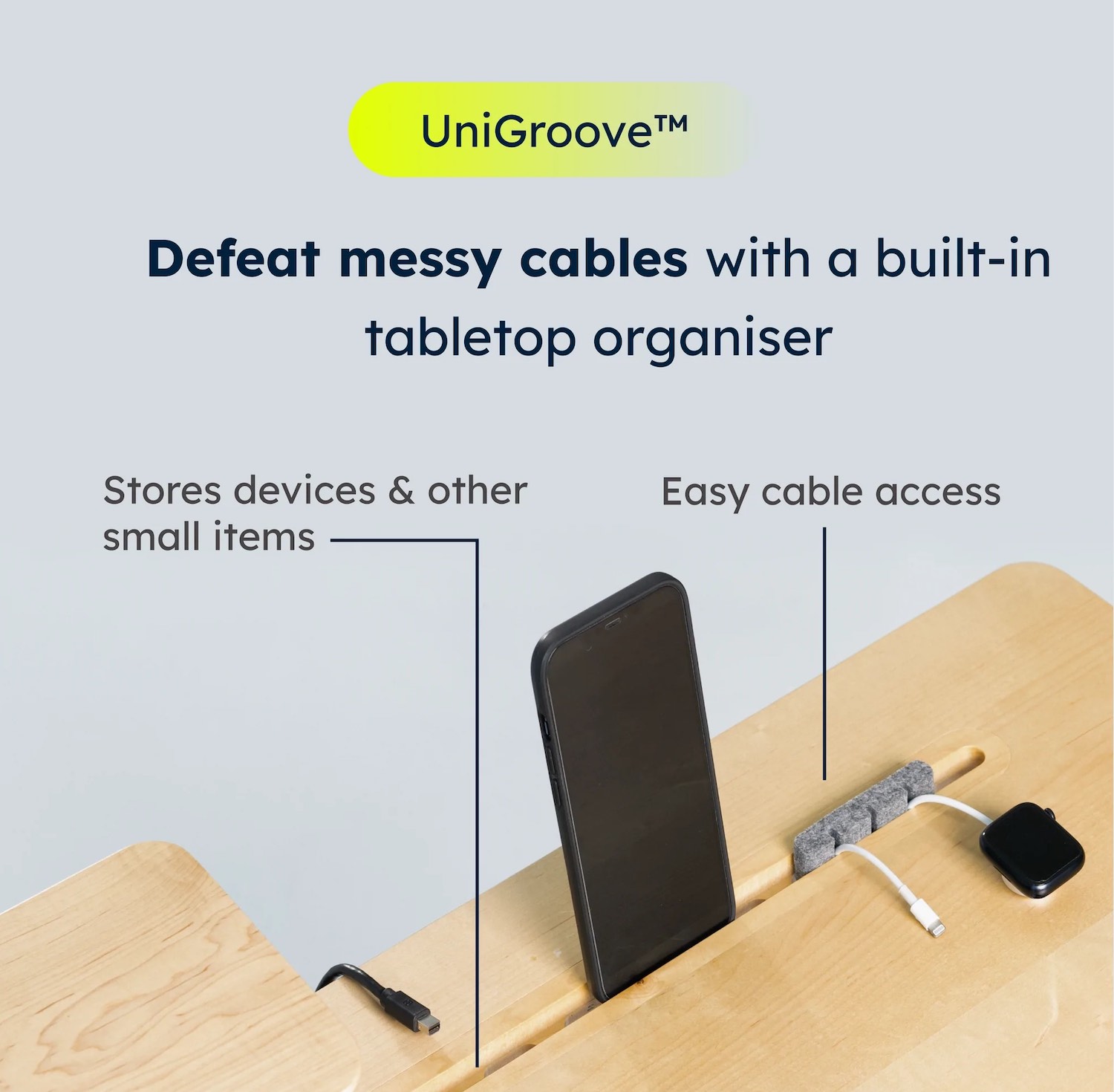 The groovy UniGroove.
Here's a quick look at the specs for the desk and chair we got:
High compression fibre core with heavy duty vinyl wrap

Min 1080 mm and Max 1800 mm

Min 600 mm and Max 1240 mm

Cold rolled steel with protective coat
DuraWeave hybrid mesh, which is a blend of fabric and polyester
Adding on the extras
When shopping for the EverDesk Max online, you are given a bunch of options to select accessories for it. I selected the following:
Castors for the legs: I wanted a change of scenery every once in a while and we also wanted to use this as an extra table for when we have larger guests over for dinner.
Pegboard organiser panel with accessories: Great for organising the various stationery and knick-knacks and freeing up space on the table.
Cable tray: For organising cables. It did manage to hide part of my cables, but they still look messy.
Laptop stand: I use a laptop for work.
The pegboard and accessories bundle. Chapalang stationery not included. Pegboard felt a bit flimsy, IMHO.
Castors. Can be locked in place.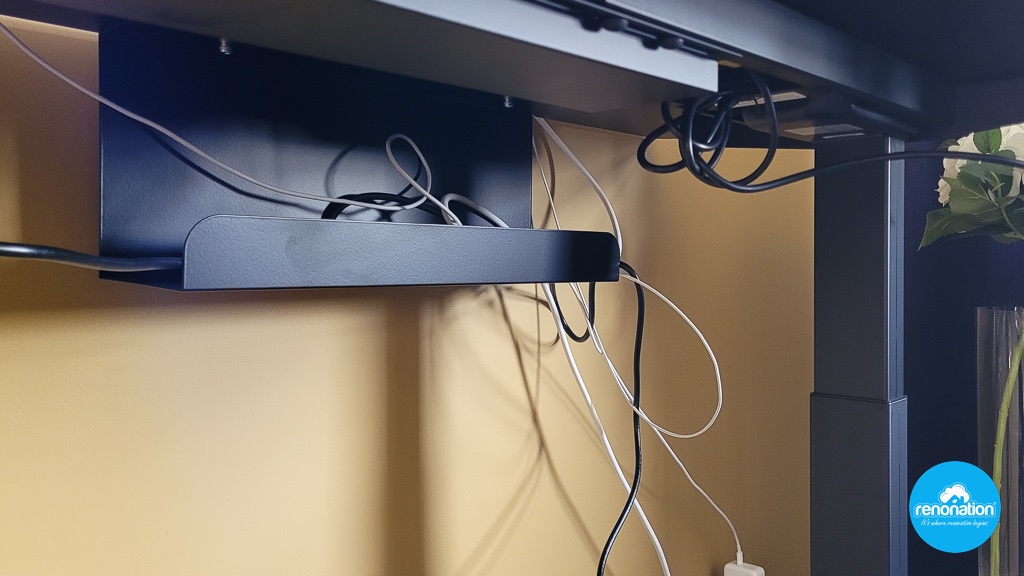 Cable tray, attempting to manage my cables. Sorry if this gives you anxiety.
Setting things up
Delivery is free! Assembly costs an extra S$60 for the desk and S$20 for the chair, although EverDesk says it's pretty easy to self-assemble with their
step-by-step video instructions
. There were also pictorial instructions that came in the boxes.
Instructions for setting up the ErgoTune Supreme.
I opted for assembly and the assigned crew member assembled the desk in about 30 mins and our chair in 10 mins. He used a cordless drill to drill in the nails during the process. For the inexperienced, you might take twice as long.
Setting things up.
As someone who isn't handy at all, it looked complicated to me, so unless you are great with DIY or have time on your hands, I would totally recommend getting the assembly as well to save time and stress.
Typing away on the EverDesk Max
The desk has a slight indent on one side. The black finish felt well-made with smooth joints at the edges of the table so it feels safe even in an environment with young children. It does scratch rather easily though, so you'll want to be careful of that.
Sleek surface.
It was sturdy enough for the work that I do on the table (I mostly type and edit videos on my laptop) even with castors—not locked—on the legs. I also shook the table a couple of times to see how it will hold up for gamers, and it seems relatively stable (see video above for demonstration). It's controlled via a 'Health Coach Controller' that is attached to the right side of the table, although you can choose to install it on the left. It's a cute little round button that doesn't really get in the way and turning it like a knob left or right will move your desk up and down.
Yes, coach.
The great thing about is that it also functions as a "health coach" of sorts, where you can set regular reminders at intervals between 15 mins to 1 hour to switch to a standing desk. It emits a little buzz when time's up. Don't like that particular buzzing pattern? You can change up the vibration setting.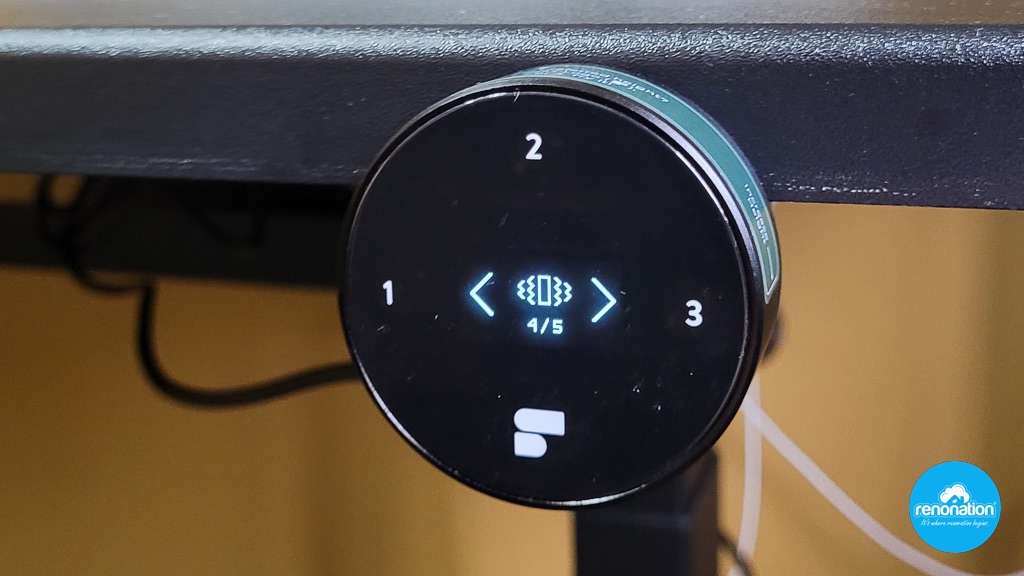 You can change your vibration pattern.
Everyone has heard about the health benefits of not sitting for too long, but not a lot of us actually follow through with that habit of standing up at regular intervals, so the buzz has been a helpful reminder. And it's neither overly distracting nor invasive so even if you are working with a partner in the same room, it's probably going to be OK. If you prefer not to be judged by a button, you can choose not to turn on the reminder. I didn't always switch to a standing desk even with the reminders though, but we did make more of an effort to walk about, get up to get a glass of water or just stare out into the greenery. Besides these functions on the Health Coach Controller, you can also save your favourite height levels so it's easier to get to them faster without having to manually adjust them each time and set height limits (min and max) for safety reasons. It's auto-lock by default so young fingers won't go around pressing buttons. There aren't a whole lot of other things you can do on the controller and there are minimal buttons anyway so you can figure out where everything is after a while without relying on the manual. The main complaint I have is that the touch controls lacked sensitivity. Some functions that required pressing and holding for a few seconds were particularly frustrating to do because it wasn't very sensitive so I had to do it a few more times before I could get it to work.
Adjusting posture on the ErgoTune Supreme V3
The chair looks just like any other ergonomic chair. It's nothing to shout about aesthetically, but it does have a fairly wide and roomy seat (for the medium anyway) and a decent headrest and lumbar support.
Decent support there.
It is also highly adjustable, so it's meant to be suitable for just about anybody. You can tweak it till you find the sweet spot. These are the adjustable points on the ErgoTune Supreme V3:
What can be adjusted on the ErgoTune Supreme V3.
The seat itself is made of a mesh-type of polyester-fabric blend, which is meant to be breathable. I didn't feel warm even sitting for hours on end in a room relying on just a USB fan without any air-conditioning. However, the fabric did feel a tad scratchy on bare skin, so it's not the most comfortable.
Fabric not the most cushiony or softest.
The chair's overall support, and particularly the lumbar support, is quite good though. I usually get a bit of a sore back by the end of the day. Not so when we sat on the ErgoTune Supreme for hours on end. I also like how I could adjust the armrest inwards. Since my laptop is relatively small, I was still able to rest my elbows comfortably on them even as I type away, reducing the strain on my wrists. It can be completely turned inwards, which is great if you are reading or looking at your phone.
Love that the armrest can be completely turned inwards.
It definitely takes a while for you to figure out how to adjust everything and tweak it according to how you like it. The guide they provide is helpful, taking you through each knob and showing you where things can be adjusted. I had a couple of 'Goldilocks' moments in the first week, constantly adjusting the chair till it feels just right. For those who aren't used to sitting in ergonomic chairs, give it about a couple of weeks as it will take time to get used to it as well.
Conclusion
So do you really need to splurge on a standing desk and an ergonomic chair for your work-from-home setup? The answer isn't a definite yes if I'm being honest—but only if you already have solidified the habit of standing up regularly from your desk and maintaining good posture while sitting. Essentially, a standing desk gives you the convenience to continue working while standing. And the EverDesk Max does that but with a bit of extra reminding through their Health Coach Controller. So it makes it easy for you to follow through with standing up regularly. An ergonomic chair definitely aids in the proper sitting posture if you have the tendency to slouch (a lot of us do when we get too focused on work). But make sure you opt for one that has high adjustability and customisability as with the ErgoTune Supreme V3, since everybody's body shape and size are different.
Pricing - how much moolah do you need?
Prices for the EverDesk Max start from S$749, although you can currently enjoy a Christmas promotion where the desks are going at a S$110 discount + an extra S$40 discount if you pay by Grab and 11% off all accessories. The ErgoTune Supreme is usually priced at S$599, with the Christmas promotion offering a S$90 discount + an extra S$30 off when you pay by Grab. For those looking for Christmas ideas and want to spread some good cheer (and an ergonomic lifestyle), they also have gift cards (also discounted) so your friends and family can choose the best home office setup for themselves.
For more information, visit
https://everdeskplus.com/
and
https://ergotune.com/
Meet Interior Designers. Get Quotes.
Get in touch with our listed renovation companies. They will provide you with a free non-obligatory estimate for any of the Renovation Packages included in their services.