8 Ways to Squeeze a Walk-in Wardrobe in Your HDB Bedroom (No Wall Hacking Required)
A walk-in wardrobe within the confines of your bedroom is the epitome of luxury, but alas, you live in an HDB flat and you think it's an impossible dream. Except, it isn't. We've rounded up a few ways to squeeze in a walk-in wardrobe into your HDB bedroom, and all without having to sacrifice a room or hack away any walls.
1. Galley style
Works for
: If you're seeking a more classic and luxurious look, the galley-style closet is the one to go for. That is, if you don't mind sacrificing a part of your room where your bed will be, i.e. you most likely won't be able to squeeze in a king-sized bed in this layout. Set aside at least 2 metres of space for your clothes to hang out properly. Both sides of the closet need to be at least 0.5 metres if you're hanging up shirts.
Go for sliding doors if you're opting for a closed concept closet. They save more space than hinged ones.
Design:
Design 4 Space
A mirror placed at the end of the walk-in wardrobe is not only useful for dressing up, but also serves to create the illusion of a larger and longer closet.
Design:
The Scientist
Most layouts favour the closet sitting parallel to the bed. Not this one. The walk-in wardrobe here is set perpendicular, creating a shorter closet, but resulting in a less restrictive bedroom.
Design:
Third Avenue Studio
2. L-shaped
Works for
: Those who prefer a wider walking aisle, but still, need the storage space. This layout is also for those who prefer a bigger area for their bed since there is more room, compared to the galley style, to create a walk-in wardrobe with a shorter width.
The L-shaped walk-in closet is also ideal for HDB master bedrooms that have windows on more than one side of the room. The additional window positioned within the closet area provides the perfect natural lighting.
Design:
Design 4 Space
If the natural lighting is hard to come by, make sure your closet is well-lit with artificial light sources. The full-height wardrobe blocks off the daylight coming from the windows and will create a nook that makes it hard to see if not supplemented with proper lighting.
Design:
H20 Interior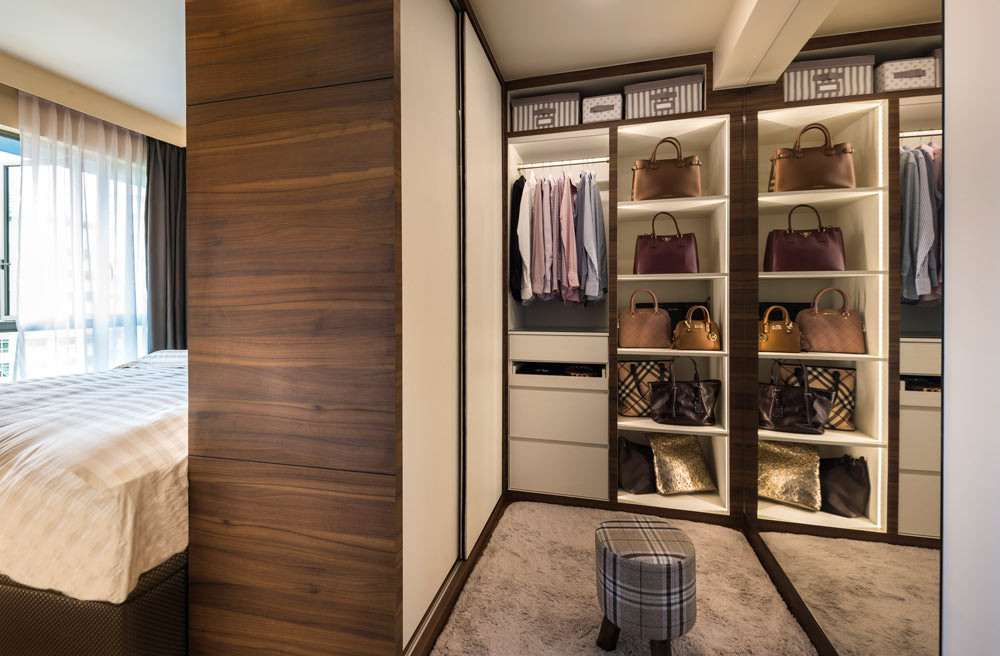 Furnished with a full-length mirror, this wardrobe also features open shelves for displaying the homeowner's designer bags collection.
Design:
Rezt & Relax
3. One-sided wardrobe
Works for
: This layout is particularly suited for those who have a longer passageway from the entrance of the bedroom to the sleeping area. Rather than have your wardrobe against the wall, position it on the other side – next to the bed – to create a sequestered area that feels like a walk-in wardrobe. Also suited for folks that prefer more aisle room to change in without having their elbows knocking into wardrobe compartments or doors.
A one-sided walk-in wardrobe provides ample space for dressing up in.
Design:
The Local Inn.terior
For particularly long passageways, you have the option of creating a closet that has more than four doors.
Design:
The 80's Studio
For extra convenience, allow your one-sided wardrobe to open from both sides.
Design:
Uno Interior
4. Enclose your closet
Works for
: Those who want the ultimate feeling of exclusivity. Boxing up your already small walk-in wardrobe within your master bedroom isn't for the claustrophobic and it will create a bedroom that feels a bit more constricted. However, it does give you a lot more privacy.
This enclosed walk-in wardrobe leads to the entrance of the master en-suite.
Design:
Areana Creation
A see-through enclosed wardrobe might make things less claustrophobic.
Design:
Control Space Design Studio
A hinged door hides away the L-shaped walk-in wardrobe.
Design:
Dots N Tots
This enclosed walk-in wardrobe can be opened on all sides.
Design:
Dots N Tots
Similarly, an additional doorway, swathed in the same laminate as the wardrobe, was built to create a more exclusive walk-in closet.
Design:
Dots N Tots
5. Do up an elevation
Works for
: Those who don't fancy the restriction of an enclosed closet, but value the privacy and exclusivity. The extra step-up has the unexpected result of creating a more privatised closet. Like the enclosed closet, a platform helps to delineate the space between the walk-in wardrobe and the bed more clearly. But unlike it, it doesn't create a bedroom that feels too cramped.
The walk-in closet feels luxurious, thanks to the extra elevation as well as the carpeted flooring. Make full use of that platform by incorporating storage space.
Design:
D5 Studio
A platform lends a more exclusive closet, while also helping to create a cosier enclave in the sleeping quarters.
Design:
Dream Creations Interior
The cove light features create an elegant milieu in this walk-in closet.
Design:
Design 4 Space
6. Include a vanity table
Works for
: Those who require a dressing table. Because space is already limited, having a vanity area will mean you have less storage space for your clothes and accessories. While it's fabulously functional, make sure you have enough room for your apparel before considering incorporating a dressing table within your small walk-in closet.
Feel like a movie star with a makeup mirror surrounded by exposed light bulbs.
Design:
Dots N Tots
For those who require more space for their vanity area, incorporate a floating table along the length of the closet against a mirrored wall.
Design:
I-Chapter
A dressing table that sits at the end of the walk-in wardrobe against a full-length mirror is a great space-saving solution.
Design:
I-Chapter
The vanity table sits neatly at a recessed compartment of the wardrobe, blending with the aesthetic while minimising the space it takes up.
Design:
The Scientist
7. See-through wardrobe
Works for
: Folks that don't want the walk-in wardrobe taking up the quality of life of their bedroom. See-through wardrobe designs help to create a better-ventilated bedroom, a more brightly lit closet and give the impression of more spacious space. Some of the designs do require that you have a relatively neat wardrobe though. Otherwise, you'll end up with a space that feels more cluttered than creative.
The back panels of this walk-in wardrobe are semi see-through, thanks to the chicken wire panels used, which helps to maximise the daylight coming in from the windows in this master bedroom while still maintaining some privacy.
Design:
Team Interior Design
Here's one that is completely see-through, clad in full-height glass panels.
Design:
3D Innovations
Accented with black lines, this see-through walk-in wardrobe doesn't feel too visually heavy.
Design:
Inspire ID
Can't keep the mess away from your closet? This semi-open design should solve your problem. The see-through portion of this walk-in wardrobe is built with recessed lighting, and can be used to display the homeowners' accessories or as a bedside table on the other side.
Design:
Third Avenue Studio
8. Locate it around the headboard/footboard of your bed
Works for
: Placing your walk-in wardrobe at the foot or the head of your bed will work if you have more room to play around with, or you don't mind an unconventional bedroom layout.
While this arrangement creates a more spacious bedroom, it tends to create a smaller aisle space for your walk-in closet.
Design:
Space Factor
Here, a galley style closet sits at the foot of the bed. Traffic is limited, and can only be accessible by passing through the wardrobe.
Design:
Urban Habitat
The bed faces the windows in this layout. A chest of drawers serves as the bedhead, while also sectioning off the wardrobe area for more exclusivity.
Design:
The 80's Studio
---
Do you love what you've seen? Contact us for a non-obligated consultation now.
Meet Interior Designers. Get Quotes.
Get in touch with our listed renovation companies. They will provide you with a free non-obligatory estimate for any of the Renovation Packages included in their services.