10 Ways to Include a Home Office in the Living Room
With homes in Singapore shrinking in size, we are seeing more folks turning their spaces into multipurpose zones. The living room is no longer just reserved for TV watching; it's also used for entertaining, as an eating nook and most recently—thanks to the pandemic's move towards remote work—as a home office.
But how do you combine the living room with the home office and remain tasteful? How do you balance productivity with leisure? We checked out these homes that did it on point:
1. THE BACKSTORY
If you get easily distracted, this design solution will help you keep your eyes on the right screen. Facing away from the living room, the home office features a sleek wall-mounted table and storage cabinets that stretch the length of the room. The concealed lighting is a useful task light but switching to a warmer glow turns it into a mood-setter for the communal zone.
Design: Arche Interior
2. ALL IN ONE
Combining the workstation with the living room's TV console means you'll only need one built-in for that multipurpose space. This helps to keep things looking neat without so many furniture pieces lying around. We love how the design caters to the need for the different heights with a curved element as it helps make the visual transition smoother.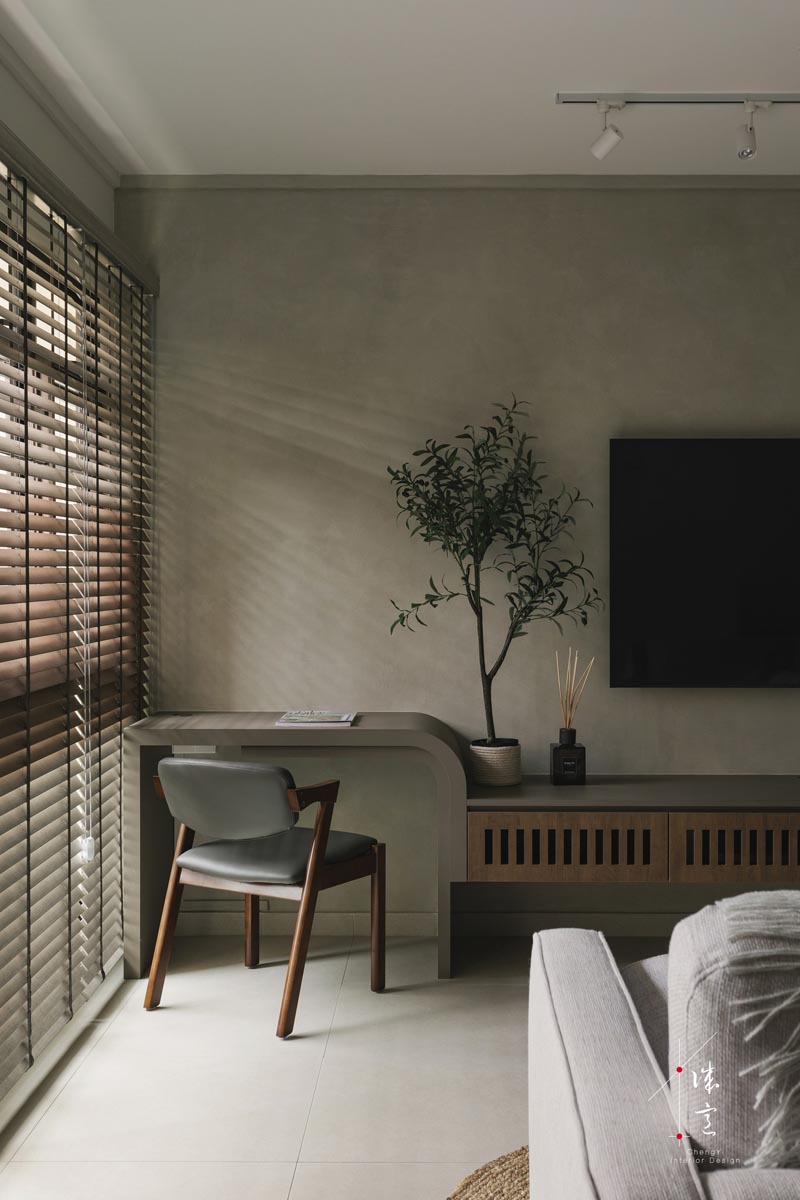 Design: ChengYi Interior Design
3. KEEP IT MOVING
Want things to be a bit more flexible? A rolling desk with castors lets you move your home office anywhere in the living room. It's pretty much similar to hot desking—except it's in the comfort of your home.
Design: Three-D Conceptwerke
4. OUT OF SIGHT, OUT OF MIND
No one needs to look at their workstation 24/7. Tuck it away into a side cupboard and close the bi-fold door after work hours. Not only does this keep home office essentials—ew, paperwork—from cramping the style of your home, but you'll also have the opportunity to add a focal point to your living room with a gorgeous door design.
Design: Ovon Design
5. WINDOW VIEW
Blessed with a view? Perhaps you'll want to arrange your home office so that it looks out to that cityscape. It uses an oft-overlooked window space, which is perfect for smaller homes. Do make sure that you don't get a lot of morning or afternoon sun from the window (e.g. east- or west-facing windows) since the glare will make it difficult to see your monitor's screen.
Design: Artspaze
6. COUCHING TIGER, HIDDEN DRAGON
Sometimes the only room you have in the living room for your home office is behind the couch. Rather than go with a full-height divider to separate the spaces, create a short partition that hides the mess on your desk without blocking out light or ventilation.
Design: Inizio Atelier
7. TRANSFORM WITH TRANSFORMERS
This fully customised office desk solution is the perfect solution for homes that are really short on space. It starts as a drawer underneath the built-in wooden bench but can be completely pulled out to be used as a coffee, side or laptop table in the living room.
Design: The Minimalist Society
8. ALCOVE TERMINAL
A casual workstation was created by carving out a recessed nook in the TV storage unit. The table is bar height, which helps to feel more laidback for this living room setting. The advantage of this is that it can also work as a standing desk or a coffee/home bar after office hours.
Design: Hock Hoon
9. NOW YOU SEE IT
Another hidden office solution! This one is in the form of a pull-out table integrated with the TV feature wall. It can be completely folded back when work's done, with storage units by the side to stow away essentials.
Design: Space Atelier
10. FRAME THINGS UP
In this Muji-style apartment in Malaysia, the workspace is framed up by the front of the window. Keeping the home office visually lean with a trim table ensures that the view isn't obscured. Metal table legs offer extra stability.
Design: IQI Concept
Meet Interior Designers. Get Quotes.
Get in touch with our listed renovation companies. They will provide you with a free non-obligatory estimate for any of the Renovation Packages included in their services.