9 Ways to Divide Your BTO Kitchen and Service Yard
It's a consensus that BTOs come with standard fittings that usually veer on the side of ugly. The fitting that has many of us complaining are the bi-fold door and glass louvres that help to separate the kitchen from the service yard. And it seems HDB has heard us, replacing them with sleeker fittings with no difficult-to-clean louvres in sight. Still, a lot of us are still getting the old version (the new fittings will only be installed in BTOs launched from Feb 2019), and the successor doesn't look that sleek anyway:
Old version
New version
Whether you are stuck with the old or getting the new, these more stylish solutions to divvy up your kitchen and service yard will definitely question HDB's design sensibilities and perhaps inspire a change in your own BTO:

1. Stick thin
Now this is how you do sleek. No thick ugly frame to block off the natural light. The thicker ones by HDB feel vulgar by comparison. Choose the colour to match the rest of your kitchen. Whether it's gold for that luxe factor or white for a Scandinavian touch.
Design: PSD Studio
Design: Key Concept
Design: Key Concept
Design: Salt Studio
2. Curve entrance
Planning to distinguish yourself from the crowd? Curves are always a great way to stand out. Arched doorways into the service yard can serve as a design feature and they also help to soften the space visually, easing the hard lines and edges for a cosier vibe.
Design: Lemonfridge Studio
3. Rounding things up with a door
If you like the idea of the arch, but want to close off your service yard (and laundry) from the fumes and grease of your cooking, consider including a curved door. These tend to cost more since they will need to be customised, so do set aside a budget for it.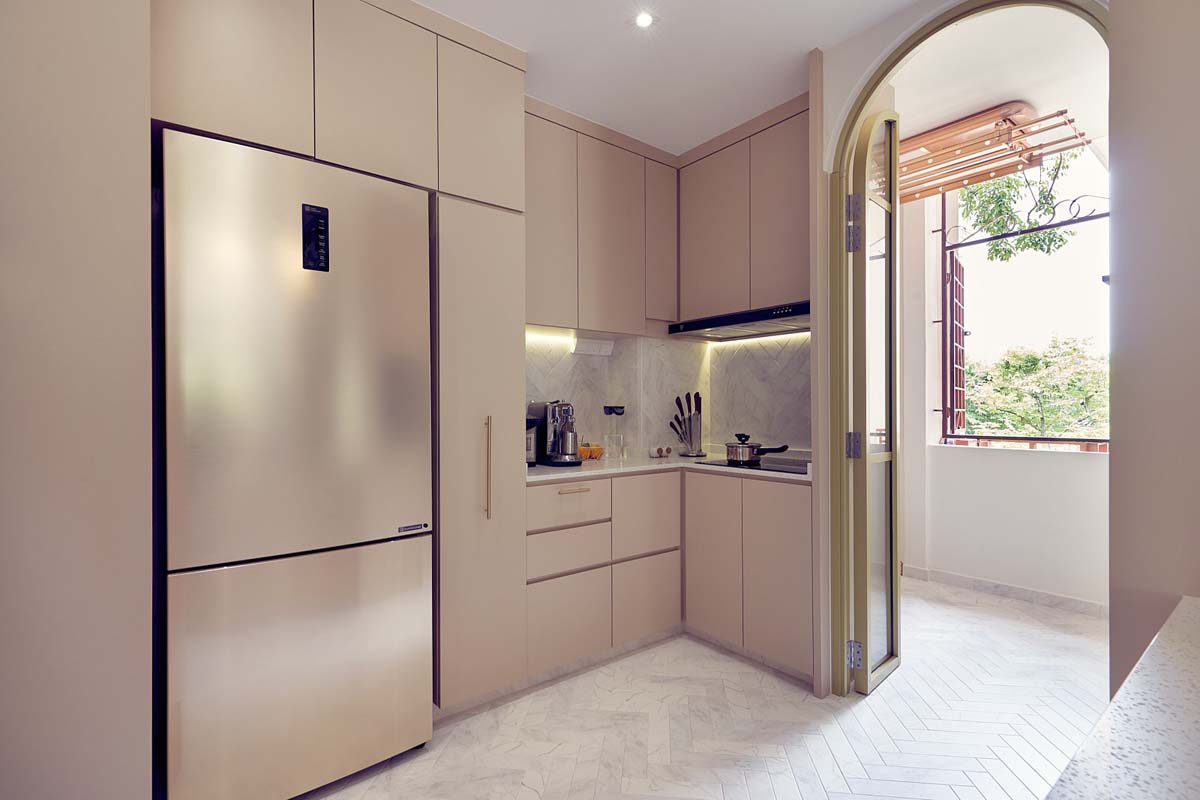 Design: Lemonfridge Studio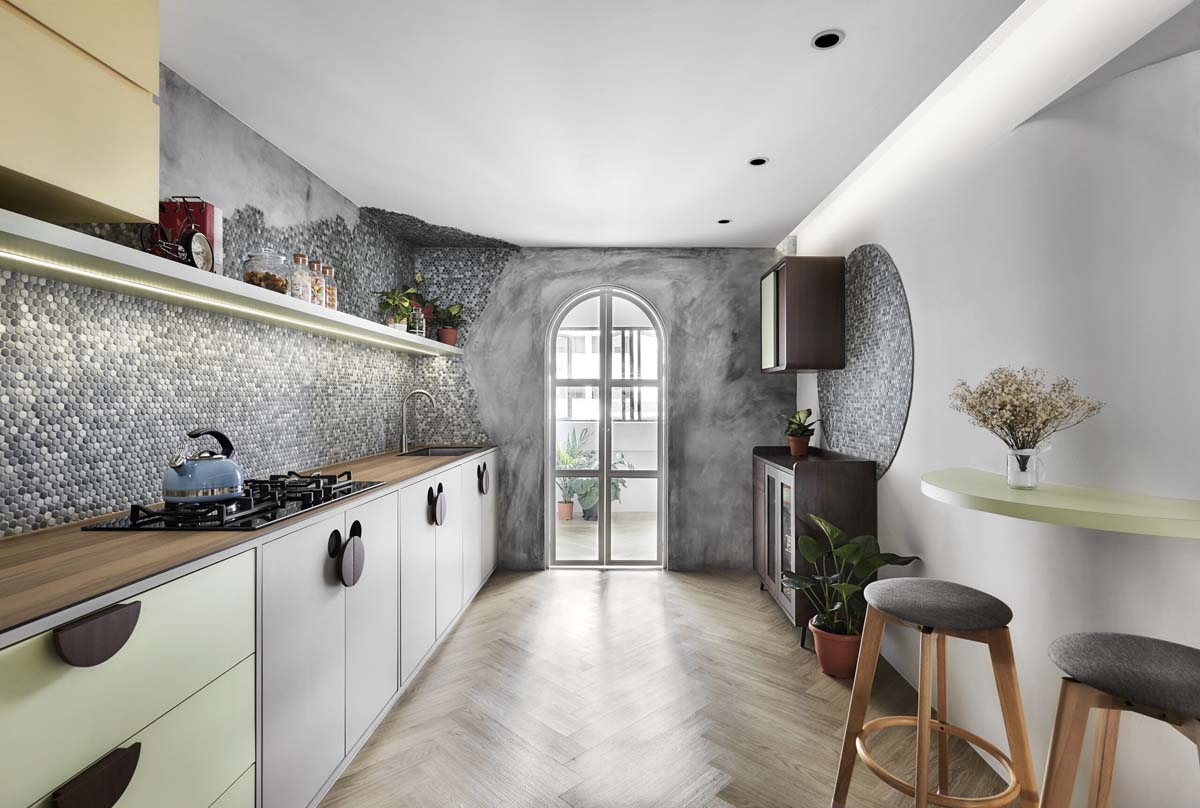 Design: Notion of W
4. Do just doors
If you don't need those additional side panels—I mean, what are they for anyway?—you can always remove them and replace them with much needed upper cabinets for extra storage space. Then, go with a simple door. Whether bi-fold, sliding or a swing door, that's completely up to you. The last option will need extra clearance space, so make sure you have that room!
Design: De Style Interior
Design: Builders Plus
Design: Authors Interior & Styling
5. Easy breezy
This solution hides away the mess and clutter of the service yard (we all know how they can become a complete dump zone), while still allowing for light and ventilation to pass through the kitchen—a great option if you tend to have guests (or your mother-in-law) popping by last minute and don't have time to clean up.
Design: Free Space Intent
6. Curtain call
For a softer touch, curtains are an interesting choice. Because the entryway into the service isn't usually very wide, you can go with just a conventional one panel curtain or do a Noren style one for a traditional Japanese flair. Curtains are a cheap option, easy to replace and can be thrown into the washer whenever they need a quick refresh.
Design: Third Paragraph Interior
Design: Builders Plus

7. Keeping it old school
For a quirky treatment, the designers replaced the glass panels with retro style ventilation blocks that were commonly used in older buildings. The floral design harks back to a bygone age, while offering a feminine touch to contrast against the masculine colour schemes of the kitchens.
Design: Voila
Design: Voila
8. Go into hiding
Does the entrance into the service yard ruin the glossy looks of your kitchen? Consider hiding it away completely like how these homeowners did it. You can't tell the cooking space leads into the service yard here (it's to the right of the kitchen, by the way!), because the doorway was built to look just like the rest of the kitchen cabinets.
Design: Fifth Avenue Interior
9. Do a redesign
The homeowners of this home repositioned their service yard completely, removing the original walls and glass panels and enclosing the laundry area behind framed glass panels installed along the length of the kitchen counter. This offers up more space for the service yard, although you might have to sacrifice a bit of cooking space!
Design: Icon Interior Design
As with all demolition and hacking of walls, you will require a permit from HDB. So make sure your contractors and interior designers get the necessary permission before commencing any works.

Meet Interior Designers. Get Quotes.
Get in touch with our listed renovation companies. They will provide you with a free non-obligatory estimate for any of the Renovation Packages included in their services.