13 Vanity and Dressing Table Ideas for Small Spaces
In a small space, a vanity or dressing table might seem superfluous. But if you've always dreamed of having a dedicated beauty station for your morning and night rituals, these ideas might just work in your tiny apartment.
1. Narnia's wardrobe
Open your wardrobe doors to reveal a dressing table complete with a matching, cushioned vanity chair, ala The Chronicles of Narnia. It's built to look like the façade of the closet, and can be stowed away inside the cupboard when you're done with your beauty rituals.
Design: Metaphor Studio
2. Cupboard containment
This stand-only dressing table can also be concealed behind cupboard doors when not in use, freeing up space in the bedroom and keeping the clutter of your makeup table away from sight. Consider building cubby holes on the flipsides of the wardrobe doors to organise beauty products.
Design: The Association
3. Find your niche
A wall niche helps to define your vanity area, creating a more exclusive feel to your beauty space. Having the area sequestered into the alcove also helps to keep the rest of your room neat and tidy, without taking up too much visual clutter.
Design: Free Space Intent
4. A wardrobe section
Here's another compact vanity area that forms a part of the wardrobe in the bedroom, taking up no more space than necessary. A round mirror hangs perfectly in the space.
Design: Lemonfridge Studio
5. Bedside table addition
This bedside table doubles up as an elegant vanity table that any person would be proud to own. A tall mirror, mirroring the wall moulding on the other side of the bed, not only provides the perfect accessory for this beauty station, but it also helps to visually enlarge the bedroom, creating a sense of spaciousness.
Design: Fifth Avenue Interior
6. Sweet in the en suite
If your bedroom's too much of a squeeze, consider transferring your makeup table to your bathroom. Maximise the airiness and lightness of your en suite with a wall-hung vanity that also lets you slot a vanity seat in as well.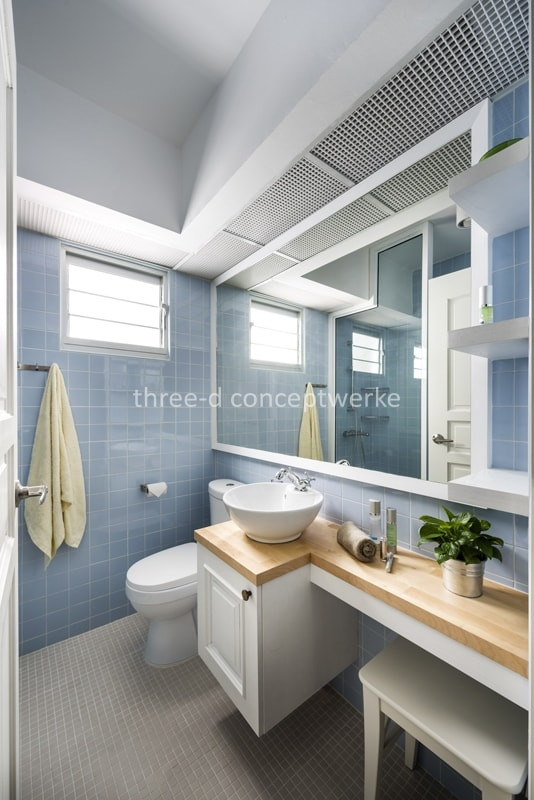 Design: Three-D Conceptwerke
7. Closet compartment
This dressing table pulls out from the built-in wardrobe, functioning as a super space saver. The vanity is located just next to the bed, which serves as a convenient vanity chair.
Design: Metier Planner
8. The room divider
This petite vanity is propped behind the see-through divider that helps separate the sleeping area from the walk-in wardrobe. It may be small, but it packs a punch in terms of functionality and style.
Design: Liid Studio
9. Workstation evolution
Have your vanity area doubling as your study table if you want to make the most of your limited space. This large desk extends from the closet, serving as a form of partition from the bed. The top flips open to reveal a mirror as well as storage space for makeup and accessories.
Design: DistinctIdentity
10. Wardrobe extension
Rather than go for an L-shaped wardrobe, part of it was set aside to use as a full-height makeup station. A mirror panel was set at the backing, punctuated only by drawers that are covered in a similar woodgrain laminate finish as the rest of the closet. Cubby holes were installed at the side to display the homeowner's collection of bags.
Design: Absolook ID
11. Corner conception
This vanity makes use of a corner in this bedroom. A slim, wall-mounted table opens to reveal a mirror and a drawer for fashion accessories. While open shelves were built along the edges of the wall to display crystal bottles of perfumed concoctions.
Design: Casa Interior Design
12. Awkward affairs
This slender vanity table makes the most of this awkwardly shaped room by attaching itself to a slightly recessed wall. Custom-built shelves by the side provide a display area for beauty products.
Design: Space Factor
13. Curved Feature
A curved edged vanity table takes up less space than a pointed edged one. The bonus? It adds a quirky design element that will definitely be the talking point of your guests.
Design: The Local Inn.terior
---
Browse through the list of Interior Designers, their reviews and portfolios at http://www.renonation.sg/professionals/interior-designers/
Submit your renovation enquiry:
Meet Interior Designers. Get Quotes.
Get in touch with our listed renovation companies. They will provide you with a free non-obligatory estimate for any of the Renovation Packages included in their services.