Top 8 Best Bathroom Features We Want to See More of in 2021
With many of us living in apartments, whether in an HDB flat or a condominium, we have come to expect a dismally small bathroom. But that doesn't mean it has to be an uninspired space! Start thinking about making yours stand out from the crowd in 2021. From stunning shower niches to unconventional curved details, these trendy bathroom features are guaranteed to help you do just that.
1. His-and-Hers Sinks (no more morning jostle!)
If you are clashing elbows with your partner to use the sink every morning, twin sinks—otherwise also known as his-and-hers sinks—are your answer. Sure, they do come with extra costs (plumbing, fixtures, etc.), but if the results are a five-star worthy en-suite and the freedom to brush in peace? Totally worth it.
Design:
19eightythree
Design: Dyel Design

2. Curved Shower Screens
Curves
are really on-trend in the interiors world of late, and the bathroom space isn't spared from this post-modern/retro element. While most would go for an arched mirror to incorporate this trend, the brave ones would go for a full-fledged curved glass shower screen. Just make sure you go for the
right sort of glass
for safety reasons!
Design:
19eightythree
Design:
Free Space Intent
3. Powder Rooms!!
And if you have two bathrooms but don't need both for showering, consider turning one into a powder room. These are usually reserved for guest use, making them perfect for folks who entertain often. Conventionally, powder rooms comprise a sink and a toilet with no shower facilities, so they present the perfect opportunity for going a little adventurous with your bathroom design. Put up wallpaper, show off a nice chandelier or go for a really dark colour scheme—do things you wouldn't do in a normal bathroom!
Design: House of Chais
4. Concealed Bathroom Fittings
We're also noticing a lot of concealed bathroom fittings. Think wall-mounted faucets and rain shower heads and concealed shower mixers and cisterns. These make a bathroom neat, tidy and oh-so-luxurious. With fewer nooks and crevices, clean up's also a breeze. Make sure you talk to your interior designer early if you are looking to include concealed fittings since they will need a bit more pre-planning.
Design:
The Association

Design:
Ascend Designs

5. Sink's on the Outside
With our bathrooms so small, having the vanity sink on the outside seems like a great way to have a larger shower area. (Freestanding bathtub, anyone?) Plus, it also helps to keep your vanity cabinets less exposed to the humidity from hot showers—yes to no more peeling laminates!
Design:
Notion of W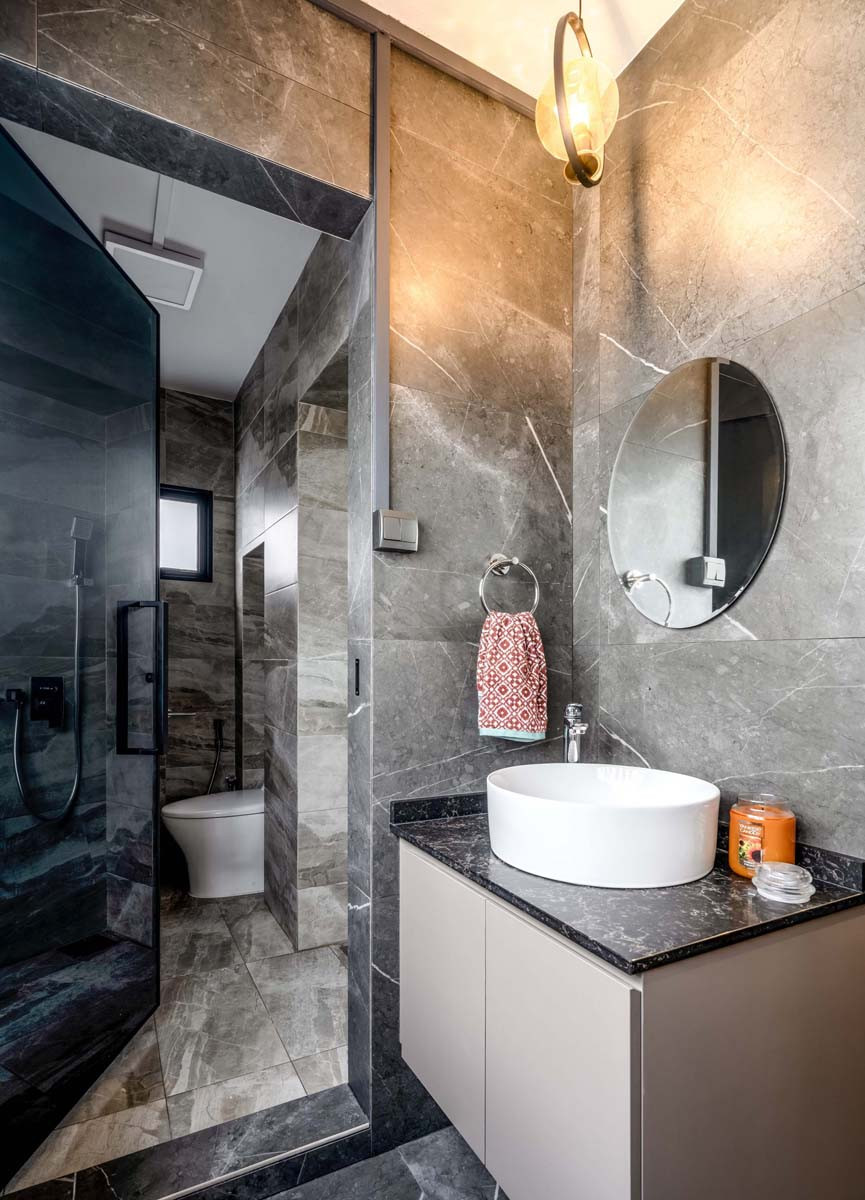 Design:
Weiken
Design:
The Local Inn.terior
6. Tiles laid vertically
We are seeing more tiles being laid vertically, most notably behind the vanity and sink area. Consider this for bathrooms that don't have a lot of height, whereby the vertical tiles can lend the illusion of a taller space.
Design:
MMJ Design
Design:
Lemonfridge Studio
Design:
Fifth Avenue Interior
7. Recessed Shower Niches
Recessed shower niches are the dream! We love them because unlike shower caddies, they don't jut out and get in the way of things when we shower. The recess helps to keep things looking neat, but they also allow you to be a little creative with your space. Do up a contrasting niche to make it pop against a neutral space or go for a black border (with the ABS trimming) to really define your niches. Using the same tiles as the rest of your shower area will provide a more visually seamless look.
Design:
Fuse Concept
Design:
Collate
Design:
Three-D Conceptwerke
8. Arched Doorways
If you are looking to make a statement, there is no better place to start than with the door. And nothing says statement like an arched one! Not only is it in line with the curve trend, it can definitely hold up on its own in a small space like a bathroom so you don't really need any other bells and whistles elsewhere.
Design:
Adroit Interior Design
Design:
Three-D Conceptwerke
Meet Interior Designers. Get Quotes.
Get in touch with our listed renovation companies. They will provide you with a free non-obligatory estimate for any of the Renovation Packages included in their services.