5 Tips for the Savvy Homeowner to Make the Most of Alibaba's 11.11 Global Shopping Festival
By now, most of you are familiar with the numerous shopping sales and deals happening around and on November 11, known also as Singles' Day. While it originated as a day in China to celebrate a person's singlehood, it has now turned into one of the biggest shopping events around the world. It all started back in 2009, when Chinese e-commerce platform Alibaba instituted the first Singles' Day sales, offering heavy discounts on its Tmall shopping platform. Alibaba has since made this into an annual affair with this year's 11.11 Global Shopping Festival featuring two sales windows—the first taking place from 1 to 3 November and the second on 11 November itself. And this year is set to be their biggest festival yet, with more than 290,000 participating brands! To help you get set for this, we've included a list of massive deals below so you can snag a wide range of goods (including home products!) and enjoy special promotions just for Singapore consumers.
Get everything you need on Taobao for your home
For the savvy and budget-conscious homeowner, Taobao offers an extensive range of products at very affordable prices. Whether it's big-ticket furniture items or smaller home decor accessories, you are likely to be able to kit out your entire home with Taobao. Unconvinced that you can get everything you want on the shopping platform? This HDB executive maisonette, from the dining table down to the double sinks in the master en-suite, was furnished almost exclusively with items on Taobao, so it's 100% possible! Stretch your dollar and make the most of this shopping event with the following tips:
1. Learn the best ways to search
Think you can't buy anything on Taobao because you can't read Chinese to save your life? Think again. Both the site and app offer you a couple of ways to search without having to fret so much over navigating the Chinese language.
Method #1: Copy and paste keywords
Online translation is an immeasurably helpful tool when it comes to translating words from English to Chinese. Once you have translated what you need, all you have to do is copy and paste the keyword or phrase into the search bar. It does take a bit of trial and error though since common online translation tools aren't perfect. To make things easier for you, here's a tried-and-tested homeowner's cheatsheet:
Furniture and Home Decor
Sofa
沙发
Dining Table
餐桌
Coffee Table
咖啡桌
Bar Table
酒吧台桌
Bar Stool
酒吧凳⼦
Arm Chair or Lounge Chair
靠背椅
Study Desk
书桌
Massage Chair
按摩椅
Office Chair
电脑椅
Bookshelves
书架
TV Console
电视柜
Dressing Table
梳妆台
Pendant Light
吊灯
Floor Light
落地灯
Shoe Rack
鞋柜
Bedframe
床架
Bedside Table
床头柜
Wardrobe
⾐柜
Sofa Bed
沙发床
Vase
花瓶
Cushion
靠垫/靠枕
Rug
地毯
Table Decor
桌⾯摆件
Mirror
镜⼦
Fittings
Kitchen Sink
厨房⽔槽
Kitchen Tap
厨房⽔⻰头
Rain Shower Set
花洒淋浴套装
Bathroom Counter Tap
台上盆⽔⻰头
Style and Materials
Industrial
⼯业⻛
Minimalist
简约
Scandinavian
北欧⻛
Modern
现代⻛格
Japanese/Muji Style
⽇式⻛格
American Style
美式
Wabi-sabi
侘寂⻛
Rattan
藤编
Solid Wood
实⽊
Velvet
丝绒
Plain colour
素纯⾊
Method #2: Use image search
Alternatively, you can choose to do an image search on the Taobao app. Consolidate your inspirational images, tap on the camera icon by the search bar to upload your images and get your results. We love how eerily accurate that function is, plus it really helps to narrow down your search.
2. Shortlist your favourite products beforehand
With the sheer volume of products on Taobao, it will take a ton of time just to sift through the items and read through the reviews to decide what to cart out. And if you are going to be doing all that on 11.11, you will likely be missing out on some of the best deals. To bank in on all those promos come the big day, you will want to start shortlisting the products you want now. Save them under Favourites "收藏夹" for easy access when it's time to cart them out. It's a great way to track what you are planning to buy and to make sure you don't miss anything out. Bonus: You also get to check out the prices beforehand to see how much of a deal you will be getting. For those looking to get atop on one of this year's latest home interior trends,
wabi-sabi
(a Japanese worldview that essentially centres on finding beauty in imperfection), we have shortlisted a few products from Taobao that will fit right into this theme:
Ceramic vases with dried flowers
: Fill your home with a sense of serenity with the understated elegance of the vases and the rusticity of the dried blooms
Wall decor
: Add textural interest with these wall ornaments made from natural materials.
Wood coffee table
: This coffee table's soft curves and simple profile are in line with wabi-sabi's humble and modest aesthetics.
Rattan dining set
: Get the imperfect, 'handmade' look that wabi-sabi is known for with rattan elements in your furniture.
Rattan chaise
: This relaxed trend needs a casual furniture piece like a chaise for laidback lounging days.
Faux plant
: Bring in a sense of nature and a pop of greenery amidst the neutrals with a faux fiddle leaf fig.
3. Know the 11.11 promos well
As a savvy homeowner, you will want to familiarise yourself with this year's 11.11 promos to fully capitalise on them. Keep these deals in mind as you shop:
Snatch Hongbaos
No time like now to channel the
kiasu
in you. From now to 10 November, snatch up to RMB 111 site-wide and shipping
hongbaos
for extra savings with a minimum spend of RMB 1,111. There are limited quantities daily, but these
hongbaos
can be stacked with other discounts, shopping vouchers and promo codes. It gets even better during the two sales windows of Alibaba's 11.11 Global Shopping Festival. On 1 to 3 November and 11 November, you can head over to the Taobao app to snatch even bigger hongbaos (up to RMB 888) to offset your shipping or total cost when you spend a minimum of RMB 5,999.
New User Promo
New to Taobao? You're in luck! Use code '2021NEW' to get RMB 20, with a minimum spend of RMB 21. Codes are valid for one-time, in-app use from now till 31 December 2021. Limited redemptions are available. As the above deals are only available to Singapore consumers and only on the Taobao app, make sure you make your purchases via the app, switch your app location to Singapore and checkout with a Singapore address.
4. Don't fret over delivery logistics
Thanks to efforts to streamline the delivery process for Singapore consumers, we are now also able to enjoy direct delivery without having to first consolidate our parcels at the warehouse.
Hurrah!
With Taobao's Official Direct Delivery Service, handled by Alibaba's logistics arm, Cainiao, you can pay for your products and shipping together on the checkout page. Simply look out for this option "官方直邮 – 空运/海运" on the product page to check if your item is eligible for this when carting out. Your entire order will then be shipped to you by air or sea directly to Singapore.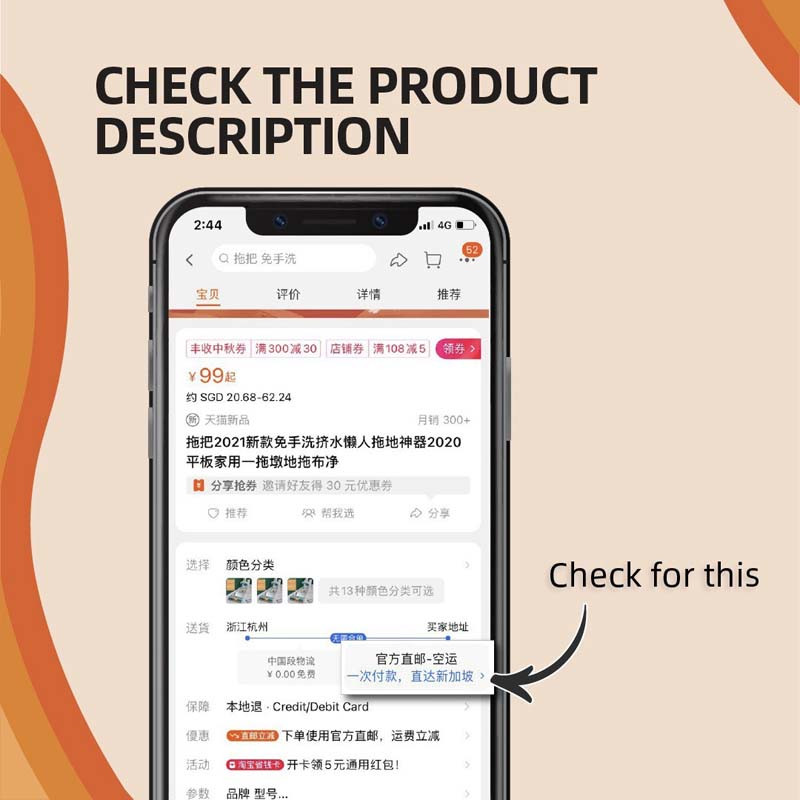 This offers a greater ease of mind and a more hassle-free experience, since you will know upfront how much you will have to pay for in total. In comparison, if you decide to consolidate your parcels at Taobao's warehouse first, you will only know your total shipping fees when all your parcels have arrived at the warehouse. In addition, you can also enjoy free shipping with a minimum spend of RMB 299 on participating items—simply head to the Taobao app and look out for the RMB 299 free shipping vertical. Cainiao has also recently upgraded in its functionalities to make it easier for you to switch your shipping method from air to sea freight. The changes can be made before the parcel is dispatched from the warehouse in China.
5. Take advantage of their new free goods return service
Thanks to Cainiao's new free goods return service for Singapore consumers on Taobao and Tmall, returns are now fuss-free. If your item is eligible for a return, all you need to do is send in a returns request on the Taobao app and Cainiao's local logistics partners will reach out to you to confirm the pick-up for the item you want to return. After the successful pick-up, you will then receive a return order code which you will need to enter into the app to complete the return process and initiate a payment refund. Yes, it's that easy.
With all these tips and tricks handy, head to the official campaign page on your Taobao app to start shopping!
This post is brought to you by Alibaba.

Meet Interior Designers. Get Quotes.
Get in touch with our listed renovation companies. They will provide you with a free non-obligatory estimate for any of the Renovation Packages included in their services.