8 Tips for Designing a Practical Built-in Shoe Cabinet
Whether you have an extensive shoe collection or just a few well-worn plimsolls, you will need a space to store them. Built-in shoe cabinets are the way to go if you want a customisable shoe storage that fits your needs and your space perfectly. Here are a few tips to designing a practical one:
1. Always consider ventilation
Smelly shoes plus non-circulating air is not a good combination. Leaving your shoes in the open would help to eliminate stale odours, but if you're designing a closed shoe cabinet, request for ventilation holes with non-intrusive designs that will help to circulate the air inside your cabinet.
Here, stylish (read: non-tacky) circular ventilation holes double up as a visual guide into the home.
Design: Proj. B Studio
Metal grilles serve as ventilation for this shoe cabinet.
Design: DistinctIdentity
2. Designer shoes? Show them off
If you have an enviable shoe collection, it only makes sense to show them off. Go for an open concept shoe cabinet or opt for a glass door which can also keep the dust out while putting your sneaks and heels on display. Practically, open plan means you can see your entire shoe collection at a glance so you'll know where everything is immediately.
Slanted shoe shelves prop up your shoes better for all to see.
Design: Design by Fifteen
Under-shelf lighting is a great way to spotlight your favourite pair or to simply help you see where your shoes are.
Design: The Scientist
This shoe display cabinet is part of the TV feature wall.
Design: Absolook
3. Cubby holes for instant organisation
Went a little cray at the last shoe sale? Get organised with cubby holes that are big enough to hold just enough space for individual pairs of shoes so you won't be tempted to squeeze in more than one pair per cubby.
You can vary the heights of the cubby holes if you have shoes like tall boots that require a bit more room.
Image courtesy of Pinterest
4. Include mirrors
Want to check if your shoes match your outfit just before you head out the door? Built-in mirrors will do the trick!
Wrap your cabinet fronts with mirror panels that can also add a shine to your entryway while enlarging the sense of space in the area.
Design: Linear Space Concepts
5. Small space? Think unlikely places
Don't have too much square footage to play around? Consider incorporating your shoe storage in unlikely places. The following shoe storage options are not only super space savers, they are also visually seamless so they won't impede the look of your home.
Option A: Behind the door concealing your bomb/household shelter.
Design: Free Space Intent
Option B: Stairways can double up as shoe storage.
Design: Produce
Option C: Behind the door concealing your fuse box.
Design: Icon Interior Design
Option D: Within your living room's platform.
Design: Proj. B Studio
6. Get pull-outs for deeper cabinets
Pull-outs are great for deeper shoe cabinets as they make it easier to reach out for your shoes, even those in the deeper recesses of your storage.
This bomb shelter converted utility room also hides the homeowner's pull-out shoe storage.
Design: The Association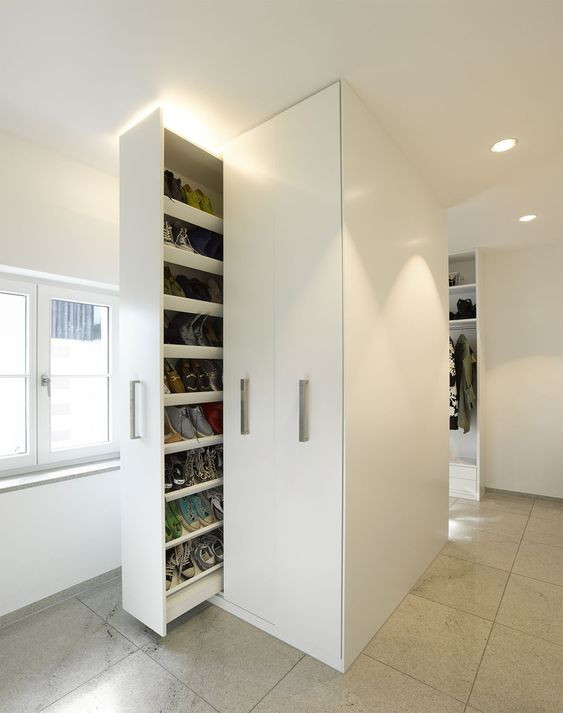 Pull-out cabinets are a good option to maximise space if you're planning for deeper cabinets to keep your extensive shoe collection.
Image courtesy of Behnisch Architekten
6. Internal organisers
To get the most of your space within your cabinet (so that you can store more shoes!), consider installing internal shoe organisers like rotational shoe racks or pull-out trays.
This rotating shelf alternates its slanted angles so as to maximise the storage space for your shoes, allowing you to accommodate even the highest of heels.
Rotational shoe shelf from Hafele
The shoe cabinet is affixed with a rotating shelf for heels and platform shoes and pull-out trays for flat shoes and flip-flops.
Design: Aestherior
7. Incorporate open shelves for everyday shoes
For quicker access to your everyday footwear, consider incorporating open shelves at the base of your closed shoe cabinet. The rest of your shoes can be stowed away behind closed doors.
The base of the shoe cabinet is reserved for stowing away frequently worn shoes.
Design: Happe Design Atelier
The shoe cabinet is adjoined with a bench that comes with open shelves for tucking away everyday-use shoes.
Design: Liid Studio
A floating shoe cabinet incorporates an open shelf at the base.
Design: Liid Studio
The open section at the bottom of this minimalist shoe cabinet is used to store bulkier footwear that could not fit inside the cabinet.
Design: Weiken.com
8. Double stack if you have too many shoes
Consider this innovative shoe storage solution if you just have too many shoes. To manage this home's massive shoe collection, the designer decided to double stack the shoe cabinet. The first layer comprises a standard shoe cabinet with hinged doors, while the second layer is an open shelf system and is revealed only by sliding away the first layer.
This clever shoe storage looks like an ordinary shoe cabinet. Only be peeling away the first layer does it reveal even more storage space for the homeowner's immense shoe collection.
Design: Design Neu
Meet Interior Designers. Get Quotes.
Get in touch with our listed renovation companies. They will provide you with a free non-obligatory estimate for any of the Renovation Packages included in their services.