The Comprehensive Guide on Tengah (and whether you should ballot for a BTO in the Nov 2018 exercise)
A lot has been said about the new Tengah town, which will see its first BTO site launch in the upcoming November 2018 sales exercise. Envisioned as a "Forest Town", Tengah lies in the Western region of Singapore, bordering much of Choa Chu Kang, Jurong and Bukit Batok towns. Once filled with farms, villages and plantations, and then later used as military training ground, much of the land was cleared away to make way for the new housing town that is divided into five major zones. It is expected to house around 42,000 homes eventually, with 30,000 units set aside for public housing and 12,000 units for private housing. It will have the upcoming Jurong Region Line servicing the area.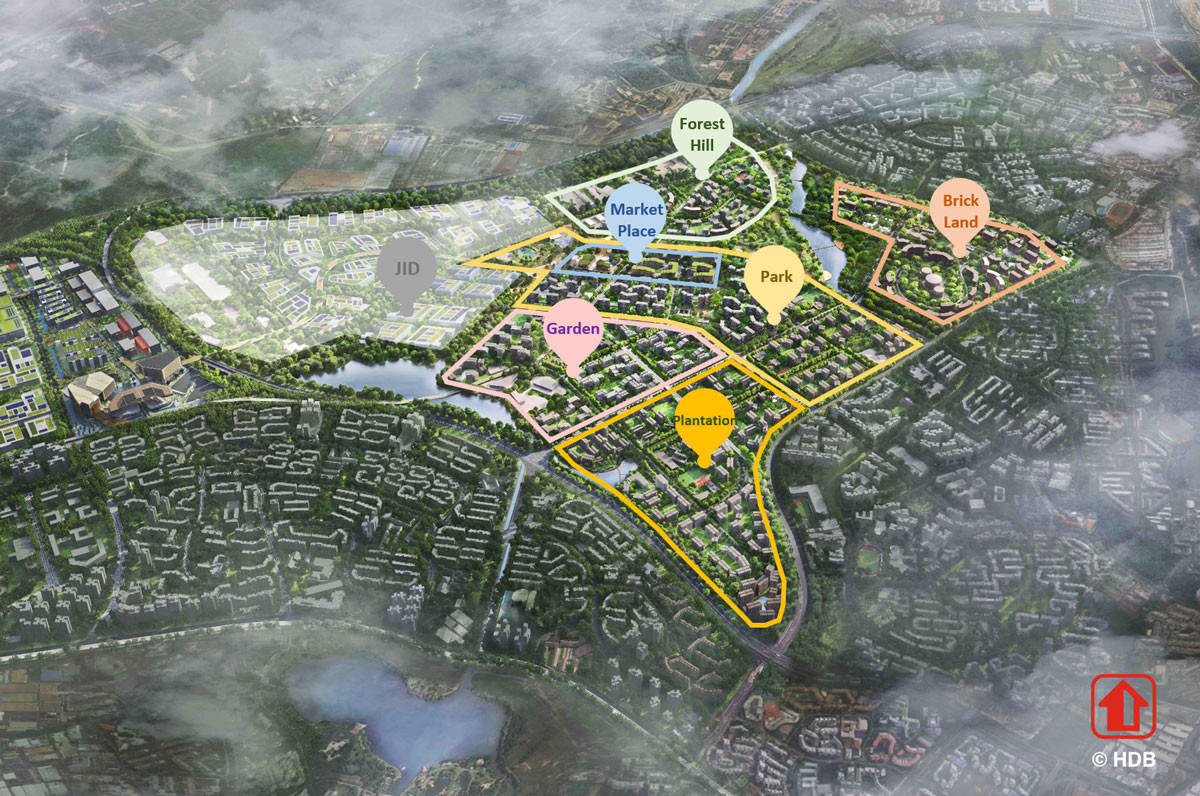 The five housing districts of Tengah, located next to the Jurong Industrial District (JID)
Image courtesy of HDB There hasn't been that much excitement since the announcement of Punggol and Bidadari before it, but is the hype justified? Or is this a cover-up to how ulu the district really is? We check out the details here:
A windier, cooler town?
Tengah is designated as a new HDB town and is the first to employ the use of Urban Microclimate Multi-Physics Integrated Simulation (UM-MIST) software in its city planning of the whole town. The platform essentially uses 3D city models to simulate how wind flow, temperature changes and the amount of sunlight will affect the surrounding urban landscape. The data collected is then used to create a cooler and windier Tengah.
"Hot spots" in Tengah will be decked out in greenery to cool down the areas
Image courtesy of HDB
Tengah's draft city planning
Image courtesy of HDB
Green, sustainable and smart?
The large town—three times the size of Punggol and just about the same size as Bishan—will see a wide range of green, sustainable and smart features, which is one of its main draws. These include:
A 15 to 20-metre wide green strip, "forest fringe" surrounding the town.
A 20-hectare Central Park, featuring an amphitheatre in the hub of Tengah.
A car-lite scheme that will happen when the town reaches critical mass.
A smart Pneumatic Waste Conveyance System (PWCS), a waste collection and management method that is automated and enclosed to reduce manual waste collection as well as the spread of pest. This method uses high-speed air suction to transport household waste via an underground pipe network to the centralised bin centre.
Rainwater will also be collected to wash common areas and for irrigating the community farms and surrounding landscape, helping to save water and energy.
Additional power points and data points are provided in homes to enable the adoption of smart home devices.
The Town Centre will be completely car-free, with road and vehicles running underground.
Carparks will be electric vehicle-ready, with charging points.
Artist impression of the 20-ha Central Park
Image courtesy of HDB
Artist impression of the Tengah Town Centre located in Park District, which is going to be one of the later districts launched in Tengah
Image courtesy of HDB
More job opportunities?
Tengah will also be located next to the
Jurong Innovation District
, which was announced back in 2016 and will eventually see the first phase completed by 2022. The industrial district will be a conglomeration of tech start-ups and research companies, and is part of Singapore's efforts to grow the advanced manufacturing ecosystem. This could mean more conveniently located job opportunities for residents.
Jurong Region Line and Connectivity
The Jurong Region Line (JRL) is expected to start operating in 2026, linking the North-South line and the East-West Line in Choa Chu Kang as well as Jurong East and Boon Lay stations respectively. It will be opened in three phases:
Phase 1 (2026): JRL (West) comprises 10 stations linking Choa Chu Kang to Boon Lay and Tawas;
Phase 2 (2027): JRL (East) comprises seven stations providing a connection between Tengah and Pandan Reservoir
Phase 3 (2028): Extensions into NTU in the west and Jurong Pier in the south, completing the JRL (West) route.
Map of Jurong Region Line
Image courtesy of LTA The JRL will reach neighbourhoods in Jurong West, Choa Chu Kang and parts of Bukit Batok. There will also be a station at NTU. Tengah is likely to see four stations of the JRL within the town itself – Hong Kah, Tengah, Tengah Plantation and Tengah Park. Here's a map looking at the transport options in Tengah:
Tengah's transportation routes
Image courtesy of HDB The blue line indicates JRL's route, while the red line shows the bus priority route. The bus route will reach areas like Bukit Panjang, Choa Chu Kang and the Jurong Lake District. The yellow line indicates the mobility corridor, and will be reserved for bicycles, personal mobility devices and possibly self-driving cars that are slated to be incorporated in the town in the future.
BTO site launching in November 2018
Not a lot of information has been released about the site that will be launching in the upcoming November 2018 BTO exercise. But here's what we do know:
There will be approximately 1,620 units launched, with flats ranging from 2-room units to 3-Gen apartments.
The site is located in the Plantation district, the first of five districts launched in Tengah and which lies in the southern part of the town. The area will house about 10,000 units in total within 90 hectares of land.
Plantation district will set aside about 2,000 square metres of space for community gardening.
The district will be served by two MRT stations along the JRL, but the nearest one to this upcoming BTO development will be Tengah Plantation station. Will the MRT stations in the district be in operation once this BTO is up? Unlikely, since the stations operating within the Plantation district will only be ready by 2027.
Bus stops are designed to be within 300 metres of most homes.
All roads in the district will have 2-metre wide cycling paths alongside the pedestrian pathways.
There might be self-driving cars piloted in the future.
Since this is the first BTO launched in this new town, you will have to contend with a lot of construction going on around the area once you move in, in about three to four years going by the current BTO construction rate.
The district will also see amenities such as a Neighbourhood Centre and a Community Club.
The development will be located along Bukit Batok Road, which is a pretty busy road no matter the time of the day since it's connected to the PIE and KJE.
According to the Ministry of National Development, a 3-room flat is estimated to cost from $118K to $243K, a 4-room flat from $230K to $355K, and a 5-room flat to cost from $392K to $480K. These are second highest price ranges among the BTO flats launching in November 2018.
Location Map of Tengah BTO
Image courtesy of HDB
A closer look at the amenities in Plantation district
Image courtesy of HDB
Is Tengah for you and will you be picking a unit there in the upcoming November 2018 BTO sales exercise? Let us know in the comments!
---

Browse through the list of Interior Designers, their reviews and portfolios at http://www.renonation.sg/professionals/interior-designers/
Submit your renovation enquiry:
Meet Interior Designers. Get Quotes.
Get in touch with our listed renovation companies. They will provide you with a free non-obligatory estimate for any of the Renovation Packages included in their services.