The Complete Bathroom Renovation Guide: Sinks
While a sink might seem like a rather small element compared to the toilet or bathtub, its role should not be taken for granted. What do we do after we're done with our business in the bathroom? We wash our hands at the sink. What's the first thing we do in the morning when we wake up? We freshen up, wash our face, and brush our teeth at the sink. It is hence important to know the various types available and their functions so that you can pick one that suits you best.
Independent
---
Pedestal
With an appearance largely similar to a birdbath, the supply and drain pipes for a pedestal sink enter it from the wall rather than the floor.
Pros: Pedestal sinks are perfect for bathrooms where space is restricted. They take up little floor space because the pedestal is but a small stand that holds the main basin.
Cons: For some, the pedestal sink might be a little too small. Due to the limited counter space, there isn't much room for placing belongings and daily necessities such as face wash, toothbrushes, cups, and the like.
Credits: ebay.com
Wall-Mounted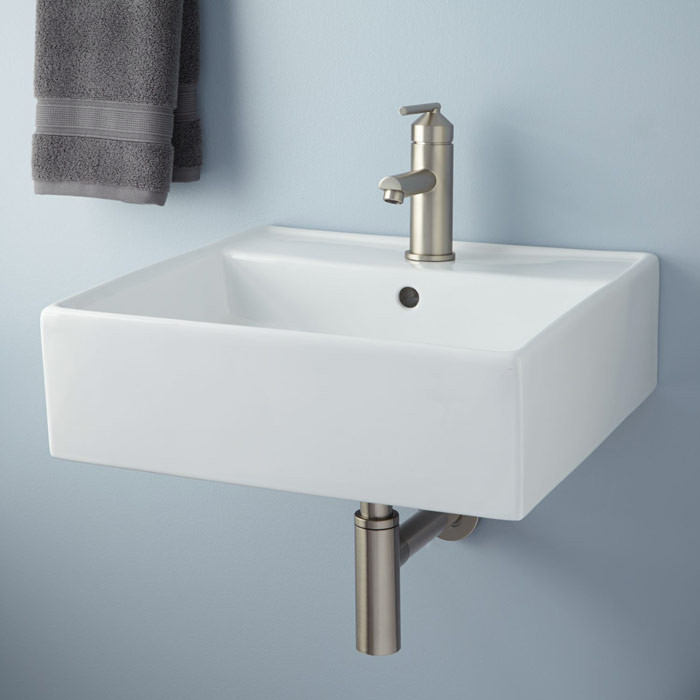 Like its name suggests, this sink is being directly mounted onto a wall. Therefore, you have to first make sure that the wall is strong enough to support the weight of the sink.
Pros: The wall-mounted sink is growing in popularity regardless of bathroom size because it frees up floor space, enabling a bathroom to look bigger as a result. The sink is also much easier to clean because it is entirely exposed.
Cons: The plumbing is visible and might appear a little unsightly to some.
Credits: upalupa.co
Installed Into A Vanity
---
Self-Rimming
As the name states, there's a rim encircling the bowl that sits on the countertop to support the sink's weight. This is probably one of the most commonly used sinks.
Pros: The installation process is relatively simple; you can even do it yourself and save some money in the process. The sink's simple design also minimises problems such as leakages and makes it easy to replace. All you need to do is disconnect the plumbing, remove the old sink, and install the new unit, which does not take a lot of time. This type of sink is also less expensive compared to the others.
Cons: It can be a little tedious to clean the sink because of the small crevices.
Credits: thebathoutlet.com
Undermount
This sink sits underneath the counter and its rim is fixed to the underside of the countertop.
Pros: A seamless, clean look is the result of the sink being hidden mostly. Spills and messes can be wiped directly from the countertop into the sink without any obstruction. This is especially helpful for family bathrooms where usage is frequent.
Cons: This option is only possible with a solid-surface countertop such as stone. It is not suitable with laminates because it cannot be sealed well against moisture. These sinks also tend to cost more.
Credits: wayfair.com
Vessel
The vessel sink is the direct offspring of the earliest sink — the wash basin.
Pros: Its stylishness adds interest and ups the classiness of a bathroom. It is also very versatile; since it comes in different shapes and sizes, it can be designed to match the theme of an interior more easily. Its simplistic design makes it easy to replace. It can be ergonomic if installed properly (this can be discussed with your interior designer, plumber, or contractor).
Cons: Splashing might occur more frequently. Extra cleaning and maintenance might also be required because of two visible surfaces. This is especially the case if you choose vessel sinks made of glass or plastic because of the visible water spots. These sinks tend to be more expensive than other types and, if improperly installed, they might present stability issues and not work well with young children. Some models may be more prone to chipping or damage because the edges are exposed (this can be solved by using hardier materials such as copper or concrete).
Credits: signaturehardware.com
Integral
Integral (or integrated) sinks are made out of the same material as the countertop and are fused to it, creating a seamless appearance of a smooth transition from sink to surface.
Pros: Integral sinks are simple to install because the sink and countertop are installed at the same time. They're also easy to clean because there are no crevices for trapping hair, dirt, or other debris.
Cons: They are almost impossible to replace, unless you swap out the entire countertop, vice versa. Homeowners don't have the option of creatively matching a counter and sink because it's just one main design. As such, it might be slightly tougher to customise it to fit your home's design.
Credits: trendir.com
Console
This is a hybrid of the wall-mounted and pedestal sinks. Some might have drawers or shelves for storage purposes while others don't.
Pros: Its design ensures that it's a good choice for small-space bathrooms.
Cons: The plumbing is a little odd in the sense that it comes from the wall. There is also limited surface area for your belongings.
Credits: de-lune.com
Next post: The Complete Bathroom Renovation Guide: Shower Heads
Meet Interior Designers. Get Quotes.
Get in touch with our listed renovation companies. They will provide you with a free non-obligatory estimate for any of the Renovation Packages included in their services.