13 Stylish Shoe Storage Solutions for Small Spaces
At Renonation, we know how challenging it can be to design small spaces, especially when it comes to storage solutions. Finding a balance between hiding clutter and having the built-in not take up too much floor space can be tricky. Shoe storage in particular is often overlooked particularly in a small home, but we think there's plenty of potential to make a stylish statement with it as you will see in these Singapore homes below.
1. Conceal it within your living room feature wall
Having hidden storage is a major advantage in a smaller home as it helps keep things organised without adding to the visual clutter. This shoe storage example is cleverly camouflaged within the wood-screed feature wall of the living room. Once closed, except for the subtle joint lines, it blends seamlessly into the wall, almost as if it's just another regular part of the house.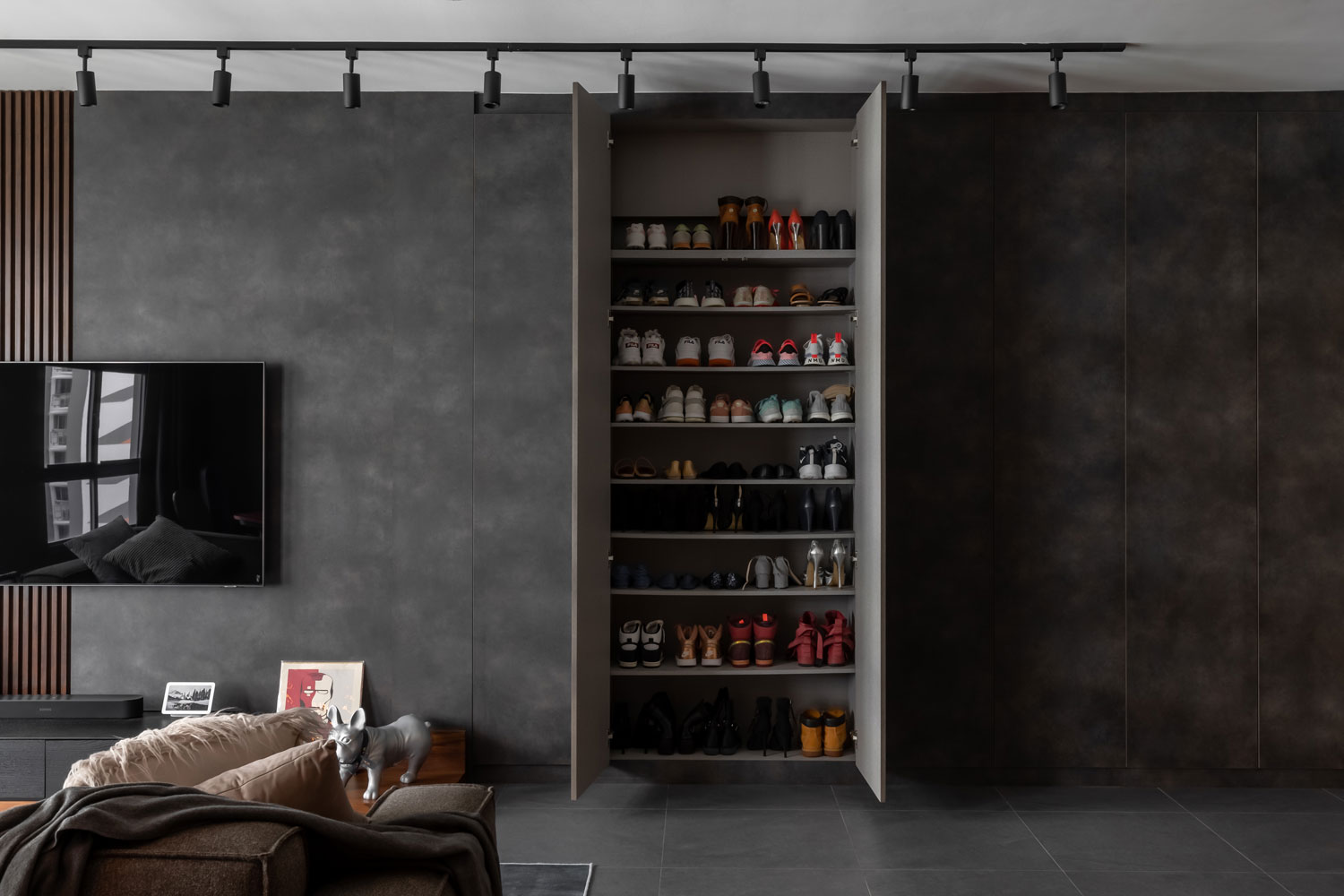 Design: Yang's Inspiration Design
2. Or flaunt it in the living room
If you're into high-end sneakers and designer footwear, you might want to showcase them to your visitors. In that case, you could opt for a display cabinet with tinted glass, seamlessly blending in with the colours and aesthetic of your living space to make it look like a natural part of your design. We love the addition of a seating nook here to make it more convenient to put on your shoes.
Design: Fineline Design
3. Double up ventilation as decor
When creating shoe cabinets, it's important to think about incorporating some sort of ventilation. Not only is it practical, but it's also an opportunity to add some character to the foyer without taking up any room. For instance, in this particular shoe cabinet design, floral cut-outs were incorporated at the top as ventilation holes.
Design: The Interior Lab
4. Tuck in your shoe bench
Having a shoe bench right next to your shoe storage is a great way to simplify the process of getting ready to leave the house. When dealing with a smaller space, it's important to choose a solution that won't take up too much room or create extra clutter. This shoe bench idea is perfect because it can be easily tucked away inside the cabinet when not in use, freeing up space in your foyer.
Design: Obbio Concept
5. Boost function as a dining bench
Doubling up your shoe storage as a dining bench is a convenient solution if your dining area is near the entrance of your home. That way, there's a dual purpose to your built-in!
Design: Your Reno Works
6. Carve out shoe storage in your room divider
Speaking of dual purposes, a shoe cabinet can also be a great privacy screen and room divider. Don't like nosy neighbours looking into your home whenever they pass by the corridor? Angle your shoe storage such that it blocks off the view from the front of the home. In this particular design, the curved shoe bench jutting out helps to soften the boxy shape and keeps everything looking visually airy.
Design: The Alchemist Design
7. Keep it lean
With small spaces, it's always about keeping things as lean as you can. And no one knows this better than Ikea, who has come up with a ton of shoe storage solutions for small spaces. Here's one of our favourites: the classic HEMNES shoe cabinet is just 30 cm wide and will fit in most nooks by the door. You can also change out the handles to customise the storage to your space.
Image courtesy of E+e Design & Build
8. Convert it into a lounging area
Part cosy corner, part shoe storage, this built-in features hidden storage, open shelves for footwear and books, and also nooks for display. Talk about a multipurpose piece!
Design: Free Space Intent
9. Hiding your bomb shelter? Use it as shoe storage!
If you are planning to conceal your bomb shelter entrance, incorporate open shelves on the other side of the door for shoes. Opt for angled shelves since they are useful for letting you see more of your footwear at a glance.
Design: BuildBuilt
10. Use a pull-out solution
When all you can spare in the foyer is a narrow space, a tall, skinny pull-out storage solution can be a handy way to store more shoes. Investing in high-quality glides and internal hardware is important as the drawer will inevitably be used frequently, requiring smooth and effortless movement.
Design: J-Style Concept
11. Make use of a recessed wall
Recessed walls are often seen as something that needs to be covered up or plastered over, but they can actually serve as a nice nook to incorporate built-in shoe storage. And because they are recessed, they take up space that would have otherwise gone unused anyway.
Design: The Local Inn.terior
12. Layer the shelves
This utility cabinet has an extra sliding shelf for shoes, doubling up the shoe storage space. Bi-fold doors also reduce the swing door clearance space needed, making it a great choice for tight spaces.
Design: Para.graph
13. Floating storage
A floating shoe cabinet can do wonders to help elevate the visual heft of a storage piece. Plus, it also provides you with a space to tuck frequently worn shoes or inside slippers for extra convenience.
Design: SG Interior KJ
Meet Interior Designers. Get Quotes.
Get in touch with our listed renovation companies. They will provide you with a free non-obligatory estimate for any of the Renovation Packages included in their services.