5 Staircase Feng Shui Tips if You're Planning to Buy a Double Storey Home
Glean some quick and easy staircase Feng Shui tips to elevate your house hunting experience
While not as frequently discussed compared to other internal features of a home, staircases in double story houses exert significant influence in Feng Shui. Staircases act as an intermediary between floors and facilitate the upward flow of Qi. Since its function in Feng Shui is essentially as a secondary Qi Mouth, it's crucial staircases are located in a manner that benefits the entirety of the upper floor. Take note of the following staircase configurations as it'll help you make better-informed decisions while you're out house hunting.
1. Staircase In The Middle Of A Home
It's highly inadvisable to have a staircase at the very centre of a home, in a sector known as the Central Palace. This location needs to be stable and peaceful, with no obstructions compromising Qi flow. A staircase here would disrupt Qi, causing occupants of the home to suffer from health issues and quicker tempers. That said, try and avoid purchasing a home with a staircase within the Central Palace.
2. Staircases Separated By Landings
Landings between staircases are a positive feature in Feng Shui. They function as a mini Bright Hall that allows Qi to meander and collect before flowing to the upper level. Staircases with no landings force Qi to rush upward too quickly, creating a merciless flow of energy. This problem is aggravated if the straight running staircase is particularly steep.
3. Staircase Above The Main Door
A staircase passing over a home's main entrance is a negative form in Feng Shui as the feature suppresses Qi. It forces Qi out of the main entrance, undermining the essential purpose of the main door from a Feng Shui perspective. Meanwhile, a staircase that is tucked in a corner and isn't facing or next to the main door is considered beneficial, so it's generally a safe bet to shortlist potential homes that have such a feature.
4. Staircase Leading Up to The Master Bedroom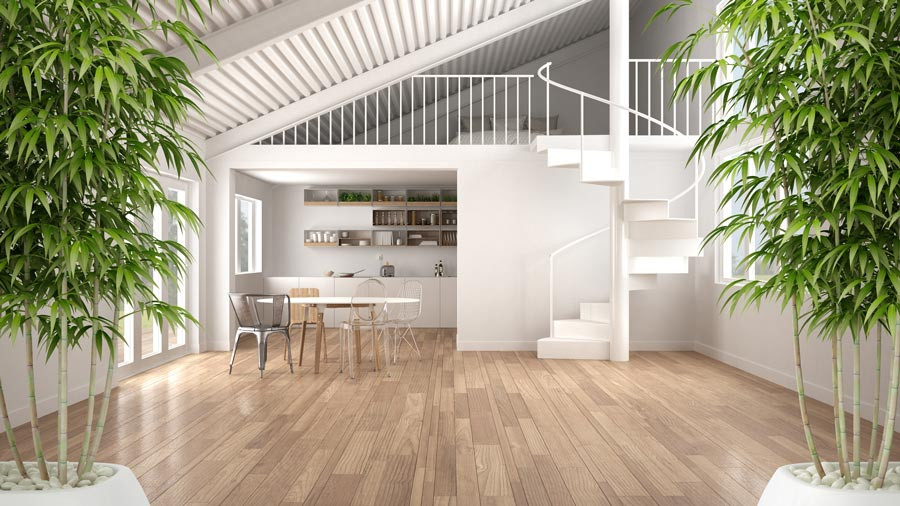 Having the master bedroom directly facing you right after you've gone up the stairs isn't a bad thing in itself. However, it is essential that staircases having a landing to operate as a little Bright Hall right before the entrance to the master bedroom. If there is no landing whatsoever, occupants would have to contend with a form called Pulling Nose Water. This unfeasible internal form sucks out Qi from the master bedroom. So long as there's a landing present, the aforementioned consequence won't be something you'll have to worry about.
5. Staircase Leading Down to A Room
When a staircase, particularly one that is steep, leads down into a room, Qi flow is volatile and fast instead of calm and meandering. The room directly facing the staircase will be continuously hit by strong, bad Qi, causing relationship dysfunction as well as health concerns. If the afflicted room is just a storage area and thus rarely occupied, the negative implications can effectively be ignored. In Feng Shui, the placement, relative direction and design of specific features within a home can matter significantly when assessing the quality of Qi permeating a property. With this as a basic guideline, you'll at least be able to avoid some common pitfalls homebuyers make that result in them being unwitting owners of houses with a low Feng Shui quotient. For more information on interior Feng Shui (and all things Chinese Metaphysics), visit
www.joeyyap.com/renonation
to peruse our wealth of resources on the subject.
About Joey Yap
Joey Yap is the founder of the Mastery Academy of Chinese Metaphysics – an education institution for Feng Shui, BaZi, Qi Men Dun Jia, Mian Xiang, Yi Jing, Date Selection and Face Reading. He is the best-selling author of over 179 book titles published in 7 different languages worldwide and engages with students in more than 37 countries. He has conducted professional consultations for a wide range of clientele from the UK, USA, Canada, France, Germany and all of South East Asia. For all things Joey Yap and more, connect with us on www.instagram.com/realjoeyyap. For further enquiries on one-on-one consultation, please email info@joeyyap.com.
---

Browse through the list of Interior Designers, their reviews and portfolios at http://www.renonation.sg/professionals/interior-designers/
Submit your renovation enquiry:
Meet Interior Designers. Get Quotes.
Get in touch with our listed renovation companies. They will provide you with a free non-obligatory estimate for any of the Renovation Packages included in their services.