So You Want to Create the Perfect Kitchen Pantry
The kitchen pantry—a versatile, hardworking part of the kitchen that can function as anything from a storage unit to a coffee station. The best part about having one? It consolidates everything into one spot so you can keep track of where everything is.
If you are thinking of incorporating one into your kitchen, these considerations should kickstart the planning for the perfect pantry that meets all your needs.
Will it be for storage or more of a butler's pantry?
Design: Minutiae
First up—decide whether your pantry will be more of a storage area for dry and unrefrigerated goods or will it be more of a butler's pantry, which, as its name suggests, is more of an area for food staging and prep. A butler's pantry usually means a scullery or hidden mini kitchen of sorts, but today's butler pantries can also be reinterpreted as a coffee station or a home bar.
Deciding whether your kitchen pantry will take the function of storage or a butler's pantry will determine how much space you need, where it will be located and what configuration it will take.
If it's more for storage, the pantry should be situated within the kitchen itself. A butler's pantry is usually best placed between the dining area and the kitchen to facilitate the transition between both spaces.
Types of kitchen pantry
Now that you've determined the function of your kitchen pantry, think about the type of pantry to have. We have a few for you to consider but don't feel like you have to stick to a single type. You can always mix things up and create a pantry that encompasses the various options to fit in with your needs.
Wall pantry: Located on a wall of your kitchen, this pantry type is typically made up of tall carpentry units to maximise storage space. We like using pull-out racks, which are great for organising. If you use part of the pantry for stowing away snacks, do locate it nearer to the kitchen entrance to make it more convenient for everyone at home to get to them.
Design: Glamour Concept
Opt for hardy hinges so that they can take the weight of the tall carpentry units. Get good quality glides if you are using pull-out racks. If you have older folks accessing the pull-out units, make sure the handles are wide enough so that they can get a substantial grip to pull them open.
Design: The Local Inn.terior
Built-in pantry: This type of pantry is very much a part of your kitchen cabinets and is typically designed to look like a part of the rest of your cabinetry. Because it is integrated, it keeps things looking seamless and neat.
Design: Koze
You can also incorporate an appliance garage in there so that your appliances aren't cluttering up the rest of your countertops. We've also seen folks do up an entire baking station in there, complete with a marble counter for rolling pastry dough.
Design: Chengyi Interior Design
Walk-in/reach-in pantry: This is a great choice if you are big on home cooking and therefore have a lot of appliances and dry goods to stow away. It's usually placed near the kitchen to make it easier for you to move things in and out of.
With smaller kitchens, folks usually opt for a reach-in pantry with a smaller amount of walk-in space. Go for about a 90cm walking space for walk-in pantries and about a 60cm walking space for reach-in pantries.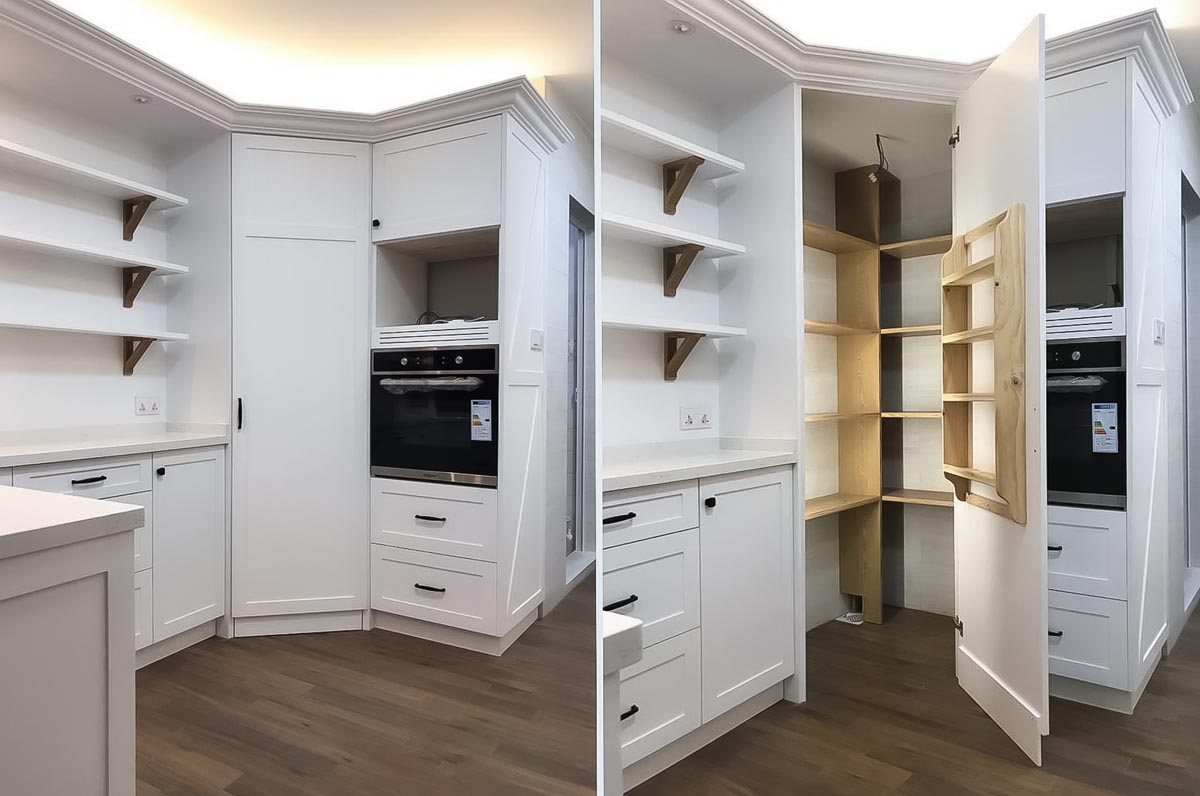 Design: Country Concept
Walk-in pantries customarily come with open shelving so you can see where everything is at once. Because they can be sizeable, it's important to keep them organised so you can actually find things. The trick is to separate them into zones. You might have a dedicated zone for entertaining things like serving ware, a separate one for cooking ingredients, a zone for snacks and breakfast foods and one just for canned goods.
Design: The Orange Cube
Serving/prep pantry: This pantry type is ideal for those who entertain or you have a ton of chinaware that needs a home. As it's typically located between the kitchen and the dining/living areas (where everyone can see!), you want to make sure you put its best face forward (make it pretty!) even though you are still primarily planning for functionality.
Design: The Interior Lab
Put your best-looking chinaware in glass cabinets, but have closed storage options to hide away mess. There's also usually a countertop space that you can use to prep your hors d'oeuvres or use it to set out a buffet table at your next dinner party so guests can help themselves to the food.
Design: Lemonfridge Studio
Coffee station/Home bar: For the coffee aficionados and or the wine connoisseurs out there, you may want a pantry that doubles up as your coffee station or home bar.
Design: Weiken
With the coffee station, aside from the main machine, make sure there's room for mugs and any other coffee-making accessories you may need (grinder, milk frother, etc.). Consider getting an integrated mini fridge to store milk (or cold brew concoctions) and have the option of filtered water nearby.
Design: The Alchemists Design
For those setting up a home bar, slanted racks are ideal for storing wine bottles and racks for hanging wine glasses. An integrated wine chiller will also keep reds and whites at the right temperature.
Design: In-Expat
Nifty, functional features to consider
Storage on the door: Make full use of your pantry space by including storage units by the door. Store things that are lighter in weight, so that it doesn't stress the door hinges too much.
Design: Koze
Slide-out shelves: Good for placing bulkier appliances on, ones that you don't want to move in and out of the kitchen pantry. A slide-out shelf will make it easier to use and access these appliances.
Design: Gruff
Integrated baskets: Apt for storing non-refrigerated fresh produce. Having it integrated creates a more visually consistent look in your kitchen pantry.
Design: Aiden T
Pocket doors: These get tucked neatly to the sides, which saves a bit of kitchen walkway space. Particularly useful if you need to keep the pantry doors open for longer.
Design: Icon Interior Design
Concealed lighting: Not only do they lend ambience, but they are also useful for illuminating shadows (under shelves, for example) so you no longer have to struggle to see what you have in the pantry.
Design: Lemonfridge Studio
Kitchen pantry maintenance tips
Now that you've got the perfect kitchen pantry, keep it that way. These tips below will keep your pantry in tip-top condition.
Design: Ovon Design
1. Take stock of what you have. Check expiration dates (at least every quarter), and throw out whatever is past its use-by date.
2. Donate what isn't expired and what you don't need. Consider food banks in Singapore like this and this.
3. Keep items with nearer expiry dates out front so you will use them first.
4. If you decant staples, make sure you label them to make it easier to reach out for them and include their use-by dates so you know when they will stay fresh until.
Design: I-Chapter
5. Decant pantry staples into clear (preferably airtight) containers so you know when you need to restock. No more overbuying or overstocking!
6. Do keep to more or less the same type of clear containers so that the pantry doesn't look overly cluttered or messy. Bonus tip: Find stackable ones so you can make full use of vertical space. Check out these.
Design: Charlotte's Carpentry
7. If you are also using it for storing non-refrigerated fresh produce e.g. potatoes, onions and garlic, baskets are a better option since they allow for ventilation.
8. Store 'like with like' e.g. grains with other grains, oils with other oils, instant noodles with other instant food, spices with other spices, canned food with other canned food, etc. This will make it easier to find what you need rather than sorting it by other methods like appearances.
9. Keep less-used items (e.g. entertaining supplies and seasonal and holiday items) on higher-tier shelves and keep ones that you frequently reach for at eye level.
10. Wipe up spills and stains immediately (like a responsible adult!) to prevent any potential pest infestation.
Meet Interior Designers. Get Quotes.
Get in touch with our listed renovation companies. They will provide you with a free non-obligatory estimate for any of the Renovation Packages included in their services.