Get Cosy: 7 Singapore HDBs and Condos that Embrace Warm Neutrals
If you've been seeing our socials, you'd have come to see that there's been a strong leaning towards homes using warm neutrals. That doesn't surprise us—it's nice to come home to a cosy space that feels like a big hug every time you step inside and one that you know will definitely stand the test of time.
We've put together some of our favourite homes using warm neutrals to inspire your own home renovation journey:
1. Bishan flat uses warm neutrals in a home with plenty of light
If you home has a lot of natural light coming in, avoid going too yellowish with your chosen palette as that will come off a bit dated.
In this home, the sunlight falls on a clean, white foundation that is accented by a modern light grey and lighter wood shades. The medium-toned flooring ties everything together nicely.
Wood is an obvious choice if you're embracing warm neutrals. But play up different shades for greater complexity. Notice the darker sideboard by the side alongside the light wood of the kitchen cabinetry, the medium tones of the dining chairs and the grey-ish hue of the flooring.
Black also serves up as a nice contrast against the beige tiles in their bathroom, turning beige blah into beige beauty.

Interior design: Sen Concept ID
Type: Resale HDB Renovation
See the rest of the home here
2. A green-filled oasis in Punggol
Greenery does well everywhere, and in a warm neutral home, they shine even brighter. Mixing varieties (cascading types, tall houseplants, dried flowers, etc.) for greater visual interest.
Drumming up the welcoming vibe are soft furnishings (cushions, rugs, throws) as well as the soft edges of the built-ins. We love the edgier colours used in the decor—a great way to contrast the cosy, warm neutrals.

The kitchen continuing the green theme. The colour here feels a bit cooler (particularly with the marble-effect surface) than the rest of the home, but once again, a consistent flooring helps to tie this home together.

Interior design: Fifth Avenue Interior
Type: Resale HDB Renovation
See the rest of the home here
3. A 'home within a home' in this Bedok condo
Warm neutrals are definitely a go-to for snug small spaces. Petite abodes are itself already plenty cosy, so play to its strengths by going with the right palette.
In this 500 plus square foot home, there's a good mix of neutrals (taupe, cream, sand) that create a very cosy and liveable space. But the main attraction? The internal windows and doors segregating the home office from the living room are the main attractions.

These wood-framed architectural features give off a 'home within a home' vibe, made even more homey thanks to the warm walnut shade used here. Enhance the cosy vibe of your warm neutrals by adding warm lighting.
Interior design: Starry Homstead
Type: Resale Condo Renovation
See the rest of the home here
4. Can warm neutrals be dark? We say yes
This Bukit Panjang home's warm neutrals are of a darker tone, but guess what? The space still feels ultra cosy. The key here is that chocolatey brown wood shade that we see everywhere in the apartment.
A custom curved mirror helps to balance out the visual heft of the feature wall in the living room.
Earthy tones in the kitchen conjure up images of warm stews and homemade bread, creating an oh-so-inviting atmosphere.
Deep burgundy and emerald serve as accents to the neutrals, making the brown shades seem richer.

Linen-like textures and fluted panels add an extra dimension to this home.

Interior design: Ascend Design
Type: Resale HDB Renovation
See the rest of the home here
5. This apartment gets it going with gold
Warm neutrals are actually a wonderful choice for a more luxe, vintage-y style like modern Victorian. The thing with luxurious homes is that we often use a lot of materials that can feel "cold", such as mirrors, glass and metallics, so a warmer palette really helps to make things feel a bit more homey.
We also love the use of gold as a neutral here. Gold as neutral?! You better believe it.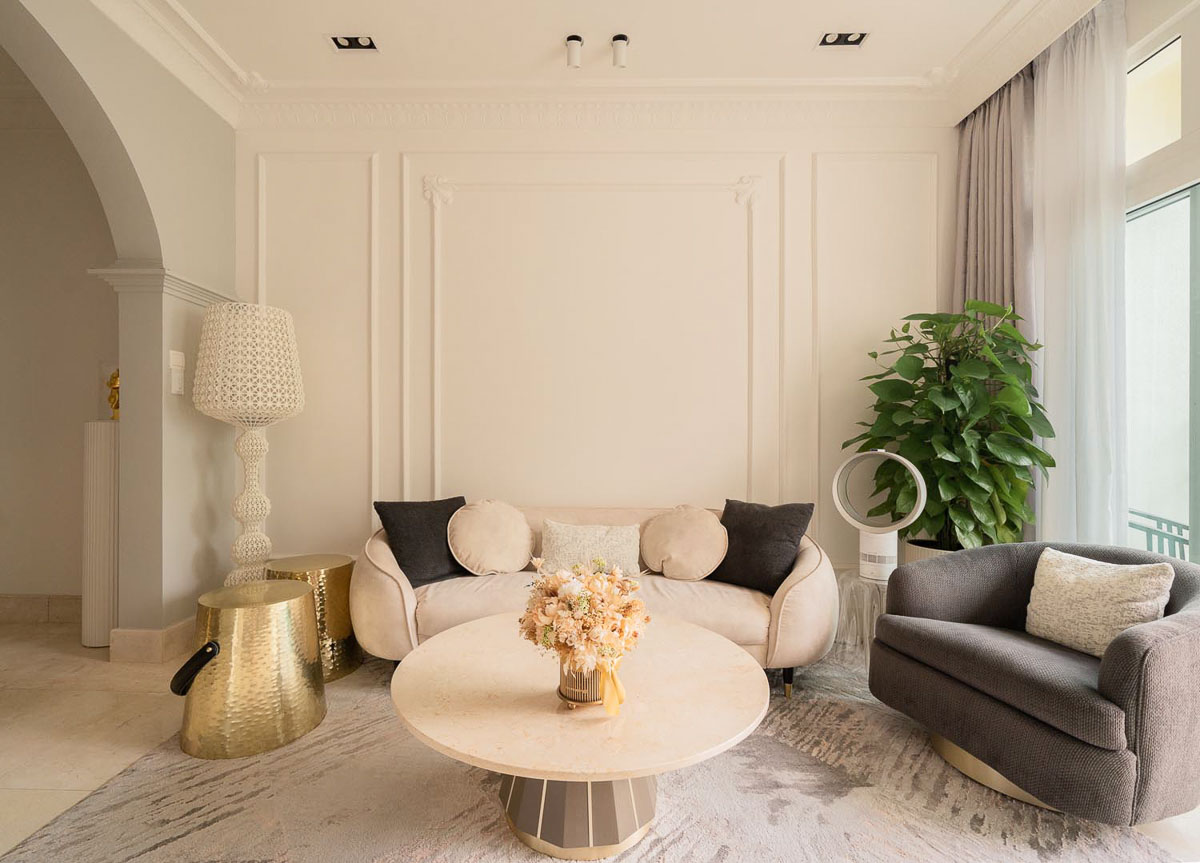 Pairing gold with lighter shades and picking gilded details with less sheen and a textured finish can make it work as a neutral.
Also another tip: If you're picking marble surfaces, find ones with warmer veins for that extra cosy touch.
Interior design: The Real Design
Type: Resale Condo Renovation
See the rest of the home here
6. This HDB uses a mix of neutrals and throws in more sculptural furniture
Again, using a variety of warm neutrals can help to add a bit more depth in a space. We also like the use of more sculptural furnishings and carpentry in this apartment, which helps to make things a bit more intriguing.
Space is relatively limited here but check out that curved built-in bench near the window that not only adds extra seating but also storage.
Ooh, that lovely rose gold trimming is calling out to us! It adds such a warmth and interesting detail to the kitchen.
Interior Design: IS Design Studio
Type: Resale HDB Renovation
See the rest of the home here
7. A minimalist home with rustic touches
For those who like a more minimalist style, you'll love the interior design of this home. Despite how pared-back it is, it manages to create a cosy atmosphere with its choice of warmer shades of white, inviting warm lights, and warmer wood tones.
Rustic, natural textures here give a nod to the wabi-sabi philosophy and make this neutral home seem a lot more varied.
Interior Design: The Interior Lab
Type: Resale HDB Renovation
See the rest of the home here
Meet Interior Designers. Get Quotes.
Get in touch with our listed renovation companies. They will provide you with a free non-obligatory estimate for any of the Renovation Packages included in their services.