Serviced Apartments: A Lesser-Known Rental Option in Singapore
Are you thinking of renting a place to stay because you are waiting for your keys to be ready for your new home, or you're looking to try living on your own for a while?
In Singapore, most people would consider booking a hotel if it is for a short period, either renting an HDB or condominium for longer stays, while hipsters, minglers and the like are likely to consider co-living spaces. But there's another option that is less commonly known—serviced apartments.
Creature comforts within the apartment
Serviced apartments are basically fully-furnished residences that are available for both short and long-term stays. They work similarly to a hotel but with more bounce to the ounce.
As my home was undergoing some minor renovation work, I took my family to check into a two-bedroom unit at Adina Serviced Apartments Singapore Orchard, which is a serviced residence under the Far East Hospitality umbrella, for a week.
Checking in to Adina Serviced Apartments Singapore Orchard with our pet dog, while waiting for our minor renovation works to be completed.
The beautiful and spacious seating area greets you when you enter the lobby.
Adina Singapore Orchard also has smaller studio apartments if you are planning to stay alone and larger and more spacious 3-bedroom apartments for bigger families.
The living and bedroom area of a Studio apartment in Adina Singapore Orchard.
Separate living, dining and kitchen areas in a 3-bedroom apartment.
The 2-bedroom apartment we stayed in has virtually everything you will need for a relocation stay. There's a fully-equipped working kitchenette, complete with a hood, a three-zone induction hob, a fridge and a microwave oven. Even utensils and cookware are provided, so there's no need for lengthy packing lists or mountains of boxes/luggage when you move in.
Utensils and cutleries are also provided so that you can move in hassle-free.
Unlike hotels that are more compact and only come with a small seating area by the side, the living area in the apartment that I'm staying in is very spacious and sizeable. There's a four-seater dining table alongside a generous living area so you can even entertain on occasion if you want. The approximately 3-metre-high ceiling here makes the whole room brighter.
The four-seater dining table fits my family of four comfortably.
Spacious living spaces.
The wide distance between the TV and the sofa for your comfort while watching TV.
If you are thinking of a longer-term stay, storage is probably going to be important for you. The unit I stayed in had quite a few ventilated cabinets, full-height wardrobes in the bedrooms, and a dedicated shoe rack near the entrance.
For my 2-bedroom apartment, there's a common bedroom and a bigger main bedroom. The former comes with two single beds, while the latter has a roomy king bed, a TV, and even a small desk, which is great for those who telecommute.
The common bedroom comes with two single beds.
The main bedroom has a king bed.
The bathroom comes with hotel-like amenities.
With a washer/dryer in the apartment, you can do your laundry within the room - much more convenient than having to rely on communal laundry facilities, which most co-living spaces offer. There's also an iron and ironing board if you need them.
A washer/dryer for laundry day.
The wardrobe conceals a safety deposit box and ironing facilities
Fuel up your mornings with the complimentary continental breakfast spread available from 7am to 10am on weekdays. The spread is modest but decent, ranging from cereals and various pastries to a Make Your Own Sandwich station. Utilities and Wi-Fi are also included in the rent price, and there are housekeeping services available so cleaning the apartment is well taken care of. Ah, such luxury!
Start your weekdays right with breakfast at the Breakfast Lounge.
Make your own sandwich at our Breakfast Lounge.
This serviced residence is a 'plug-and-play' option and all you need to do is to bring yourself, and the residence will have everything else ready for you. Did we also mention that basic wear and tear such as changing lightbulbs and servicing the air-conditioning is inclusive? You are welcome!
Oh, and if you have pets, Adina Singapore Orchard is also incredibly accommodating to them so your furkids can also feel right at home.
In-house facilities
Adina Singapore Orchard also comes with a number of facilities, which are free to use for all residents. There's a rooftop swimming pool with a jacuzzi, and for gym rats, you'll be pleased to know about the 24-hour gym. If you need a bigger space to entertain or for family functions, you can also book the barbecue pits next to the pool.
The outdoor rooftop pool and jacuzzi.
A 24-hour gym for installing muscles any time of the day.
Overall, we find the facilities clean and well-maintained. To prevent overcrowding, the facilities also operate with a pre-booking system.
If you prefer smashing in the courts or shooting hoops, there are other serviced residences under Far East Hospitality that offer tennis and basketball courts such as Orchard Parksuites.
Convenient location in the heart of Orchard
Like choosing a home, you want to make sure your rental option is also convenient for fulfilling everyday routines like heading to and fro from work, bringing the kids to school, getting groceries, etc.
Adina Singapore Orchard is situated at the heart of the shopping district Orchard, so it's really in a convenient, city, and central location that makes it easy to get around different parts of Singapore.
It's also within walking distance of two MRT stations. Dhoby Ghaut MRT station (an interchange on the Circle, North-East and North-South Lines) takes about 10 mins by foot, while Somerset MRT station (along the North-South Line) is a 5-min walk away.
Adina Singapore Orchard is located between these two MRT stations, which is really convenient for getting around other areas in Singapore.
You can find most of what you need in the immediate area. And if you don't like to cook, the food options are virtually endless in this neighbourhood.
Supermarkets nearby make it easy to get daily groceries done. There's the Don Don Donki flagship store located right across the road from the MRT station and Fairprice Finest outlets within shopping malls like The Centrepoint and TripleOne Somerset. There's also a CS Fresh (Cold Storage) at Plaza Singapura.
Overview of what's around the area.
Looking for other locations? Far East Hospitality has a total of 8 serviced residences that are scattered across the island. Most of them are conveniently located near the city such as Village Residence Robertson Quay, while a few can be found in the heartlands, like Village Residence Hougang and Oasia Residence, Singapore.
A 2-bedroom apartment at Oasia Residence, Singapore.
You'll discover that each option caters to a distinct crowd, meaning that whether you're seeking a lavish penthouse for some pampering or a cosy one-bedroom loft to escape for some solitude, there will be an ideal choice that perfectly fits your needs.
Renting a serviced residence vs renting an HDB or a condominium
Fuss-free booking: Unlike renting HDB flats or condominiums, where you will have to deal with a whole lot of paperwork from stamp duties and tenancy agreements to agent fees and deposits, the only administrative thing you have to handle here is booking your unit online at their website. It's really quite a hassle-free process.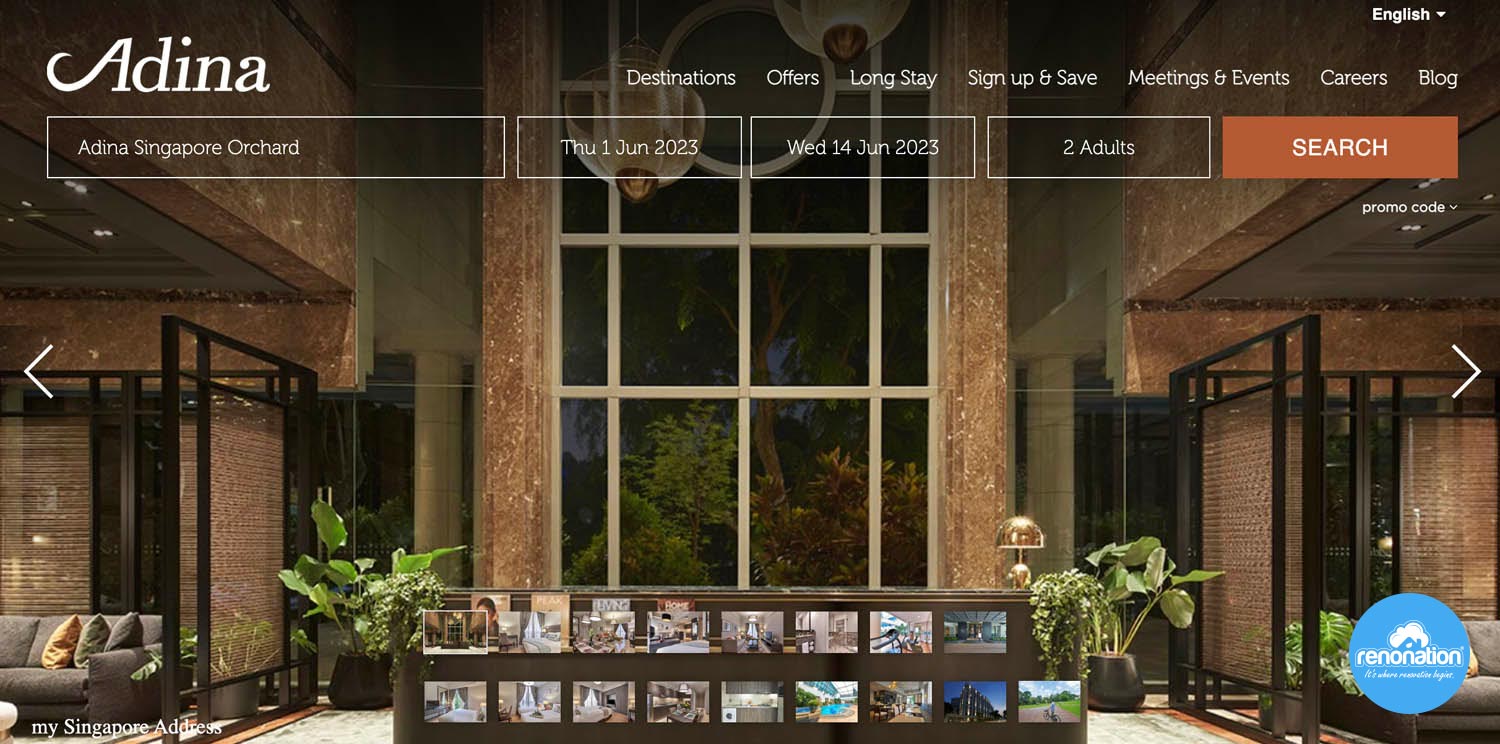 Screengrab of Adina Singapore Orchard's website. Key in your dates and details to rent a unit. Yes, booking a stay is that easy!
Prefer speaking with someone in person or have a corporate enquiry? There's also a dedicated sales team that will be more than happy to help you with your questions.
You can reach out via email at sales.sr@fareast.com.sg.
Flexible length of stay: You would need to stay for a minimum of 6 nights, but if you require a longer stay, you can opt for monthly or yearly bookings. It gives a lot of flexibility, compared to renting other residential properties in Singapore which would require you to stay for at least 3 months.
Engineering and housekeeping services included: If you rent an HDB or condominium, you will need to be responsible for the room upkeep. Whereas this is taken care of when you stay with Far East Hospitality. They have a professional housekeeping and engineering team on site who are able to help with any technical or maintenance issue, so there's no need to worry about any breakdowns, repairs or replacements. As these are included in the rental package, it means you don't have to concern yourself with any additional costs as well!
Added services: We all know how stressful it can be to renovate a home or move into a new place, so in an effort to take some load off you, Far East Hospitality also partners with Agape and Store-Y to provide storage, moving or disposal services, essentially offering you a one-stop solution for all your renovation or relocation needs.
Far East Hospitality partners with Agape and Store-Y to provide moving and storage services.
Overall, I would say staying in a serviced residence combines the best of both worlds. You get to enjoy hotel-grade services alongside staying in a space that feels like a home away from a home.
For enquiries, please email sales.sr@fareast.com.sg.
Visit https://feh.sg/serviced-apartments-stay-packages to find out more information about their serviced residences in Singapore.
This article was sponsored by Far East Hospitality
Meet Interior Designers. Get Quotes.
Get in touch with our listed renovation companies. They will provide you with a free non-obligatory estimate for any of the Renovation Packages included in their services.