Revolutionise Your Living Space: Innovative Smart Home Upgrades for Your Abode
In today's fast-paced world, homeowners are constantly seeking new and innovative ways to enhance their living spaces. With the rise of smart technology, the possibilities for home upgrades are endless. From automated lighting to advanced security systems, smart home upgrades can provide greater convenience, comfort, and energy efficiency. By incorporating these cutting-edge technologies into your abode, you can transform your living space into a modern and sophisticated environment that meets all your unique needs and preferences. In this post, let us explore 6 of the most exciting smart home upgrades that will revolutionise your living space and take your home to the next level.
#1. Shine Bright Like a Diamond: Upgrade Your Home Lighting with Smart Bulbs and Switches
Make your abode shine and sparkle like a diamond with smart bulbs and switches.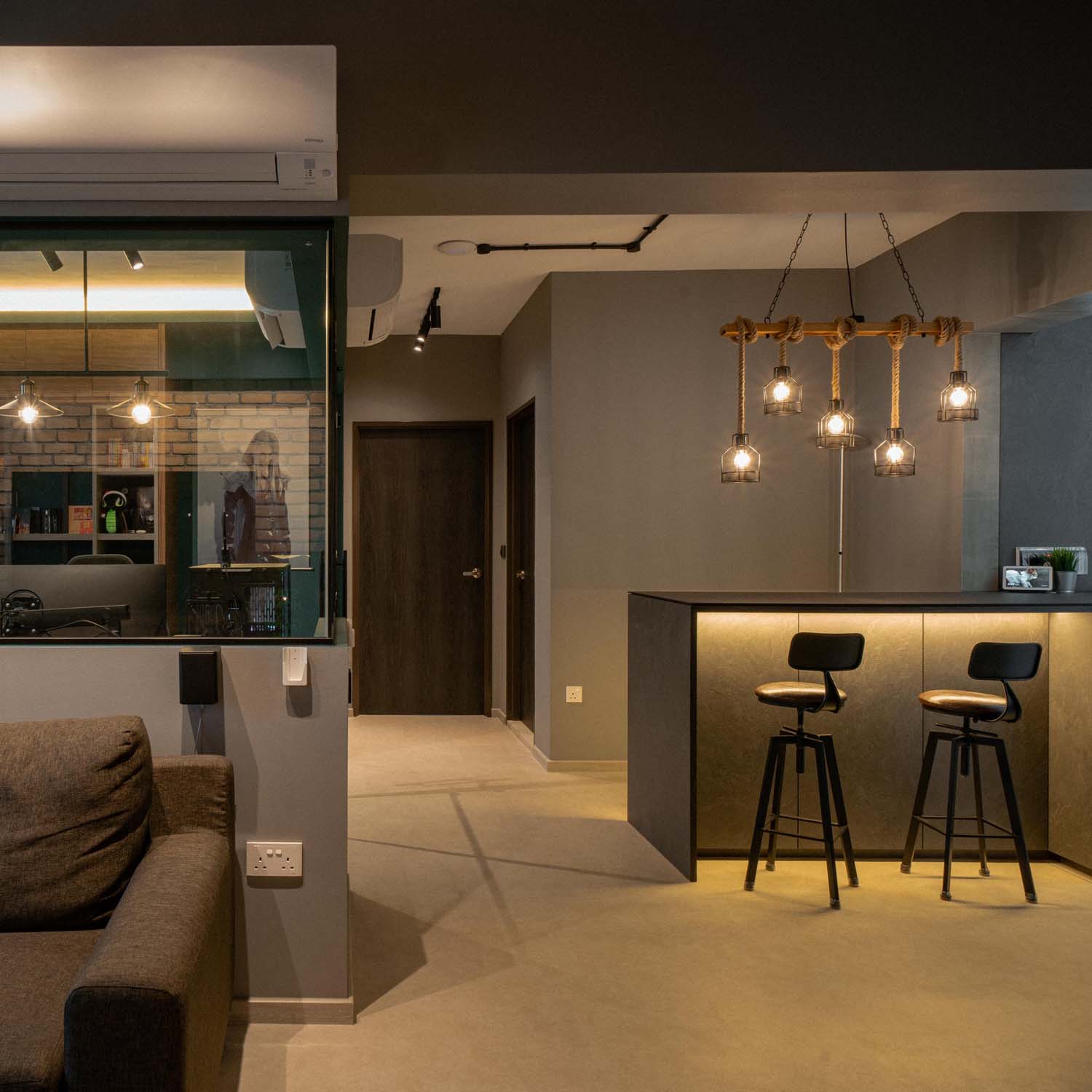 Design: GP/Studio
Smart bulbs and switches are the latest innovative devices that allow you to control your home lighting with greater flexibility and convenience through using a smartphone app or voice commands. Some apps also offer features such as scheduling, dimming, and colour-changing options. With smart bulbs, you can adjust the brightness and colour of your lights to create different moods and atmospheres. You can also control your lights remotely with your smartphone or voice commands, which makes it easy to turn off lights when you're not in the room or dim the lights when you want to relax.
Smart switches are another option that can be installed in place of your traditional light switches. They can also be controlled remotely or with voice commands, making it easy to turn your lights on or off from anywhere in the house. Some smart switches also come with additional features such as motion sensors, which can detect when you enter a room and automatically turn on the lights.
Tip: Some recommended brands for smart bulbs and switches;

Philips Hue is a popular brand for smart bulbs and switches. Their bulbs can be controlled using a smartphone app or voice commands and offer a wide range of colors and dimming options.

Xiaomi offers affordable smart bulbs and switches that are easy to set up and use. Their bulbs can be controlled using a smartphone app or voice commands and offer a range of colors and dimming options.
#2. Let the Sunshine In: Upgrade Your Home with Smart Blinds and Curtains for Effortless Light Control
Struggle to find the perfect balance between natural light and privacy in your home? Look no further than smart window treatments.
Design: Design 4 Space
These innovative window treatments can be programmed to open and close at specific times of the day, allowing you to effortlessly control the amount of sunlight that enters your home.
Not only are smart blinds and curtains convenient, but they can also save you money on energy bills by blocking out sunlight during the hottest parts of the day and insulating your windows during the colder months. And if you forget to close your blinds before leaving for the day, no problem! You can easily control them remotely using a smartphone app or voice commands, giving you peace of mind and greater control over your home environment.
Tip: Some recommended brands for smart blinds and curtains:

Somfy is a well-known brand that offers a range of smart home solutions, including motorized blinds and curtains. They have options for both battery-powered and wired systems, and their motors can be controlled using a smartphone app or voice commands.

Lutron is another popular brand that offers motorized shades and blinds. They have a wide range of fabrics and styles to choose from, and their systems can be controlled using a smartphone app or a wireless remote.
#3. Protect Your Castle: Upgrade Your Home Security with Clever Smart Systems
Why settle for a standard security system when you can upgrade to a smart one that will protect your castle and outsmart the crooks?
Design: Home Philosophy
Worried about keeping your home safe from unwanted visitors? Outsmart the burglars with a clever smart security system! You can install features such as door and window sensors, motion detectors, and cameras that can all be connected to your home Wi-Fi network.
Smart security systems can provide greater peace of mind by allowing you to remotely control and monitor your home, receive real-time alerts when suspicious activity is detected, and even view live camera footage from your smartphone or tablet. And if you're forgetful or prone to losing your keys, smart locks can also be added to your system for even greater convenience and security.
Tip: Some recommended brands for smart hone security:

SimpliSafe - an easy-to-install wireless security system that includes door and window sensors, motion sensors, and a base station. It can be controlled via a mobile app and has optional professional monitoring.

Arlo - a brand that offers wireless cameras and security lights that can be controlled via a mobile app. It also has optional professional monitoring.
#4. Master Your Kitchen: Get Cooking with Clever Smart Appliances and Let Your Inner Chef Shine
Tired of slaving away in the kitchen like a medieval serf? Upgrade to smart appliances that will make your life easier and your taste buds happier.
Design: Homu Homu
From refrigerators to ovens to washing machines, you can find a range of clever smart appliances that can make your life easier and your meals more delicious.
With smart appliances, you can control and monitor your appliances remotely using your smartphone or tablet. Forgot to turn on the oven before leaving for work? No problem! Just pull out your phone and start preheating. And if you're feeling uninspired in the kitchen, some appliances offer recipe suggestions and step-by-step guidance to help you unleash your inner culinary genius.
But that's not all - smart appliances can also save you time and hassle by automatically reordering supplies when you're running low. Imagine never having to run to the store for milk or eggs again!
Tip: Some recommended brands for smart kitchen appliances:

Samsung SmartThings Refrigerator - This smart refrigerator comes with a touchscreen display that can be used to manage groceries, recipes, and even control other smart home devices.

LG SmartThinQ Washer Dryer - This smart washing machine can be controlled remotely and can also diagnose problems and send notifications when the laundry is done.
#5. Beat the Heat and Keep Your Garden Green: Upgrade to Smart Irrigation Systems
Want to have the lushest garden in the block and the most beautiful blooms in the neighbourhood?
Image: Pinterest
Singapore's hot and humid climate can make it a challenge to maintain a lush and healthy garden. But fear not - by upgrading to a smart irrigation system, you can beat the heat and keep your garden green all year round.
Smart irrigation systems allow you to remotely control and monitor your watering schedule using your smartphone or tablet, making it easy to ensure your plants get just the right amount of water they need. Plus, some systems can even adjust your watering schedule based on real-time weather data and soil moisture levels, so you can avoid overwatering and prevent water wastage.
But the benefits of a smart irrigation system go beyond just a healthier garden. By reducing water usage and preventing water wastage, you can also save money on your water bills and do your part for the environment.
Tip: Some recommended brands for smart irrigation systems:

Orbit B-hyve: The Orbit B-hyve smart irrigation controller is designed to be easy to install and use, with a user-friendly smartphone app. It also has a weather-based watering feature that adjusts watering schedules based on local weather forecasts.
#6. Entertainment at Your Fingertips: Level Up Your Home with Smart Entertainment Systems
Why settle for a basic home entertainment setup when you can take it to the next level with smart technology? Upgrade today and never miss a beat.
Design: KOZÉ Studios
With a smart entertainment system, you can have all your favourite movies, TV shows, music, and games at your fingertips. In Singapore's fast-paced lifestyle, a smart entertainment system allows you to easily switch between different sources of entertainment using your voice or smartphone. You can control everything from your TV to your speakers and even your gaming console, all from one device. Some systems even offer personalized recommendations based on your viewing and listening habits, so you never run out of things to watch or listen to.
And the best part? You can enjoy it all from the comfort of your own home. No need to brave the crowds and queues outside when you can have a cinematic experience right in your living room.
Tip: Some recommended brands for smart home entertainment systems:

Sonos - Sonos is a popular brand for smart speakers and soundbars. Their products offer high-quality sound and can be controlled with voice commands or through their mobile app.

Apple - For those in the Apple ecosystem, the Apple TV and HomePod is a popular choice for smart home entertainment. Apple TV offers features such as Siri voice control and access to the Apple TV+ streaming service, while HomePod amplifies all the listening experiences you love with an effortlessly connected smart home.
Meet Interior Designers. Get Quotes.
Get in touch with our listed renovation companies. They will provide you with a free non-obligatory estimate for any of the Renovation Packages included in their services.