14 Really Clever Interior Design Features Seen in Singapore Homes
Singapore may be a small place, but we've seen some amazing interior designs done up in the homes here. To get you inspired for your own home, we put together a list of designs we love! From nifty features that maximise space to ingenious designs that make everyday life easier, you'll want to bookmark these ideas for later.
1. Wardrobe Wizardry
Your closet doesn't have to be limited to opening into your bedroom—there's no hard and fast rule. Consider a built-in wardrobe that encircles your bedroom, with doors that open outward. This way, you won't feel constrained by the limited space inside your bedroom.
Design: Knock Knock Studio
2. Foyer Fun
No room for a full-fledged foyer? No problem. Use a different set of tiles (fun ones!) to demarcate where the foyer is without taking up any extra space. Also, note the mirror panel installed above the BTO flat's original DB box, allowing you to have one last glance before leaving home. Clever.
Design: Collate
3. Counter Cabinets
Rather than going with conventional upper cabinets, the designers chose to place them on the countertop. Sure, they take up more counter space, but they make it a lot easier to reach for items. Plus, they offer a neater and more cohesive aesthetic in your kitchen.
Design: House of Chais
4. Pop Goes the Vanity
This built-in dressing table looks totally inconspicuous, appearing just like a regular old drawer when not in use. Don't be deceived by how it looks though; it packs a ton of features to ease your daily routines, including a pop-up mirror, pull-out chair and concealed lighting.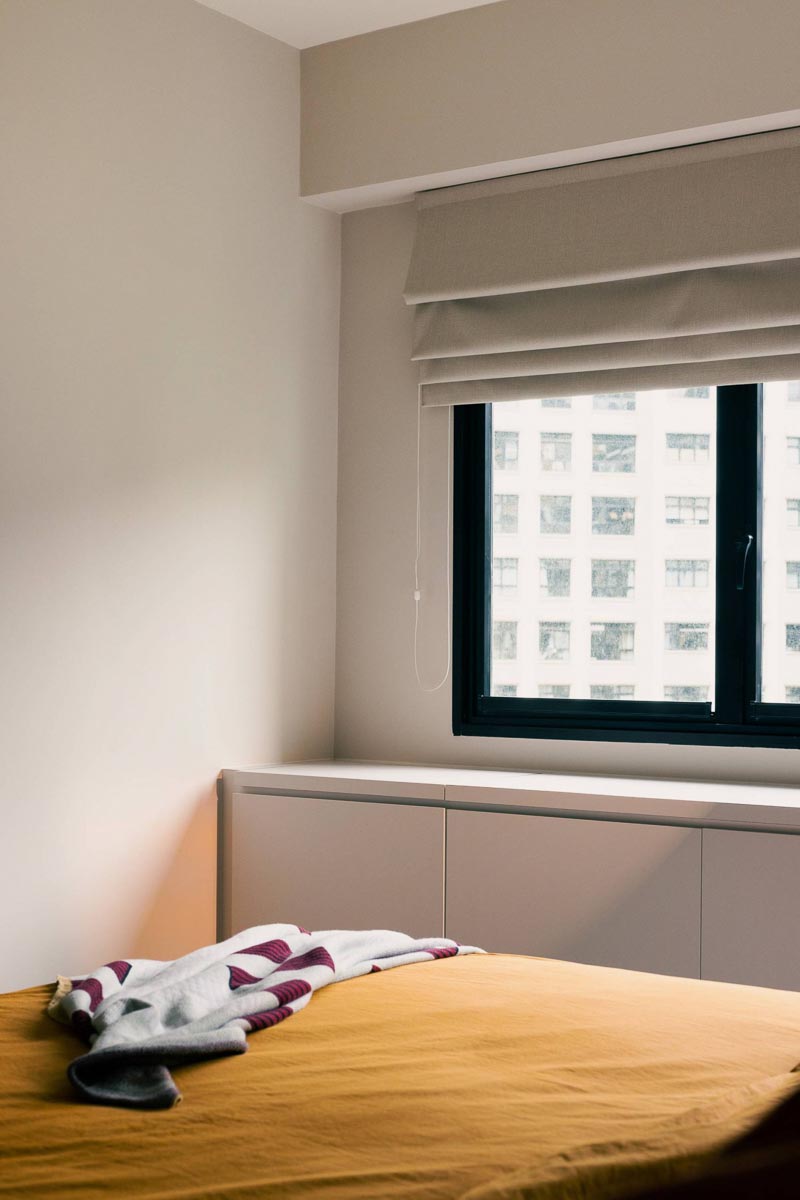 Design: Jialux Interior
5. Rattan Rhapsody
Using rattan dividers to segment the balcony is a great way to continue keeping the living room bright and airy. You also don't block out that gorgeous view completely. The bonus? They serve as a unique focal piece for the home, one that will definitely get your guests talking.
Design: Authors Interior & Styling
6. Turn a Corner
When you've got a petite bathroom, it's time to cut corners—literally. The rounded edge of the bathroom vanity allows for a smoother traffic flow in and out of the toilet whilst maximising storage space.
Design: Fifth Avenue Interior
7. Dining in Style
A pesky structural column transformed into a centrepiece for this dining room thanks to some design ingenuity. The built-in table is dining space on one end and a display shelf on the other. Now that's what we call problem-solving.
Design: ROOOT Studio
8. Room for More
Having a nightstand can be useful for bedside things, but it does take up quite a bit of room. If you have a small bedroom, consider this clever pop-up bedside table idea. When not in use, it flushes completely with the headboard so it doesn't get in the way.
Design: Starry Homestead
9. A Serial Multi-tasker
With the purpose to conceal an ugly structural column sitting in the middle of the communal spaces of this home, the designer built a curved monolith that also integrates a pantry, fish tank, bench, bathroom vanity and storage.
Design: Ovon Design
10. Squaring Off
To create a boxy living room, the designers took out an awkward corner of this HDB resale flat by painting it entirely blue. The contrast against the rest of the white walls is eye-catching, and it also means there's no need to take up room with unnecessary built-ins to get it to a regular-shaped living space.
Design: LARD
11. See-through Slats
Keeping your wardrobe ventilated can help stave off mould and mildew growth in your closet. This was cleverly done in this walk-in wardrobe through sleek and thoughtfully-placed cut-outs. Seen from the other side of the bedroom, they appear just like a visual design detail.
Design: Ovon Design
12. Mirror, Mirror
Wardrobe corners can sometimes make awkward storage spaces. So instead of using it as storage, the designer chose to turn it into a feasible dressing table instead. The slight bend smoothens out the edges while lending a cosier vibe to the bedroom.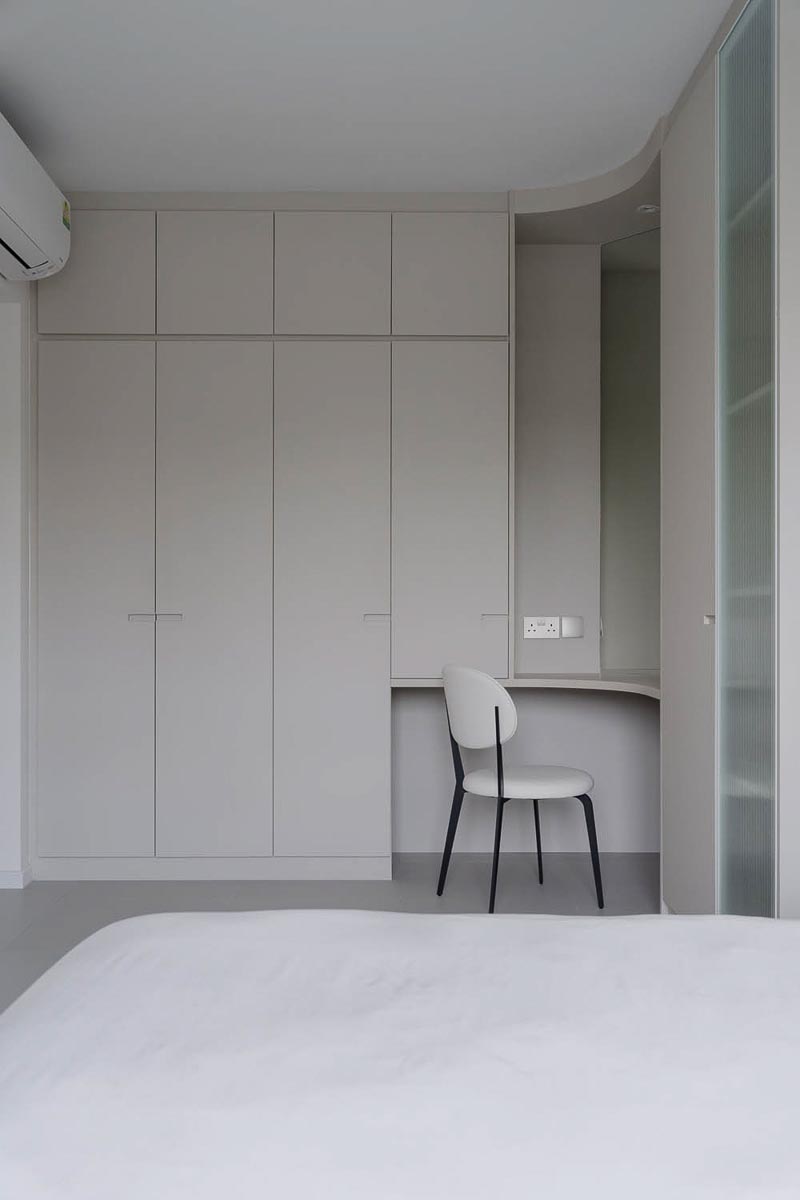 Design: Key Concept
13. Curtain Call
Curtains can be a good alternative to closet doors if you are struggling with space. They take up less room and afford more flexibility so you can have more closet territory! Plus, there's no need to account for extra clearance space unlike with casement doors.
Design: Design 4 Space
14. Countertop Gain
When it comes to where to place your countertops, there's no need to restrict them to the wall. This countertop took on a curved extension, maximising prep space without obstructing the flow of traffic in the kitchen. The contours also help to soften the harsh lines and edges of the cooking space.
Design: Starry Homestead
Meet Interior Designers. Get Quotes.
Get in touch with our listed renovation companies. They will provide you with a free non-obligatory estimate for any of the Renovation Packages included in their services.