2 people have enquired recently
Address: 21 Tan Kim Cheng Road #18-21, Singapore 266621
Overview
Score Breakdown
Design

Quality

Value for Money

Customer Service
8 Customer Reviews
Excellent (8)

100.0%

Very Good (0)

0%

Average (0)

0%

Poor (0)

0%

Terrible (0)

0%
Write a review
Reviews (8)
10
Design

10

Quality

10

Customer Service

10

Value for Money

10
Jane TW
Thank you Hsia Pin, Amos and EB craftsmen for doing up our unit so nicely! Friends and family commented that with the new layout, our unit looks brighter and much more spacious. Our home is now not only aesthetically pleasing, but also functional and easier to clean. Liang Yong from EB craftsmen is also very prompt when we need his assistance. Heartfelt thanks to the whole team!
10
Design

10

Quality

10

Customer Service

10

Value for Money

10
Thea Chen Yunwan
Hsia Pin, Amos, Eunice and Idayu took great care to design and oversee the construction of our house. They are professional, prompt and precise. Especially during this Circuit Breaker, when we are at home all the time, I feel extremely lucky and very thankful to be living in such a well-designed house. Attentive to our needs and requirements, EHKA studio can achieve what you want without compromising on aesthetics. Another point would be that our house was also built in a relatively short period with minimal hiccups. I attribute this to their quick response to work out the problems whenever discrepancies arise.
10
Design

10

Quality

10

Customer Service

10

Value for Money

10
Timothy Chang
EHKA made the renovation of my parents flat such a breeze (for me). The team put in so much thought into the overall design concept, space planning and details that not many changes were required. During the construction, communication was prompt and changes requested by my parents were adopted very fast. The reno was completed ahead of schedule and end product was to everyone's satisfaction and joy. Thanks Hsia Pin, Chelsea and Patrick for the great work
10
Design

10

Quality

10

Customer Service

10

Value for Money

10
Adeline Chan
Hsia Pin and his team managed the project swiftly and met all timelines. He was also attentive and understood our needs. I must say that it was a breeze working with EHKA and they oversaw the paperwork and the minor challenges that came our way in a professional and supportive manner. I appreciated that they chose the tiles and complemented the colour schemes of the house with some client input but added aesthetic value through their choice and design of finishings. It was a great experience working with EHKA and we got to know the members of the team including the kids! God bless them for the work that they do. Shine on!
10
Design

10

Quality

10

Customer Service

10

Value for Money

10
Mei Wan Foo
We are very impressed with EHKA's ability to understand our needs in our home and the team came up with a very functional and clean design which was what we wanted in our space. In fact, the draft rendering required no modifications! Throughout the process, they were dedicated to their craft and no amount of detail was too small for them. They worked tirelessly with the contractor to build our dream home which turned out exactly like the rendering; turning plans into reality. It was a very seamless and fuss-free process working with the EHKA team. Would definitely recommend EHKA to anyone looking to build a dream home.
10
Design

10

Quality

10

Customer Service

10

Value for Money

10
Kai-Lyn Loh
Hsia Pin and team have helped us build a home that we are proud of. They listened carefully to our needs and designed something that would fit our lifestyle. I really appreciated their attention to detail and their management during the construction period. I would strongly recommend them to anyone who is keen to renovate with a ID/ architect team on board. A shout out to team members Amoz and Idayu, who have been a big part of the journey.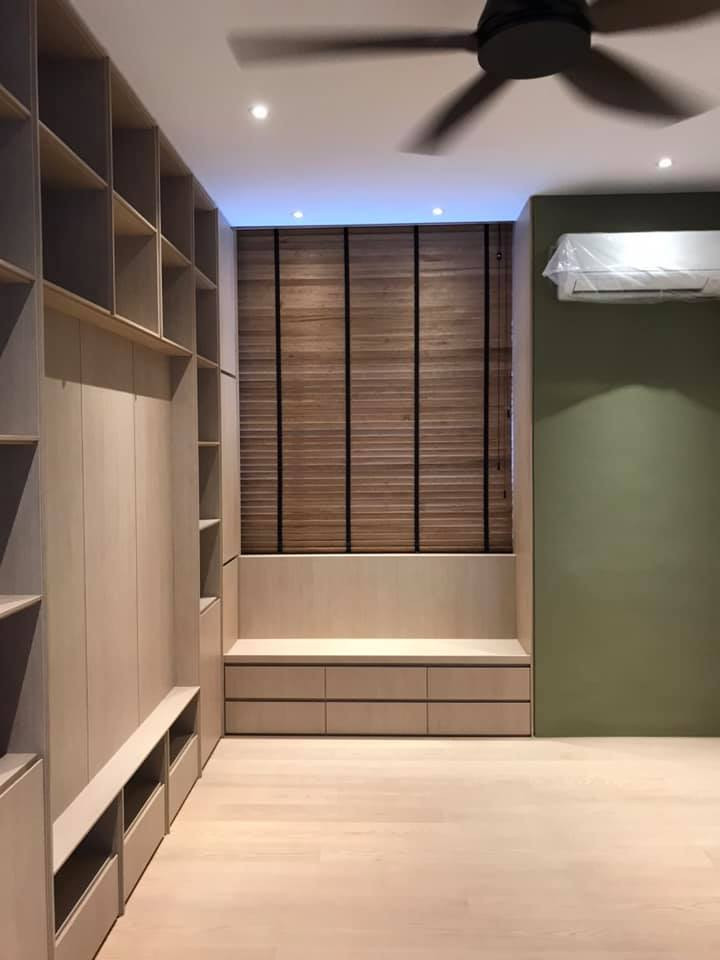 10
Design

10

Quality

10

Customer Service

10

Value for Money

10
Mui Pong Goh
Our family is grateful to Hsia Pin and his team for helping us with the extensive renovation of our place. They helped us with the design, recommendation of suitable pieces of furniture and the selection of the contractor. One of our concerns was that we were too busy to go onsite on a regular basis to check on the progress of the work. EHKA did an excellent job in project management with weekly updates (with pictures). They also worked well with the contractor to ensure the quality of the renovation.
10
Design

10

Quality

10

Customer Service

10

Value for Money

10
Matthias Tan
The team at EHKA has been amazing throughout our renovation journey. They took considerable time to understand our design preferences and totally delivered in terms of design and execution. The team's attention to detail and emphasis on providing clients with a pleasant renovation experience is commendable. I would highly recommend their services.
About EHKA Studio
DIRECTORS EHKA Studio is led by husband and wife team Hsu Hsia Pin & Eunice Khoo. Both Hsia Pin and Eunice have worked under renowned award-winning firms, gathering design and project experience of 7 and 8 years respectively before setting up their own practice in 2011. Hsu Hsia Pin is an alumnus of Raffles Institution, Raffles Junior College and National University of Singapore. He graduated with a Bachelors or Arts (Architecture) as the valedictorian, and Masters in Architecture in 2005. In 2010 he became a Qualified Architect registered under Board of Architects Singapore. Hsia Pin followed in his father's footsteps to become an architect. He interned with Tang Guan Bee Architects & CPG Corporation, and worked in HB Design Pte Ltd from 2005-2007 and Kerry Hill Architects Pte Ltd from 2007-2011. Eunice Khoo is an alumnus of Raffles Girls' School, Hwa Chong Junior College and National University of Singapore and graduated with a Masters in Architecture in 2004. In 2010 she became a Qualified Architect registered under Board of Architects Singapore. Eunice carried out her internship in Tang Guan Bee Architects upon which she worked at Timothy Seow Studio for 1 year and multi-disciplinary architectural RSP for 6 years. During these years, she had the opportunity to handle a vast range of projects ranging from master planning, residential (bungalow house, condominium, public housing), institutional, commercial and interior design. She also completed the Green Mark Manager Course in 2009. SERVICES EHKA Studio is a licensed architectural practice registered with Board of Architects Singapore. We provide full architectural services, including design consultancy, authority submissions, tender documentation and contract administration. PHILOSOPHY EHKA Studio pursues an approach of continuous exploration and logical clarity. Practical considerations like the program, the client's needs, constructability and the budget are carefully resolved and refined in a poetic solution that seeks to engage human perception.
READY TO RENOVATE?
Start meeting professionals for quote