Panda Girl Goes to the Philips Lighting Showroom
Where do you go when you need to buy light fixtures for your new home? Most people will probably tell you to visit Balestier for the numerous lighting shops located there, cross the causeway for cheaper alternatives or even source online on Taobao. I can still remember researching on lights online and the entire process was rather tedious because there were just too many options to choose from! I even dragged my SO from one end of Balestier to the other end just to compare prices, much to his horror. Nights were spent poring over various websites to get inspiration and I even made solo trips to various retailers just to purchase lights. In other words, it was exhausting! If you don't want to be like me and wear yourself out looking for lights for your new home, then you can consider visiting the new Philips Lighting Showroom. Located right next to the Philips Experience Showroom at 620A Lorong 1 Toa Payoh TP4 Building Level 1, this is where you get to check out a wide range of lights from a reliable brand. And it's easy to get there too! The showroom itself is right next to the Philips Experience Showroom, so you can simply cut through it to get to the lighting section.
What I like about this lighting showroom is that it's quite well laid-out. You know how a lot of lighting shops have so many light displays that it makes your head spin? The Philips Showroom, on the other hand, has everything neatly laid out so you won't feel inclined to run screaming out of the shop in fear.
Philips has a wide range of lighting fixtures and accessories, but they are placed in a tidy manner; making it easy for consumers to browse through the products.
They have table lamps to add aesthetic value to your bedroom or living room.
Beautiful set-ups with gorgeous ceiling lamps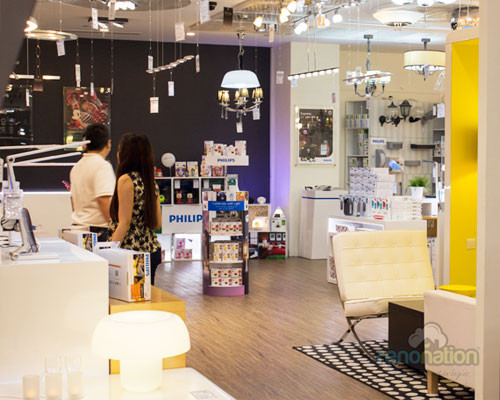 A nice big space for consumers to wander around
There might be a lot of lights on display, but they are not too overwhelming.
More table lamps for your workstation needs
The one thing that helps this showroom stand out from the rest? It's this little station where you can read up on lighting tips and see how certain materials look under different lights. Also, notice the widely grinning salesperson in the background. You can expect to be attended to by friendly salespeople who won't prey on you the moment you step into the showroom. Remember how light temperature can affect how your furniture or wall colour looks? Well, Philips has a collection of materials that you can match to your favourite lights to see if they look good under a particular light temperature.
At home, mama will tell you not to play around with the lights. Here you can "test" them to your heart's desire...to a reasonable extent, of course.
In case you're still in the dark, Philips collaborated with Disney and came up with a collection of kids lights that will drive the nightly bogey man (and monsters under the bed) away!
Cute, right? You can find Mike Wazokski and his friends at the showroom!
This is one of my favourite lamps in the showroom. Why? Coz, like a chameleon, it looks different when you switch it on and off! Notice how the light bulbs shines from within when it lights up. If you're looking for a talking point in your dining room, THIS IS IT.
You might have noticed that most of the lights in the showroom are more inclined towards the contemporary so off-beat designs such as mid-century modern or cottage style are not found here. BUT, you can expect to find many lovely contemporary designs that will enhance the aesthetic value of your home. Want a smart lighting experience at home where you can control lights with just a tap on your smart phones? The friendly Philips salespeople will be able to advise you on how to plan your lights before your renovation. This smart experience is also possible even if you have existing lights at home; consult the salespeople so they can advise you and arrange for an on-site appointment to see if your home fits the criteria. The showroom may not be as big as some of the lighting shops out there along Balestier Road but seriously if you only have enough time for one place and you want only lighting products by a reliable brand, then consider going down to Philips where you can shop for both lights and appliances in the same location. It's a one-stop solution hub where you can get most of the stuff you need for your new home. Have fun!
www.philips.com.sg
Address: 620A Lorong 1 Toa Payoh TP4 Building Level 1
Opening Hours: Mondays to Fridays: 9am to 7pm Saturdays: 9am to 1pm Closed on Sundays & Public Holidays
Meet Interior Designers. Get Quotes.
Get in touch with our listed renovation companies. They will provide you with a free non-obligatory estimate for any of the Renovation Packages included in their services.