October 2023 BTO: Unit Analyses for Verandah @ Kallang, Rajah Residences and Tenteram Vantage
Three BTOs were launched in the Kallang/Whampoa region during the October 2023 sales exercise. If convenience is your top priority, Verandah @ Kallang, which is the only PLH development among the three, is your best bet. Rajah Residences and Tenteram Vantage, while not as convenient, do offer other benefits. Let's take a closer look at all three BTOs and explore the best units available for each one.
Overview
BTO

Bounded by Geylang Road, Sims Way, Kallang Airport Way, and Kallang Airport Drive

Bounded by Jalan Rajah and Kim Keat Road

Located at Jalan Tenteram and along the Kallang River

Prime Location
Housing?
Yes
No
No

2-room Flexi, 3- and 4-room

Between 32 to 40 storeys

Estimated completion date

2-room Type 1: $193K - $237K
2-room Type 2: $240K - $303K
3-room: $368K - $475K
4-room: $535K - $675K

2-room Type 1: $176K - $216K
2-room Type 2: $214K - $294K
4-room: $480K - $675K

3-room: $339K - $420K
4-room: $488K - $628K

Pick your poison:
What's around Verandah @ Kallang?
The only PLH BTO among the Kallang/Whampoa developments launched in October 2023, Verandah @ Kallang surpasses the other two BTOs in terms of convenience.
Site for Verandah @ Kallang.
Site for Verandah @ Kallang, facing Geyland Road.
It's conveniently located a short 5-min walk away to Kallang MRT on the East-West Line. The Circle and Downtown Lines are also just two MRT stations away, providing easy access to other parts of Singapore The existing bus stop along Geylang Road also offers a number of bus services that connect you to Orchard Road and other neighbourhoods as far as Buona Vista and Harbourfront.
Kallang MRT station is a short walking distance away.
You also have relatively easy access to a variety of food options. The stretch along Geylang Road is a go-to destination for late-night meals.
There are also facilities within Verandah @ Kallang. These include a mini mart, an eating house and several other shops. If you need more options for groceries, the nearest supermarket is over at Upper Boon Keng Road. That will take you around 8 mins to reach by foot and will see to your everyday grocery needs.
If you're up for a bit of a walk, Kallang Wave Mall will take you around 16 mins or so by foot. There, you'll get access to bigger brand names, more retail shops as well as a large Fairprice Xtra.
Kallang Riverside Park (with waterfront views of the Kallang River!) is also just down the road from the BTO (~4-min walk). So despite the BTO's very urban location, it's still close to a green space, which is nice.
Residents of Verandah @ Kallang will also be able to enjoy seamless walking and cycling access to Bishan and the CBD via the upcoming 10km Bishan-to-City Links. Currently, five out of the six improved connections are already ready, with the sixth one set to open by 2027. Access to the Bishan-to-City Links is via the Kallang River park connectors, which are around an 8-min walk away from Verandah @ Kallang.
Less than a 10-min walk to the park connector.
If you're looking for a tranquil home, Verandah @ Kallang may not be the best choice for you. This BTO's surrounded by very busy roads. Both Geylang Road and Sims Way tend to see a high volume of traffic at all times of the day. The immediate surrounds are also all reserved for commercial uses or as white sites, so you may experience higher foot traffic in the future.
Along Sims Way and entrance into the KPE.
Along the stretch of Geylang Road right next to the BTO.
Kallang Airport Way, the only stretch of road surrounding the BTO that is quieter. But may not be for long?
Another downside is that the area isn't within a 1km radius to a primary school based on our estimates. So that's quite a bummer for families with school-going children. Geylang Methodist School (Primary) over at Aljunied is within a 2km radius though.
Unit Analysis for Verandah @ Kallang
2-room
The 2-room units are located across five different stacks. The Type 1 units are at stack 246, while the Type 2 units are at stacks 238, 240, 242 and 244. Type 2 units are bigger. If you don't mind the smaller floor size, stack 246 is a great choice for privacy since it's located at a corner. The downside of the stack is that you're likely to get the full brunt of the afternoon sun, no matter the time of the year.
For the Type 2 stacks, stack 244 will also experience the afternoon sun for most part of the year. The rest of the Type 2 stacks are likely to only get the afternoon sun coming in from the south-west direction, which typically runs from September to March in Singapore. Stack 238 is also relatively great for privacy, and if you choose a higher floor, you won't have to deal with any noise from the nearby elderly fitness corner.
3-room
There are 3-room units available in stacks 204, 206, 248, and 250. All of these stacks are situated along the very busy roads so you will be subjected to traffic noise, however, stacks 204 and 206 are slightly more inward. Despite this, it's worth noting that both these stacks still face the carpark, so you may still experience some noise from revving cars.
All the 3-room stacks are pretty private since they don't quite look into a neighbouring stack, although stack 248 slightly edges out because it's a corner unit.
If you want to avoid the afternoon sun, we would recommend going for stacks 204 and 206. These two stacks also offer better views, since they overlook shorter buildings for now. We recommend going for a higher floor if you want relatively unblocked views, preferably above the 10th floor.
4-room
Lots of stacks to choose from if you're thinking of going for a 4-room unit. Avoid the stacks facing the two big roads, Geylang Road and Sims Way if you can. The best option for privacy and quietude may be stack 220, which is a corner unit without other units looking in. While it faces Kallang Airport Way, it's a much smaller road with fewer traffic. The best 4-room stacks that are able to get some shade from the afternoon are 214, 216, 224 and 226.
There are also two 4-room floor plans to choose from. The only differences is the location of the bomb shelter and the layout of the kitchen. Type 1 has the bomb shelter near the entrance of the home with a boxier, more open kitchen, while Type 2 has the bomb shelter along the walkway and a longer, narrower kitchen layout.
Type 1's great if you want a separate dry and wet kitchen thing going on, but the bomb shelter's location in the living room means your communal space will feel a bit more of a squeeze. For Type 2, it's likely you will just keep with a one-wall or a galley style kitchen because of the limited space, but the more open foyer gives you flexibility in that front entrance.
Just another quick tip before you make your decision: in case you choose a stack that overlooks undeveloped sites, it's important to note that you are likely to experience some construction dust and noise down the road.
---
What's around Rajah Residences?
Rajah Residences is located in a predominantly HDB neighbourhood, opposite the Rajah Summit BTO that launched earlier this year. A portion of the site is bordered by the Sungei Whampoa River and a park connector, while the other side is bordered by a cluster of light industry.
Site for Rajah Residences.
Site for Rajah Residences.
The Sungei Whampoa river and park connector. Rajah Residences sit to the right of this image.
There's a light industry area next to the site.
Vehicular and foot traffic were high, especially along Kim Keat Road, due to the NKF Center and mosque near the site. We visited on a Friday afternoon, when Muslims typically gather to pray, which may also explain the high traffic.
Along Kim Keat Road.
The NKF building.
The back of the NKF building. Some stacks at Rajah Residences are just to the left of this building.
The mosque.
Friday prayers.
Jalan Rajah, the other road on another side of this BTO, sees fewer traffic, although you do get a few buses traversing this lane. The nearby bus terminal, St. Michael's, also drives up bus traffic in the area.
Along Jalan Rajah.
St. Michael's bus terminal.
In terms of existing amenities, the highly-popular Whampoa Makan Place (hawker centre and wet market) will take you approximately 13 mins by foot, while the nearest shopping centre, Zhongshan Mall, is a 16-min walk away.
Whampoa Makan Place.
Rajah Residences itself will house an eating house and a supermarket, providing residents with convenient dining and grocery options.
Toa Payoh town center is accessible via an overhead bridge across the PIE, but it will take about 20 mins to walk. Alternatively, you can take a direct bus, which will also take about 20 mins.
In terms of public transportation, Rajah Residences is primarily served by buses, as there are no MRT stations within a comfortable walking distance. The St. Michael's bus terminal is relatively small, but there are buses that will take you to downtown.
Based on our estimates, Hong Wen School is the only primary school within a 1km radius.
Unit Analysis for Rajah Residences
2-room
If you're interested in the smaller 2-room Type 1 units, your only option will be Stack 166. This stack offers views of the adult fitness station, but do keep in mind that lower floors may experience some noise from the activities taking place there. The lower-floor units at stack 166 may get some shade from the afternoon sun thanks to the nearby car park though.
Stacks 178, 180 and 190 are the Type 2 units. If you're concern over privacy and a revving of vehicles, we won't recommend the lower floor units at stack 190 since it overlooks the 7-storey multi-storey carpark. But higher-floor units at this stack will get some privacy and decent views. Stacks 178 and 180 overlook the playground, so we would avoid the lower-floor units at these two stacks. For relatively unblocked views, pick a high-floor unit, 20th floor and above at these two stacks.
4-room
Best stacks to avoid the afternoon sun? Lower-floor units (preferably below the 7th floor) at stacks 168, 170 and 172. For privacy and quietude, corner stack 176 is your best bet. For decent views, we would recommend units on floors above the 13th storey at stacks 152, 154, 156, 158 and 160, units on floors above the 7th storey at stack 188, units on floors above the 6th floor at stacks 174, 184 and 186, and units on floors above the 20th floor at stacks 176 and 182.
---
What's around Tenteram Vantage?
Tenteram Vantage's biggest downside is its location next to the PIE. Despite its location at a relatively low-footfall nook, the noise from the expressway puts away any hope that it might be a tranquil area. Although the presence of water bodies, the well-placed on-site facilities and the perpendicular positioning of some of the stacks help to minimise the noise, it is still possible to hear the traffic noise from the expressway.
Site for Tenteram Vantage.
Along Jalan Tenteram, where there isn't much traffic. The BTO site sits to the left of image.
Quiet nook? Not quite.
Tenteram Vantage is next to one of the busiest expressways
A large canal helping to mitigate some noise.
The nearest amenities for Tenteram Vantage are located at Tenteram Peak, the HDB next door. There is a Hao Mart and an eating house there, which can meet your daily needs.
Alternatively, you can head to the Kim Keat neighbourhood across the PIE, where there are coffee shops and a Giant supermarket. This will take about 13 mins on foot. You can also reach Whampoa Makan Place within a 16min walk. Zhongshan Mall is a short three-stop bus ride away.
Linkway that takes you to the other side of the expressway.
Residents of Tenteram Vantage will also benefit from an upcoming pedestrian and cycling bridge across the PIE, which will be a 10min walk away. The bridge will connect the Kallang River park connector routes between St. Andrew's Junior College and Jalan Taman, as part of the overall Bishan-to-City Links project that will provide residents with direct access to Bishan and the CBD.
The Bishan-to-City Links route.
Map courtesy of URA
Like Rajah Residences, you will have to rely on buses for public transportation. There are two bus services plying Jalan Tenteram. For more options, there are 10 more bus services at the bus stop along the PIE.
The bus stop along the PIE.
In terms of proximity to primary schools, Tenteram Vantage seems to have a slight advantage over Rajah Residences. Our estimates show that Hong Wen School, Bendemeer Primary School, and St Andrew's Junior School are all within a 1km radius of Tenteram Vantage.
Unit Analysis for Tenteram Vantage
3-room
There are three 3-room stacks to pick from, with each having their own pros and cons. If you want decent, relatively unblocked views, stacks 635 and 651 are the best options. If you don't like neighbours looking in while they walk by, stack 651 is pretty good option, but it does face inward into neighbouring stack so that's something to consider. Stack 635 looks out into the main road you don't have neighbouring stacks looking in. You may still be subjected to some traffic noise even though it isn't an overly busy road. And finally, stack 667 may be the best option if you want a quieter flat. All the 3-room stacks are likely to receive the afternoon sun in certain times of the year.
4-room
There are more 4-room units up for grabs. Our best picks for stacks that feel more private are 605, 613, 653, 661, 663 and 665. If you also want a quieter stack though, we would avoid the ones closest to the expressway, the ones facing the main road as well as the ones facing facilities on site where people tend to gather. If you are looking for stacks with better views, consider these: 633, 641 (above 7th floor), and 655. Pick stacks 605, 607, 609, 611, 613, 621, 627, 629, 653, 655, 661 and 663 if you want some shade from the afternoon sun.
We couldn't help but spot an overpass right above the PIE, pretty close to the stacks on the site's northeastern edge.
Similar to the 4-room units at Verandah @ Kallang, there are also two types of 4-room floor plans available to choose from at Tenteram Vantage.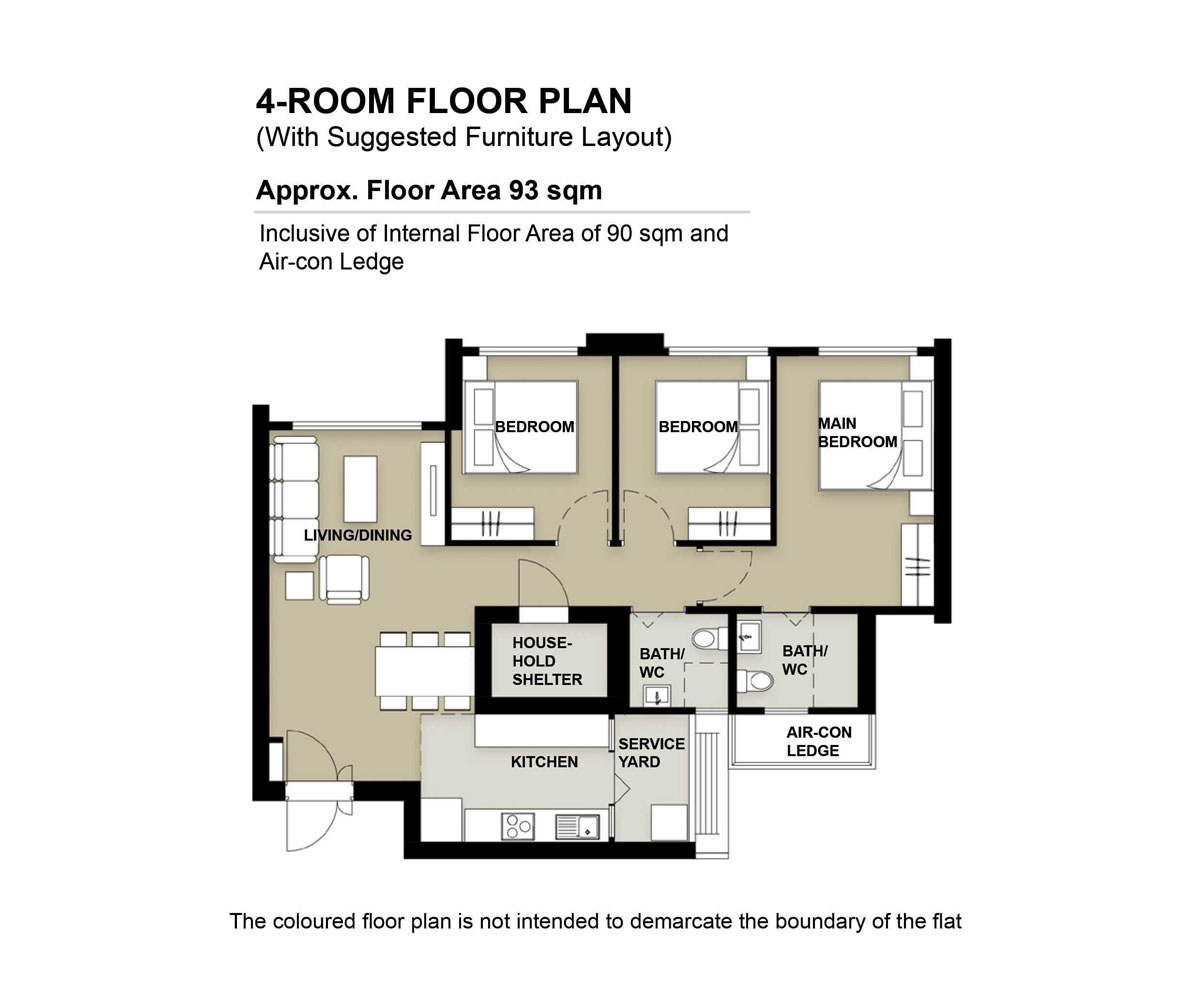 Type 1 units have the bomb shelter located near the entrance of the home and comes with a boxy layout for the kitchen. Type 2, on the other hand, has the bomb shelter along the walkway and a narrower kitchen layout.
Go for Type 1 if you want more flexibility in your kitchen design but are OK with a smaller living room. Type 2's great for people who don't mind a closed kitchen design and are keen to have a more spacious living room.
Meet Interior Designers. Get Quotes.
Get in touch with our listed renovation companies. They will provide you with a free non-obligatory estimate for any of the Renovation Packages included in their services.