Nov 2022 BTO: Unit Analysis for West Glades @ Bukit Batok
If you are looking to be surrounded by greenery and stacks with decent, unblocked park views, you may wish to consider BTO West Glades @ Bukit Batok as an option. Launched in Nov 2022, this BTO is nestled right next to a nature park. And for its verdant views, it's also surprisingly convenient with several amenities within walking distance. In our site visit, we see what it has going for it as well as the best units to pick if you decide to opt for a unit here.
West Glades @ Bukit Batok

Bounded by Bukit Batok West Ave 2 and 5

2-room Flexi, 3-, 4- and 5-room

Estimated completion date

2-room Flexi Type 1: $105K to $130K
2-room Flexi Type 2: $126K to $169K
3-room: $206K to $269K
4-room: $309K to $392K
5-room: $405K to $522K

Bukit Gombak MRT station on the North-South Line (~10-min walk)

Amenities within walking distance (<10 min walk)

Sheng Siong supermarket and food court at 467 Bukit Batok West Ave 9

McDonald's Bukit Gombak

Giant Supermarket at 376 Bukit Batok St 31

Bukit Gombak Neighbourhood Centre with a wet market

Le Quest Shopping Mall with a FairPrice supermarket

West Mall with a Cold Storage supermarket

Future hawker centre located next to Le Quest and within Harmony Village@Bukit Batok

Primary schools within a 1-km radius (distance based on approximation, may differ depending on block)

Dazhong Primary School
Lianhua Primary School
St. Anthony's Primary School
Site visit
The area surrounding West Glades is going to be mainly residential. It's still in its early stages of development so you can expect a few things to be ready only when you move in.
Site for West Glades @ Bukit Batok.
We can see a mix of old and new housing here, with this BTO sitting at the edge of the cluster of Bukit Batok West BTOs. There are also a few still empty plots of land surrounding the site. The HDB maps indicate that these will eventually hold high-rise residential buildings so it's likely the area will get more bustling.
One of the highlights of this project is that it's sandwiched between two upcoming nature parks. One will be an 8.9-hectare Bukit Batok Hillside Nature Park and the other will be a 16-hectare park beside the existing Civil Service Club @ Bukit Batok. The former is scheduled for completion in 2024 and the latter is still in its planning stages so there isn't a concrete launch date for it yet.
Upcoming parks around West Glades.
These two parks will form part of the wider Bukit Batok Nature Corridor, linking up with Bukit Batok Town Park and Bukit Batok Nature Park and eventually the future Tengah Forest Corridor and the Central Nature Park Network.
Besides the nature parks, West Glades is also bordered by two roads, Bukit Batok West Ave 5 and Bukit Batok West Ave 2. We didn't find the roads overly busy, although their busyness remains to be seen since there are still empty residential plots. Several buses are running through these roads though, so do take note of traffic noise if you are thinking of getting a unit at a road-facing stack.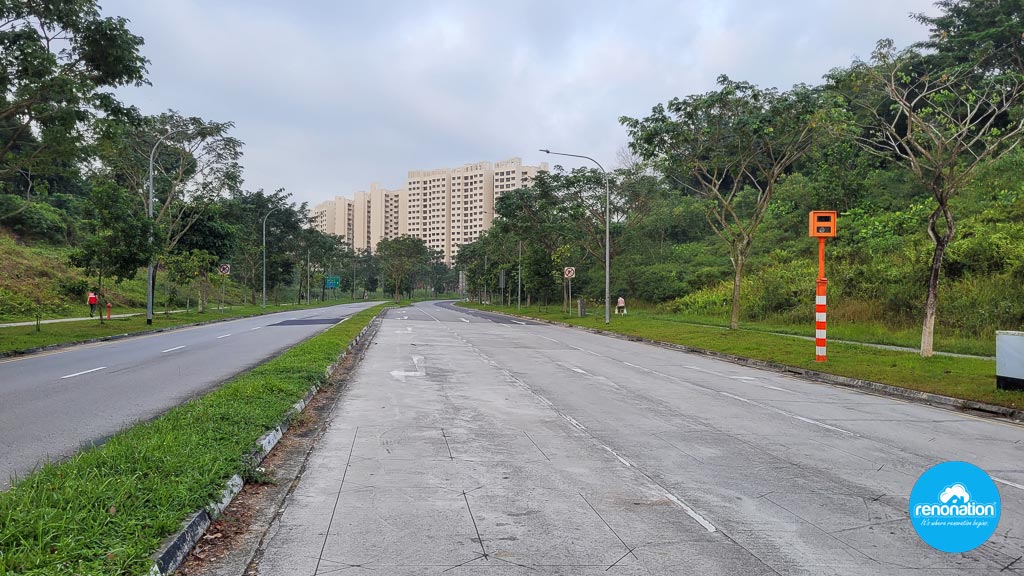 Along Bukit Batok West Ave 5.
Along Bukit Batok West Ave 2.
There is also no shortage of existing and upcoming amenities in the area, although most will require you to do some walking before you can get to them. You get the Bukit Gombak Neighbourhood Centre less than a 10-min walk away. There, you'll find a wet market and a couple of supermarkets alongside numerous food and retail options.
Across the road, there's also a food court and a Sheng Siong supermarket within the West Plains BTO. Walk just a bit further and you'll come across Le Quest mall, which is part of the mixed-use development, Le Quest. The single-storey mall comprises several fast food options, a Fairprice Finest supermarket, a food court and other retail shops and eateries.
An upcoming hawker centre will also be integrated with the community care apartments, Harmony Village@Bukit Batok (launched in Feb 2021). The entire development is scheduled for completion in 2024.
The nearest MRT station is a 10-min walk away. The walk is relatively unsheltered for most of the way through.
There may be two bus stops fronting the two sides of the estate in the future, and if the existing bus routes are anything to go by, they may go some way in improving public transport connectivity in the area.
Which unit to choose for West Glades @ Bukit Batok?
Colour Code

Pink

Green

3-room

Yellow

4-room

Orange
Unblocked views/park views
Being surrounded by the upcoming Bukit Batok Hillside Nature Park means some stacks will be able to enjoy park views. These stacks are also relatively unblocked since there is quite some distance between those stacks and neighbouring residential estates.
474A: 701, 703 (applicable only for units above the 19th floor)
474C: 733, 735
475A: 757, 759, 761, 763, 765
476A: 775, 777, 779, 781
Cooler units without afternoon sun
The afternoon sun comes in two different directions in Singapore, the southwest and northwest directions depending on the time of the year, so you will want to avoid stacks that are facing these two directions if you want a cooler unit. These are the stacks to go for:
474C: 733
476A: 785
Privacy
Corner stacks are the best for privacy if you don't like having neighbours looking into your flat when they walk by. When choosing, you may also want to avoid units located close to the lifts or the rubbish chutes as these areas tend to attract higher foot traffic.
474A: 709
474B: 725
474C: 745*, 747*
475A: 755
476A: 771*, 773*
*When choosing privacy, you may also want to take into consideration the distance between the stacks. The distance between these stacks isn't very far (approximately 27.3 metres apart), so keep that in mind if you do decide to go for units at those stacks.
Other considerations to take note of:
In terms of 'quiet' stacks, we don't really see one. Road-facing stacks will be subjected to some traffic noise even though both roads don't see very heavy traffic. Plus, because they are facing empty residential plots, you may be contending with future construction noise for some time even after moving in.
We also can't be absolutely sure that stacks facing the park will be particularly tranquil, since there may be higher levels of human activity and foot traffic there.
For inward-facing stacks, most are also overlooking playgrounds, pavilions, fitness corners or near the car park and these areas tend to be noisier as well.
Floor plans
2-room Flexi
As with most 2-room BTOs, you get to choose between Type 1 and Type 2 layouts. The latter is larger, with space for an additional room that you can turn into a separate bedroom, a dedicated dining area or knocked down for a larger master bedroom. The type 2 layouts are pretty flexible, with no walls between the communal spaces so it's easily configurable or you can opt for a studio feel with an open-plan layout.
3-room
West Glades' 3-room layouts are also pretty standard. We like that the walls between the bedrooms and the living room can be easily removed with no protruding structural beams, so you can easily reconfigure your space. The kitchen, as with the newer 3-room BTOs, can be separated into a wet and dry area easily, although beyond that, because of the spatial restrictions there aren't a whole lot of alternative kitchen layouts to consider.
4-room
In the 4-room layouts, there are also no structural beams between the bedrooms, so you can combine them without issue. The bomb shelter next to the living room eats into the communal space quite a bit though. There's plenty of space in the kitchen, with a substantial number of configurations you can consider. There's even room for a small-ish island if you wish to have one.
5-room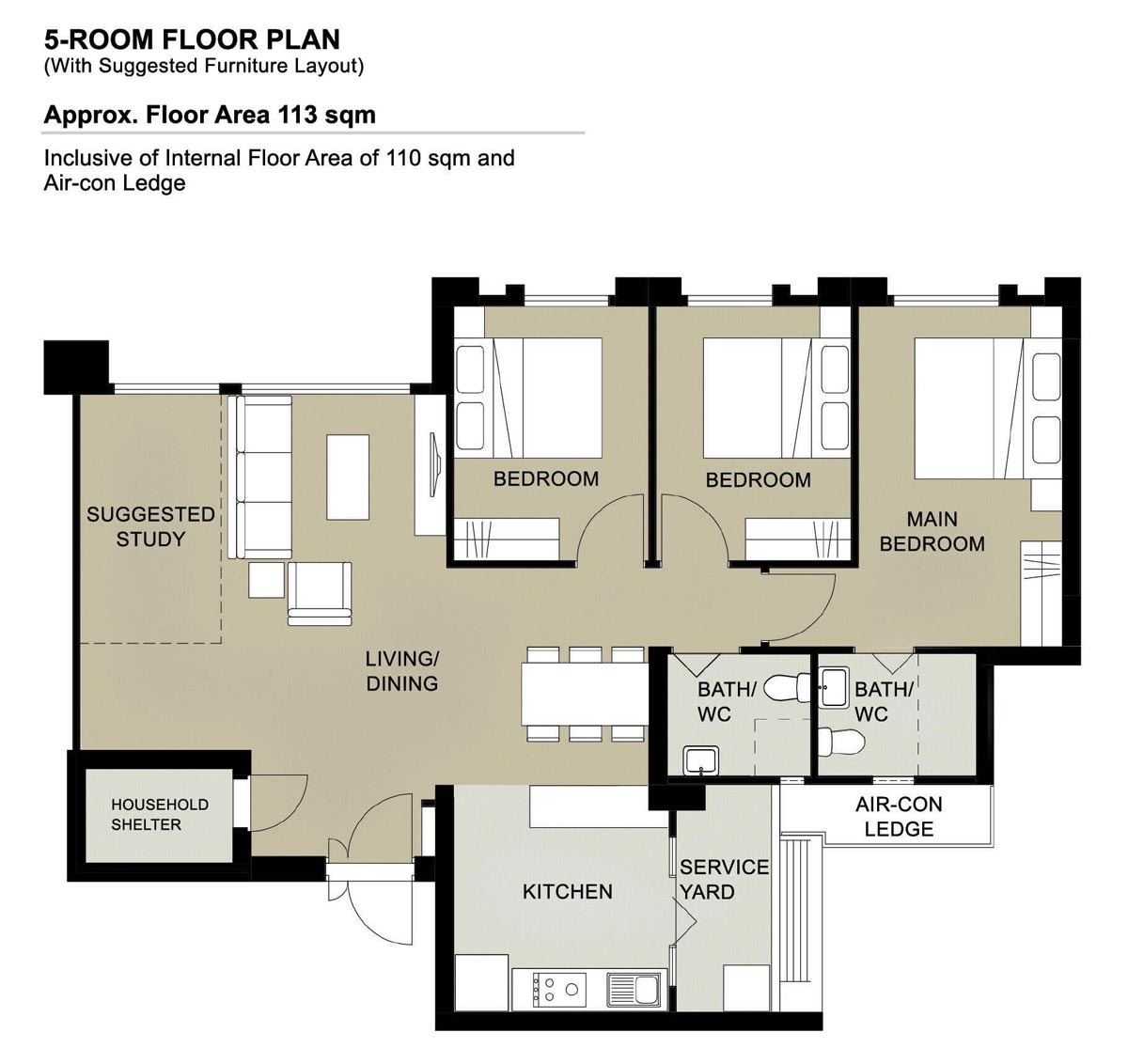 The 5-room layout is quite attractive. There is a ton of communal space, even in front of the bomb shelter. Most foyer-located bomb shelters are located right at the entrance door so there's no wiggle room. Not so here, where there may be some room to put in a built-in shoe bench. On the downside, the kitchen's entrance isn't very large by 5-room BTO standards. If you want a larger island, you can consider extending your cooking area to where the original dining area currently is.
Meet Interior Designers. Get Quotes.
Get in touch with our listed renovation companies. They will provide you with a free non-obligatory estimate for any of the Renovation Packages included in their services.