Nov 2022 BTO: Unit Analysis for Kallang Horizon
In this article, we turn our attention to Kallang Horizon BTO, launched as a PLH (prime location housing) development in the Nov 2022 BTO exercise. Located right next to the MRT station as well as the Kallang River, this BTO isn't a huge project mainly because it will have a bus interchange sitting right within the estate. We take a quick look at the site and see the best units to pick if you decide to ballot for a unit here.
Bounded by Lorong 1 Geylang and Kallang MRT station

Estimated completion date

3-room: $335K - $447K
4-room: $509K - $690K

Kallang MRT station on the East-West Line

Primary schools within a 1-km radius* *distance based on approximation, may differ depending on block

Amenities within a 15-min walking distance

NTUC Fairprice Supermarket at Kallang Heights BTO across the street

Sheng Siong supermarket at Upper Boon Keng Road (~3-min walk)

Upper Boon Keng Market and Food Centre (~5-min walk)

Victoria Wholesale Centre (~14-min walk)

Numerous eateries and restaurants along Geylang Road (~3-min walk to start of the road)
Site Visit
There was high foot traffic in the area when we visited on a weekday morning, primarily because of its location next to an MRT station. Thanks to a future bus interchange on site, the area's likely to get busier and noisier.
Because of Kallang Horizon's proximity to the MRT station, you can also clearly hear the track noise even from the far end of the site.
The BTO site (on the left) has close proximity to the Kallang MRT station.
Site for Kallang Horizon, view from the side of the park connector.
While Lorong 1 Geylang road (the only road that's bordering the BTO) isn't an arterial one, we found it to be rather busy, with vehicles using it to get to the KPE entrance. Folks getting units at stacks 108 and 110 should keep that in mind.
There's also a bus stop along this road so traffic is heavy in both the foot and vehicular sense.
There will be some stacks that will get to enjoy views of the Kallang River (specifics below), and the view is really quite lovely since the opposite end of the river are low-lying industrial buildings. That may eventually change since one of the empty plots there is gazetted for a high-rise residential development.
River-facing stacks on lower floors will want to keep in mind the high foot traffic along the park connector as it's one of the main pathways that lead to the station and it also encompasses a resting spot along that park connector stretch that will likely often see people gathering.
View across the river.
Resting stop along the park connector.
Stacks facing the existing car park (Blk 8) will also have to contend with higher noise levels as the ground floor hosts a childcare centre, a playground, and a seniors' activity centre with a clinic. There's also a Value Dollar Shop there.
Childcare centre and playground.
Seniors' activity centre and clinic.
Value Dollar Shop.
Amenities-wise, daily necessities are easily attainable with several supermarkets, eateries and a hawker centre nearby. The nearest malls, Aperia Mall and Kallang Wave Mall, are just out of 15-min walking distance reach, but you can easily get to them via public transport.
A few eateries along Geylang Road.
You can see the Sports Hub from here, but walking there will take more than 15 mins.
One of the bigger downsides to this project is that there aren't any schools (so far) within a 1 km distance from the project. So do take note if you have primary school-going children at the time of key collection. The consolation is that there are plenty of primary schools within a 2 km distance.
Unit Analysis for Kallang Horizon
Cooler stacks
These are the stacks to opt for if you don't want to face the afternoon sun, which comes from either the northwest or southwest directions in Singapore.
Privacy
For homeowners who are particularly concerned about privacy, go for a corner unit away from the lifts and rubbish chutes, areas which are likely to have higher footfall.
| | |
| --- | --- |
| 7A | |
| 7B | |
| 7C | |
River views
Some stacks are lucky enough to enjoy views of the Kallang River. Besides the extra sense of tranquillity, you also get to enjoy an unblocked vista, to a certain extent. As mentioned earlier, one of the empty plots right across the river will likely be turned into a residential one that can go up to 36 storeys.
*Note that these stacks come with balconies. We aren't absolutely sure a balcony is available on every level, so do check to make sure.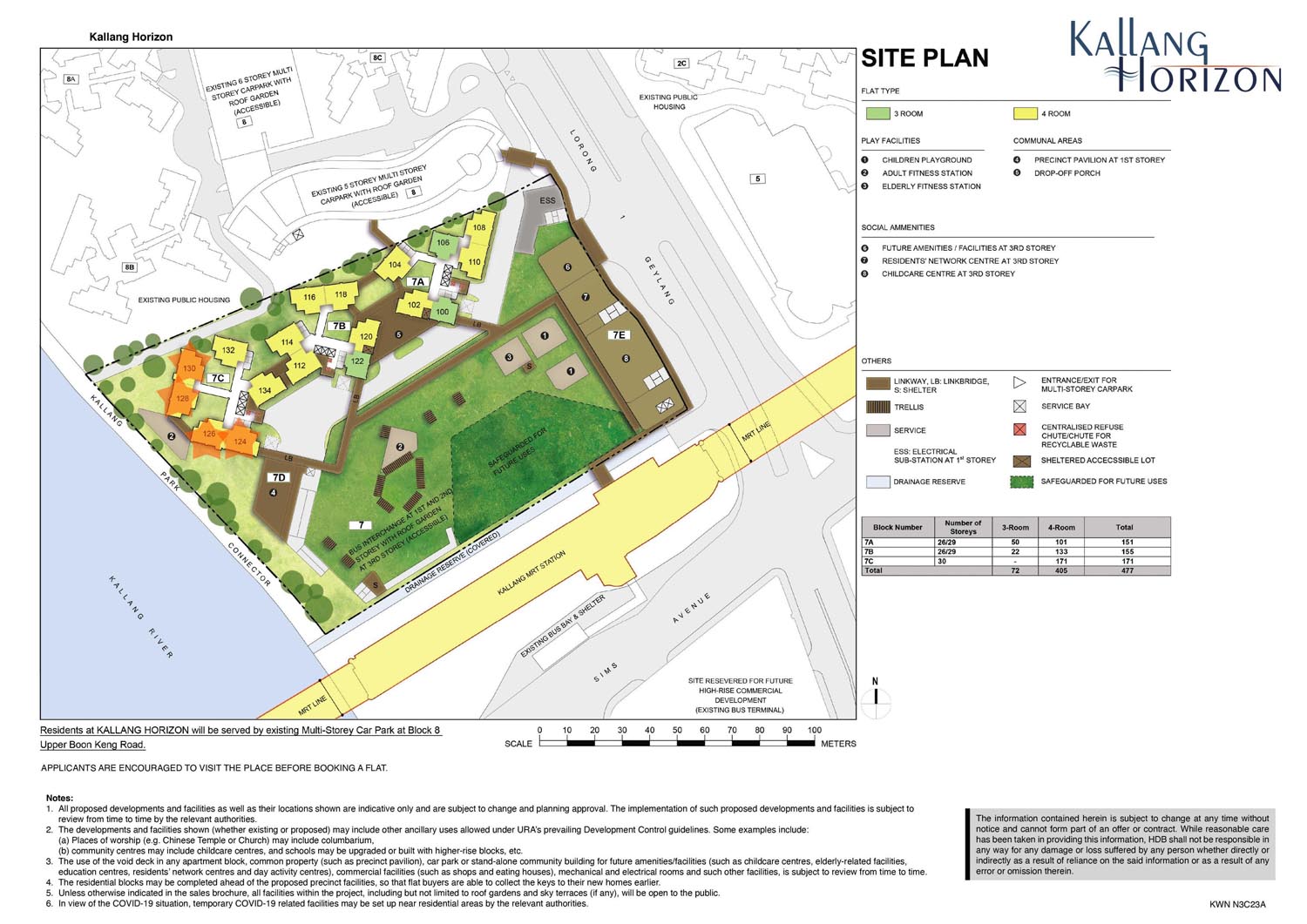 Quieter stacks
There are some stacks quieter than others. Pick ones away from the main roads, areas where people gather and also not facing the bus interchange on site. Besides these obvious spots, you may also want to avoid stacks facing the car park, which is located within the adjacent Kallang Trivista estate, if you don't want to be subjected to fumes and the revving of engines.
We were able to hear the noise from the MRT tracks from every point on the site though (yes we walked the entire circumference), so you can't quite escape that. It will definitely help to get a stack facing away from the tracks though.
Kallang Horizon's Floor Plans
If you are opting for the 3-room units, there's only one layout to choose from. The household shelter's located along the walkway rather than the foyer, so there's a bit of room in the living/dining area for you to manoeuvre things around like incorporating a breakfast bar table as indicated in red:
Also, if you are planning to change things up with the bedroom layouts, the non-structural, hackable wall between both bedrooms will make it more convenient to do so.
For those going for the 4-room units, there are two choices to pick from. One has a balcony and another doesn't. Save for that extra feature, everything else is the same. As we mentioned earlier, only units at stacks 126 and 130 will have balconies.
Meet Interior Designers. Get Quotes.
Get in touch with our listed renovation companies. They will provide you with a free non-obligatory estimate for any of the Renovation Packages included in their services.