15 Not-So-Basic Kitchen Details You'll Want to Do in Your Own Kitchen
From functional to the fancy, these kitchen details are made to stand out from the crowd. If you are looking to create a kitchen that's less than conventional, you've come to the right place.
1. Glass top cabinets with arched design
Dress up conventional glass cabinets with an arched design that lends all the necessary visual statement without forgoing practicality. Actual arched top cabinets mean you can't build them all the way to the top, sacrificing some important storage space.
Design:
House of Chais
2. Sliding cabinets
If we are looking for the direct opposite of open kitchens, this kitchen is it. We love how everything besides the stove is concealed behind those wood-lined sliding cabinets here. Not only do they add to a whole ton of storage, they are a great way to prevent cooking grease from getting onto your things and can hide all the clutter that would otherwise be all over the countertop.
Design:
D' Marvel Scale
3. Walk-in corner pantry
Need extra storage capabilities in your kitchen? Do up a walk-in pantry ASAP. We love how this was built into a corner, maximising that usually awkward area for storage. A walk-in pantry is also great for seeing where everything is at a glance, so no more forgotten can of sardines hiding behind your cupboards!
Design: Country Concept
4. Jazzing up the cabinet frame
Most people tend to neglect cabinet frames since they are usually matched to the colour of the cabinet doors. But add an extra detailing to your kitchen by making the frame pop with a contrasting, eye-catching colour, like this brass detailing against the light green cabinet fronts.
Design:
Make Room
5. Two-toned kitchen
If this kitchen looks familiar, you may have seen Co-Exist cafe's design, which this cooking space got inspired from! Here, the sage green and red tone is a marriage between the bold and safe with glorious results!
Image courtesy of
@the5thbeauty
6. Pulled-out counter
This pull-out countertop/breakfast table is fitted with castors so it can be wheeled out or stowed away when necessary. When not in use, it sits nicely within the cabinets without taking up too much storage room or extra floor estate.
Design:
ECasa Studio
7. Tiled runner
I don't know about you, but I've always loved the look of kitchen rugs sprawled along the length of galley kitchens, looking fabulously stylish. But they can also be a pain to upkeep in a cooking space, especially if you have a heavily used kitchen. The solution? A tiled runner that looks the part without the fussy maintenance.
Design:
Met Interior
8. Recessed cabinets
Rather than sticking to conventions with a row of top cabinets, this kitchen decided to incorporate storage only at part of the walls and plastering the rest so that the top cabinets look like they are recessed into the concrete, offering a neat and clean look.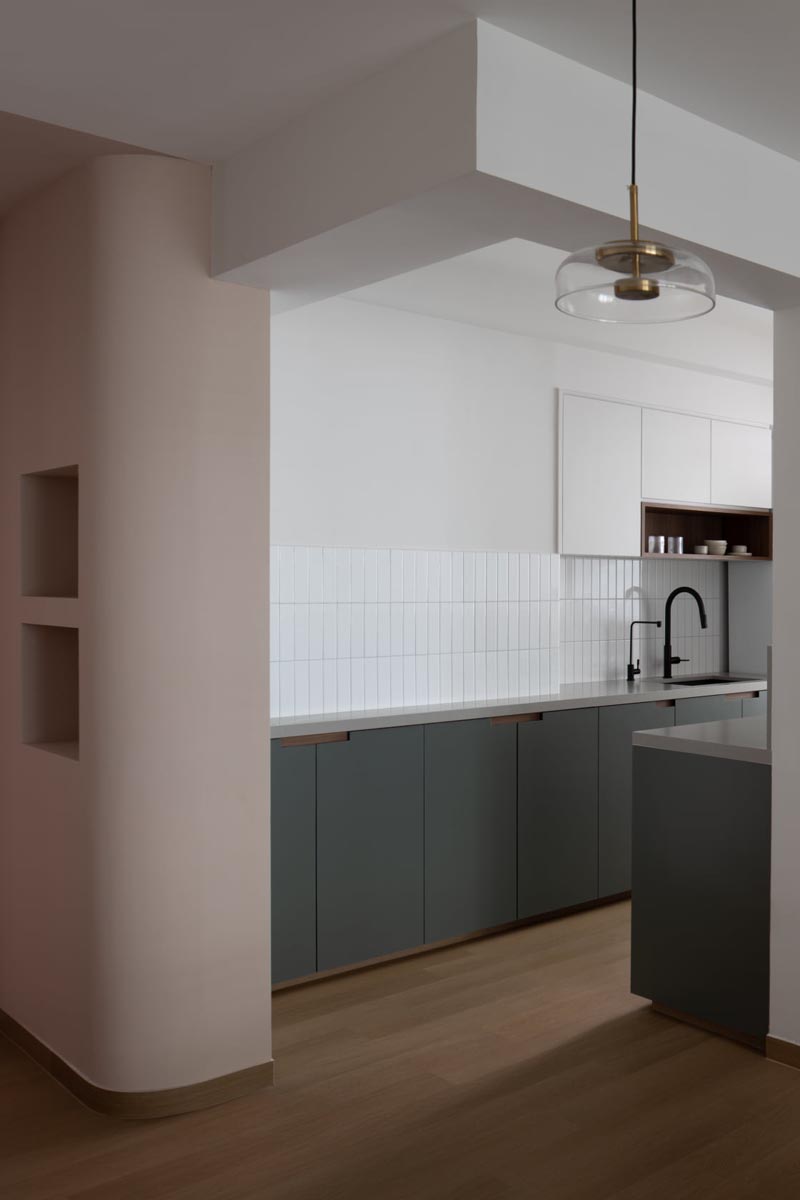 Design: Intr Studio
9. Angled cooktop
To better direct the cooking fumes out into the service yard rather than have it circulate inside the kitchen, the designer had part of the counter set at an angle. The curved end helps to soften the edges for a smoother traffic flow between the laundry area and cookings pace.
Design:
Starry Homestead
10. Arched kitchen pass-through window
Also known as serving windows, a pass-through in the kitchen's great for many things—great for handing dishes in and out of the kitchen, great for inviting more ventilation and light into the cooking space, and great for keeping an eye out for your kids (or pets) while you busy yourself inside. What's even better? An arched design for aesthetics and that rustic country chic.
Design:
The Local Inn.terior
11. Appliance garage
Most of us have a ton of small appliances cluttering up our countertop space, which not only reduces efficient working space but can create a ton of visual clutter. Enter an appliance garage to keep all your kitchen gadgets out of sight until you need them. The bonus: you won't need to lug those appliances around the kitchen whenever you need to plug them in if you install power outlets within the garage.
Design:
The Alchemists Design
12. Cut-out cabinet handles
Blink and you'll miss this intricate detail in this kitchen—the angled cut at the cabinet doors to accommodate handles for the outward-facing cabinets of the peninsula counter. No clunky hardware taking up space here.
Design:
Collate
13. Cabinets with personality
OK, so this came from an actual cafe's kitchen, but those adorable 'cloud' details atop the upper kitchen cabinets will definitely work in any dreamy scape!
Image courtesy of
@onericeplease
Design:
Facelift Design & Interiors
14. Built-in kitchen paper towel holder
You'll definitely be bookmarking this kitchen design hack if you use paper towels in the kitchen. Rather than have it on the countertop or stashed inconveniently within the cabinet, a dedicated open section for paper towels within your cabinet itself makes it easier to reach for them easily.
Image courtesy of
@hellohomebodies
Meet Interior Designers. Get Quotes.
Get in touch with our listed renovation companies. They will provide you with a free non-obligatory estimate for any of the Renovation Packages included in their services.