8 Multipurpose Home Office Designs So You Can Save Space
Unless you work exclusively from home, you might not really need a dedicated home office. Consider then getting more out of your square footage with a multipurpose home office like these ones. These home offices do more than one job; rather than serve as just a workspace or study, they double up as something else so as to make the most of the space.

1. Home Office + Pet Station
Cat scratches, playthings and a built-in cat ladder—custom designed so that it will match the rest of the carpentry—were located in this home office, allowing the homeowners to work alongside their furry friends. The glass window lends some visual breathing room, so that the room wouldn't appear too cluttered with so many structures.
Design:
Design 4 Space
2. Home Office + Storage Facility
Your home office can double up as a storage facility like in this Zen-inspired workspace, which installed built-ins to hide the clutter. Full-height cupboards and a storage platform make use of every inch of space. A raised table with space set aside for legroom makes for a comfortable workstation.
Design:
D5 Studio Image
3. Home Office + Guest Room
There isn't a need to set aside a bedroom just for guests if your visitors are only going to stay over occasionally. Do up a part of your home office as a guest room instead, and use the bed as a lounging area when you don't have people over.
Design:
Swiss Interior Design
4. Home Office + Walk-in Wardrobe
Combining your closet and your home office in one space is a great option if you've always wanted a walk-in wardrobe. The absence of wardrobe doors is a great way to save renovation costs and space. Use a curtain to hide the closet clutter when guests come over or to remove distractions when working.
Design:
Urban Habitat Design
5. Home Office + Family Room
Having the family room inside your study is not the best thing for privacy and concentration, but it can be a great way to still spend time with your kids or to keep an eye on them while you trudge through those office documents.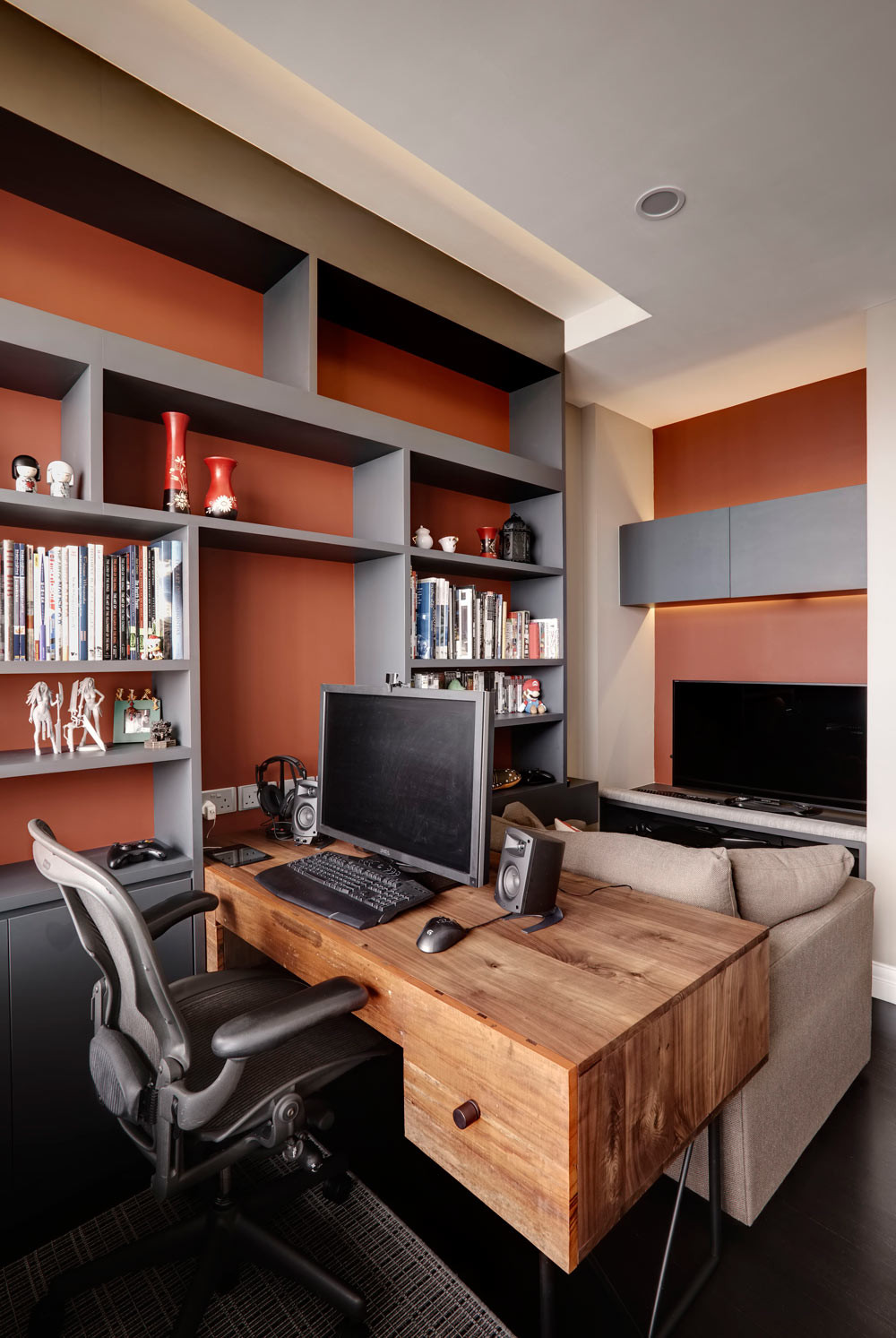 Design:
The Orange Cube

6. Home Office + Reading Room
A full shelf of books and a cosy bay window seat in this home office turn this workstation into a relaxing reading room during downtime.
Design:
Fuse Concept
7. Home Office + Home Gym
Fitness enthusiasts, this home office and home gym combination should be right up your alley. The semi-open concept layout with the half-glass wall means you can still achieve some privacy without completely sacrificing light and a sense of openness.
Design:
Fuse Concept
8. Home Office + Listening Room
A home office that doubles as a listening room with a state-of-the-art surround sound system is one for the audiophiles. Notice the layer of lighting in this space. Recessed lights serve as task lighting for working, while warm cove lights create the perfect mood and ambience for enjoying your favourite music.
Design:
Metamorph Design
Meet Interior Designers. Get Quotes.
Get in touch with our listed renovation companies. They will provide you with a free non-obligatory estimate for any of the Renovation Packages included in their services.