May 2023 BTO: Unit Analyses for Plantation Verge and Parc Meadow @ Tengah
The May 2023 BTO sales exercise rolled out two projects in Tengah, with one of them being the highly anticipated Parc Meadow due to its proximity to Anglo-Chinese School (Primary). News of this popular primary school's relocation to the forest town by 2030 broke out earlier this year, prompting increased interest in Tengah's residential projects. We take a closer look at the two Tengah launches this time around (the other being Plantation Verge) and check out the best units to pick if you balloted for a flat here.
BTO

Along PIE and Plantation Close

2-, 3-, 4- and 5-room units

7
15

Estimated completion dates

1Q 2027 (Blocks 326C, 327A, 327B, 327C, 328A, 328B, 328C, and 328D)

2Q 2027 (Blocks 326A, 326B, 330A, 330B, 330C, 331A, and 332A)

2-room Flexi (Type 1): $125K - $155K
2-room Flexi (Type 2): $142K - $178K
3-room: $238K - $288K
4-room: $350K - $440K
5-room: $454K - $575K

2-room Flexi (Type 1): $127K - $158K
2-room Flexi (Type 2): $165K - $202K
3-room: $253K - $309K
4-room: $363K - $467K
5-room: $489K - $607K
What's around Plantation Verge?
Image: HDB
Plantation Verge, one of the two Tengah BTOs launched in May 2023, appears to be the less favoured option, perhaps due to its location right next to the PIE (a park will serve as a noise buffer) and the absence of exciting amenities nearby. Possibly the only exciting thing about it is that it's right next to an upcoming executive condominium, which is on GLS land that was recently released for tender.
Future residents at Plantation Verge can however walk over to
Plantation Creek BTO
, which boasts an eating house, restaurants, retail shops and a supermarket onsite. This development is located just down the road from Plantation Verge, beyond the upcoming Tengah Pond.
If you want to venture a bit further, the neighbourhood centre at Plantation Village is an estimated 10- to 15-min walk.
The nearest MRT to Plantation Verge is Tengah Park station on the Jurong-Region Line (JRL). Keep in mind that the station won't be completed until phase 2 in 2028, but it's only a 5-minute walk away once it's up and running.
For those with young children, Pioneer Primary School, Jurong Primary School, and Princess Elizabeth Primary School are all potentially within a 1-km radius. It's unlikely that the future ACS (Primary) will be within that distance though.
Unit analysis for Plantation Verge
Because of its proximity to the PIE, you'll notice that the layout of this development is arranged in such a way that the nearest stacks aren't directly facing this major expressway. There's also a park in between the PIE and Plantation Verge that will go some way to buffering some of the traffic noise.
Colour Code:
2-room
3-room
4-room
5-room
Park Views + Unblocked Views
One advantage of stacks that face the PIE though is that you get to enjoy park views and unobstructed views that extend quite a distance.
101A: 151, 153, 155, 157
101B: 175, 177, 179, 181
102A: 199, 201
Peace + Privacy
When considering stacks that offer more peace and privacy, we look at units that are further from high-traffic areas where people often congregate. We also pick corner units that are not located near rubbish chutes and elevators and take into account the proximity of neighbouring stacks. These are the ones to go for:
100A: 105
100B: 121
101A: 159
101B: 173
102A: 197
102C: 201
The majority of the stacks mentioned above are situated facing Plantation Close. Although we can't confirm the current traffic conditions of that future street, it's safe to assume that a number of buses will be passing through. Additionally, given that there's a reserved site for a place of worship in the vicinity, there could also be a higher influx of people visiting the area.
Less Afternoon Sun
Singapore's hot afternoon sun comes in from two directions (northwest and southwest) depending on the time of the year. To beat the heat, it's recommended to steer clear of units that face those directions. To help you out, we've identified the units that are shielded from or receive less of the afternoon sun during the hottest hours of the day.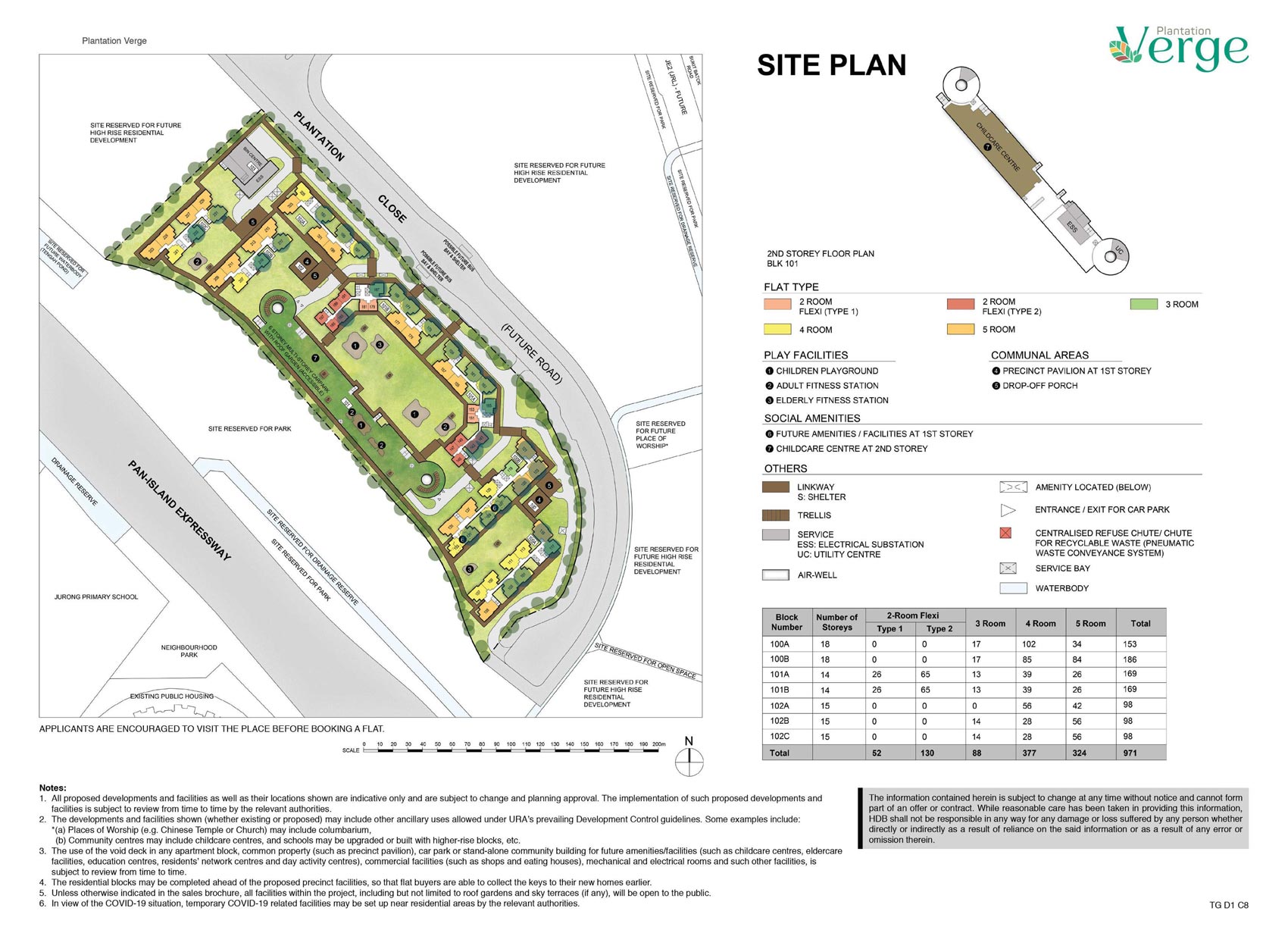 100A: 101, 103, 115, 117
100B: 121, 123, 125, 127, 129, 131
101A: 141, 143, 159, 161, 163, 165
101B: 167, 169, 171, 173, 183
102A: 193, 195, 197
102B: 217, 219
102C: 231, 233
Other considerations to keep in mind:
Proximity to bin centre on site: Do avoid

203

,

205

,

213

,

215

,

229

and

231

if you can.
Proximity to the bus stop along Plantation Close: Although the proximity to the bus stop is certainly convenient, it's worth noting that you may experience higher levels of noise.
Proximity to the nearby amenities: It will be a shorter walk to the nearby amenities from Blocks 102A, 102B and 102C.
---
What's around Parc Meadow @ Tengah?
Image: HDB
Parc Meadow @ Tengah's relative popularity compared with Plantation Verge lies within its location next to the upcoming Anglo-Chinese School (Primary). It also has a shorter waiting time (take note that some blocks will be completed later than others) and sits right next to Tengah town's town centre and the Tengah MRT station on the JRL. This station is scheduled for completion in 2027 under Phase 1 of the JRL construction.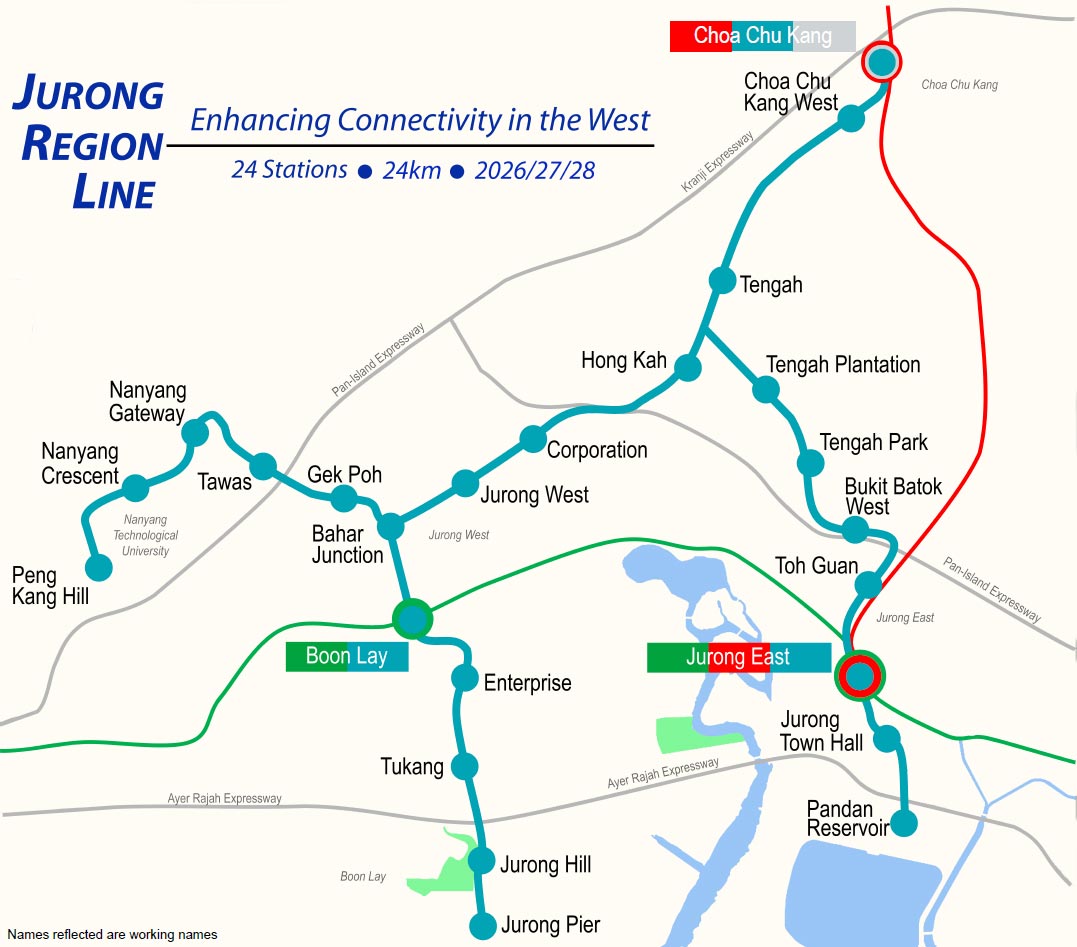 Other conveniences such as having the bus interchange across the road, a surrounding town park, and onsite amenities like shops, an eating house and a minimart make it an even more desirable location than Plantation Verge, despite the possibility of higher foot traffic and noise levels in the area.
Besides ACS Primary, there's a possibility that some blocks will also be within a 1km radius of Bukit View Primary School, which is scheduled for relocation in 2027. There are other primary schools nearby, including ones along Brickland Crescent and Tengah Garden Walk, that have yet to be announced.
Unit analysis for Parc Meadow @ Tengah
When you take a closer look at the overall layout of the project, it becomes apparent that it's much more densely designed than Plantation Verge. The stacks are also more tightly arranged, meaning that locating units with greater privacy may prove to be a challenge.
Park Views + Unblocked Views
The prized stacks in this BTO are undoubtedly the ones that are facing the town park. The patch of greenery stretches on for quite a bit linking to the forest corridor, so you are likely to enjoy a long span of unblocked views. However, since it's a town park, it's very likely it won't be a hugely serene spot since you are going to see people flocking here for exercise and other activities on a regular basis. It may also become a common area for hosting community events. Still, verdant views are hard to come by in Singapore, so we will definitely be bookmarking these stacks:
327C: 712, 714, 716, 718, 720
328D: 802, 804, 806, 808, 810, 812, 814
330A: 828, 830, 832, 834, 836, 838
330B: 852, 854, 856, 858, 860
Peace + Privacy
With so many amenities available, Parc Meadow may not be the ideal choice for those seeking a serene setting. If you're in search of a peaceful and private living environment, finding a suitable unit here might prove to be a challenge. However, the following few stacks could potentially meet your needs. These are corner units, away from the lifts and rubbish chutes, not overlooking areas where people tend to congregate and aren't too close to neighbourhood stacks.
326A: 614*
326B: 640
328B: 766
328D: 802
330A: 838
*This stack overlooks a small roundabout. It may be a drop-off point for the adjacent schools, which can get busy during pick-up and drop-off hours.
Less Afternoon Sun
In Singapore, you'll notice that during hot afternoons, the sun shines in from either the northwest or southwest, depending on the time of the year. To keep cool, keep an eye out for units that aren't directly facing these directions, or those that can be shielded by nearby stacks.
326B: 630, 632, 634, 636, 638
327A: 666, 668, 684, 686, 688
327C: 704
328A: 732, 734, 736, 738
328B: 768, 770, 772, 774
331A: 910, 912, 914, 916, 918, 920, 922
Other considerations:
Keep in mind that certain blocks will be ready sooner than others. Blocks 326C, 327A, 327B, 327C, 328A, 328B, 328C, and 328D has an estimated completion date in the first quarter of 2027, while Blocks 326A, 326B, 330A, 330B, 330C, 331A, and 332A has an estimated completion date in the second quarter of 2027. So if you are looking to get your keys a whole quarter earlier, go for the former blocks.
To avoid any disturbance from school noise, it's a good idea to stay away from stacks that overlook or are situated beside schools. Similarly, if you're looking for a peaceful and quiet environment, then consider avoiding stacks that have a view of the upcoming bus interchange. Those particular stacks are also located along Tengah Park Avenue, which is expected to be a bustling road leading to the town centre, nearby schools, and a future church site.
Side-by-side comparison of floor plans between Plantation Verge and Parc Meadow @ Tengah
Besides looking at the overall surroundings, it also helps to take a closer look at the floor plans so you can make a more informed decision on which of the two Tengah BTOs to go for. We compare each unit type, side by side:
2-room (Type 1): There aren't a whole lot of differences between the 2-room (Type 1) units at both the Tengah BTOs. It's likely you can knock down part of the bathroom wall at Plantation Verge (after 3 years to avoid voiding the HDB warranty), seeing as it's a non-structural one, but we don't see a reason to. Maybe for including a small bathtub?
2-room (Type 2): The 2-room (Type 2) units are quite similar as well, but there are some minor differences. They both come with an additional space that you can convert into a small bedroom or turn into a study area. As typical of today's 2-room (Type 2) units, the kitchen opens out into the living area. We like Plantation Verge's layout just a bit better because the kitchen's almost flush with the living room, so you can create one large entertaining space, perhaps with an island straddling both these spaces. The other thing worth pointing out also is that although Parc Meadow's floor size is just a twinge larger, it would appear that the kitchen is slightly smaller.
3-room: Based on the suggested layout, it would seem you will have to go for a one-wall kitchen if you choose Parc Meadow. The utility area's also large taken up by a structural column for that project so there isn't a whole lot of room to play with. Plantation Verge's kitchen is also slightly awkward, with the structural column smacked in the middle between the yard and kitchen area. You can opt for a small galley-style layout with Plantation Verge.
If you are thinking of knocking down the walls between the living room and the adjacent bedroom, Parc Meadow's our preferred option since the spaces are more aligned with one another so it will look like a singular extended space if you choose to go with an open plan.
4-room: Plantation Verge has a linear living room with the household shelter located along the walkway, which is a better choice if you don't want to have to conceal the entrance of the bomb shelter. Parc Meadow has the household shelter near the front entrance of the flat, which is useful for converting it into shoe storage, but it does take up space in your living room. The upside for Parc Meadow's layout however is that it has a relatively large and open kitchen, making it easy to have a separate dry kitchen or combine your dining and cooking space together.
5-room: A larger version of their 4-room units, the 5-room units at these Tengah BTOs are similar. Plantation Verge's layout has the household shelter along the walkway and a galley-style kitchen, while Parc Meadow's layout has the household shelter by the foyer, with the potential of an open kitchen. Overall, Parc Meadow has a roomier and more flexible communal space, but that odd un-hackable wall jutting out in the kitchen does limit the design possibilities a bit. Still, we would prefer theirs over Plantation Verge's more restrictive layout.
All floor plans and site maps courtesy of HDB
Meet Interior Designers. Get Quotes.
Get in touch with our listed renovation companies. They will provide you with a free non-obligatory estimate for any of the Renovation Packages included in their services.