May 2019 BTO: Garden Vale and Plantation Acres at Tengah Unit Analysis
In the last BTO sales exercise in May 2019, Tengah saw two new development launches: Garden Vale and Plantation Acres. These two BTOs join Plantation Grove, which was the first BTO launched in the new town in November 2018. Looking for Kempas Residences at Kallang/Whampoa or Champions Green at Woodlands instead? Details for new town Tengah are still firming up, and we covered some of that information in a separate article. Besides doing a brief overview of the area in which the two BTOs will be located in today's article, we will also be zeroing in on how to choose the best units at Garden Vale and Plantation Acres if you managed to get a queue number.
Overview of Garden Vale and Plantation Acres
An overview of the Tengah site, taken on June 2019.
Garden Vale
Plantation Acres
District in Tengah
Garden
Plantation
Total no. of units
987
1,193
No. of blocks
8
9
Highest floor
7 to 14
Flat types
2-, 3-, 4-, 5-room
Completion Date
2Q2023 to 3Q2023
3Q2022 to 4Q2022
Pricing
$106,000 to $154,000 for 2-room $192,000 to $246,000 for 3-room $309,000 to $357,000 for 4-room $415,000 to $480,000 for 5-room
Garden Vale and Plantation Acres are located at separate districts in the five-district Tengah town. Garden Vale is over at the Garden district, while Plantation Acres is at the Plantation district.
Site for Garden Vale. Taken on June 2019.
Garden
is the second district launched in Tengah. In conjunction with the BTO launch, there was new information regarding this new district:
Garden district will feature a total of 6,500 units in an 80-hectare land space once completed.
Garden Farmway is a green recreational corridor that will meander through the housing blocks in this district.
One end of the Farmway leads to the Tengah Pond, which will feature retail and recreational facilities along the waterfront. The other end will lead to the 20-hectare Central Park.
The district will see six thematic playgrounds inspired by nature.
Roads in the district will feature 2-metre wide cycling paths and 1.5-metre pedestrian paths.
Site for Plantation Acres. Taken on June 2019.
Here's a recollection of what will be in
Plantation
district, the first district in Tengah to be developed:
The area will span over 90 hectares and will feature a total of 10,000 homes.
Plantation will also comprise a green connector, the Plantation Farmway, that will span about 40 metres wide and 700 metres long.
The Farmway will feature two community quadrangles, which are designed as green pockets of spaces with towering trees to provide shade. It will serve as a community gathering space.
The Grand Piazza will flank the Farmway, serving as an extended area for community events.
2,000 square metres of space will be set aside for community gardening and farming.
Playgrounds are also thematic, with motifs of fruits and vegetables.
The street will have its own retail street, a linear pedestrian mall lined with eateries and retail options. It will be an extension of the Neighbourhood Centre.
Both BTOs are located close to the future Tengah Plantation MRT, which is along the upcoming Jurong Region Line (JRL). Residents at Plantation Acres will also enjoy a short walking distance to the future Tengah Park station, also on the JRL. The stations are likely to be operational only by 2027, with the entire MRT line only ready by 2028. In other words, the stations won't be ready when you move in either 2022 or 2023. Nonetheless, there are existing bus stops along Bukit Batok Road that go to places such as Boon Lay, Jurong East, Bukit Panjang and Woodlands. Based on HDB's maps, there will also be new bus stops erected outside the BTOs. The appeal of Tengah's BTOs lie in the fact that they are located in a new town. But it's no ordinary new town, as there are plans to turn it into a car-lite town encompassing greenery, smart features, community gardens and a car-free town centre. But the area's also receiving a lot of attention, with announcements of the up-and-coming Jurong Lake District as a second central business district and also more recently, a
tourism hub
, creating fanfare for westside living.
Factors to consider when choosing a unit at Garden Vale
1. Cooler units – no western sun
For cooler units, avoid stacks where the main areas like the living room and bedrooms are facing the western sun (north-west and south-west directions in Singapore). Because the blocks at Garden Vale will be staggered, do note that the following recommendations may not be 100% accurate as we won't be able to know for sure which blocks are shaded by their neighbouring blocks and which aren't.
228A: 361, 363, 383, 385
228B: 391, 393, 395, 397
229A: 407, 409, 427, 429
229B: 447, 449
230A: 451, 453, 471, 473
230B: 491, 493
231A: 495, 497, 517, 519
231B: 537, 539
2. More privacy
If you want more privacy, get a unit at the corner and away from the lifts and rubbish chutes.
228A: 363, 369, 371, 381, 383
228B: 389, 391, 397, 399
229A: 409, 411, 419, 421, 427
229B: 437, 439, 445, 447
230A: 453, 455, 463, 465, 471
230B: 481, 483, 489, 491
231A: 497, 499, 509, 511, 517
231B: 527, 529, 535, 537
3. Noise from above-ground JRL
The Jurong Region Line will be an above-ground MRT, which means if you're living next to or near the tracks, you will likely be affected by the noise from the trains passing through. Avoid units that are facing the tracks directly.
231A: 499, 501, 503, 505, 507, 509, 511
231B: 533, 535
4. Areas with high human activity
Want some peace and quiet? Avoid units that are facing the bus stop, the pavilions, fitness corners and the playgrounds.
228A: 365, 367, 371, 373, 375, 377, 379, 381
228B: 399, 401, 403, 405
229A: 427, 429
229B: 435, 437
230A: 457, 459, 461, 463
231A: 495, 497, 499, 501, 503, 511, 517, 519
231B: 521, 523, 529, 531, 533, 535, 537, 539
Factors to consider when choosing a unit at Plantation Acres
1. Cooler units – no western sun
Like with Garden Vale, do take note that the blocks at Plantation Acres will also be staggered so we don't know exactly which blocks will get shade and which won't. Our suggestions below are based on the stacks that are not facing west.
111A: 504, 514, 516, 518
111B: 534, 536, 538, 540, 542, 544, 546
111C: 690, 692, 694, 696, 698
112A: 582, 584, 586, 588, 590, 592,
112B: 548, 550, 552, 554, 556, 558, 560, 562, 572
113A: 598, 600, 602, 604, 614, 618
113B: 634, 638
114A: 654, 656, 658, 660
114B: 662, 664, 666, 670, 672, 674
2. More privacy
Get a corner unit to get away from prying eyes. For more privacy, avoid stacks that are located close to the lifts or the rubbish chutes.
111A: 504, 506
111B: 530, 532
111C: 686, 688
112A: 582, 592, 594
112B: 562, 564
113A: 606, 608, 618
113B: 620, 630, 632
114A: 652, 654
114B: 668, 670
3. Quieter flats - away from high human activity zones
If you're looking for a quieter unit, these are the ones to pick. Avoid units that face schools, are located near public transport nodes, fitness corners, playgrounds and other communal areas like the carpark and pavilion.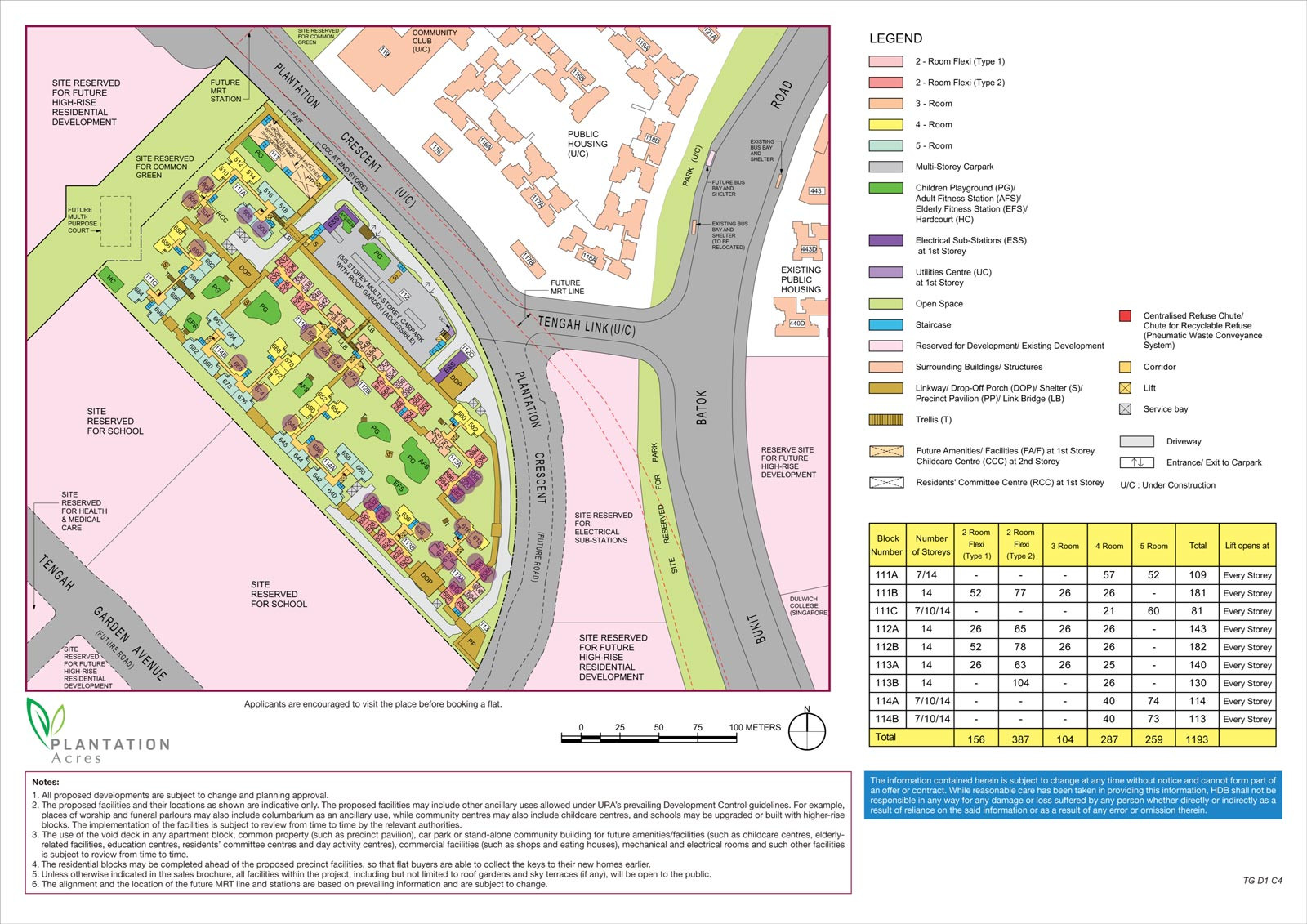 111A: 500, 502, 504, 506, 508
111B: 520, 522
111C: 690
112A: 588, 590, 592
112B: 572, 574
113A: 598, 600, 610, 612, 614, 616, 618
113B: 632, 634, 638
114A: 648, 656
114B: 666, 674
Other things to note for Plantation Acres:
Noise from facing the school: URA has set aside several school plots next to Plantation Acres. Schools tend to be noisy zones so if you don't want to be woken up by the early morning bell, you will want to avoid getting a stack facing the potential school plots. However, if you're usually out the whole day, getting a unit that faces the schools might not be too big of an issue for you.
Noise from train tracks: Most of the units that are facing the MRT tracks of the Jurong Region Line are buffered by other buildings (community facilities, carpark), which will mitigate the noise levels somewhat. But note that the buildings aren't very tall, so if the tracks are higher than those structures, you will still be affected by the noise. Avoid the stacks facing the tracks if you can. For stacks

580, 582, 584 and 586

, there are no buildings in front of them to help block off the noise from the MRT tracks.
All HDB maps are courtesy of HDB.

Meet Interior Designers. Get Quotes.
Get in touch with our listed renovation companies. They will provide you with a free non-obligatory estimate for any of the Renovation Packages included in their services.