Kitchen Backsplash: Which material is best?
Countertops get all the attention when it comes to kitchen design. But backsplashes shouldn't be overlooked. Not only do they act as a guard for water spills and oil splatters, they are a great way to add a little personality or a focal point to the kitchen.
There are plenty of materials out there that can work as a backsplash, but they come with their pros and cons. Look at each to determine which is right for you.
1. TILES
Design: Amoz Boon (Homeowner)
Pros: One of the most common materials for a backsplash. And no wonder – it's easy to maintain and one of the more affordable materials out there. From ceramic to mosaic and homogeneous, there are plenty of designs and colours to choose from so you'll definitely find one that fits in with your theme.
Cons: While the tiles themselves are a cinch to wipe down, the grout joints that secure the tiles together are not. You'll probably need to put in more elbow grease during cleaning up.
Design: Rezt & Relax Interior
Design: Icon Interior Design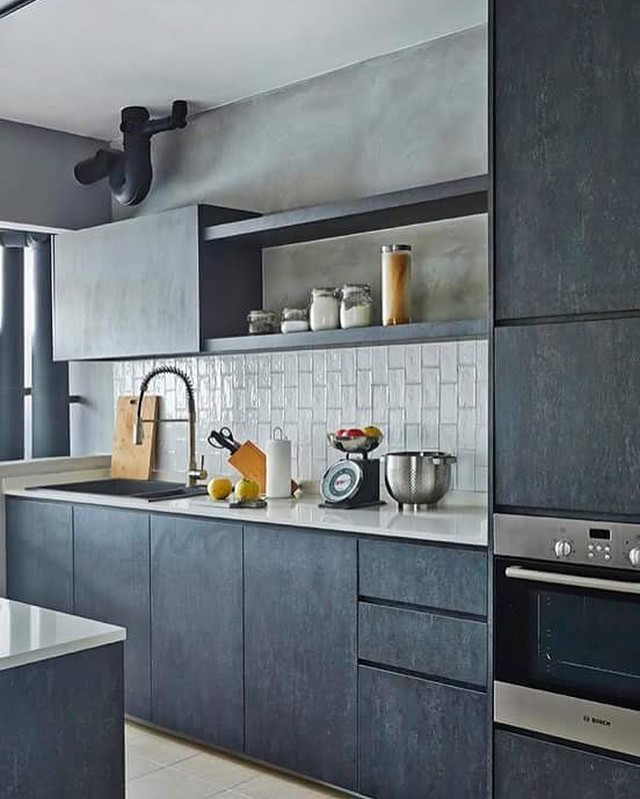 Design: Three-D Conceptwerke
2. KOMPACPLUS
Design: DB Studio
Pros: Made from layers of paper pulp soaked in resins, it comes in colours that look just like real wood or cement – without all the hassle of the upkeep. If you're looking to go for a KompacPlus countertop, a KompacPlus backsplash will help create a seamless look. The material is also scratch-resistant, waterproof and non-porous. Plus, they can be mounted over your existing finishes e.g. tiles so you won't need to hack them away first.
Cons: They can be costly (approximately $110 psf). Also, designs are limited and most of the variety are centred on woodgrain patterns. Great if you're having a Scandinavian theme but not so for other styles. Joint lines are also rather visible, if you're extending your backsplash to an L-shaped.
Design: Icon Interior Design
Design: ID Emboss
Source: KompacPlus
3. GLASS
Design: DISTINCTidENTITY
Pros: A glass backsplash is not only easy to clean, they can be back-painted so you can opt for any colour of your choice. The slight sheen from the reflective panel also helps to create an opulent appearance.
Cons: There are few instances where your glass backsplash can break: if you happen to hit something hard against your glass backsplash or if your backsplash is exposed to high heat e.g. near the hob area. A way around this is to go for tempered glass, which is more durable and resistant to high impact and heat. Another minus is the tricky installation, particularly when it comes to the placement of your power outlets. Note that you won't be able to cut into tempered glass once it has been set, so work closely with your ID or contractor on this.

Design: Z L Construction
PRO TIP: There are a few types of grades of glass available. The more affordable ones will tend to have a greenish tint so if you want a completely clear and transparent look, make sure to opt for a higher grade glass, also called low-iron or crystal clear, that will be more expensive.
Design: Free Space Intent
4. STAINLESS STEEL
Design: Free Space Intent
Pros: Typically seen in commercial kitchens, this material has been making inroads into homes in recent years. As a backsplash, it's durable, heat- and water-resistant as well as non-porous. A choice option if you're looking to have an industrial style cooking space.
Cons: Stainless steel backsplashes bear the brunt of dents and scratches easily if you're not careful, so always use a soft brush or cloth when cleaning up spills and splatters. Discolouration can also occur if you don't wipe away acidic foods on the surface for too long.
Design: DISTINCTidENTITY
Design: Icon Interior Design
5. NATURAL STONE
Design: Aiden T
Pros: An unparalleled elegant and luxurious appearance that you can't replicate with any other materials. The unique veins and grains create a one-of-a-kind look and can often hide imperfections well. Most natural stones like granite are very durable and can last for years when taken care of properly.
Cons: Not only are they really expensive, most natural stone backsplashes like marble and granite are highly porous and would require a sealant on installation. But even then, you should take extra care when using a backsplash made of natural stone and clean up spills or splatters immediately to prevent stains.
Source: Pinterest
6. CEMENT SCREED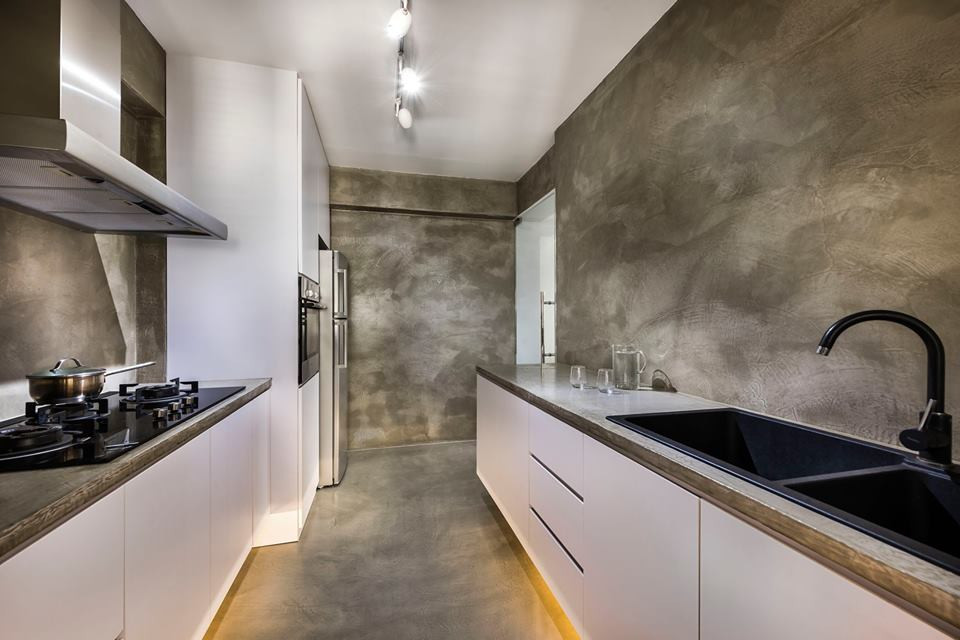 Design: UNO Interior
Pros: A very on-trend design, cement screed backsplashes are great if you don't do much cooking in the kitchen and if you're after a raw, unfinished look. Pair it with a modern design for added depth and texture or use it to enhance your industrial style.
Cons: Chips, kinks and scratches surface on cement screed backsplashes easily. Hairline cracks will also appear over time. A cement screed backsplash is also very prone to staining, unless you seal it with a form of lacquer that will give it a glossy look.
Design: Three-D Conceptwerke
7. QUARTZ
Source: Caesarstone
Pros: Made from crushed quartz pieces that are mixed with resin, this engineered stone material is hardy, non-porous and scratch-resistant. They also come in an array of designs; a popular choice if you want to emulate the look of marble at a fraction of the cost.
Cons: High-end quartz brands like Silestone and Caesarstone are very durable, but they can cost a pretty penny because they tend to contain a lesser amount of resin in their stone mixture. Quartz slabs don't come in very large sizes so you may have to contend with visible seam joints.
Source: Silestone
Prices are accurate at time of publication.
Meet Interior Designers. Get Quotes.
Get in touch with our listed renovation companies. They will provide you with a free non-obligatory estimate for any of the Renovation Packages included in their services.