Keep Your Toilet Bowl Fresh with DIY Fizzy Bombs!
Design: In-Expat
Well renovated but bad smelly bathroom
Imagine stepping into an extremely well-renovated bathroom only to have your good impression ruined by a foul smell. Yes, it is a real challenge for the homeowners to maintain their bathrooms, especially when it comes to making sure that the toilet bowl stays clean and smells fresh!
DIY non-toxic fizzy bombs to the rescue!
What are fizzy bombs?
Toilet fizzy bombs are homemade and specially formulated cleaning aids that are meant to freshen your toilet bowls without any scrubbing! They are a non-toxic, safe DIY solution that removes light stains and odors from your toilet bowls within minutes. Hence, toilet fizzy bombs are extremely handy when it comes to deodorizing the toilet bowls quickly when there are unexpected guests dropping over on a short notice.
Do You Know?

Fizzy bombs can also be used for freshening and deodorizing the: Bath Tub Fill up half the bathtub with water and drop a fizzy bomb to let it clean and deodorize the tub. Washing Machine Set the washing machine on the lowest load setting, drop a fizzy bomb to let it clean and deodorize into the washing drum.
A fizzy toilet bomb bombards the toilet bowl with its active ingredients as it disinfects, eliminate odors and releases fragrance. Hence, instead of squirting the commercial toilet bowl cleaner, simply plop one of the toilet fizzy bombs in the toilet bowl, patiently wait for it to finish fizzing prior flushing. Yes! Keeping your toilet bowl fresh in between cleanings has never been so easy and fuss free!
Design: Fifth Avenue Interior
How do fizzy bombs work?
Fizzy bombs are basically made of 3 main ingredients; baking soda, citric acid and essential oils. When exposed to water, baking soda and citric acid react together to form sodium citrate, water, and carbon dioxide, which is released as fizzy bubbles in the water. Baking soda is also a mild abrasive that gently cleans and whitens as it absorbs the nasty odours. In addition, the sodium citrate helps to soften the hard water and the explosive reaction cleans and fights against stains, calcium deposit and rust. Furthermore, the fragrant scent is also released during the fizzing process to deodorize and freshen the stale air. Vinegar is sometimes added as an antimicrobial and natural disinfectant too.
3 reasons why you should use fizzy bombs

#1: No time to frequently clean the toilet If you do not clean your toilet bowl as often as you should, fizzy bombs are very effective in refreshing up and deodorizing the toilet bowls before your scheduled cleanings.

#2: Say bye bye to chemical cleaners Commercial toilet bowl cleaners usually contain toxic ingredients which are harmful to you and your family. Hence, since baking soda, citric acid and essential oils are the basic, natural ingredients for the fizzy bombs, you can be rest assured that you and your loved ones are not exposed to the harmful chemicals.

#3: Easy and cheap to make! The steps are very easy and straight forward; simply mix the ingredients together and mould them into shapes before drying them! Furthermore, the ingredients are very inexpensive too!
Design: The Local Inn.terior
DIY your very own fizzy bombs in 7 simple steps!
Since toilet fizzy bombs are very easy to make, they are extremely popular as DIY projects! Furthermore, the ingredients are easily available too!
Step #1: Get the following ingredients ready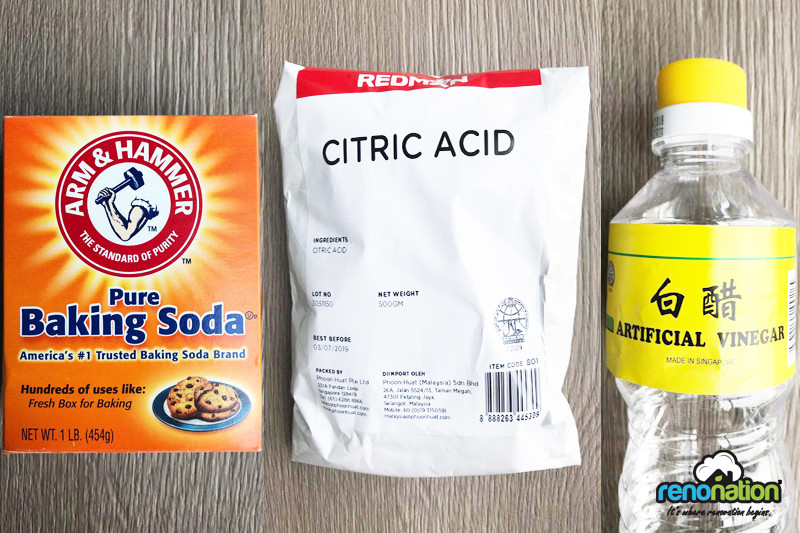 a. Baking Soda Can be found at ABC Bargain or ValuDollar store at $1 for 454. Get 2 parts* of baking soda ready.
b. Citric Acid Powder Can be found at the RedMan bakery supplies store at $5.90f for 500g. Get 1 part* of citric acid powder ready.
c. Essential Oil "Essential oils (EO's) are steam-distilled pure plant extracts used for scenting or aromatherapy. Fragrance oils (FO's) are synthetically made chemical scent compounds." Quoted from Angel Face Botanicals. The price of essential oils are generally more expensive than fragrance oils and can be found at iHerb.com or at the Redmart.com. Note: Use only clear coloured essential oils so that they do not stain your toilet bowls. d. Vinegar Can be found at local grocery stores at around $1.20 for 640ml. Get 1 part* of vinegar diluted with 2 parts* of water.
*You can get the ingredients ready in the following proportion; i.e. 2 parts of Baking Soda to 1 part of Citric Acid Powder = 2 cups of Baking Soda to 1 cup of Citric Acid Powder.
Step #2: Get the following tools ready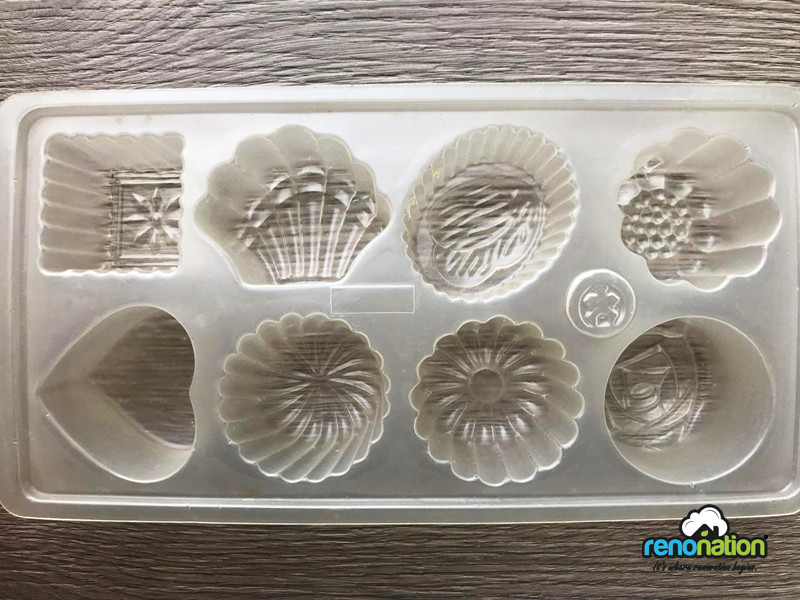 a. Ice cube tray or moon-cake mould Any mould will do as long as you can make shapes out of the mixture.
b. Large mixer bowl The size of the bowl depends on the amount of ingredients you are using.
c. Small spray bottle The spray bottle is meant to dampen the mixture.
d. Air tight container Airtight containers will keep the fizzy bombs hard and dry in our humid environment.
Step #3: Mix the ingredients together
In a large bowl, mix 2 parts of the baking soda with 1 part of citric acid powder evenly. Use your fingers to break up any clumps.
Slowly spritz the mixture with the diluted vinegar to make it damp so that it can stick together and hold its shape.
Tip: Check the moisture level of the mixture by squeezing it in your fist to see if it retains the shape after you release your hand. If it doesn't, spritz more diluted vinegar.

Note: Spraying too much diluted vinegar can cause the mixture to fizz prematurely and ruin your fizzy bombs. It will also cause the mixture to foam and expand like the photo below!


Step #4: Pack the damp mixture tightly into the mould
Once the damp mixture is ready, pack it tightly into the ice cube tray or moon-cake mould. Do make sure to pack as much mixture into the moon-cake mould tightly and firmly. If you are using the moon-cake mould, ensure that there are no gaps when you pack the mixture so that the intricate details are clear when the fizzy bombs are removed.
Tip: If you do not have any moon-cake moulds or ice cube tray, you can press the damp mixture into a tablespoon to shape too!
Step #5: Add essential oil
Pop the fizzy bombs from the mould and add a few drops of essential oil onto each fizzy bomb.

Note: We have purposely used a colour tinted essence oil in this illustration.
Step #6: Leave the fizzies overnight to dry
Leave the fizzies in the mould overnight to ensure that they are properly set and dried up. Keep the fizzy bombs sealed in an airtight container so that they do not absorb the moisture from the air and become soft.
Step #7: Plop and enjoy!
Drop the fizzy bomb into your toilet bowl and watch it works its magic! When the fizzy bomb has stopped fizzing, flush and you are done!
[embed]https://youtu.be/rKXWY-DDy-8[/embed]
Note: The fizziness of the fuzzy bomb was not obvious in this video because we have spent too much time taking photos of the damp mixture. :(
Design: Three-d Conceptwerke
Fizzy bombs variations
As mentioned earlier, fizzy bombs are made of 3 basic ingredients; baking soda, citric acid and essential oils. However, you can actually add additional ingredients to make variations of the fizzy bombs!
#1. Coarse Epsom Salt
Image from Medical Daily
Boost the cleaning power of the fizzy bombs by adding coarse Epsom salt. Salt cleans and helps to dissolve and break down clogs. They also act as a mild abrasive when scrubbed.
Note: Add 1/4 part of coarse Epsom salt to 2 parts of baking soda and 1 part of citric acid powder.
#2. Colored Liquid Dish Detergent
Image from Anna belle breakey
Colored liquid dish detergent helps to add a hint of color to the fizzy bombs without staining the toilet bowls. They also provide extra cleaning power while helping the mixture stick together so that they are easily shaped.
Note: Add 8 tablespoons of liquid dish detergent with 2 parts of baking soda and 1 part of citric acid powder.
---
Browse through the list of Interior Designers, their reviews and portfolios at http://www.renonation.sg/professionals/interior-designers/
Submit your renovation enquiry:
Meet Interior Designers. Get Quotes.
Get in touch with our listed renovation companies. They will provide you with a free non-obligatory estimate for any of the Renovation Packages included in their services.