Is Modern Victorian the Interior Design Style For You?
I've covered a number of interior design themes in our blog over the years, but I haven't really delved into the Modern Victorian style. It's a style that I personally love, since I'm drawn to old-world things. It's not everyone's cup of tea, particularly with Singaporeans' preference for cleaner looks like Japandi or Muji, but it can be a stellar style when done well.
The Modern Victorian is definitely on the maximalist spectrum, but thanks to the 'modern' bit, it can be surprisingly reined-in. It's sort of like an in-between style, marrying clean, pared-back sensibilities with the richness, ornamentation, and traditions of the Victorian style. It's actually quite on-trend as well, with a lot of similarities to the TikTok microtrend, dark academia.
If you're wondering if Modern Victorian is right for you, keep reading to find out how you can incorporate this interior design style into your own space:
Colour Scheme
In terms of colour scheme, you really can go with a whole range of colours. A neutral backdrop (cream whites and dove greys) is a pretty safe bet though. Since you'll be adding more details throughout the space, having this cleaner scheme will not overwhelm the space visually.
Design: Chengyi Interior Design
Design: The Interior Lab
Prefer your walls to speak themselves? Go dramatic with black.
Image: Walker Architects
If neutrals depress you, take heart as colours will not be out of place in a Modern Victorian home. But I wouldn't recommend having bright, saturated colours everything since it can read a bit retro. Jewel tones are great for adding a pop of colour.
Image: Yvys Choice
Otherwise, pick a really modern colour and then use it as an accent. Take for instance this bold pink and black HDB flat below. This pink feels ultra modern, but the modernity gets tempered down with the black and all those period details and furnishings.
Design: The Scientist
Moodier shades of greens and blues are also common hues in the earlier Victorian era so you may want to explore those as well.
Design: Fifth Avenue Interior
Details You'll Want to Include
Wall panels: These are a must-have, particularly because our HDBs, BTOs and condominiums, bland as they are, lack the innate architectural details needed for this Modern Victorian style.
If you want to keep to the spirit of the Victorian era, most wall panels were wainscoting, meaning they were lined only at the lower parts of the wall. The panels were capped off at the dado/chair rail, which were originally meant to protect the walls from the backs of chairs.
Wainscoting is great for smaller spaces, where full-height wall panels can overwhelm a space.
Design: Mesh Work Studio
In terms of styles, ornate and decorative is very much in tune with the Victorian times. But if you want a simpler look, sunken rectangles or squares is a popular look during the Arts and Crafts period, which came about during the late Victorian era.
Design: Ethereall
Don't forget that the ceiling is a fifth wall! You can also opt to do panelling there instead:
Design: Threehaus Works
Wallpaper: Wallpaper was a huge decorative element in the Victorian era, so consider incorporating them as accents in your Modern Victorian home. A common style was to wallpaper the top of the wainscoting.
Image: Old House Online
In terms of motifs, the Victorians were big on natural history, so incorporate naturalistic patterns that include floral, foliage, animal or insect prints. Their obsession over the Middle East and Japan during this period would also mean influences from these cultures wouldn't be out of place either.
Design: Weiken
Design: Aiden T
Rich, luxurious materials: To garner that sense of opulence, think about using materials such as marble, wood (mahogany, walnut, rosewood), silk and velvet. You can incorporate them through surface materials like countertops, feature walls and flooring or as furnishings.
Design: Mr Shopper Studio
Design: Fifth Avenue Interior
Design: Aiden T
Tiled flooring: Although parquet flooring was commonly found in Victorian homes, tiled floorings were equally popular for their easy upkeep. If you think parquet's hard to upkeep and feel a bit visually heavy for a Modern Victorian home, go with tiled flooring. To stay true to the era, you can opt for checkerboard styles or ones with geometric prints.
Design: Fifth Avenue Interior
Design: The Scientist
Modern Victorian Furniture and Furnishings
Mix heavy and light, old and new: Influenced by a number of styles from Gothic to Rococo, the Victorian era was defined by furniture with heavy proportions and were often with elaborate and ornate features or made of rich fabrics. With a Modern Victorian home however, you'll want to avoid having too many of these sort of pieces. Instead, as a general rule, juxtapose one or two highly decorative, period furniture with visually lighter pieces that have cleaner, more contemporary silhouettes.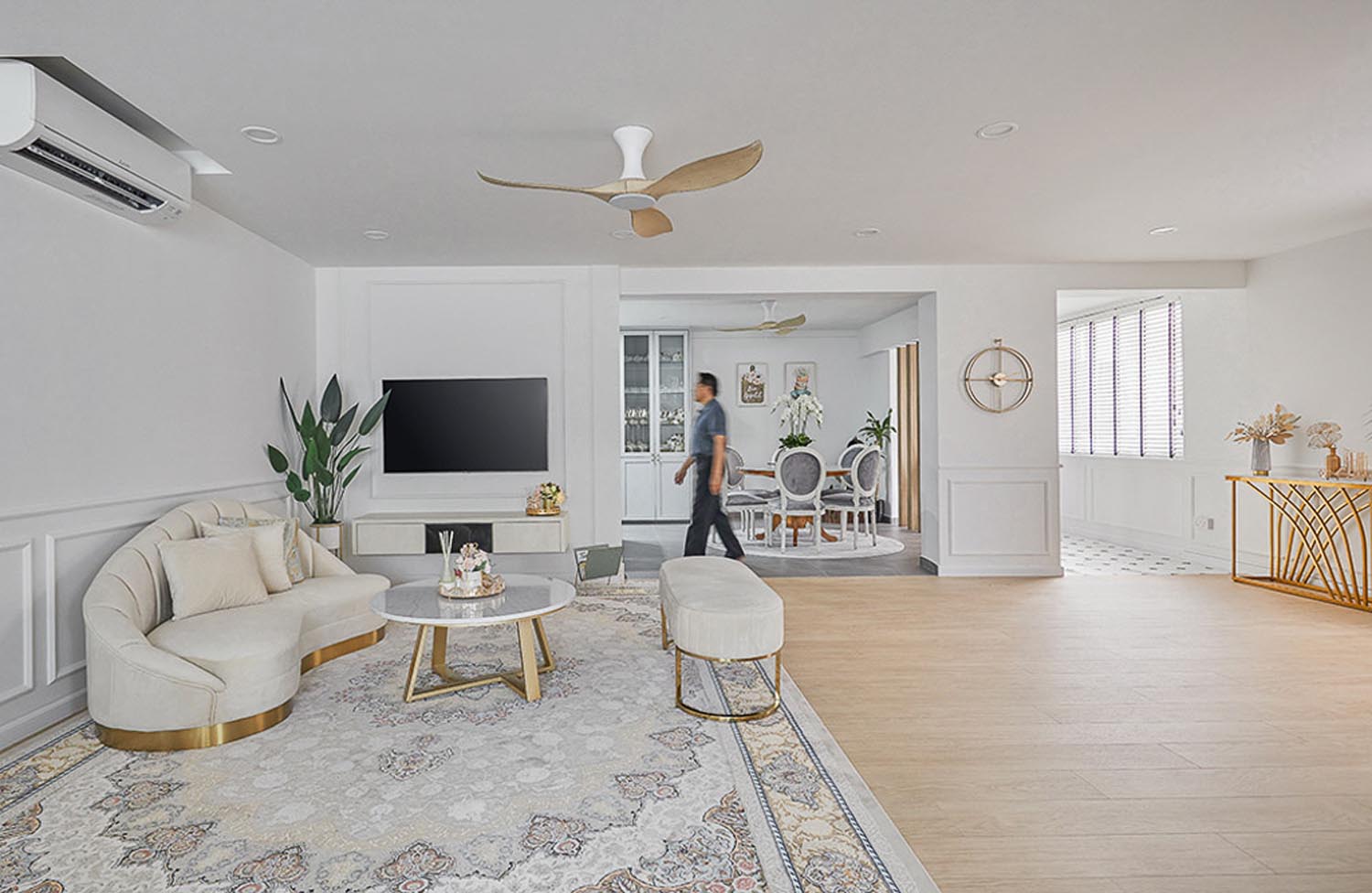 Design: The Interior Lab
Dark-stained wood: If you are picking wood furniture, opt for darker stains. This will provide an air of formality associated with this interior design style.
Design: Fifth Avenue Interior
Chesterfield sofa: For a showy centrepiece, get a chesterfield sofa, which features a distinctive deep-buttoned tufted design. This was a common staple in Victorian homes and can immediately evoke that sense of grandeur in a living room. Tone things down with a sleek coffee table and slender armchairs rather than have everything in the same style.
Design: Aiden T
Metals: Metallics would be a great addition to a Modern Victorian home if you are thinking of injecting a sense of opulence. Rather than gold, I would recommend sticking with brass (seen as a status symbol during the Victorian era!) or copper finishes to channel that old-world vibe.
Design: The Interior Lab
Design: The Interior Lab
Dramatic lighting: In terms of lighting, chandeliers would be a great choice if you want to make a bold statement. Pendants or wall sconces with etched glass details would also be fitting in a Modern Victorian home.
Design: Free Space Intent
Lighting fixtures with faux candles also speaks of the era's reliance on candles to light their interiors—electric lighting didn't really take off until the early 20th century.
Design: Third Paragraph Interior
Pair these with contemporary fixtures to ensure that the space is both functional and well-lit. To avoid compromising the grandeur of your ornate pendants, consider incorporating recessed lights to provide sufficient lighting.
If you prefer something a bit less showy or permanent, table lamps with intricate lampshades are a good way to pay tribute to that era. Go for lampshades made with fabric and that come with beaded or fringe details.
Clawfoot tub: A symbol of luxury, these became popular in the late Victorian era as hot water tanks became more common. With their intricate feet styles, these tubs are a great way to inject elegance to a modern bathroom if you have the space.
Design: Aiden T
Built-in Bookshelves: If you love to read and have a large collection of books, good news, built-in bookshelves are the perfect additions in a Modern Victorian home.
Libraries were a prominent part of the Victorian home and thanks to bibliomania that came about during the early 19th century, there was an obsession with collecting first editions and manuscripts or 'black-letter' books among the wealthier class.
Adding a couple of built-in bookshelves will inevitably create that Victorian feel. Rather than go for full-height rows of books, a half-height one will trim down the bulk and help to keep things more modern. Pairing it with closed compartments or cabinets will also provide extra storage for things other than tomes.
Design: Fifth Avenue Interior
Design: Fifth Avenue Interior
Meet Interior Designers. Get Quotes.
Get in touch with our listed renovation companies. They will provide you with a free non-obligatory estimate for any of the Renovation Packages included in their services.