8 Inspiring Layout Ideas for Fourth Avenue Residences that Help You Save Space
In this article, we used real-life interiors to see how they can fit in with floor plans from Fourth Avenue Residences, a 476-unit Bukit Timah condominium that was launched earlier this year to much fanfare. And no wonder—not only does it sit at one of the most prestigious neighbourhoods in Singapore, it is also nestled within a Good Class Bungalow zone and is literally just doorsteps away from Sixth Avenue MRT. With these layout ideas, we're hoping to get you excited for this development, but they are also useful in general to help you get more space for your buck. So read on to get inspired:
1-Bedroom Type A1a (484 sqft)
Here's how to include a makeup station in your small bedroom without sacrificing too much space. The designer went for a full-length built-in, creating a standing dressing table with LED lights and a mini cupboard that can be opened up to reveal a mirror as well as compartments at the sides to store makeup.
Design:
Space Atelier
1-Bedroom Type A1b (484 sqft)
If you tend to have meals in front of the TV, consider doing away with your sofa and placing your dining table right in front of the box. Slanting the dining table in this instance helps to create more room for traffic as the living room is a tight space.
Design:
LAANK
2-Bedroom Type B3 (646 sqft)
A pull-out table serves as a dining area and a study area only when needed. It slots right back in when it's not in use, saving space in the walkway.
Design:
Colourbox Interior
2-Bedroom Premium Type BP1b (689 sqft)
If there are two people sharing a room, consider doing a staggered bed design, which lends a bit more privacy for both parties while also creating lots of space for storage.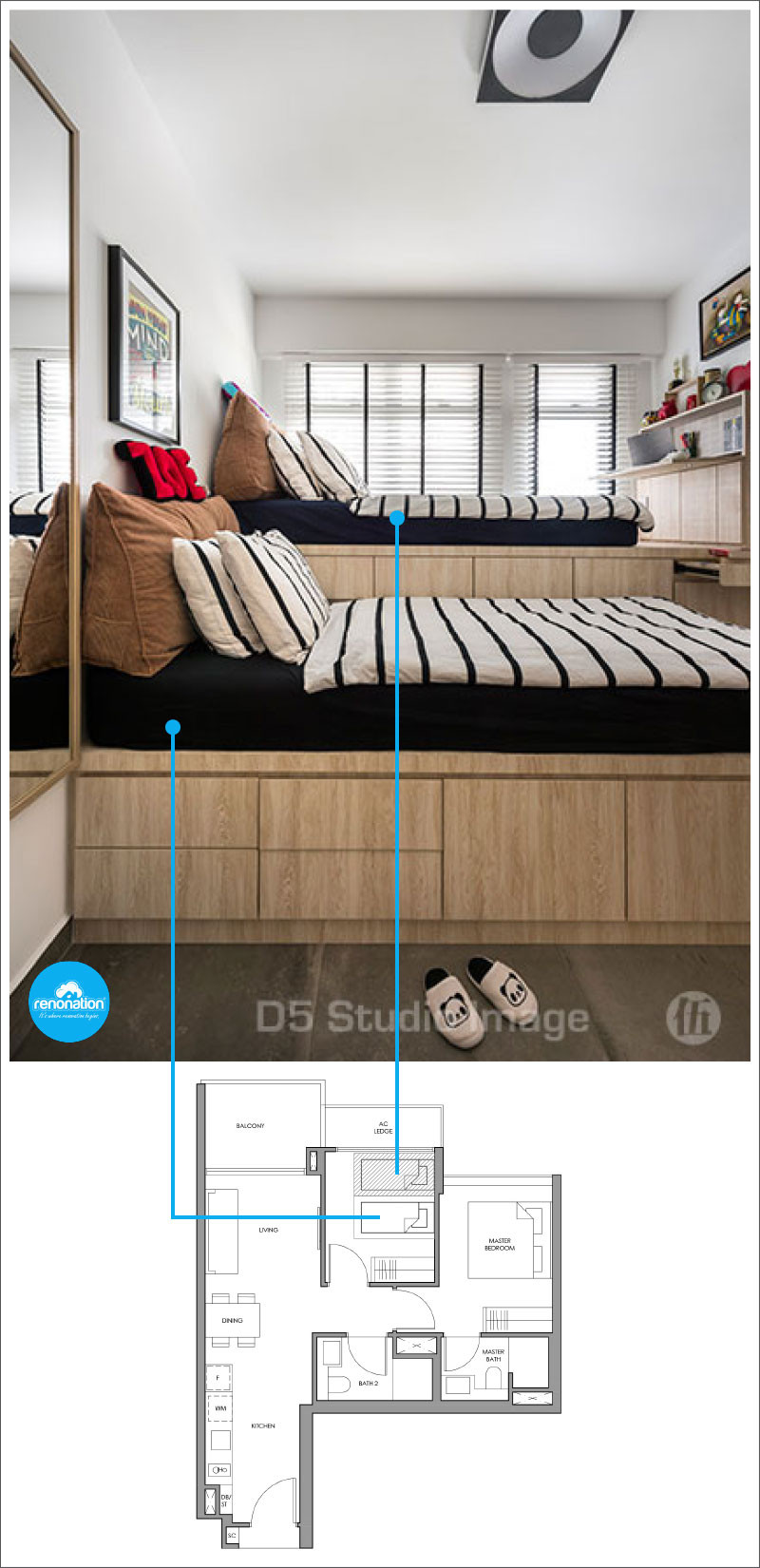 Design:
D5 Studio Image
2-Bedroom Premium Type BP3a (710 sqft)
An L-shaped study table is a great way to eke out more table space. A part of it was built over the bay window seat so that it doesn't take up extra space. The design also provides a choice of sitting by the chair or by the bay window.
Design:
ID Emboss
3-Bedroom Type C4 (958 sqft)
Even if you can't afford to sacrifice a bedroom for your walk-in wardrobe, you can always squeeze one in your master bedroom. A larger space was set aside for the closet in this instance, which opens up to reveal wardrobe compartments with walking space so that it essentially functions as a walk-in wardrobe.
Design:
Liid Studio
3-Bedroom + Study Type CS2 (1,109 sqft)
Go with dining benches to eke out more seating around the dinner table. And because they are custom made to fit against the wall, they also take up minimal floor estate. For an elegant touch, cover the benches with a luxurious material like velvet.
Design:
Liid Studio
4-Bedroom + Study Type DS1 (1,475 sqft)
The dry kitchen area is covered in mirror panels across the ceiling and the side of the walls, lending the illusion of a much taller and wider space. Tricking the eye is a good way to create the sense of a larger room.
Design:
IDID
---

Browse through the list of Interior Designers, their reviews and portfolios at http://www.renonation.sg/professionals/interior-designers/
Submit your renovation enquiry:
Meet Interior Designers. Get Quotes.
Get in touch with our listed renovation companies. They will provide you with a free non-obligatory estimate for any of the Renovation Packages included in their services.