10 Inspirational Layout Ideas for CapitaLand's Iconic New Condo One Pearl Bank
Featuring a striking façade made up of two slender curved towers linked together by sky bridges, One Pearl Bank at the Outram/Chinatown district looks set to be one of the most iconic condo launches in Singapore this year. This CapitaLand development is also the world's first residential property that is setting aside allotment gardens throughout its 39 storeys for urban farming. In this article, we take a look at some of its floor plans and incorporate a bit of interior design magic to see how the apartments at One Pearl Bank, ranging from studios to penthouses, can look like in real life.
Type: Studio (A1-a) Size: 431 sqft
1. So the studio apartments at One Pearl Bank are open concept. But if you're looking to have some privacy, especially in your bedroom, consider building a glass divider. This idea also uses the closet as a divider between the bedroom and the rest of the communal spaces. That's what we call functional and space-saving.
Images courtesy of
The Makers Design Studio
Type: 1-Bedroom (B4-a) Size: 560 sqft
2. In this one-bedroom unit, there's an additional area just next to the bedroom which you can use as a study. Us? We prefer going with a luxurious walk-in wardrobe instead. Include a big mirror to divide the sleeping space and the closet area and add a couple of plush chairs for you to sit on while you put on your earrings. The built-in closet here sits just outside the entrance to the bathroom, so you can incorporate a hidden doorway—like Narnia!—that goes into your en-suite.
Images courtesy of
Lemonfridge Studio
3. Here's another walk-in wardrobe idea for the same layout. We removed the living room entirely—because who needs one anyway—and replaced it with the closet, which is a much better use of space in our opinion! The additional area serves as a workstation cum TV console so you can watch telly from the comforts of your bed.
Image courtesy of
UNO Interior
Type: 2-Bedroom (C2-a) Size: 743 sqft
4. This two-bedder layout already comes with its own walk-in wardrobe area, which sits just outside the bathroom. We decide to include a double sliding glass door, which is helpful to keep dust away especially if you're going with an open-concept closet.
Image courtesy of
3D Innovations
Type: 2-Bedroom (C4-a) Size: 893 sqft
5. If you're looking to add a study zone in your bedroom in a clutter-free way, this is it. The entire workstation hides behind wardrobe doors so it appears just like the closet when closed. And we love the pull-out idea for the wardrobe, which gives you more storage room for your clothes.
Images courtesy of
DS 2000
Type: 3-Bedroom (D3-a) Size: 1,281 sqft
6. Instead of a dining set, consider a ceiling-mounted dining bar table instead which saves more space and allows you to watch TV while you have your meals. But if you do need a more formal eating space, consider using the area at your balcony, which all the units at One Pearl Bank—save for the studio apartments—come with.
Image courtesy of
Weiken
7. Here's how to recreate the hipster-cool vibes of The Projector, an offbeat movie theatre in Singapore, in your home. Step one: Incorporate a home theatre system complete with cosy platform decked out in beanbags. Step two: Do up a home bar at the side for chugging down your favourite local brand craft beer while catching the latest indie film. Step three: Don't forget storage spaces to hide away the clutter!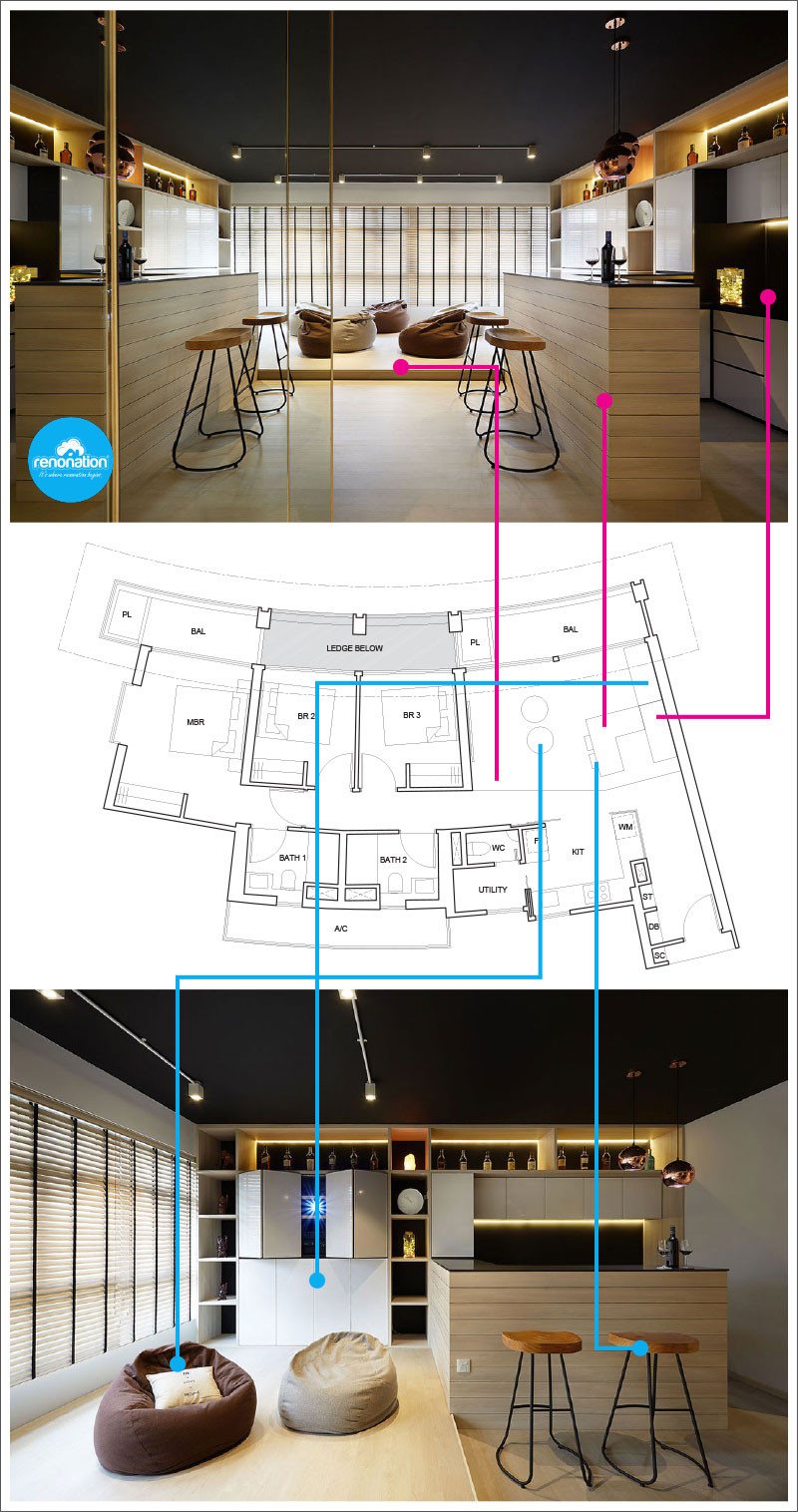 Images courtesy of
D5 Studio Image
Type: 4-Bedroom (E1-a) Size: 1,432 sqft
8. If you prefer sipping tipples to whipping up dishes, double up your hob area as a home bar (which can also work as a breakfast bar in the mornings). Take note that this only works if you have an induction cooker rather than a gas hob because of the former's flat surface. The original layout in this 4-bedroom unit comes with a utility room within the kitchen which can be used as a store room. But you can also consider turning it into a kitchen pantry for storing your staples.
Image courtesy of
DreamCreations Interior
9. There's a junior master bedroom in the four-bedder units. Just like the master bedroom, it comes with its own en-suite, albeit in a slightly smaller space. To make the most of the area, flank a custom-made wardrobe on both sides of the bed. That way, you get more storage space.
Image courtesy of
AkiHaus
Type: Penthouse (F2) Size: 2,788 sqft
10. A TV wall that flips between the living room and dining room is definitely a much sleeker way to do things than having two separate TV walls. Plus, it also functions as a divider between the two zones, which gives both the living room and dining room more privacy.
Image courtesy of
AkiHaus
Meet Interior Designers. Get Quotes.
Get in touch with our listed renovation companies. They will provide you with a free non-obligatory estimate for any of the Renovation Packages included in their services.