How to Have a Stress-Free House-Warming Party
Now that your home has been done up, it's time to celebrate this wonderful occasion with your family and friends! But any party, no matter how small, is bound to result in plenty of cleaning before and after the event—leaving you and your family physically drained and completely unable to do anything else for the rest of the day. To help you get through this day, we come up with 5 effortless ways to celebrate your new home without the tiring routine! We know how it's like; you invite people to your home and the aftermath can be a disaster zone with discarded plates and cups all over the place. If there are children among your invitees, your furniture is bound to suffer some form of abuse. So what can be done to reduce the stress of hosting a party?
1. Decide on the Party Type
Before you begin planning, decide how you want your party to be like. Here are a few common styles:
Open House
You invite everyone from your colleagues to your neighbours to celebrate the new phase in your life. Most of the time will be spent mingling with your guests and they will most likely not stay long at the party. House tours will probably be the main activity on the card that day.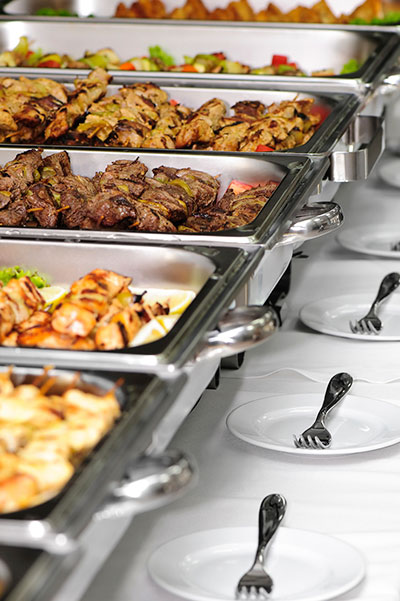 Casual Get-together
Great for people who don't want to go into the fussy details of planning a party and prefer to spend time with their closest friends and family. House tours are carried out, of course, but most of the time will be spent catching up with the guests. At such parties, finger food is the most convenient but you can always hold a BBQ if you have the space for it.
Formal Dinner/Lunch
If you prefer something a little more formal like a sit-down dinner, then a formal party may be the option. It will be wise to keep the guest list small though, so you don't overstress yourself on the food preparation and house cleaning. Otherwise, a pot-luck menu may be the better alternative.
Tips:
The purpose for inviting people over is to show off your home! If you have rooms that are not fully decorated yet or still have boxes lying around, no worries. Simply close the doors to the rooms where you're not comfortable revealing to your guests and hang a small sign saying things like "work in progress". Such signs are non-intrusive and may even elicit some good natured laughs.
Not all of your guests will arrive on time though, so be prepared to conduct several house tours during the party. Keep it brief and limit to a few talking points such as that interesting piece of artwork you got on your honeymoon in your master bedroom. Be sure to have someone wait at the door to greet your guests though, so they won't feel lost upon arriving at your place
2. Manage Your Guest List
In this digital age, it's commonplace to invite people via online means. If you're planning to hold a large party, what better way to keep track of your guest list and RSVPs than with one of the many available e-tools? Aside from Microsoft Excel the spreadsheet programme, you can explore one of the following options as well:
Facebook Events Great for people who have lots of friends on this popular social media; you can set up an events page and invite your friends to indicate their interest in attending the party. The page even comes with a map and directions so your guests won't be lost on their way to your home. It's not fanciful, but it gets the job done.
Celebrations.com If Microsoft Excel proves to be too much of a hassle for you or not all of your friends are on Facebook, you can always sign up for an account on Celebrations.com. Here, you can send e-invites to a recipient list up to 75 people for free. There are plenty of invite designs to choose from too, and you can even set up options such as a pot-luck list, registry and even a pie chart to show how many people are attending!
Google Forms Another free alternative is setting up a Google Form and allow it to collect the responses from your guests on Google Drive. It's a hassle-free way of gathering your friends' responses, but lacks the many useful add-ons that Celebrations.com has.
Tips:
These are just 3 of the many tools available out there, free or otherwise. But no matter what option you choose, do remember to include a map or your guests could get lost on their way to your place! Don't think you can manage large crowds of people flooding your home? Then maybe you can consider planning several small parties to cater to different groups of people. This will ensure that your guests will get a more intimate (and hopefully more memorable) experience without feeling like they're being ignored by you when you're really trying your best to mingle with everyone! Another plus point is that you'll be able to relax with your friends instead of rushing all over the place.
3. Childproof Your Party
If your invitees are bringing their children along, then take steps to keep them occupied instead of leaving them to run rampant all over your home. You can't be around all the time to keep an eye on them, and you really don't want to ruin your expensive furniture or glassware before you even get to enjoy them!
Tips:
You can either assign someone (like your eldest child or an experienced family member) as the official babysitter at the party, where they can look after the children and organise some activities to keep the children occupied. For example, play a movie that will entertain them for a couple of hours or set up a children-only zone with some games and books.
4. Bite-sized Menu & Keep The Drinks Light
You don't necessarily have to cook a complete meal for your guests. Do up a bite-sized menu where finger food is the main course and keep to white wine if possible. Accidents are likely to happen and red wine does stain your immaculate white carpeting or upholstery. Go for food that won't go bad or require special attention to keep warm/cool while the party is on. Great choices include pastries, chips and dips. This will not only cut down on the stress of having to prepare the food beforehand, it will also save you from having to do major wash-ups after the entire event. In other words, keep things simple.
Tips:
Can't cook to save your life? Then maybe you can consider planning a pot-luck party where everyone brings (or buys) their favourite food to the party.
5. Prep Your Home Beforehand
You wouldn't want your beloved antique vase to meet an untimely end at the hands of a clumsy guest (or excited child), so keep such fragile things away until the party is over. This is essential especially if space is limited and people are more likely to bump into furniture.
Prepare sufficient seats for your guests! If they have to sit on the floor, make it comfy for them with cushions and poufs.
Don't forget to stock up on necessities such as trash bags, napkins and beverages for your guests. Dedicate a spot (or two) for guests to throw their disposable dinnerware as well.
Clean up your bathrooms and 'depersonalise' them by putting away the personal hygiene products and other items. Don't forget to keep sufficient rolls of toilet paper and a plunger handy too, just in case.
Organise your refrigerator in case your friends want to help you put away leftovers or have to look in your refrigerator to get extra drinks. After all, a cluttered refrigerator won't leave a good impression!
Make more ice to keep drinks cool on a hot day.
Sometimes you might get guests that you don't know well enough, so keep your valuables out of sight and remember to log out of your computer before guests arrive.
You might also want to check that your first aid box is well-stocked with items like painkillers and bandages so that you're prepared for any accidents.
Prepare plastic containers for your guests to take-away in case you ordered/made too much food.
Tips:
No matter what type of party you choose to throw for your friends, do remember to have fun! After all, it's to celebrate a new phase in your life so don't sweat the small stuff.
Do you have more tips for hosting a successful house-warming party? Do share with us on our Facebook Fan Page!
Meet Interior Designers. Get Quotes.
Get in touch with our listed renovation companies. They will provide you with a free non-obligatory estimate for any of the Renovation Packages included in their services.