How to Design a Low-Maintenance and Easy-to-Clean Home
If there's one thing I've learnt ever since I started living on my own, it's that it really pays to have a home that is easy to clean. Squandering away entire weekends wiping down surfaces, scrubbing toilets and vacuuming the carpet free of dog's fur (thanks Dino!) is not my idea of fun. You can't do entirely without housekeeping, but you can certainly cut down the time to do so. The trick? Get it right from the start by designing a low-maintenance and easy-to-clean home. We have the deets:
LIVING ROOM
Don't clutter your home with too many home accessories or décor, or pepper your space with small pieces of furniture everywhere. The key to minimal cleaning is to keep things minimal and streamlined. Opt for furniture that has simple forms rather than complicated nooks that will be a trap for dust. A simple colour scheme with not too many colours going on at once can lend a visually cleaner space. It doesn't have to mean a white palette, although that's one way to create a sense of a clean and breezy space. You can also go dark and it will still look clutter-free if you don't work in too many bold hues and colour accents at once.
A minimal colour scheme keeps the visual clutter in check.
Design:
Shijin Design Consultancy
Textiles like throws, cushions, carpets and rugs are great to have, but they come with the upkeep. So unless you're particularly fastidious about vacuuming, avoid them. Trust me, vacuuming textiles gets old really fast. For sofas, there are pros and cons to leather and fabric ones although I would hazard to say leather ones edge out a bit in terms of maintenance. For one, a leather sofa requires just a wipe down every once in a while with a clean damp cloth. For fabric sofas, you will need to wash the covers or vacuum them if they don't have removable covers. Take note that leather sofas do tend to be more susceptible to scratches and they require conditioning every once in a while to prevent cracks.
A leather sofa just edges out a fabric one in terms of easy maintenance.
Design:
The Monocot Studio
When it comes to storage, the higher and wider the better. Build them all the way to the ceiling or the ends of the walls to reduce the areas where dust can accumulate. Vinyl is a good flooring option if you're looking for easy day-to-day maintenance. They don't stain easily and are a breeze to mop. The only concern with vinyl is a potential water seepage issue, which can arise if any part of your flooring is exposed to high amounts of water (like a leak from a washer or the rain beating in from the window). Make sure you dry the area immediately and not have water accumulate over time. For window furnishings, blinds require regular dusting and vacuuming. Curtains are a bit more tedious, since you will need to wash them regularly in the washer or send to a dry cleaner if it's a special kind of fabric.
Rather than curtains which require washing or dry cleaning, go for blinds that only need an occasional dusting.
Design:
DB Studio
KITCHEN
An open-plan kitchen is everyone's dream, but if you cook often and tend to do heavy, Asian-style cooking, go for a closed kitchen instead to contain the grease and fumes in the cooking space rather than stick to walls or furniture in the rest of your home. You can opt for a
semi-open kitchen
option, such as using glass dividers instead of concrete walls to block off the kitchen, which marries the best of both worlds.
A semi-open kitchen keeps the fumes and grease contained within the kitchen, while still allowing light to come through.
Design:
Design Neu
We love open shelves as much as the next person, but unless you're using the items on the shelves frequently, they will be covered in grease and dust if you don't use them often enough and without regular cleaning. Plus, open shelves cannot hide clutter! Closed cabinets for the win, people. With cabinets, go for semi-gloss surfaces. Matte's really cool and trendy and all that, but it's more tedious to wipe them down compared with glossy surfaces. So why not high gloss? Cleaning high-gloss surfaces is a breeze, but high-gloss surfaces, owing to their reflective properties, really show up fingerprints, which is just a huge pain. Semi-gloss however, is a wonderful in-between and easy to clean.
Go for a semi-gloss finish for your kitchen cabinets, which are easier to clean than matte surfaces.
Design:
Neu Konceptz
If you really like matte surfaces (and I know there are tons of you out there), make sure you're getting ones that don't have groove details on them which can trap grime. For your backsplash, glass or KompacPlus are good options for minimal care since they are non-porous and waterproof. All you need is to clean them down with a damp cloth after use.
Glass backsplashes are easier to wipe down after a cooking session.
Design:
Dap Atelier
Avoid high-maintenance materials like cement screed or natural stones like granite and marble for your countertops as they tend to require regular (read: annual) sealing. Instead, choose materials like quartz and Kompacplus for their hardiness and easy maintenance. If you can afford to do so, go for an integrated sink. An integrated sink is one that doesn't have joint lines with the rest of the countertop. The advantage of that is that any dirt or food prep leftovers can be wiped down to the sink at one go. There's also this relatively new sink in the Singapore market called
flush mount sink by iQuartz
. Unlike an integrated sink, the flush mount does have joints but it is completely flushed to the countertop thanks to the manufacturing method used so the entire sink is virtually seamless with the countertop.
The flush mount sink by iQuartz.
Image courtesy of iQuartz
BATHROOM
When choosing tiles for your bathroom surfaces, go for large-format ones so you will have less grout lines to clean. Avoid patterned tiles that have visible grooves on them to minimise grime from accumulating. Caution: for flooring, make sure the tiles are not so big that they become slippery and hazardous. Also, most tilers will not go for too-large tiles for the flooring as there needs to be a slope to channel water to the drain. Install an exhaust fan or keep your bathroom constantly ventilated after use. This helps to reduce moisture accumulation which can lead to growth of mould and mildew, which are not only hazardous to health but also a pain to clean out.
An exhaust fan in the bathroom helps to absorb the humidity in the air, leaving your bathroom free from mould growth.
Design:
Artistroom
We are not completely against glass shower enclosures, which are gorgeous and can help keep the water within the shower area. However, they can be a pain to upkeep since you will need to wipe the soap scum off them once in a while. Keep to a smaller glass panel and frameless if you must.
A smaller glass panel is just enough to keep the water within the shower area.
Design:
Akihaus
Shower curtains are better for maintenance since you can just throw them in washer once they get dirty. And because they are relatively inexpensive, you can change them out once they wear off.
Shower curtains can be simply thrown into the washer when they get dirty.
Design:
The Local Inn.terior
Floating vanities and toilets are a good choice if your bathroom can accommodate them. Not only do they look incredibly stylish and will leave your space looking less cluttered, they ensure that they are no edges or hidden corners for grime to grow and fester.
A floating vanity means fewer hidden corners for grime build-up.
Design:
Charlton Design
Not every bathroom is able to install a floating toilet since they tend to take up a lot of room. A good alternative is a
wall-faced toilet
, which has its back right against the wall. This removes crevices behind the toilet for you to clean.
BEDROOM
Keep things look neat and tidy with plenty of built-in storage around the bedroom. We like bedside tables with drawers that can help stow away essentials rather than have them clutter around the table.
Plan for plenty of storage in the bedroom to keep clutter at bay.
Design:
Distinctidentity
When selecting a bed frame, go for one that sits right on the floor with no gap between the frame and the flooring so you won't need to mop the area underneath your bed. If there's a gap, ensure that it's wide enough for your vacuum and mop to go through.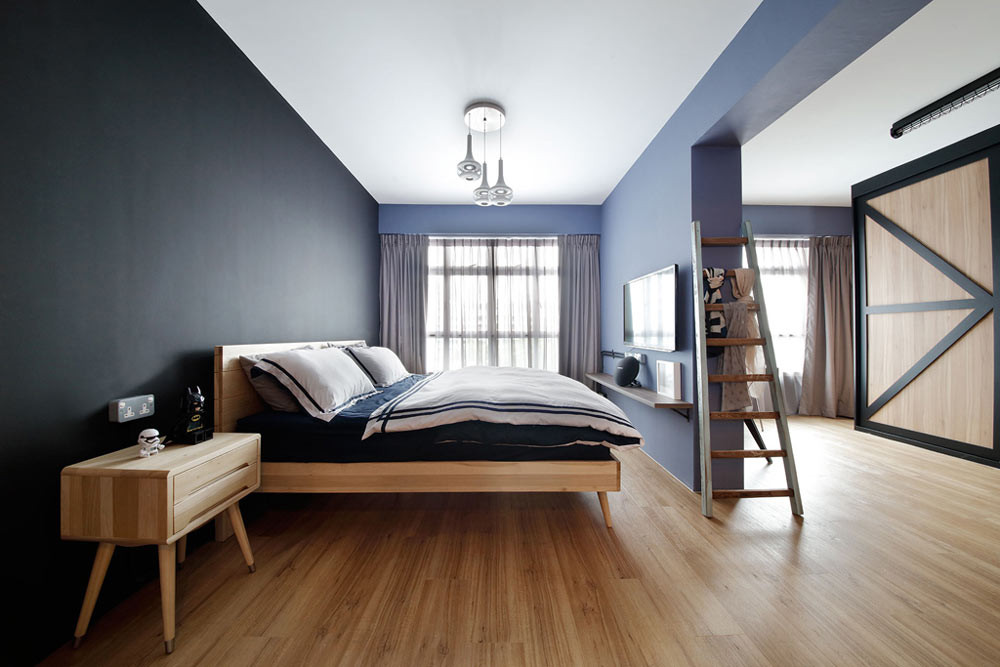 Make sure the gap between the flooring and bed frame is wide enough for your vacuum and mop to go through during cleaning.
Design:
Free Space Intent
Wardrobes should be full-length so that you don't have to wipe the top of them. I prefer built-ins rather than off-the-shelves ones. The former provides a more exact fit to the measurements of my room and thus would ensure a less likelihood of dust to find its way through gaps.
---
Browse through the list of Interior Designers, their reviews and portfolios at http://www.renonation.sg/professionals/interior-designers/
Submit your renovation enquiry:
Meet Interior Designers. Get Quotes.
Get in touch with our listed renovation companies. They will provide you with a free non-obligatory estimate for any of the Renovation Packages included in their services.