8 Home Renovation Sins Which You Should Not Commit
Welcome to the world of home renovation! It's an exciting journey that can transform your living space into a dream home. However, with great power comes great responsibility, and when it comes to renovating your home, it's important to avoid certain mistakes that could cost you time, money, and even your safety. In this article, we'll be discussing 8 home renovation sins that you should steer clear of, to ensure that your renovation project is a success. Whether you're a seasoned DIYer or a first-time renovator, read on to learn what not to do when renovating your home.
Design: LOME Interior
#1. Ignoring the profile of the occupants
The profile of the occupants should always come first
Prior to delving into the design concept, it's crucial to take into account the demographic makeup of the occupants. The presence of elderly individuals, young children, or even pets can greatly influence the suitability of particular design themes. As a general rule of thumb, safety should be the top priority when accommodating elderly individuals, children, and people with physical challenges. Moreover, if there are a variety of occupants with different needs, it's important to prioritize ease of maintenance in the design. Ultimately, it's important to shift your mindset from what you and the occupants can do for the home, to what the home can do for you!
Design: Hock Hoon
#2. Overlook your lifestyle needs
Lifestyle is as important as the design theme
The COVID-19 pandemic has compelled us to make significant alterations to our way of life. If our homes are not designed to accommodate these changes, it can be difficult to adjust to the new situation. As a result, rather than getting swept up in the latest design trends and being lured by stylish, trendy homes that only look great in social media posts, Instagram reels, TikTok and magazines, it's essential to prioritize our lifestyle needs before settling on a design theme. Key considerations should include whether you need to work from home, cook frequently, host gatherings regularly, or have ample time to maintain and clean the house. Once you've established the nature of your lifestyle, the ideal design theme should complement your lifestyle, promoting order, practicality, functionality, and enjoyment of your living space.
Design: Ethereall
#3. Not realising the important role of the furniture
Furniture impacts interior design much more than you think
Furniture plays a crucial role in the design of spaces, as it is closely tied to the chosen design theme and serves as an extension of it. Whether ready-made or custom-designed to meet the designated functionality of the space, furniture selection is critical. For instance, a high-end, Manhattan-styled leather sofa may not be suitable for a living room where young children frequently spill food and drink. Similarly, a laid-back, hipster-styled bean bag may not be comfortable for the elderly or anyone who suffers from chronic backaches. Therefore, it's important to have a clear idea of the type and design of furniture that best suits your needs. It's advisable to review and try out various types of sofas before deciding on the final design theme.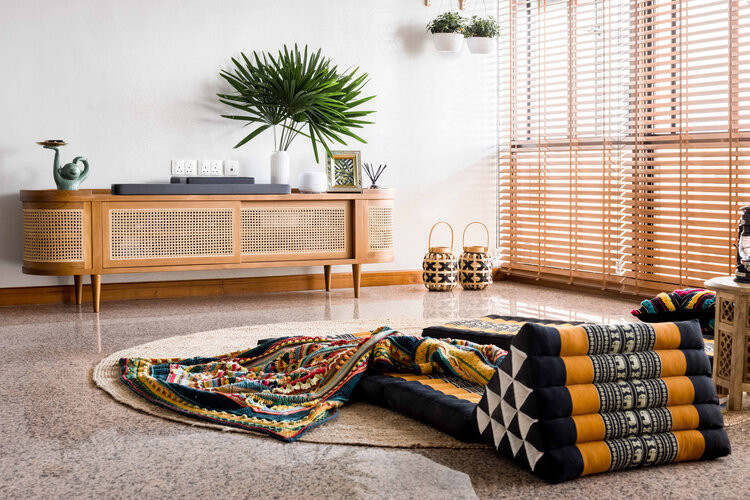 Design: SS+D Pte Ltd
#4. Forgetting to get larger samples for your mood board
Material samples are usually free and they come in bigger sizes
The laminate samples provided by interior designers are often too small and impractical for visualizing the mood board. Therefore, visiting laminate factories and showrooms to view their samples in actual sizes is advisable. However, if you're too busy to do so, you can have free laminate samples delivered to your doorstep. Certain vendors such as material plans, offer the convenience of delivering up to 3 free tile samples. Similarly, when considering tile samples, it's important to keep the same considerations in mind. Samples are also helpful for testing the durability and sustainability of laminates and tiles by subjecting them to the classic ink and coffee stain test.
Design: Linear Space Concepts
#5. Neglecting the dimensions
Dimensions do matter when it comes to space and storage planning
An essential component of a tidy and well-organized home is effective storage. However, planning for storage involves more than simply measuring the dimensions of the largest items such as luggage, mops, brooms, and vacuum cleaners. It's also crucial to consider challenging corners and obstacles, such as wall skirting and ceiling beams. For example, if you plan to store a robotic floor vacuum cleaner at the bottom of a storage cabinet, you must set aside an additional 1.5cm of space due to the presence of wall skirting. Keeping a watchful eye for such features will ensure you make the most of your storage space while keeping your home clean and uncluttered.
Design: Subtlesato Studio
#6. Not knowing that little design decisions affect maintainability, safety and liveability
When designing a space, it's important to understand that seemingly small design decisions can have a big impact
When making design decisions, it's essential to consider not only aesthetic factors but also maintainability, safety, and liveability aspects. For instance, large format tiles not only look beautiful, but they also have fewer grout lines, resulting in lower maintenance costs. Additionally, for safety, slip-proof tiles should be used. To enhance liveability, the interior designer must incorporate design elements that make the home more conducive to daily living. For example, installing backup lights in bathrooms or study rooms and motion-activated lights along long hallways can increase comfort and convenience. Furthermore, in light of the increasing prevalence of remote work, spare guest rooms should be designed to be flexible and easily converted into semi-office space when needed. Thus, it's essential to take these practical factors into consideration when designing a space to create a functional, safe, and comfortable environment.
Design: Monocot
#7. Not realising that lighting is crucial for creating the right mood and atmosphere, highlighting design elements, and enhancing the overall aesthetic appeal of the space
Lighting as an essential aspect of interior design can help create a space that is both functional and aesthetically pleasing
Design: Design 4 Space
Without proper lighting, a room can feel dull, cramped, or gloomy, which can negatively impact the mood and well-being of the occupants. It is important to consider the type, placement, and intensity of lighting when designing a space. For example, natural light can create a sense of openness and freshness, while warm-colored lights can make a space feel cozy and intimate. Task lighting is crucial for work areas, such as kitchens and home offices, while ambient lighting can create a warm and welcoming atmosphere in living rooms and bedrooms. It's also important to consider the placement of lighting fixtures, such as overhead lights, lamps, and accent lights, to ensure that they illuminate the desired areas and create the desired effect. Lastly, it's important to choose the right intensity of lighting, as lighting that is too bright or too dim can affect the mood and functionality of the space.
#8. Forgetting that choosing trendy pieces may result in a space that quickly feels outdated, and can be expensive and time-consuming to update as new trends emerge
When designing a space, it's important to keep in mind that design trends are constantly evolving and changing
Design: The Interior Maison
While it may be tempting to incorporate the latest trendy design elements into your space, it's important to consider the longevity of those choices. Choosing trendy pieces may result in a space that quickly feels outdated, and can be expensive and time-consuming to update as new trends emerge. In contrast, choosing timeless design elements can ensure that your space remains stylish and relevant for years to come. Timeless design elements, such as classic furniture pieces, neutral color palettes, and simple lines, are not subject to the whims of changing trends and can create a cohesive and elegant space. Additionally, incorporating more unique or trendy pieces as accents or accessories can add interest to the space without overwhelming it with an overly trendy vibe.
Meet Interior Designers. Get Quotes.
Get in touch with our listed renovation companies. They will provide you with a free non-obligatory estimate for any of the Renovation Packages included in their services.