Here's proof that beautiful art isn't just for the atas
The best way to dramatically change the mood and ambience of a room is to use art. Whether it's clustering different images together to create a gallery wall or using a singular, large-scale painting to dominate a white space, it's undeniable the impact of art in a home.
Image courtesy of Amoz Boon
But if you think having art at home is a luxury reserved only for the super-rich, think again. In a bid to make art accessible to everyone, Ikea has launched their Art Event 2017 collection of prints. The collection is a collaboration between the furniture giant and some of the world's up-and-coming artists. Each piece was drawn by hand and are retailing at only $12.90 each!
"Art is made to live in people's minds and houses, not only in museums or wealthy people's homes! Just like books, affordable art allows people to make discoveries." - Amandine Urruty, one of the artists of the Ikea Art Event 2017 collection.
We love how diverse the medium used and the inspirations behind the Art Event 2017 collection is, with the artists employing everything from graphite and pen and ink to crayon and charcoal. Here are five of our favourites from the collection.
1. Reflections On Deep Thoughts by Micha Payer and Martin Gabriel
TheVienna-based artists are known for mixing living things with objects and natural things with artificial ones in their art. This piece for Ikea was inspired by a scene in eerie sci-fi movie Stalker by Andrej Tarkovsky, and it explores the tension between nature and civilisation and the confusion of surface, ground and reflection.
2. Assembling Reality by Amit Greenberg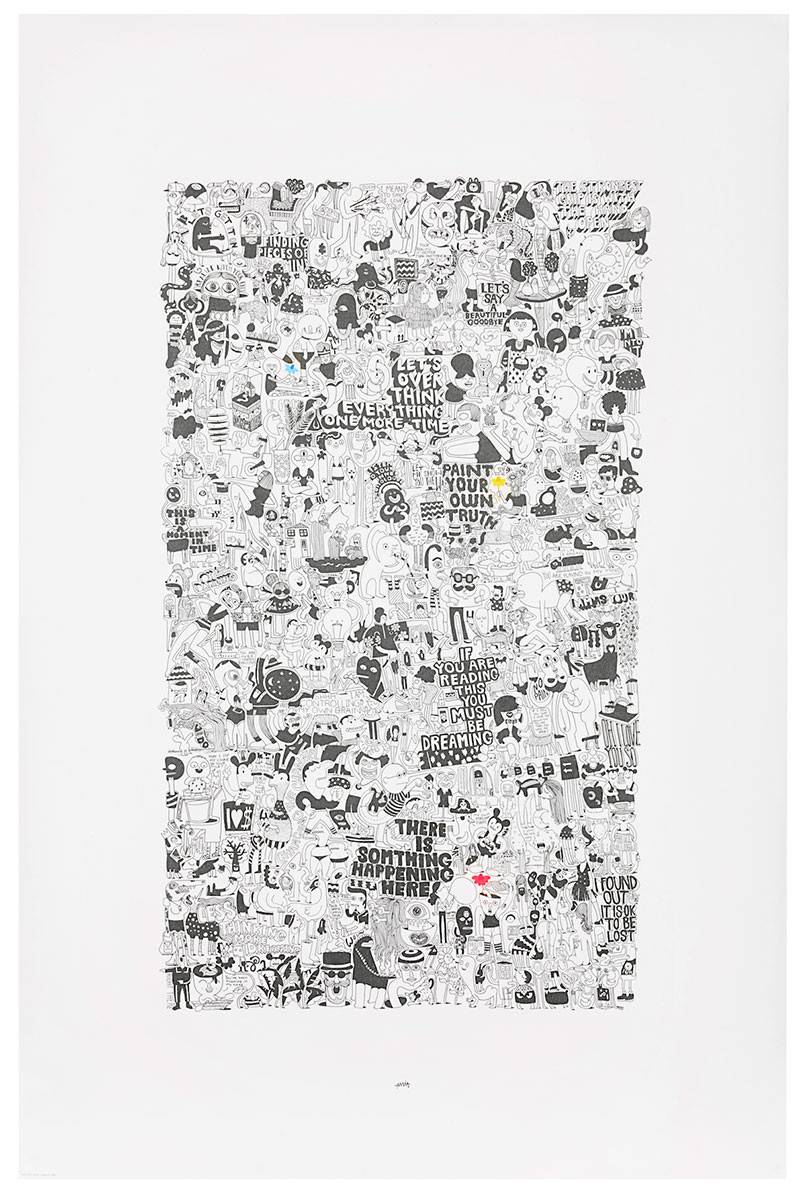 This black-and-white piece is an exploration of spirituality, sexuality, mortality, fear and joy. The world Greenberg depicts in this artwork is a playful one and the viewer is encouraged to indulge and get lost in this multi-dimensional piece. Like his other works, no pre-sketching was involved, allowing the piece to evolve organically on its own.
3. Shelfie by Jean Jullien
If you're looking for something more tongue-in-cheek, this piece by French-born Jullien should be right up your alley. The poster is inspired by a quote from cult film Fight Club, "The things that we possess end up possessing us." It's also a playful reflection of the material times we live in.
4. Around A Table by Joanna Concejo
We also love this whimsical piece by Concejo, who intended it to reflect her love of meeting people, especially family, around a table for different reasons. This drawing combines the elements of nature with a photo of her family members.
5. Matsuri by Yasuto Sasada
Matsuri is a reflection of its artist's creative process. Beneath the amalgamation of imagery is a skull to represent the artist himself. Matsuri means festival or carnival in Japanese, but it can also be taken to mean "not as usual". Here, the Japanese artist seeks to depict this very concept in his drawing.
The Art Event 2017 collection is available at all Ikea stores in Singapore from April 2017.
Meet Interior Designers. Get Quotes.
Get in touch with our listed renovation companies. They will provide you with a free non-obligatory estimate for any of the Renovation Packages included in their services.