Here are Our Design Trend Predictions for 2023
It's that time of the year again for trend predictions! Super fun. Based on what we've been seeing in Singapore homes, these are the trends that are set to be everywhere this year. Obviously, we are no clairvoyants, so you don't want to take our word for it. But if you look at this year's list, there's a lot to like! And we are guaranteeing that you'll at least bookmark a couple for your own home renovation.
Warm neutrals will still be the trending colour this year
If you remember last year's trend list, we had predicted warm neutrals as one of the main colour schemes for that year. It didn't quite take off at the beginning of the year, but it did emerge much stronger towards the middle and end of 2022. And 2023 looks set to be the year that warm neutrals make a bigger splash, with a key emphasis on shades of brown.
Design: Build Built
While last year was all about mid-century hues, we are thinking brown and all its varying shades are going to really be a thing this year. Also popular: beige, taupe and terracotta.
Design: Ascend Designs
This colour trend is so well-loved because it lends itself to a cosy vibe that feels like your home's giving you a hug when you step inside. And the bonus? It's an especially enduring palette that will stand the test of time.
Curves are still going strong…
Design: Authors Interior & Styling
The curve trend shows no sign of abating. And thankfully so, because I mean, this has to be one of the easiest and least-effort ways to make a major (and I mean, MAJOR) visual impact on your home.
Design: The Interior Maison
What's going to be slightly different is where the curves will go. Interior designers are set to explore newer ways to include this trend in your home. So while doorway arches are well and good, we are thinking more meandering walls, pill-shaped glass panels and curved sculptural columns.
Design: House of Chais
Perfectly imperfect interiors
Whether it's seeking some form of ersatz authenticity or we are truly embracing the idea of beauty in imperfection (which is a key notion in Japanese's philosophy of wabi sabi and a big design style in Singapore), the idea of our home being 'flawless' or 'showroom perfect' is increasingly passé.
Design: Insight.Out Studio
As part of this trend, we are seeing more homeowners painting their walls with limewash paint and decking their surfaces with screed or microcement, which offer a textured and less polished look.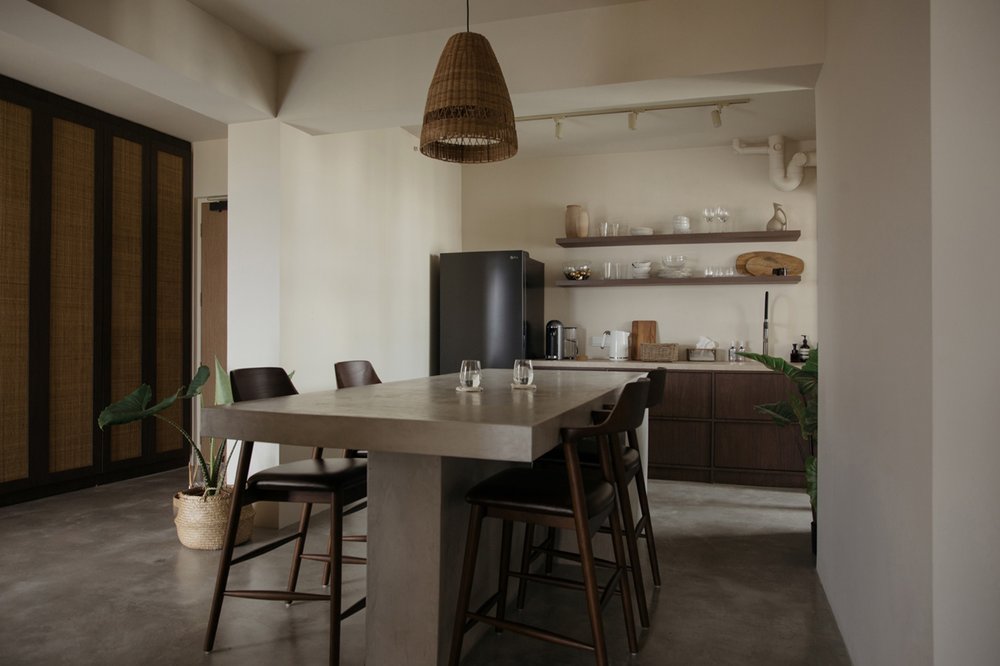 Design: Knock Knock Studio
Also part of this trend: the use of natural materials that will age gracefully with time and will embody all the kinks and knocks that come with usage.
Terrazzo is out and travertine is in?
Once ubiquitous in many Singapore homes, terrazzo looks set to be out for good. And in its place, travertine, a natural stone that looks like marble but really isn't.
Design: Build Built
It often comes in warm, beige-y or grey hues and has a textured/sponge-like look due to the tiny holes formed within the stone. Hardier than marble, it can be polished to give off a sleek sheen that appears just like a marble surface.
Construction: HW Construction
Homes here are embracing travertine furniture, especially travertine dining or coffee tables (here and here and here are gorgeous ones to check out and buy for yourself), although we may be seeing more of this material in other parts of the home in the time to come.
Matching backsplashes with countertops
Design: Weiken
In the kitchen, more people are matching their backsplashes with their countertops! This removes the extra headache of picking out a complementary backsplash and offers a more streamlined look that can really make your kitchen feel more put together.
Design: iDesignerLab
The materials commonly used for this include quartz, sintered stone, KompacPlus and if you can afford it, natural stone like granite or marble. You may wish to avoid patterns that are too busy though if you are carrying the same material from the countertop all the way to the backsplash. This can make things look overly busy and cause visual clutter.
The great thing about matching backsplashes with counters is that it also helps reduce the joint lines on the backsplash, making post-cooking clean-up much easier. Yay for easy-to-clean kitchens!
You may be seeing more of this small and quirky kitchen feature
Said feature is a pot-filler. If you don't know what it is, we won't blame you because it hasn't quite taken off in kitchens here yet.
Design: Aiden T
It's essentially a faucet but doesn't quite look like a conventional one that you see over your sink. Instead, it has an extendable arm and is typically located over the stove. Its main advantage is to make it easier for you to fill your pots with water e.g. for cooking soups, making spaghetti, etc., without you having to fill them up at the sink and then carrying those heavy water-filled pots back onto the stove.
While it's more common in American kitchens because of their larger sizes and thus the longer distances between the sink and stove, we may be seeing it more in kitchens here. It's not really super necessary for smaller kitchens, but it adds a nice touch (sort of like a little piece of jewellery, especially if it's a nice shiny metal) and can make it convenient if you have a small sink/large pots/big on cooking soupy meals.
We spoke to one homeowner who has it and they've espoused the benefits of having one in the kitchen despite living in a 5-room BTO flat.
Bathrooms are determined to be more colourful
As the rest of the house goes neutral (soothing for the soul, easy for the eyes), we are looking to bathrooms for a bit of colour. We've seen many predominantly neutral-based homes turning up the colour statement in their private spaces.
Design: D' Initial Concept
The bathroom is really one of the best spaces to be a bit more adventurous with the palette since it's usually quite a smaller area. And it doesn't just have to be a mishmash of hues, it can just be a single colour—a monochromatic bathroom says just as much as one with a rainbow palette.
Design: Studio Abby
The home office is now a staple in our homes
It's official: people are working from home a lot more. And with that, people are seriously considering making permanent home offices in their homes. They are investing in standing desks, ergonomic chairs and fatigue mats (what?).
Design: Weiken
A dedicated home office shouldn't be a problem if you have a spare room. But things get trickier if you have a small space. There are a ton of nifty ideas for compact home offices though.
Some ideas we like include concealing it behind pocket doors (stow away the clutter after office hours!) or integrating it with carpentry, which is great for streamlining your home office with the rest of your home's design.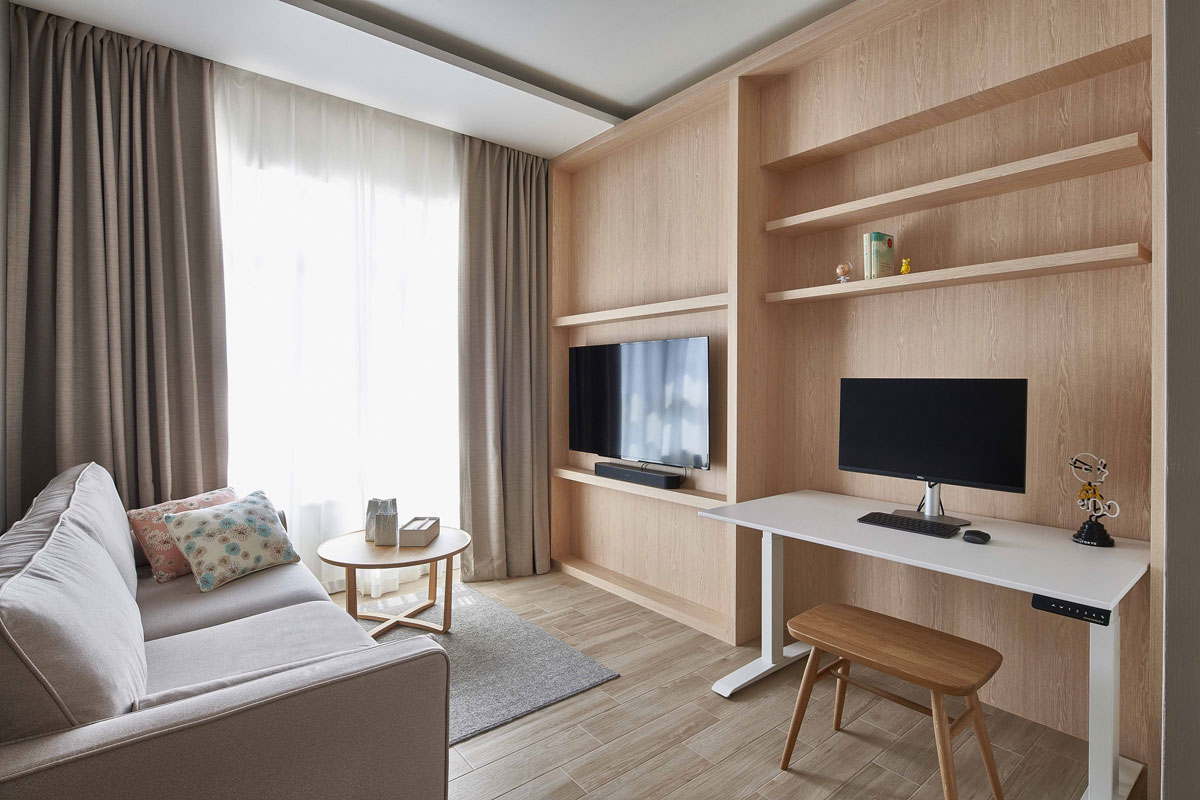 Design: Chalk Architects
Faux balconies will likely be a thing going forward
Not all of us are blessed with balconies, but a lot of us want them. So short of organising a petition to HDB to request that they include a balcony in all our BTOs from now on, many of us are taking matters into our own hands and creating our own balconies. Teehee.
Design: Authors Interior & Styling
Whether it's by differentiating the 'balcony' space with a different set of floor tiles or carving out that area with a sliding door or arch, homeowners have been going crazy creative with the ideas.
Design: Blend by ImC
We are seeing people using it as a lepak corner or turning it into an indoor garden. Some are even decking out breakfast bars for a cafe-esque vibe. Faux balconies? Coming into your homes in 2023.
Meet Interior Designers. Get Quotes.
Get in touch with our listed renovation companies. They will provide you with a free non-obligatory estimate for any of the Renovation Packages included in their services.