12 Times an HDB Renovation Took the Unconventional Route
Want to break away from boring BTOs and typical HDB designs? Look to these unexpected HDB renovation designs for inspiration.
1. Sliding your way to success
If you have an HDB executive maisonette, try this for a change. Instead of using the stairs all the time, install a slide to save time.
Design: Jesigns Interior Design
2. Take down walls!
Don't need walls? Consider removing them entirely (only non-structural ones of course!) to create a studio-like space.
Design: Insight.Out Studio
3. Onsen spa
Create your very own Japanese style spa with nature-inspired tiles, a huge step-up tub and a wooden hinoki bath bucket by the side.
Design: Dyel Design
4. Rub a dub dub
A standalone bathtub within the bedroom may not be the most practical, but it's definitely a feast for the eyes. Plus, instant 5-star hotel vibes.
Design: Aesthete Interior Design
5. Net worth
Make use of that double volume ceiling in your HDB maisonette and install a suspended net that lets you take playground design right into your home.
Design: MET Interior
6. Villa style
To capture the essence of a Balinese resort, this HDB in Hougang showcases an enclosed internal courtyard, beautifully enveloped by glass panels. Complete with a faux skylight and artificial tree, this eye-catching feature takes centre stage in this apartment.
Design: Hoft Interior
7. Farmhouse chic
This farmhouse style HDB includes a decorative "fireplace" next to the dining area, adding cosiness and aligning perfectly with the theme of the apartment.
Design: Jesigns Interior Design
8. Line work
Instead of a conventional TV setup, this Bukit Merah HDB opted for a storage platform with undulating lines. This allows the family to enjoy the outside view while seated.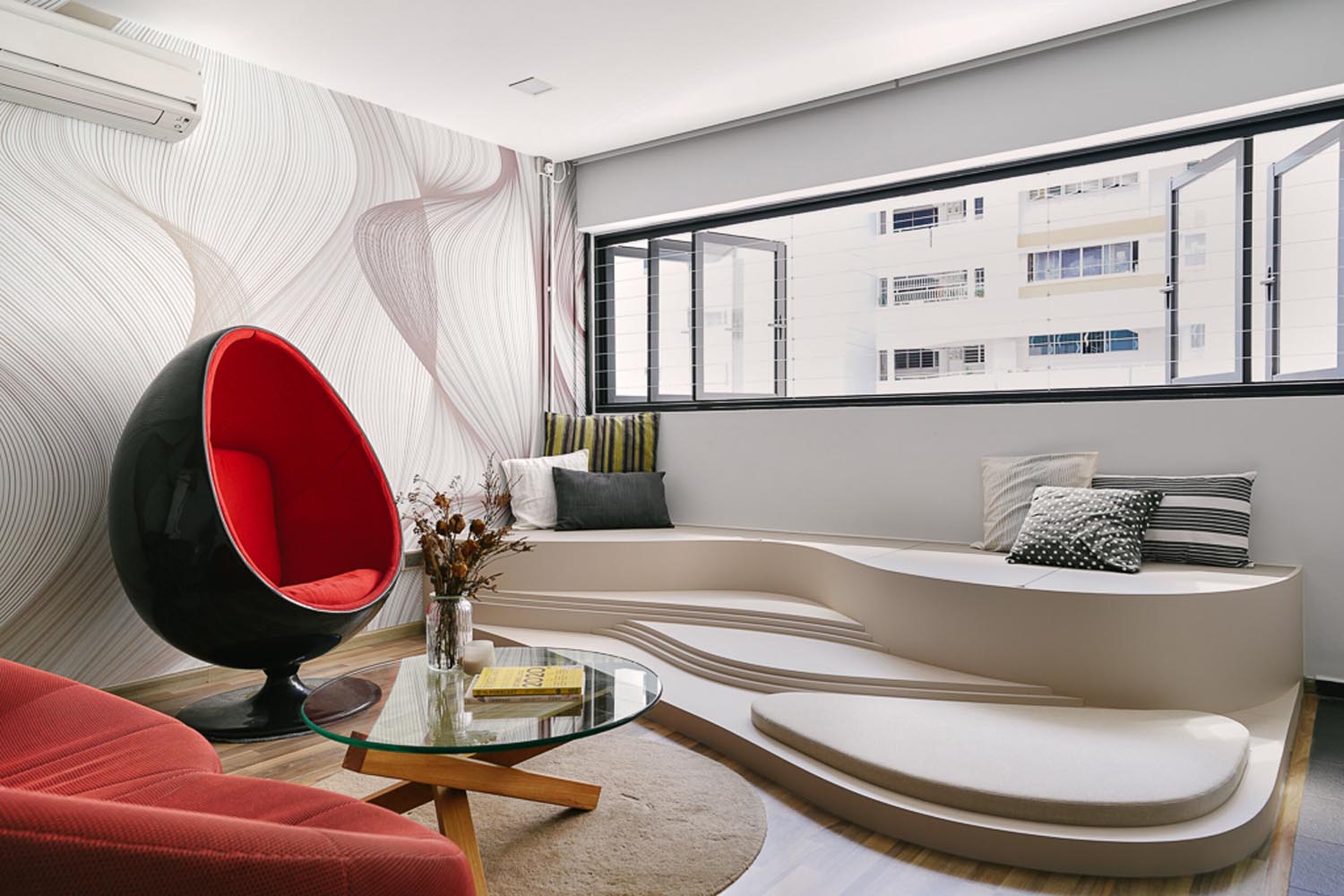 Design: BuildBuilt
9. Changing things up
Rather than have the living room by the windows as is typical in BTOs, this Yishun flat transformed the space into a multipurpose step-up. It includes cosy corners, book storage and an integrated dining bench.
Design: Knock Knock Studio
10. Lounge haven
An HDB design designed for ultimate lounging? Sign us up please. Besides having an extra-large integrated sofa bed, set the mood right with the right type of lighting.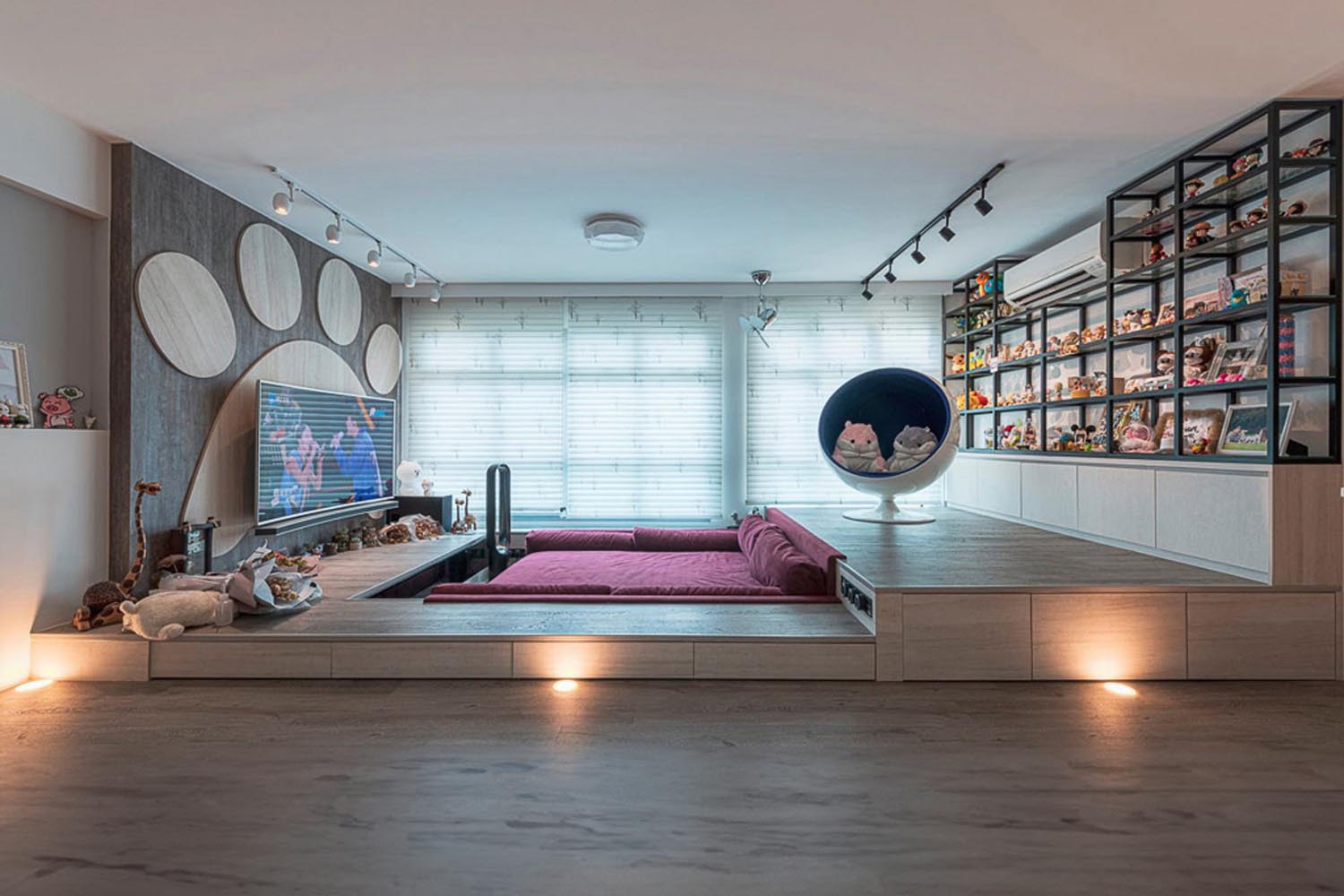 Design: Renologist
11. Get a move on
Designed with minimal built-ins, this HDB is a highly adaptable, versatile home. Most of the furniture (down to the sofa!) are on wheels, allowing for effortless reconfigurations to suit the needs of the homeowners.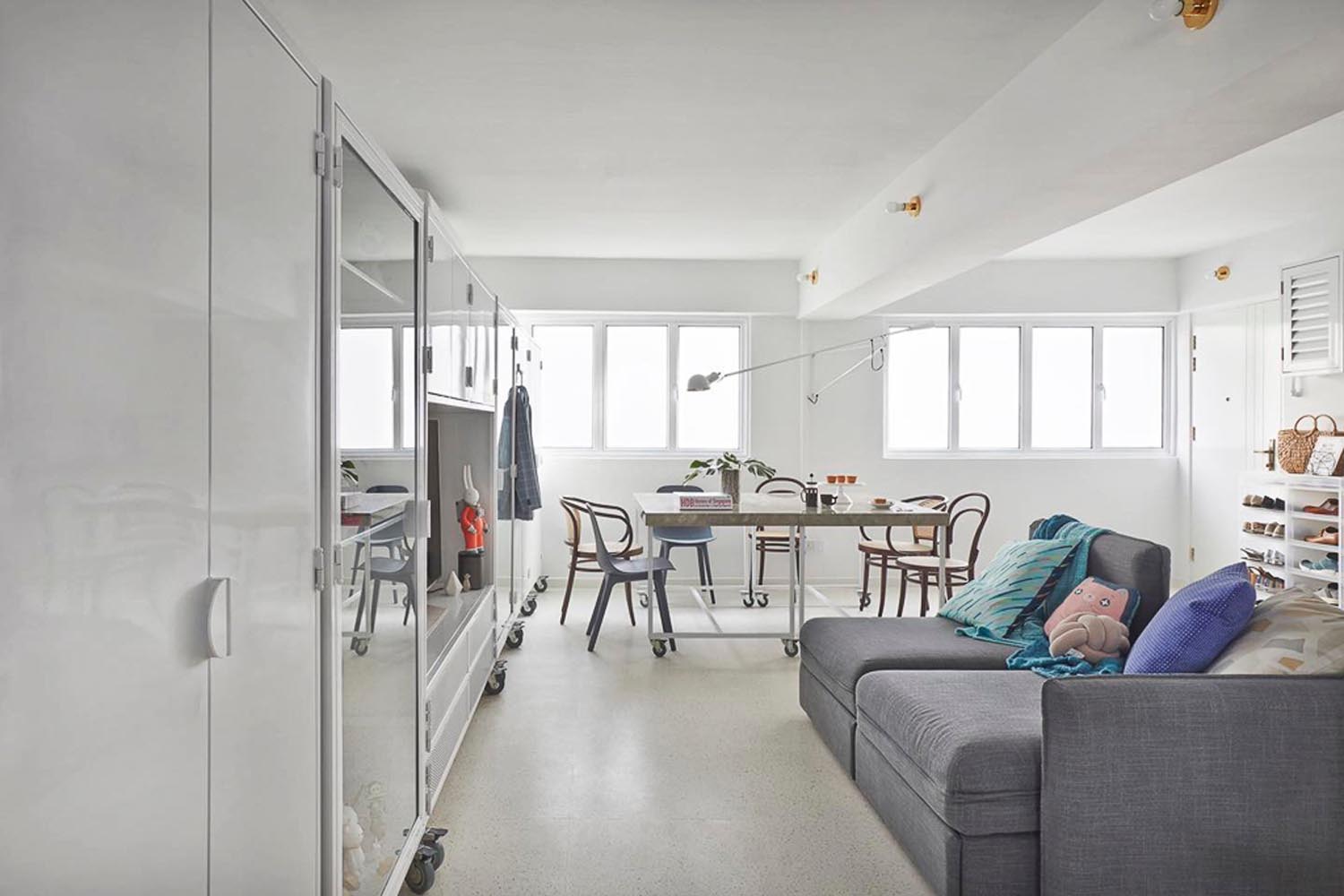 Design: Three-D Conceptwerke
12. Crafting curves
This HDB was designed with a curved built-in bench that wraps around the entire communal zone. It's not only great for lounging and providing extra seating for guests, it also cleverly doubles as a storage.
Design: Metre Architects
Meet Interior Designers. Get Quotes.
Get in touch with our listed renovation companies. They will provide you with a free non-obligatory estimate for any of the Renovation Packages included in their services.