9 Fun and Colourful Designs
I think we can all agree to some degree that happiness is one of the most important things in life. No matter how swamped we are with work or school, we always return to the same place at the end of the day — home. The design of our home oftentimes influences our mood and wellbeing. So instead of the usual modern or scandinavian themes most homeowners in Singapore are adopting today, why not change things up and be a little bit special? We could all use some colourful designs in our lives!
1. As you can see, walls don't necessarily have to be dull and one-dimensional. You can also use colourful bricks for a non-uniform appearance.
Interior Designer: Innerglow Design Location: 260 Bukit Batok East Ave 4
2. We're all creatures that love fun and excitement. The bright splashes of red and yellow here really refresh the senses. I would definitely be cooking up endless delicious recipes with a kitchen as cheerful looking as this.
Interior Designer: Lux Design Location: Blk 8 Selegie Road
*We recommend:
Sophie cup & saucer by HOMMAGE LIFESTYLE @ $21.40
3. Snow White and Alice in Wonderland would be proud to call this place home. Doesn't it remind you of a cosy little fairytale cottage with a modernised twist? You can spot elements of vintage, scandinavian, and even industrial design in this one space.
Interior Designer: Fuse Concept Location: Le Wood Bukit Timah
4. It's amazing how red brick walls can add textural beauty to an interior. To add depth and dimension to your abode, try this instead of having plain walls or wallpaper. Colourful furniture helps in this case.
Interior Designer: Dots n Tots Interior Location: Punggol Walk
5. The dark green coloured walls resemble chalkboards of a high school classroom. Coupled with wooden surfaces, this interior gives off an exceptional rustic charm.
Interior Designer: DISTINCTidENTITY Location: Tampines Central 7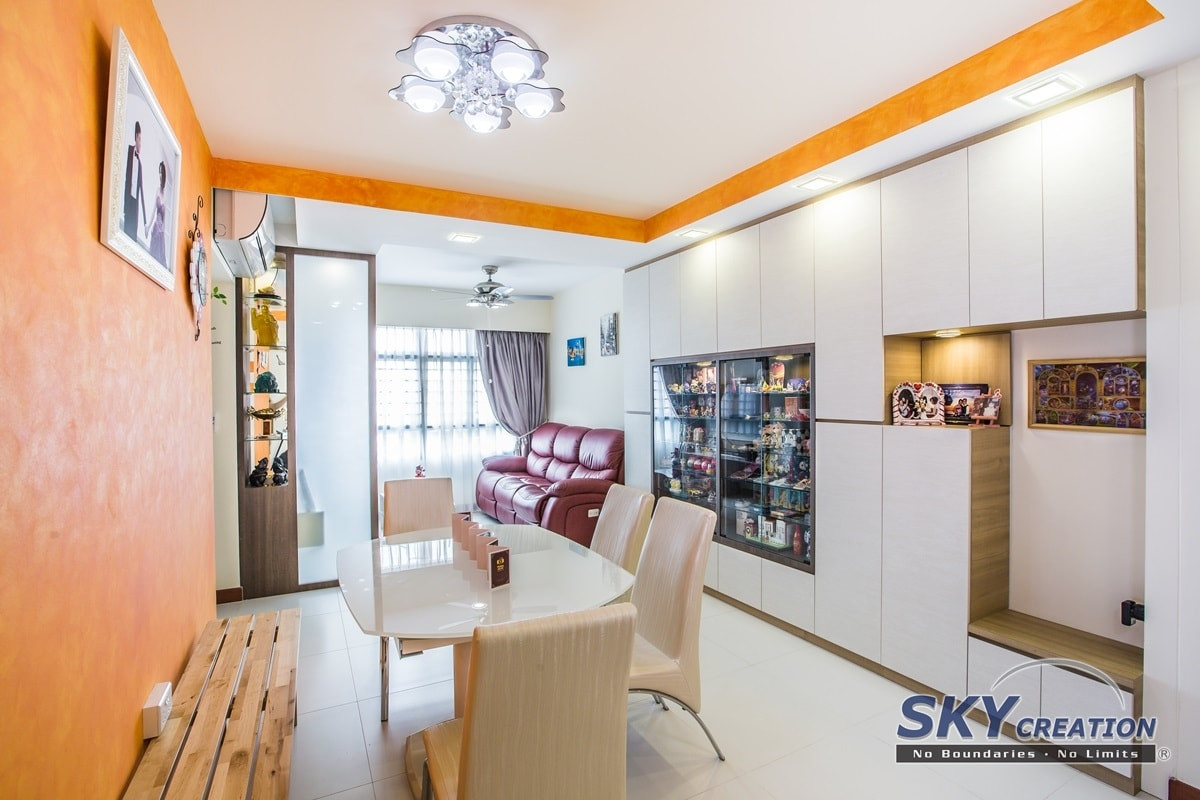 6. In your quest to create a more uplifting interior, don't be afraid to use bright colours. Orange, purple, what have you, throw them in as and when you please. Doesn't the one shown here lift your mood just looking at it?
Interior Designer: Sky Creation Design Location: Anchorvale
7. This home makes me think of the inside of a spacecraft of sorts, soaring through the universe. Two thumbs up for its futuristic ambience.
Interior Designer: Free Space Intent Location: Sembawang — 4-Storey Terrace House
8. Look at the dazzling shades of blue that have been cleverly woven into this beach-themed design. I'm already picturing a sunny afternoon on the couch, light music playing in the background, and a cold glass of cocktail in my hand.
Interior Designer: Icon Interior Design Location: Lorong Ah Soo
9. Smatterings of vibrant colours around this house are like candies sweetening up your day. The overall design does not have to be fancy. Furniture and accessories can greatly improve the appearance of an interior.
Interior Designer: Cozy Ideas Location: 670B Edgefield Plains
*We recommend:
Can you pick a favourite design? Sometimes you gotta be bold. Try something new and funky today!
Meet Interior Designers. Get Quotes.
Get in touch with our listed renovation companies. They will provide you with a free non-obligatory estimate for any of the Renovation Packages included in their services.