10 Easy Renovation Quick Fixes for Common Home Interior Problems
#1. Awkward slanted corners
Design: Third paragraph interior
Sometimes, you might end up with a unit with a rather challenging floorplan, which has a peculiar shaped odd angled wall that is an eyesore. To rectify this, try installing a ceiling to floor mirror can make that the slated wall "disappear" and blend in with the rest of the home interiors. The mirror also brightens up and make the room airier. In this way, you can easily transform the clumsily designed corner, into a feature wall! Read here for more ideas to work those tricky odd corners!
#2. Unsightly ceiling beams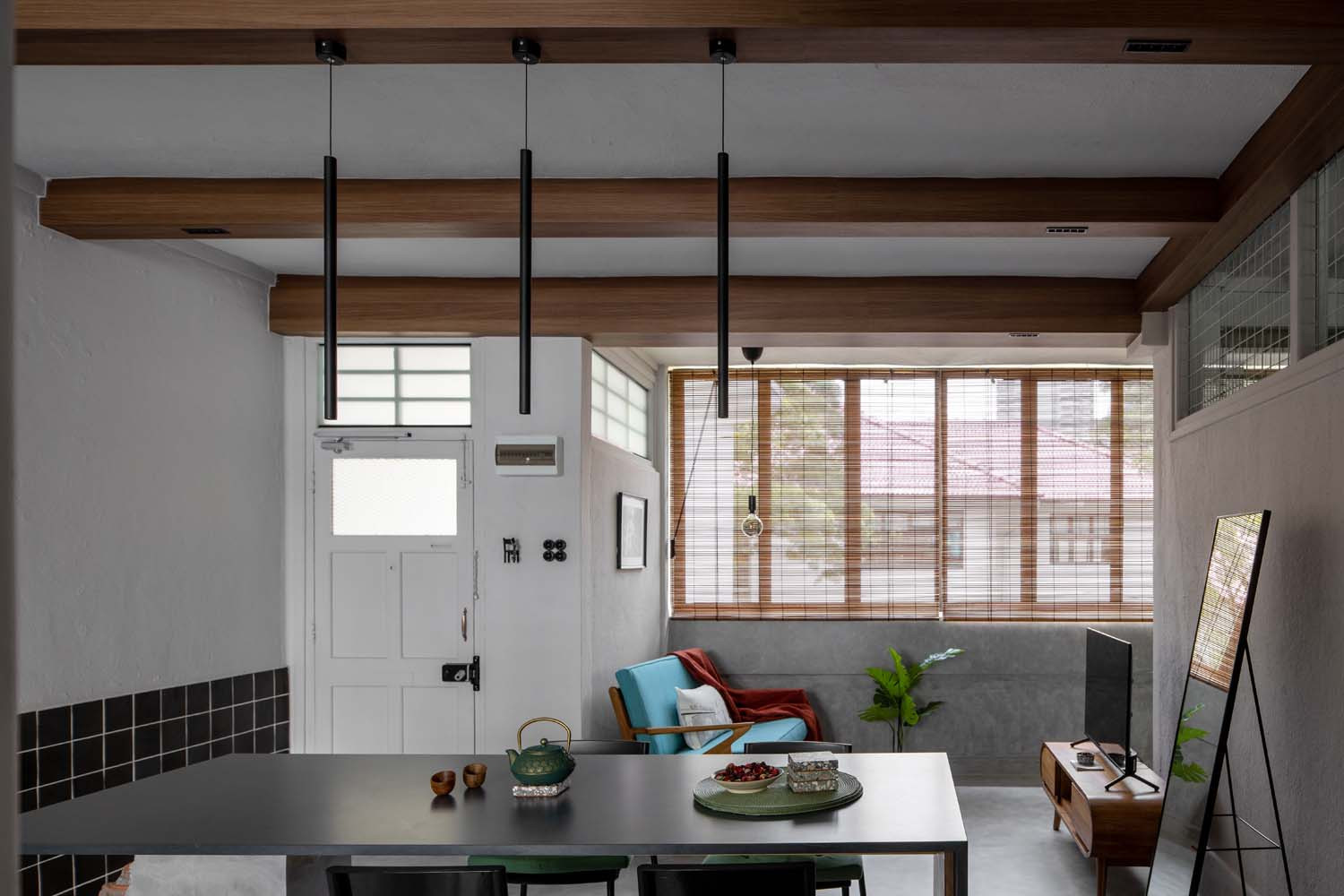 Design: Authors . Interior Styling
Regardless of how hideous they are, protruding structural ceiling beams are here to stay. Since these structural beams cannot be hacked away, one easy way is to embrace their particularities and make them part of the interior design by installing decorative faux beams parallel to them. Furthermore, aside from hiding ugly lighting wires, they also make a stunning statement when paired with either industrial, rustic or farmhouse interior design styles.

#3. Wasted high ceiling space
Design: Weiken.com
If you are blessed with a unit with a sky-high ceiling and not sure what to do with the vertical space, fret not! With some ingenuity and creativity, you can easily optimise the grand, lofty space in many ways while retaining the airy look. Fortunately, one of the most straightforward means to inject more floor space is to build a loft designed as a furniture deck that is 5 sqm or less within an individual unit. However, building plan and structural plan approvals from BCA are needed if you are looking for a loft size of more than 5 sqm. For more details, refer to the URA website.
#4. Insufficient kitchen counter space
Design: Third paragraph interior
The average kitchen size has shrunk tremendously over the years, by an estimate of a third or more since the 1960s. This phenomenon is fuelled by the changing lifestyle where families prefer to eat out instead of sweating it out in the kitchen. Nevertheless, the COVID pandemic lockdown has reminded us the importance of having a proper kitchen, and one of the easiest hacks to increase kitchen efficiency is to have additional counter space with a kitchen sink that comes with a sink cover. In addition, the flexible panel lid with strategically placed carved openings, helps to keep the dirty dishes out of sight, but still allows you to use the kitchen tap at the same time.
#5. Tiny kitchen
Design: Threehaus Works
A stylish yet incredibly functional kitchen is not an impossible dream, thanks to creative sink solutions and custom built-ins. When you are challenged for a more robust workspace needed for kitchen preparation, an extendable, foldaway kitchen island may be just what you need. Furthermore, this hidden kitchen worktop can fit even the tiniest kitchen.
#6. Cluttered kitchen counter
Design: Ataz Haus
Microwave, oven, coffee maker, toaster, fruit juicer machine and more! These kitchen appliances clutter the limited kitchen counter space, and make the area unruly and messy, with the electrical cords running everywhere. Therefore, setting up a vertical appliance garage is the ultimate clutter-hiding kitchen hack, since it is especially designed to keep these hardworking appliances out of sight, and make the kitchen look polished and neat.

#7. Wasted hallway foyer space
Design: Rezt Relax Interior
The hallways are essentially wasted dead spaces, as they are meant for transitioning from one room into another. To address this, there are clever styling tricks that inject functionality and storage to the walkway. The simplest method is to create storage behind the wall-mounted decorative mirrors that line the hallway, and they also introduce more light to create a sense of space.
#8. Cramped bedroom for kids
Design: Produce
Setting up a shared bedroom for the kids can be quite a challenge, especially when the space is so limited! Nevertheless, the good news is that with good planning, there is no need to compromise style with functionality. In fact, a bespoke double-deck bunk can fit in even the smallest of spaces, and hidden storage can also be cleverly incorporated in the stairs and under the bed. Read here for more space-saving double-deck design ideas.
#9. Space challenged bathroom
Design: Design: Authors . Interior Styling
A bathroom vanity is not a luxury, but a basic necessity. However, it is quite a feat to incorporate a bathroom vanity in a tiny bathroom. Nevertheless, corner bathroom vanities are perfect solutions for cramped bathrooms since they only take up around half to two third of a standard bathroom vanity's space, and can be easily installed in any corner. This proves that with careful design and planning, even a tiny bathroom can still pull its weight.
#10. Poor bathroom ventilation
Design: Jesigns interior design
The bathroom has the highest humidity in the home, and excessive moisture buildup will invite mould, mildew and cause peeling paint, discoloured mirrors and mouldy stained ceiling. Having robust bathroom ventilation will rein in the excessive humidity and keep these issues at bay. If you have a window, a window-mounted ventilation fan will be the easiest to install since there isn't a need for additional ducting. However, for private property owners, a ceiling-mounted exhaust fan is more suitable when the window exhaust fan is not allowed. Such ventilation fans are installed in a false ceiling with additional ducting, to channel the air out of the bathroom.

Meet Interior Designers. Get Quotes.
Get in touch with our listed renovation companies. They will provide you with a free non-obligatory estimate for any of the Renovation Packages included in their services.