15 Dreamy Walk-in Wardrobe Ideas that Work Even in Small HDBs
Like open plans and kitchen islands, walk-in wardrobes seem to be what everybody wants when they get their new home. But it shouldn't come as a surprise; not just an emblem of luxury, a walk-in wardrobe can also be really practical, offering added privacy, storage space and better organisation. If you think a walk-in wardrobe only works in larger homes, think again. We show you how to incorporate one right into a space-constrained HDB.
1. Dressing table divide
All you need to turn your conventional built-in wardrobe into a walk-in wardrobe is by segregating it from your sleeping area. This was done here by adding a dressing table extension.
Design: Fifth Avenue Interior
2. Rope in the vanities
A low built-in dresser separates the walk-in wardrobe from the bed. It comes with a slightly raised divider for added privacy. We also love how the bathroom vanities are located on the outside and just next to the walk-in wardrobe, so they double up as dressing vanities.
Design: Ethereall
3. Useful household shelter
Whoever said the bomb shelter is a useless space needs to take a look at this. This budget- and space-friendly walk-in closet fits all your fashion accessories. Pro tip: Because there are no windows in a household shelter, do keep a dehumidifier in here to keep it from smelling musty.
Design: Distinct Identity
4. Turn things around
Sometimes all you need is a different orientation to fit in your dream walk-in wardrobe. Things are kept things no-frills here, with a petite dressing table designed with trendy curved edges to divide the closet area from the bed.
Design: Authors Interior & Styling
5. Walkway wardrobe
Pulling the wardrobe installation away from the wall in this bedroom essentially creates a walk-in wardrobe along the way! The dressing table is just as design-savvy, located as a standing vanity at the end of the volume.
Design: UNO Interior
6. Go with plush materials
Elevating the look of a small walk-in wardrobe doesn't need to cost a whole lot. We are loving the dramatics in this one, from the metallic sheen on the closet doors to the plush carpet flooring and purple lighting.
Design: Weiken
7. Walls to wardrobe
Have a bit of cash to splash? Strip all the walls and doors to your bedrooms like this 4-room BTO here and replace them with pull-out and swing-open wardrobe doors, turning the entire walkway into one dreamy walk-in closet.
Design: Produce
8. Two rooms into one
Folks with an extra bedroom can create an enlarged master suite to accommodate the walk-in wardrobe. We like the idea of keeping the bed on a slightly raised platform to differentiate between the two spaces. And can we walk about how zen that stretch of concrete cast bay window seat feels?
Design: The Local Inn.terior
9. Raised awareness
Having the bed on a raised platform makes it feel distinct from the walk-in wardrobe even if they are both within the same territory. It will definitely cost a bit more to install a platform, but you still get to have a walk-in wardrobe without sacrificing too much footprint. Also, going with glass doors partially lets you play with lighting for an added luxe.
Design: Blend by ImC
10. Transparent enclosure
In order to draw a connection with the bedroom yet still remain distinct, part of the walk-in wardrobe is encased in glass panels. This galley-style walk-in wardrobe comes with full-height closet doors on one side and open shelves on the other, so things don't feel too cramped visually.
Design: In-Expat
11. Nesting nook
Punching a lifestyle nook into the wardrobe structure (it's also a TV wall on the other side) gives breathing room in this master suite visually. Plus, a cosy sit-down nook never hurts. We also love the curved edge at the end of the wardrobe, helping to soften the turn into the sleeping area.
Design: Hock Hoon
12. All glo' up
The walk-in wardrobe begins the moment you open the master bedroom door. It runs the full length, save for an archway in the middle that leads into the sleeping area. A glowing mirror at the end expands the sense of depth.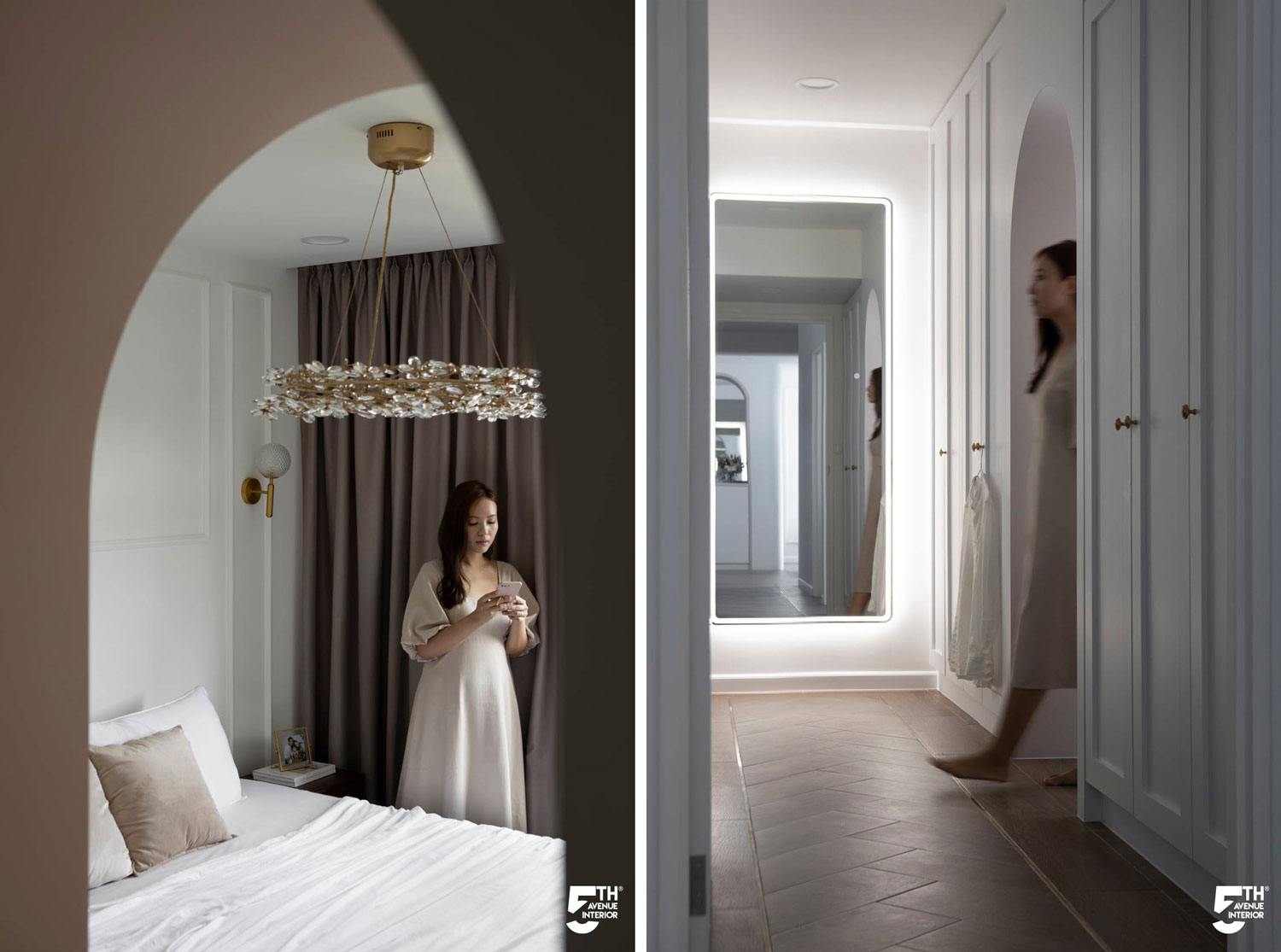 Design: Fifth Avenue Interior
13. All in the details
Two really clever details here. One, fluted glass panels offer privacy and hide the view of your clothes if you are going open-concept, while still allowing some light to enter the walk-in wardrobe space so the closet area doesn't feel too dark. And two, the sliding glass door keeps dust out without taking up too much unnecessary space.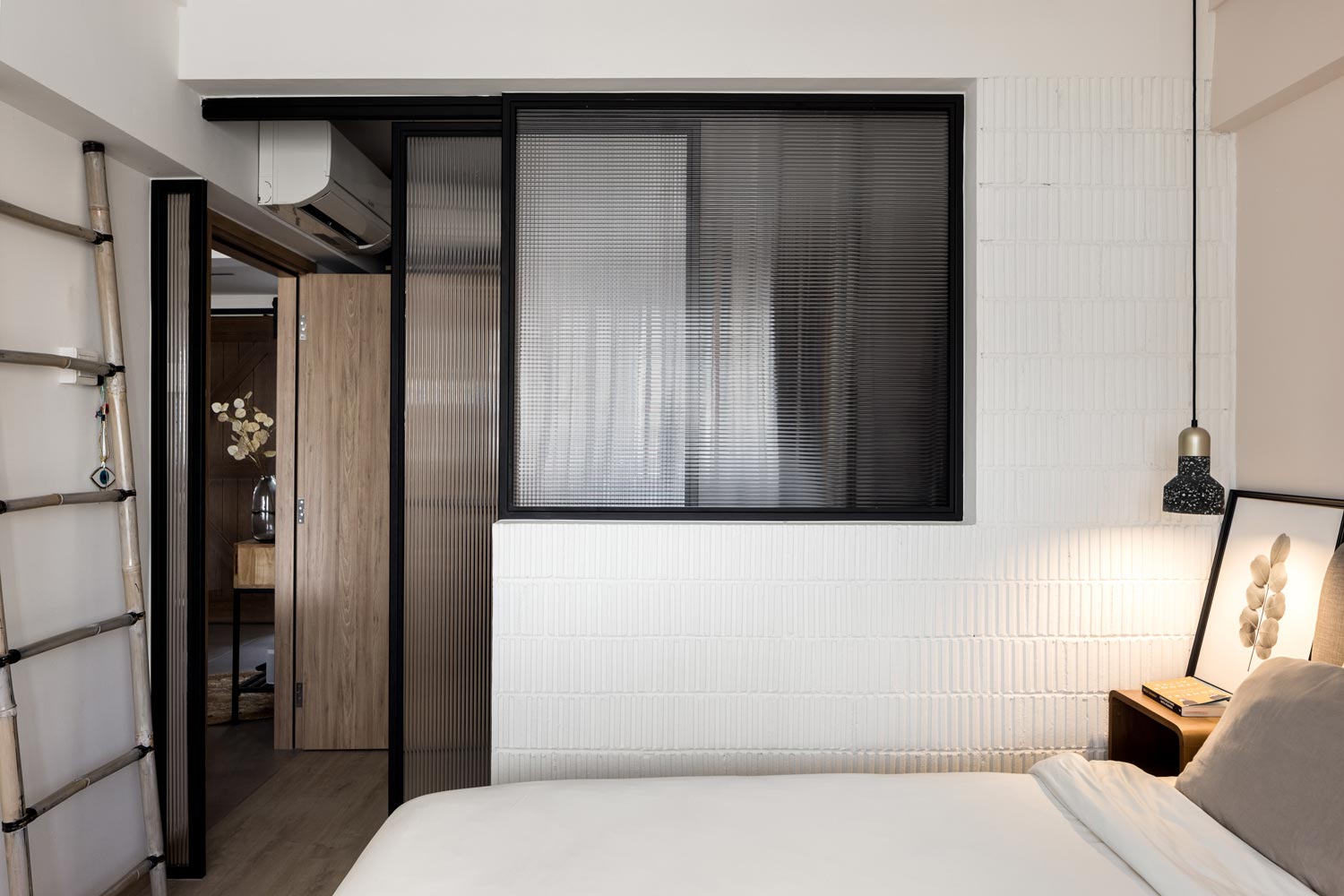 Design: The Local Inn.terior
14. A play on lighting
While storage space was maximised in this design, daylight in the walk-in wardrobe had to be sacrificed. To ensure the closet area is properly lit, the designer had concealed lighting run the full length of the walk-in wardrobe. Consider dimmers so you can change the mood of the space.
Design: Swiss Interior Design
15. Showpiece statement
Double up your designer clothes and accessories as decor, with a see-through, glass-panelled walk-in wardrobe located right in the middle of the living room. You don't even need fancy racks or shelves, because the clothes take centre stage here.
Design: Project Guru
Meet Interior Designers. Get Quotes.
Get in touch with our listed renovation companies. They will provide you with a free non-obligatory estimate for any of the Renovation Packages included in their services.