13 Different Ways to Combine Your Dressing Table and Wardrobe
A dedicated dressing table makes it easier to complete your morning and nightly rituals, and having it next to the wardrobe makes for greater convenience as you put on the finishing touches to your skincare and makeup. But combining your dressing table and wardrobe in a custom built also serves a design purpose: it will help things appear less cluttered and more put together. Here are some of our favourite combinations to get you inspired.
1. Go with a cut-out
For those who lack space, consider setting aside a part of your wardrobe as a standing dresser. We love that this vanity station, complete with mirror panelling, was set just beside the window—everyone knows that daylight is the best light for putting on makeup!
Design: Charlotte's Carpentry
2. Flip open the mirror
Part of the vanity counter in this wardrobe and dressing table combination can be flipped open to reveal a mirror and storage space for beauty products. It's a great way to hide the clutter, and the dressing table can double as a study or reading area when the mirror lid is closed.
Design: DistinctIdentity

3. Wardrobe extension
A counter-height table extends out from the built-in wardrobe to function as a standing dresser. Cubby shelves that reach the length of the ceiling provide additional storage. The extra cubby hole by the side of the dressing table is an ingenious touch, working as a bedside table so there isn't a need for a separate nightstand.
Design: ARK-hitecture
4. Dressing table divider
Besides serving as a dresser, this floating vanity table in the bedroom also helps to divide between the sleeping zone and the wardrobe area. Not only does this make for greater privacy, it also helps to reduce disturbance if you have a partner that needs to get up earlier to get ready.
Design: Absolook ID
5. A compartment in the wardrobe
Here's another dressing table that sits within the built-in wardrobe nicely. The concealed closet lighting and the flexible track lights provide ample illumination for getting ready. A recessed area below the counter also means the chair gets to be tucked in neatly after.
Design: In-Expat
6. Ceiling-hung mirror
The vanity mirror hangs down from the ceiling as a design statement, but it also provides a privacy screen between the wardrobe and the sleeping zone without sacrificing light and ventilation.
[gallery link="none" columns="2" size="full" ids="115968,115975"]
Design: ROOOT Studio
7. Contentment with the corner
Really short on space but don't want to go without a dressing table? Steal this small-space idea! The vanity table takes up just a tiny corner by the side of the wardrobe so it won't impede traffic flow, while the top of a slim built-in cabinet provides extra room for placing makeup and skincare essentials.
Design: The Association
8. Slide the mirror panel
So that you know we've got your back, small apartment dwellers, here's another small-space dressing table idea. You don't need a lot of space for a dedicated dressing table as shown in this instance. A full-length mirror panel was installed by the side of this built-in wardrobe, and can be slid open to reveal a column of narrow shelves for the vast collection of beauty and skincare products.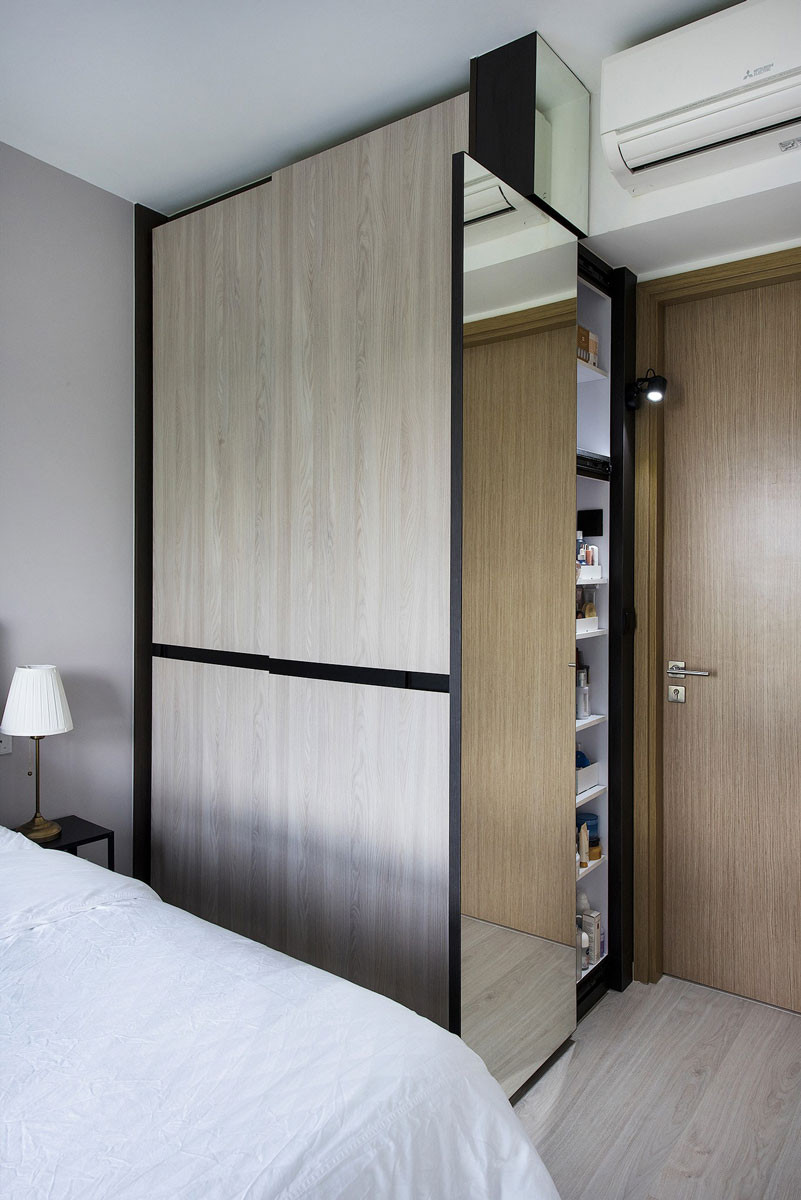 Design: Design Neu

9. Exuding elegance
An entire room was set aside as the walk-in wardrobe in this BTO flat. The dressing table and wardrobe combination feature a timeless and classic colour scheme. Mirror panels lend function and create the sense of a larger space, while the play of heights in the cabinetry provide visual interest.
Design: Icon Interior Design
10. A dressing table in the walk-in wardrobe
If you don't have the luxury of setting aside an entire room for a walk-in wardrobe, consider squeezing one inside your bedroom. This small-space walk-in wardrobe also comprises a dressing table, featuring a mirror panel that was built all the way to the ceiling so as to visually lengthen the space as well as to bounce light throughout the area.
Design: Dots 'n' Tots Interior Design
11. Mirrored wardrobe
Going with an open concept wardrobe and mirrored closet panels were some of the ways the designers employed to ensure that the huge amount of carpentry in this small bedroom wouldn't feel overwhelming. The mirrored panels also had the added benefit of serving as a vanity mirror to the dressing table, which was built perpendicular to the closet.
Design: Free Space Intent
12. Accessories vanity table
This open-plan wardrobe features an accessories counter that doubles as a dressing table. An octagon mirror hung from the ceiling is a gorgeous statement piece, lending a sense of class and luxury to the setting.
Design: Fuse Concept
13. Set apart in wood
Wood accents, such as the built-in dressing table, were incorporated in the bedroom to lend warmth in this whitewashed space. The natural woodgrains of the dresser stand in contrast to the all-white wardrobe, but the same finger pull design helps to draw a connection between the two entities.
Design: Uno Interior
Meet Interior Designers. Get Quotes.
Get in touch with our listed renovation companies. They will provide you with a free non-obligatory estimate for any of the Renovation Packages included in their services.