8 Different Floor Plan Ideas for a 2-room BTO
Renovating your 2-room BTO? You may not have a ton of square footage, but that doesn't mean you can't make the best of your space. Whether you like to entertain or you need a dedicated home office space, we have the 2-room BTO layout for you.
2-room BTO Type 1 Layout Ideas
1. For the bachelor/bachelorette
Living on your own? Lucky you. Break down barriers and have your bedroom in one open space with the rest of your communal area. Studio apartment, much?
If you don't need that double bed, that just means more room for storage. Along the length of your windows, install a built-in seat with plenty of storage underneath and have it end in your bedroom as a dressing table. Not only does this provide you with more space to stow away your stuff, but you also get all that extra seating for when you have guests over.
Design: Free Space Intent
2. For the home cook
For folks who spend a lot of time in the kitchen, this layout's for you. The kitchen island sits right in the middle of the home, positioned perpendicular to the rest of the kitchen cabinets so that there's still plenty of walkway space on both sides.
You can choose to dine by the island or have your dining spot at the bar table custom designed to hug/hide the structural wall between your living room and bedroom.
Design: The Dreamer Home
3. For the coffee aficionado
If you often make your own brews at home, then you'll want to create a coffee station that sits right by your living room. Do away with the standard living room layout and put in a chill cafe vibe in your space with built-in seating and armchairs instead of a sofa.
We also love having a flexible divider between the living room and bedroom, which you can turn into a gorgeous focal piece for that communal space. If you must have a TV, get one that can sit anywhere like a Samsung Serif.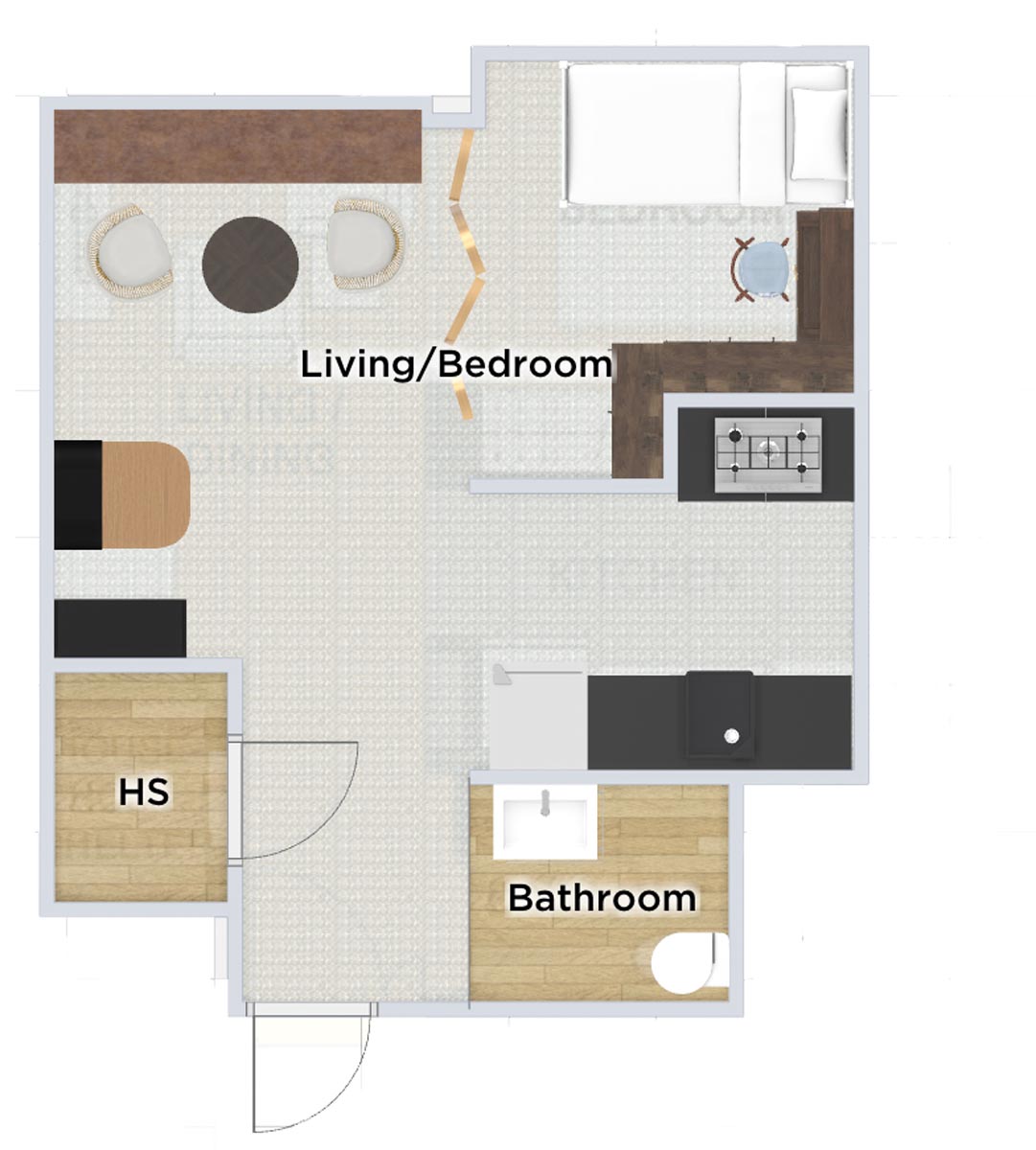 Design: Weiken
4. For those who want a walk-in wardrobe
Sticking to the suggested layout means you can't quite go with a walk-in wardrobe in your 2-room BTO. So change things up and swap around your living room with the bedroom. You may need to go open concept to fit everything, but hey, what's a lack of door when you can have two rows of closet space?
Re-orient things in the living room by having the TV console sit along the window so that there's also plenty of room for storage at the back of the sofa.
Design: Ascend Design
2-room BTO Type 2 Layout Ideas
5. If you want to create the illusion of space
There are several small-space tricks you'll see here. Double up your TV console as a divider between your living room and bedroom. Use glass at the top of your console structure so you can let more light in and make the space seem just a twinge bit bigger. Also, the dining area is made narrow, so you can fit in more chairs or pull out the table when necessary.
This particular layout also comes with a jack-and-jill bathroom, but if you prefer going with an en-suite bathroom and like having more kitchen countertop space, simply close up one side. There's even room for a double sink now!
Design: Areana Creation
6. For those who want to step things up
Having your entire bedroom sitting on a slightly raised platform is THE definition of luxury. It makes your sleeping zone feel just a bit more exclusive, no? The bonus: so much more storage space! We also love the idea of concealing the entrance into the bedroom to make it more private for when you have guests over. Simply hide the entrance in plain sight by making it look just like a part of your TV wall.
Also, if you need more kitchen countertop space, we reckon you can go with a slightly smaller depth (approx. 40cm) on one side of the galley kitchen so you can extend the kitchen space all the way.
Design: 9 Creation
7. For those who work from home
Folks who need a dedicated home office, consider turning a part of your living room into one. This was done here by creating a lean built-in table by the window so that there's even room to seat two! Home office essentials and shelving can be kept by the side.
Keep the study desk slim, so there's enough room to incorporate a dining table and a small couch if you need to. Get a projector TV for movie nights!
Design: ECasa Studio
8. For those who like to entertain
For homeowners who often have friends over, you may want to consider this layout suggestion. It affords you lots of prep and eating space in the open L-shaped kitchen. Great for laying out your menu buffet style for your guests to help themselves. Keep the rest of the furnishings flexible—go with a small couch or beanbags and have a mobile trolley at hand to store drinks.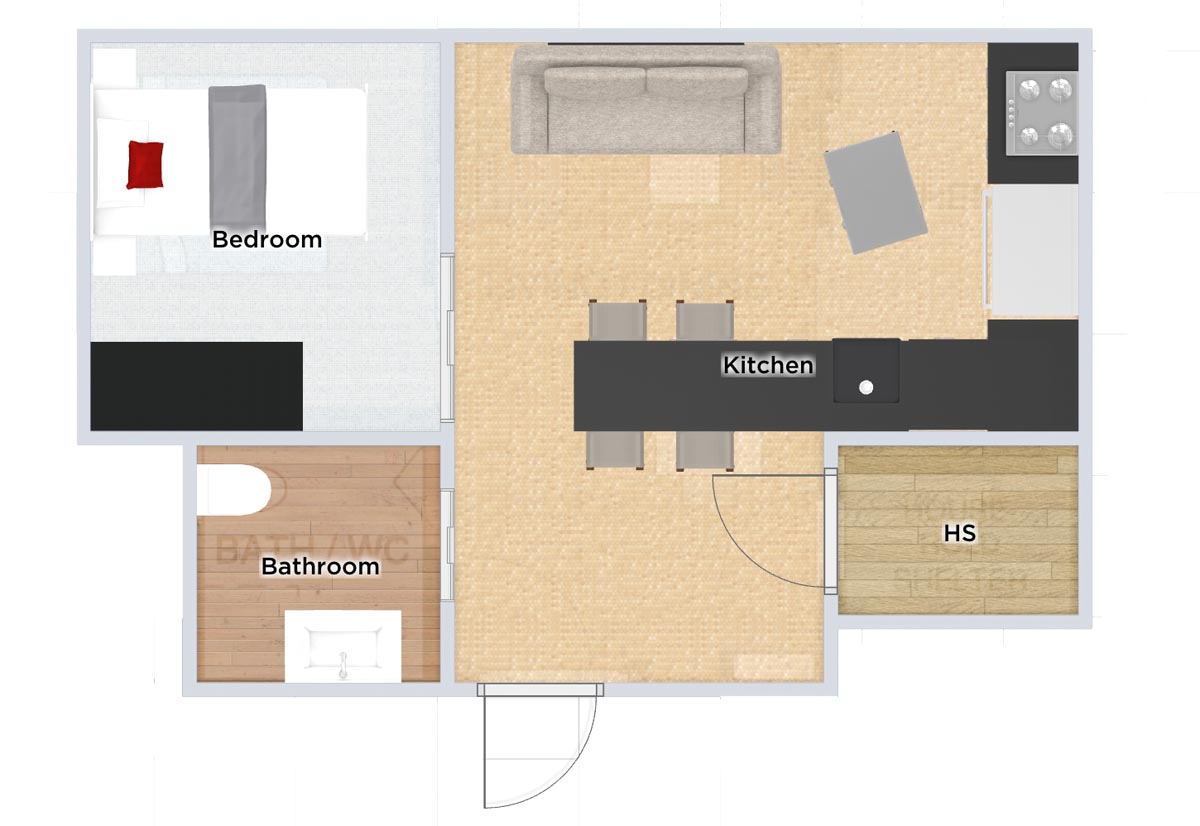 Design: Habit
Meet Interior Designers. Get Quotes.
Get in touch with our listed renovation companies. They will provide you with a free non-obligatory estimate for any of the Renovation Packages included in their services.