11 Very Practical Designs for Corridors and Hallways in Singapore Homes
Deemed too small or too narrow, corridors and hallways are often overlooked when it comes to a home design. But they have a wealth of potential whether in terms of storage or eking out an extra area to hang out in the apartment. Here are some ways to make better practical use of these transitional spaces.
1. Shallow shelving
Display your bric-a-bracs and photo frames with shallow shelves. They don't take up much room and are a great way to dress up the empty space. If you don't want the shelves to stand out too much, have them in the same colour as your walls. The opposite is true if you want them to stand out as a visual statement.
Design:
Ehka Studio
2. Overhead cubbies
If your corridor space is too narrow, think overhead instead. Excess paraphernalia can be stowed away in overhead cubbies installed above your corridor space.
Design: Country Concept
3. Gallery for designer shoes and bags
Design:
Fuse Concept
4. Home office
A petite-sized workstation was set up at the end of the hallway in this apartment. When not in use, the home office can be concealed behind a sliding door that matches with the theme of the rest of the space.
Design:
Space Factor
5. Chalkboard walls
Keep everyone in the family informed by writing out to-do lists on the large chalkboard walls located along your corridor. You can also scratch out reminders, housework schedules or recipes. It's also a great tool to keep your tykes occupied when you're busy in the kitchen.
Design:
UNO Interior
6. Final check
Here's an idea if you don't have a long length of empty corridor space. Check out how you look just before you head out the door with a mirror placed along the hallway. We love how the brass finishes enliven the space.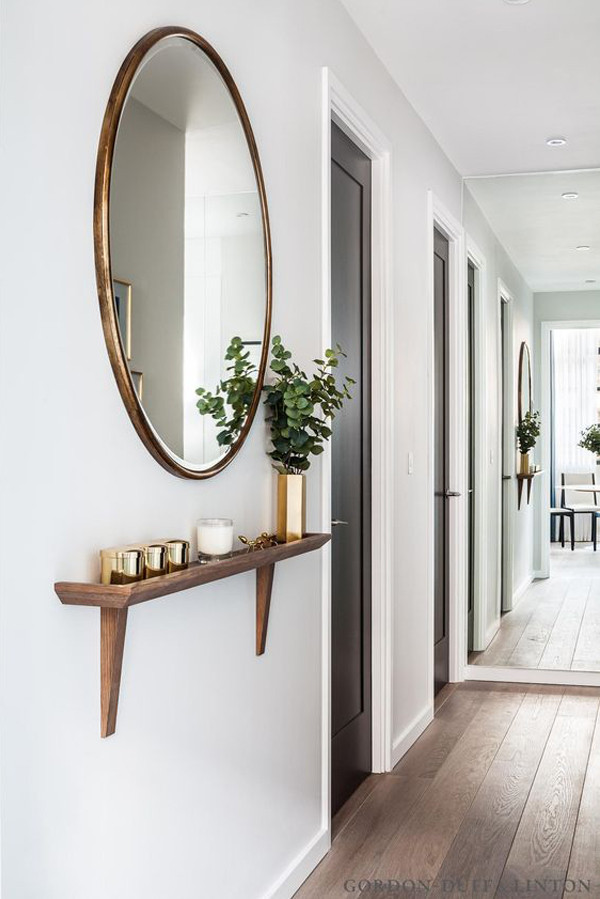 Image courtesy of Gordon Duff Linton
7. Mirrored cabinets
These tea-tined mirrored cabinets give the impression of a much larger hallway, soften the cold cement screed walls and effectively conceal the entrance into the bomb shelter.
Image:
Meter Cube Interiors
8. Bar table
This one's for the host and hostess. A simple wooden ledge and a few bar stools function as a casual rustic bar space along the walkway. The bright neon sign adds a nice touch.
Image courtesy of Pinterest
9. Art gallery
Don't know where to display your massive art collection? The hallway's one great place to start. Here, a simple ledge serves as a prop-up for the art pieces to lean against. For a visually interesting space, opt for works that vary in heights and sizes.
Image courtesy of Nuevo Estilo
10. Walk-in wardrobe
This idea requires a bit of layout manipulation. The designers of this HDB flat hacked away the walls of the original bedrooms to create a larger walkway space. With the extra square footage, a wardrobe with pull-out doors was built along the corridor.
Design: Produce
11. Bookshelves
Construct your own personal library along the unused walls of your corridor space. The vibrant hues from the book covers can serve as a decorating element too.
Image courtesy of Sweeten
Will you be leaving the corridors empty or will you be making full use of it? Let us know in the comments!
---

Meet Interior Designers. Get Quotes.
Get in touch with our listed renovation companies. They will provide you with a free non-obligatory estimate for any of the Renovation Packages included in their services.