8 Design Tips for a Practical Kitchen You Will Love to Spend Time In
If you find yourself spending a significant amount of time in the kitchen, it's important to have a space that goes beyond just looks. You need a kitchen that is practical and efficient, one that not only saves you time but also inspires you to cook, entertain or bake! To help you achieve a more functional kitchen, we have compiled some design tips to maximise space utilisation and optimise workflow.
1. Eliminate unnecessary steps in the kitchen
Plan for a layout that works to your kitchen size and usage. The 'work triangle' is useful to bear in mind when planning your kitchen layout. It follows that the sink, hob and fridge should be placed all within easy reach of each other. However, this may not work entirely for you and how you use the kitchen.
Design: Doubble Interior Associates
For instance, you may not rely on the hob to cook and prefer using a Thermomix or the oven. In which case, prioritise the location of those appliances instead of the stove. Use the work triangle as a starting point, but adjust accordingly depending on your own kitchen habits.
For those with smaller spaces, a galley style kitchen is typically the layout of choice. It makes everything in the kitchen easily accessible but it may not be ideal if you have more than one cook in the kitchen at a time since the galley way can be quite narrow.
Design: Weiken
The L-shaped layout is another conventional layout, and is useful for incorporating an island/dining table to make the kitchen a more multipurpose space.
An island can also be useful for those who like to entertain, but it does tend to eat into floor estate so make sure you have enough room for a smooth traffic flow in and out of the kitchen. A more space-saving option? Getting a peninsula counter.
Design: Key Concept
Your space may be more suited for a U-shaped layout, which has three-sided counters and cabinets. This affords plenty of storage and countertop space, but it can feel a bit cramped if you don't have a lot of room. In this instance, consider swapping your upper cabinets for open shelves or have them open out to the kitchen to lift the visual weight in the room.
Design: Ultra Space Design
2. Plan for purposeful storage
When it comes to storage, more is not necessarily better. If you don't plan for what to keep in those cabinets, they will likely be a catch-all for things that don't belong in a kitchen or a whole host of appliances you are never going to use more than once.
Plan for storage with purpose. Not everything should be stored inside cabinets or drawers. Everyday appliances for instance may be better off in an appliance garage or niche sitting by the side on a counter, while frequently used pots and pans can be easily accessed if you use a pot rack mounted on the wall.
Don't simply settle for basic cupboards or drawers given by your interior designer or contractor unless you are particularly tight on budget. Request for a couple of dedicated ones like a condiments drawer that can incorporate your tallest bottle of soy sauce, a pots drawer where you can store the lids separately to make it easier to reach out for them, or a cabinet with vertical slots to store baking pans if you have a lot of them.
Design: Aiden T
Design: Yang's Inspiration Design
Tall units or pull-out pantries can also help to maximise vertical space. And if you have pretty serving ware, glass cabinets or open shelves can allow you to enjoy them visually as well. Browse our kitchen inspiration for more ideas.
Design: Weiken
3. Set aside enough clearance
Clearance space is something that is not often considered, but it should be paramount as it concerns kitchen ergonomics. We are talking about having enough space to get around in walkways, enough legroom for seating, enough space to open cabinet doors, and enough space for ventilating heat-emitting appliances.
Set aside a minimum width of at least 90cm for the main kitchen walkways with constant traffic. If you tend to have two cooks at any one time, it's best to leave at least 120cm if you can afford the space.
For those planning to incorporate seating whether at the island or countertop, make sure you set aside an overhang of at least 30cm for legroom. You don't want to be knocking your knees by the side of the counters every time you take your seat.
Design: Ofthebox
When you consider the clearance space for cabinet doors, you want to make sure that they aren't banging into each other especially if you need to open them up at the same time. Check that they aren't also hitting against the walls, and pay particular attention to corner cabinets.
Have enough clearance space for appliances with doors, including refrigerators, ovens and microwaves. Can they be fully opened without obstruction? For kitchen appliances that emit heat, make sure there's enough clearance space for ventilation. It's best to follow the manufacturer's recommendations for the amount of space to set aside.
4. Don't neglect landing areas
A landing area in the kitchen is generally the space that lets you safely set aside items you take out from the appliances. You want adequate landing counter space next to the stove or oven so you can set down hot food without having to walk around the kitchen just to find a proper countertop space and also next to the sink or dishwasher to set down serving ware. The sink should also have landing space for setting down washed produce. Don't forget to also accommodate enough landing space near the refrigerator to set down groceries for food prep.
Design: AP Concept
In terms of measurements, we recommend setting aside at least 40cm on either sides of the stove and oven (consider the size of your largest baking pan). For microwave ovens, make sure there's landing space above the microwave or on the side where the appliance door opens out to. For landing space next to sinks (or the dishwasher), you may want to go for a larger width (around 45cm) to accommodate bigger pots and pans that you washed.
With refrigerators, you may want to consider a landing space just opposite of it rather than beside it if you have a double door fridge. As with microwaves, make sure the landing space for a single-door refrigerator is located at where the door opens out to.
5. Take a handle on the 'handle' or 'handleless' issue
Cabinet handles, knobs, and pulls are often referred to as the jewellery of kitchens. They add to the overall aesthetics of a kitchen, but it's important to consider their practical function as well. Choosing handles based solely on their appearance is not exactly practical.
Design: The Interior Lab
Handles, whether they are custom-made, integrated by a carpenter, or store-bought, can create more crevices for dust and grime to hide, making them more difficult to clean. However, they can also prevent fingerprints on your cabinet doors and provide convenience while cooking.
On the other hand, "handle-less" cabinets may look sleek and modern, but they might not be as ergonomic, especially for individuals with arthritis or elderly people using the kitchen. Additionally, they are less convenient to reach for when your hands are wet or dirty. Cabinets with push-to-open mechanisms or other inner systems may also increase your kitchen renovation budget.
Design: The Real Design
6. Height matters for built-ins
The height of which you set your counters and cabinets also matter, the latter especially so if you have quite of bit of headroom in the kitchen.
Countertop heights can range from anywhere between 85cm to 95cm, but to really determine what's the best height for you, stand straight and bend your arms like how you would when you are chopping food. Then, measure the distance from the floor to your elbows to determine your ideal countertop height. If you knead a lot of dough on the countertops though, shave a couple of centimetres to make it easier on your wrists.
Design: Apex Studios
Upper cabinets are usually installed approximately 45cm from the top of counters. This is a comfortable distance to accommodate most countertop appliances. If you don't have a lot of headroom in the kitchen (hello, HDB living!), your uppers are likely to flush all the way to the ceiling, preventing any potential dust traps.
However, if you are planning to install cabinets above the stove for an under-cabinet hood installation, set aside additional space to make room for the kitchen hood.
Design: Editor Interior
And if you are on the taller side (above 1.8m, for instance), you may also want to raise the installation of your upper cabinets slightly so that it doesn't feel like they restricting your sense of space.
Another circumstance in which you may consider raising the height of your upper cabinets can be in the instance of a particularly tall countertop appliance that has a permanent spot on your countertop. This can be a juicer or a blender, where you will need to have access to the top of the appliance.
When it comes to matters of height, the height of your built-in ovens and microwave ovens also well, matters. Placing them where the top of the appliance is at or near eye level is best for ergonomics, since you won't need to constantly bend your back to reach for the food. This will mean you are likely going to have to opt for tall cabinet units though.
Design: Premium Artz
Placing the oven below the stove can be another option, and can be helpful if you like finishing off your cooking in the oven, but it may get too warm if you want to stand over the stove while the oven is on or if you are waiting for it to pre-heat.
7. Kitchen safety should take precedence
A practical kitchen is also a safe one. In order to maintain a safe kitchen, it is important to have a few essential elements in place.
Design: The Interior Lab
Go for slip-resistant flooring. If using tiles, consider ones that have a resistant rating of at least R10.
Ensure areas where you do most of your cooking, clean and food prep are well-lit. Opt for LED strips placed under upper cabinets to illuminate your counters to prevent shadows caused by overhead lighting.
Make sure electrical outlets are not placed too near the sink or directly above the hob. Plan for sufficient outlets (list down the number of appliances that will be sitting out on the counters) so that you won't need to run cords across the kitchen, which can be dangerous and cause you to trip over them.
Make use of inner cabinet mechanisms, particularly for upper cabinets or deep drawers, to make it easier to reach out for things in them.
Design: Authors Interior & Styling
8. Choose easy-to-maintain materials and fixtures, most of the time
In a well-utilised kitchen, chances are you'll need to do a fair amount of cleaning well. Use low-maintenance materials to make your life a lot easier.
For countertops, one of the most hardworking surfaces in the kitchen, pick hardy, non-porous materials that don't stain easily. We recommend quartz, sintered stone and stainless steel.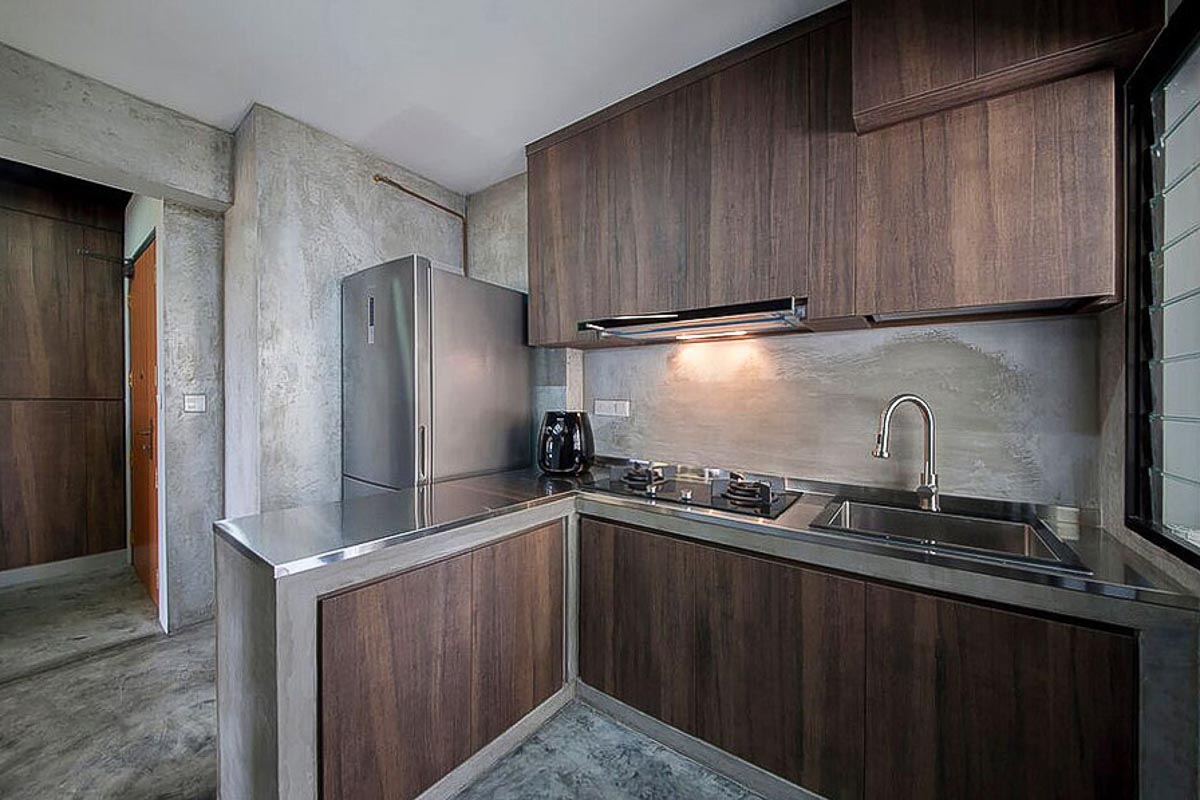 Design: Butler Interior
With cabinets, avoid ones with deep grooves or grains, as these tend to get grime and dirt stuck in the crevices, making it more difficult to clean.
You can also benefit from an integrated or under-mount sink. As integrated sinks are made of the same material with the countertop, there is no gap between sink and counter so dirt or food residue don't get trapped. Integrated sinks can be expensive though, so under-mount sinks are a more budget-friendly option. Mounted underneath the counter, an under-mount sink lets you wipe down any grime into the sink easily without any obstruction.
Design: ID Gallery Interiors
If you are planning to use tiles anywhere in the kitchen, pick ones that are larger in size to reduce the amount of grout to clean.
While low-maintenance materials are key in a practical kitchen, there is always some room for a little indulgence. For instance, setting aside a slab of marble counter (perfect for rolling croissants!) for a baking station.
By designing your kitchen with functionality in mind, you can create a space that not only enhances your cooking/baking/entertaining experience but also maximises efficiency and convenience.
Meet Interior Designers. Get Quotes.
Get in touch with our listed renovation companies. They will provide you with a free non-obligatory estimate for any of the Renovation Packages included in their services.