How To Create A Minimalist-Themed Interior
This theme is starting to get increasingly popular because according to a survey conducted, more people want fewer things at home rather than the other way around. Some claim that their messy homes irritate them once a week or more and others argue about tidying up once a week or more. The younger generation also seems to be more sensitive to messy homes.
As its name suggests, minimalism is all about keeping things minimal and reducing everything to its necessary elements. Statements are made through simple lines and smooth curves. Achieving a fitting, beautiful minimalist-themed interior is about properly balancing comfort, convenience, and aesthetics in simple, elementary ways. If there's one short phrase you should keep in mind while coming up with designs, it's just like what they always say: less is more.
Floors
First of all, always remember that simplicity is beauty in a minimalist-themed interior. Be it real wood or stone tiles, you're good to go as long as everything looks plain and basic.
Interior Designers: AX Image Design Concept, Space Atelier, Space Sense Studio
Form And Appearance
Straightforward, efficient layouts help to create clarity in plan. As such, spaces are predictable and uncomplicated and one should be able to identify the different rooms (e.g. living room, dining room, etc.) of the house easily and clearly.
Interior Designers: The 80's Studio, The Orange Cube, Next Door ID, DB Studio
Materials / Surfaces
It might sound a little tough and unfeasible but as far as possible, do your best to focus on just one type of material and allow it to dominate the entire space. You'll be pleasantly surprised at how neat and uniform the overall appearance of your abode can be. Do the same when it comes to the selection of colours and try to stick with white or unvarnished, light tones.
Interior Designers: Cozy Ideas, The Interior Doctor, Design 4 Space
Simple Details, Little To No Decor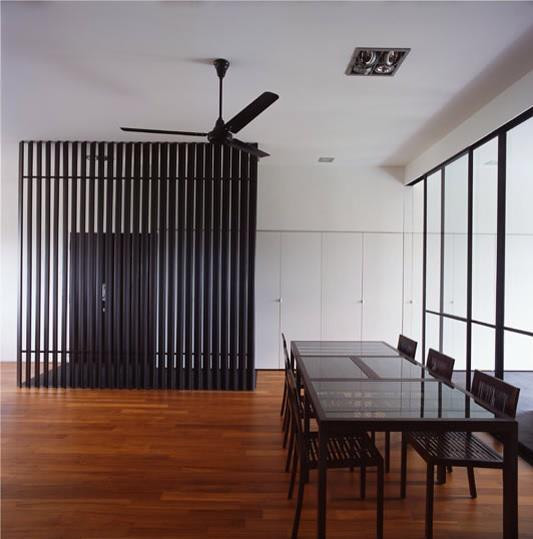 Pare everything down to only what is necessary by having clean cabinetry, stair, and trim details. Elaborate or complex designs are a no go.
Interior Designers: Museum Homes, Meter Square, ID Emboss, The Design Abode
Windows
Using large windows works best because they allow the space to virtually become one with its natural surroundings. It also makes the place look more extensive. Any accompanying blinds or curtains should also be kept modest with nothing too fanciful.
Interior Designers: 0932 Design Consultants, LU+C Studio, Luxespace
Furniture And Accessories
Opt for simple, geometric shapes, such as a square wood table. The accessories you choose should provide visual interest in the space. To better accomplish this, you can select a single piece of furniture or decor and let it stand out to accent the beauty of the interior.
Interior Designers: Dots n Tots Interior, Chapter B, The Scientist, KDOT Associates
Our recommended pieces:
A stylish sofa by day and a comfortable bed at night — with varying modules including a recliner lounge, storage space, a sofa bed and accessories, this sofa takes multi-functionality to new heights.
Small and flexible enough to be placed anywhere in the home. GLADOM tray table is made from smooth metal in soft and dusty yellow or green. It comes with a removable tray that looks nice by itself placed on the floor or wherever it's used for serving.
---
Are you curious about the progress of a certain BTO? Anxious to find out what yours looks like right now? You can try to locate yours in this list.
Meet Interior Designers. Get Quotes.
Get in touch with our listed renovation companies. They will provide you with a free non-obligatory estimate for any of the Renovation Packages included in their services.