9 Counterintuitive Design Tips to Make a Small Bedroom Seem Bigger
Using dark colours, going for a large bed, opting for a dramatic wallpaper?! These design tips might seem contrary to your intuition when it comes to doing up a small bedroom, but they might actually work.
1. Paint One Wall a Dark Colour
The idea behind this counterintuitive tip is that a dark colour can create an additional depth to your small bedroom, particularly when paired with light colours. Below, this bedroom features a single black wall juxtaposed against white walls, which seemingly creates the effect of the wall being pulled away.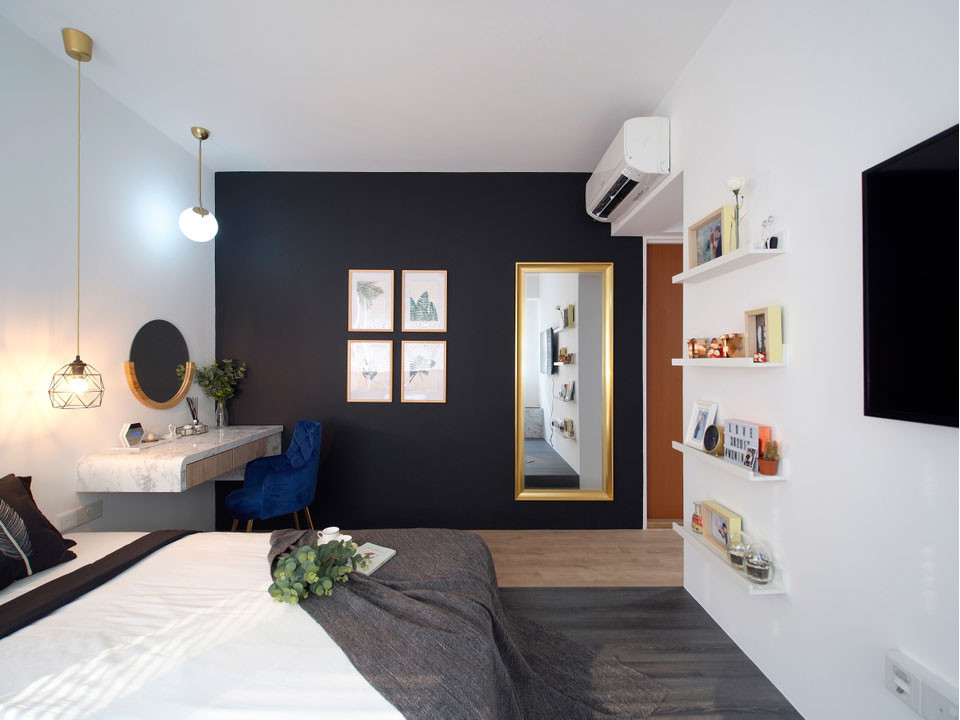 Design:
Urban Habitat Design
2. Full-Height or Wall-to-Wall Built-In Wardrobe
In a small bedroom, go for a full-height or wall-to-wall wardrobe if you can. They can add height or width to the space because they don't break up a space visually. Built-ins are your go-to, since they can be customised to your exact dimensions.
Design:
Meter Cube Interiors
3. Divide Your Floor Plan
If you're creating a multipurpose bedroom—say you're incorporating a home office or a seating area within, you should create different zones for the different functions by using dividers such as curtains as seen below. By keeping things segregated, you prevent everything from looking like a jumbled mess and a hotbed of furniture.
Design:
DistinctIdentity
4. Don't Flush Your Bed Against a Wall
Your first instinct in a small bedroom might be to flush your bed against the wall to free up more walking space. But that can actually make the bedroom feel more cramped. Instead, free up the space between the sides of your bed to allow for visual "breathing room".
Design:
Third Avenue Studio
5. Go for a Grand Bed
Speaking of beds, opt for a larger, multipurpose bed than a smaller one. Get that large bed to do more than one job by incorporating underneath storage or side compartments to place your night-time essentials. Having one large furniture compared to several small pieces of furniture will help to reduce the visual clutter in your small bedroom.
Design:
Third Avenue Studio
6. Throw in a Large Rug
Want a soft underfoot to rest your feet on when you come out of bed in the morning? Go with an area rug that is big enough to rest the fronts of your bed and one that has enough of a border on the sides to rest your feet on. A rug that is too small will just emphasise the lack of square footage in your bedroom, but a large one will draw the eye towards the length and width of your space.
Design:
Versaform
7. Don't Be Afraid to Use Décor
You might think the minimalist route is the way to go in a small bedroom, but don't be afraid to spruce up your sleeping quarters with décor. The key to making this work is to keep it to one big and bold statement piece e.g. a large piece of art, a grand chandelier or a big starburst mirror. Having a singular, statement-making décor draws the eye immediately to the piece, making it the focal area so you don't notice the small room.
Design:
Story of Us
8. Pull Things Off with a Dramatic and Busy Wallpaper
Have a little fun in your petite bedroom with wallpaper. Wallpaper with large, dramatic prints can help to visually increase the grandeur of your space and works the same way as a statement décor piece if you keep it to a single wall. If you prefer smaller, busier prints and want to deck out your entire bedroom with it, make sure the prints have some white negative space between them. The airy gaps help to give some visual balance so you won't feel overwhelmed.
Design:
Arc Square
9. You Want Long Curtains
Start your curtains close to the ceiling and end them just touching the floor to create the illusion of a taller bedroom. You don't want curtains that are too short, as that will only make your ceiling appear lower. But you don't want draperies that are pooling on the floor either as that only adds to the visual weight of the space. Solid coloured or see-through curtains work best in a small bedroom. Match them to your walls for the best effect as the similar hue will keep the eye moving across the space.
Design:
MMJ Design Loft
What are some of your tips for making a small bedroom seem bigger?
---
Do you love what you've seen? Contact us for a non-obligated consultation now.
Meet Interior Designers. Get Quotes.
Get in touch with our listed renovation companies. They will provide you with a free non-obligatory estimate for any of the Renovation Packages included in their services.