7 Cosiest Singapore Homes in Neutral Colours
Who doesn't want a cosy home? And there's no easier way to get the warm fuzzies than with soothing, neutral colours. Think light wood tones, warm white shades and natural materials like linen and rattan. Renovated recently, these homes in Singapore are some of the cosiest out there. Feel the calm and embrace the warmth as you enter these comfort zones:
1. Wooden screens and many other things
This home's theme? Adaptability. Wood-framed screens are used to demarcate the different spaces. Some are sliding, which opens up a million different possibilities in the use of the space when they are left opened. Others are fixed in place to function as a privacy screen as much as a design element. Still others are combined with glass panels so light still gets to filter through. While the wooden screen for the bedroom is lined with cream laminates to look just like shoji, a Japanese paper screen. It provides enough privacy, while still allowing the space to feel light and airy.
Design:
Chalk Architects
Get your renovation quotations here.

2. Contrasting dark and light
Rather than go with a single wood tone, this BTO at Dawson decides to juxtapose light and dark wood shades. It creates a lovely visual contrast, without taking away the warmth of the space. To create a splash of modernity, terrazzo elements (seen in the home bar and foyer) were added to the space. The bedroom features a darker, subdued palette, in contrast with the communal spaces' lighter, medium-toned woods. Lines from the carpentry and furniture are kept simple, with gentle curves accentuating the Zen-like atmosphere.
Design:
Parenthesis Studio
Get your renovation quotations here.
3. Embracing the Scandinavian design
We never tire of the Scandinavian style, especially if it's done on point like in this resale apartment. Like with many Scandinavian themed homes, it adopted a white and wood scheme with the use of light grey accents and patterns to enliven things up. An open plan creates an easy breezy vibe, which is further boosted by the generous amount of windows lining across the living and dining spaces. A large, hardworking island is the entirety of the kitchen, as it packs a sink, an induction cooker, storage and a recessed legroom for a couple of counter chairs.
Design:
In-Expat
Get your renovation quotations here.
4. Curve intentions
There are perhaps more curves than lines in this flat. You see them in the doors/doorways, furnishings, the carpentry work and even at the edges of columns and ceiling beams. They present a quirky vibe, while offering a gentler, more soothing milieu. We can definitely get on board with this. Most of the home is decked out in non-standard neutrals, with blush, taupe and navy blue functioning as such. Only the common bathroom ceiling sees a burst of dark red, which almost feels like a dare but works exceptionally well in that small space.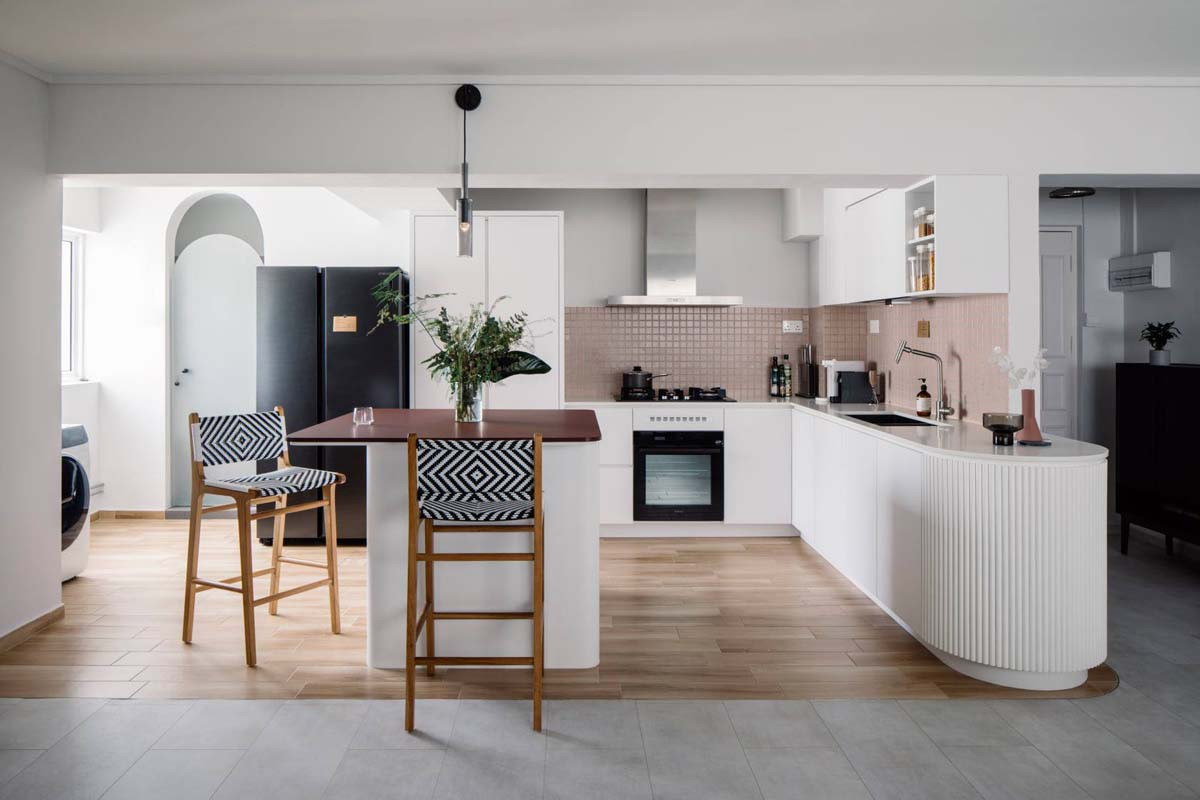 [gallery columns="2" link="none" size="full" ids="154579,154581"]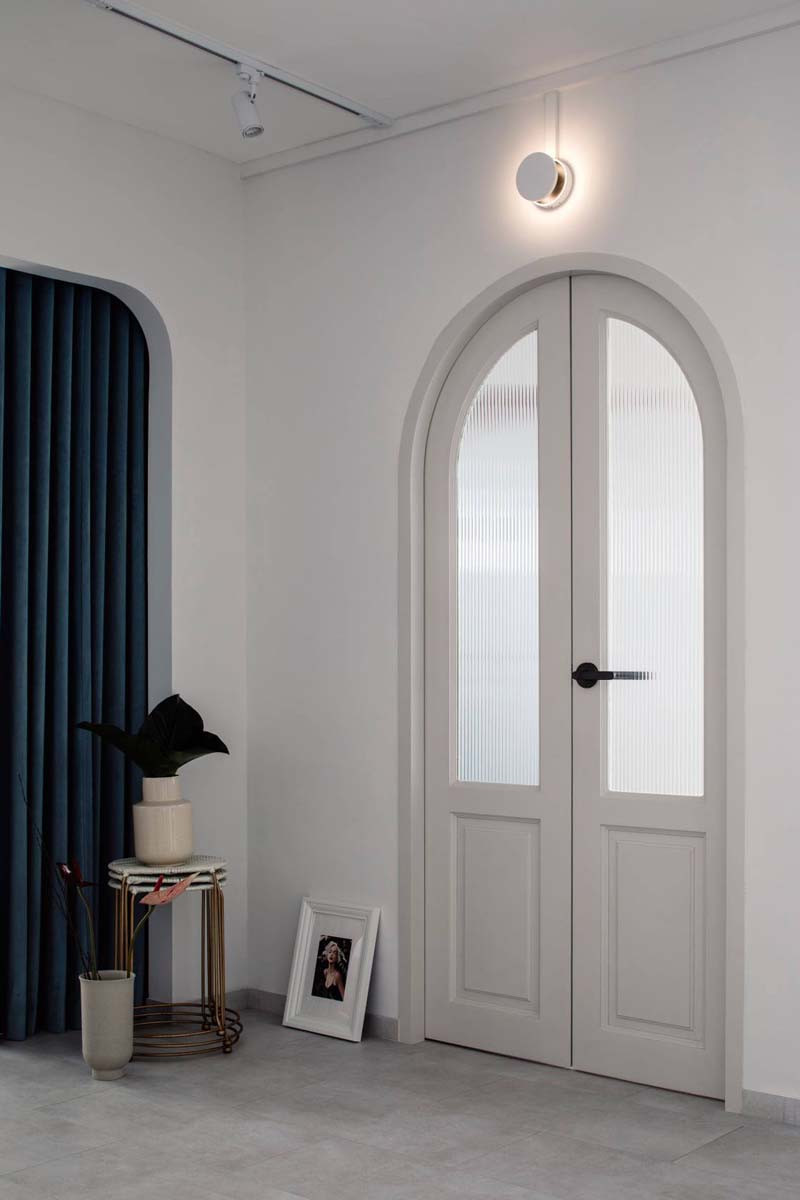 [gallery link="none" columns="2" size="full" ids="154583,154582"] Design:
Three-D Conceptwerke
Get your renovation quotations here.
5. So much wood
Much of this condominium apartment features wood tones, whether crafted from real wood or wood-lookalikes. Walls and entrances are covered in wood laminates, while wooden furnishings and furniture were used. Even the bathroom is clad in wood grain tiles. It creates a visual simplicity, lending a sense of calm and uniformity to the space. The use of wood also brings in a sense of the outdoors—and with it a sense of serenity—which is further enhanced through the use of plants, natural materials like rattan and the cement screed, stone-like TV wall.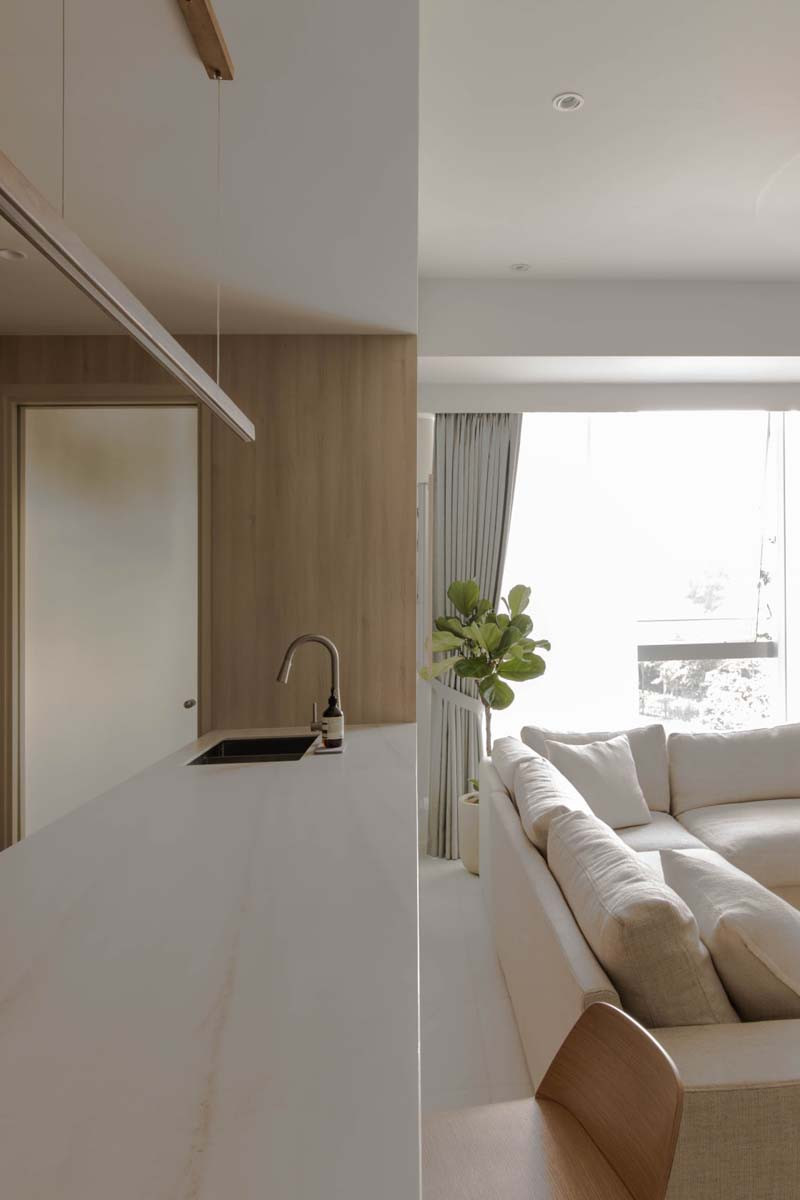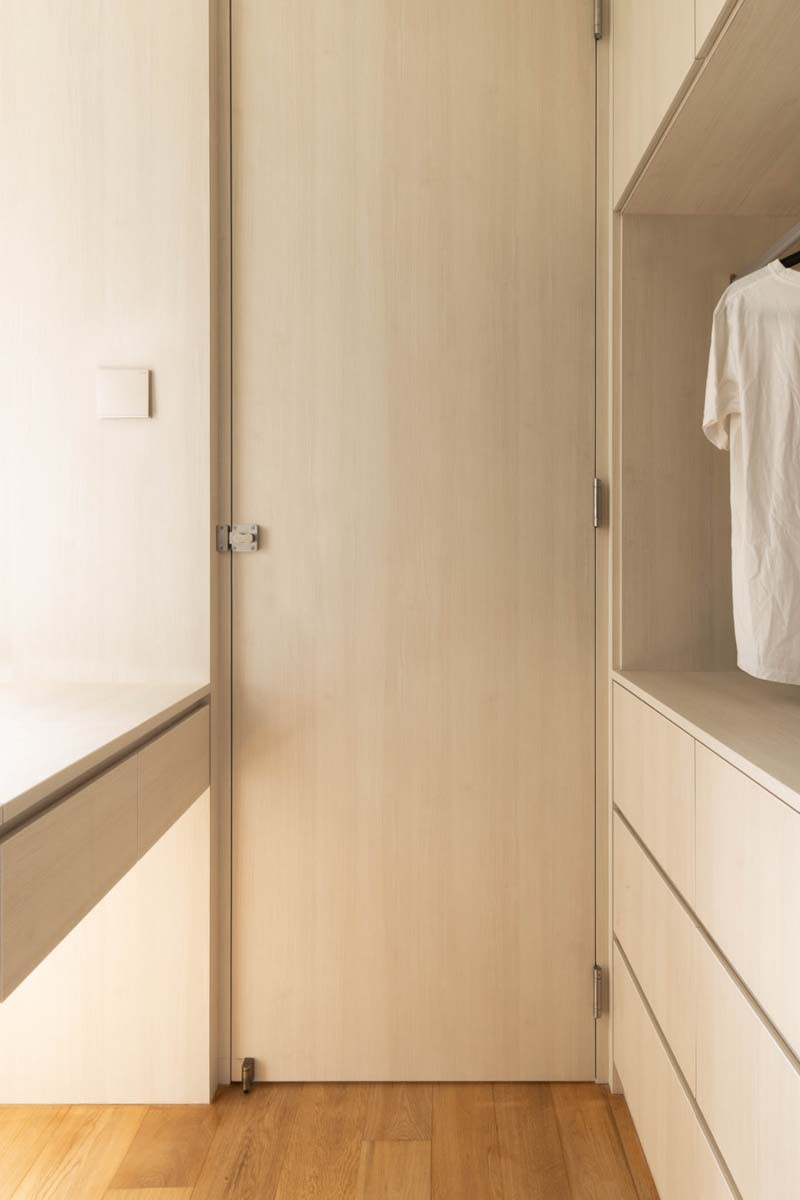 [gallery columns="2" link="none" size="full" ids="154621,154620"] Design:
Hock Hoon
Get your renovation quotations here.

6. Myriad textures and nuances
Warm hues pop against a black-and-white setting in this eclectic flat that features a colonial slant juxtaposed with modern Mid-century elements. The use of rattan, in keeping with the theme, also invites a sense of cosiness to the space. The highlight of the home has to be the home bar that takes centre stage in the living room. Above, a ceiling-hung rack provides room for plants and storage for liqueurs and spirits. [gallery columns="2" link="none" size="full" ids="154325,154323"]
[gallery columns="2" link="none" size="full" ids="154322,154320"] [gallery columns="2" link="none" size="full" ids="154329,154314"] [gallery columns="2" link="none" size="full" ids="154316,154315"] Design:
Fifth Avenue Interior
Get your renovation quotations here.
7. All framed up
Our final home features a clean and bright palette with a whitewashed base accented with grey-hued woods. Another Scandinavian design done right. A chevron-patterned backsplash—a classic Nordic motif—stands out against the large, eat-in white kitchen. Black-framed prints and photos adorn the walls, mirroring the eye-catching black-framed glass divider that segregates the dining area from the rest of the home. The curved elements seemingly hug the eating space, creating a cosy gathering spot for friends and family.
[gallery columns="2" link="none" size="full" ids="154411,154409"] [gallery columns="2" link="none" size="full" ids="154410,154407"] Design:
Lemonfridge Studio
Get your renovation quotations here.

Meet Interior Designers. Get Quotes.
Get in touch with our listed renovation companies. They will provide you with a free non-obligatory estimate for any of the Renovation Packages included in their services.